In episode two of our travel series Matt travels to Dubrovnik, Croatia – a shooting location for Game of Thrones and a beautiful city in its own right
The second part of our journey took us from Mostar in Bosnia and Herzegovina back to Dubrovnik in Croatia, where this time we were going to venture into the old town.
One of the great things about our itinerary was that it covered not only a combination of places I'd been before but also somewhere new. I love visiting new places. The excitement of the unknown plus the opportunity to explore and absorb somewhere completely unfamiliar – all of this really appeals to me as a traveller and a photographer.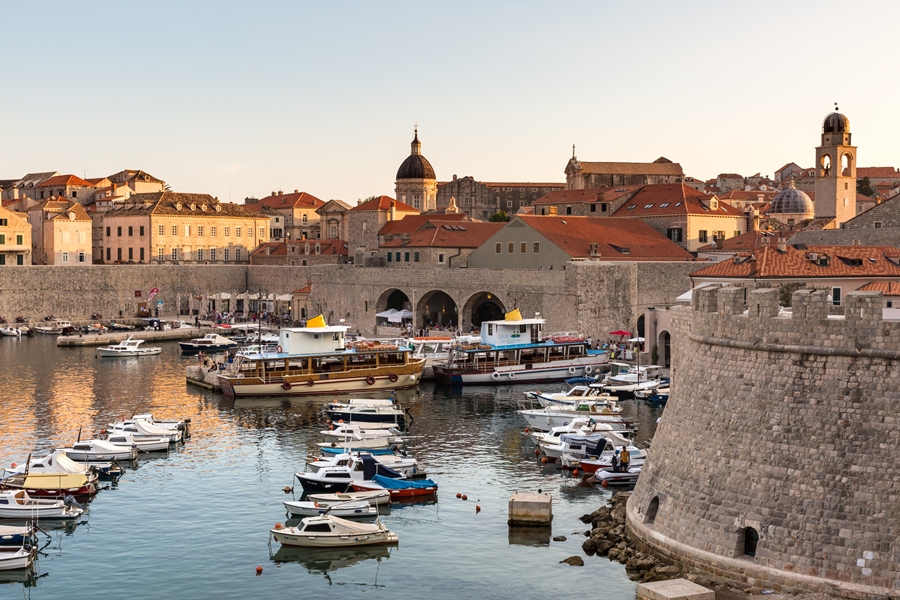 However, revisiting a destination also has its advantages. You know what to expect from the culture, weather, people and the location itself. You have a better idea where the sun rises and sets which makes a shoot easier to plan and allows you to be more focused. For example you may want to capture something with better equipment, at a different time of day, in different weather or time of year. Light will constantly change and so your shots will always be different.
On this trip, Bosnia initially provided the excitement of the unknown, while I had a much better idea of what to expect from our second destination, Dubrovnik, having spent the best part of a week in the old town several years ago.
In any trip it is important to approach each location, regardless of previous visits, with the curiosity and open mind of a traveller and the planning and preparation of a photographer on an assignment. We had to do justice to these countries in a very short space of time, knowing we would only scratch the surface of what they had to offer.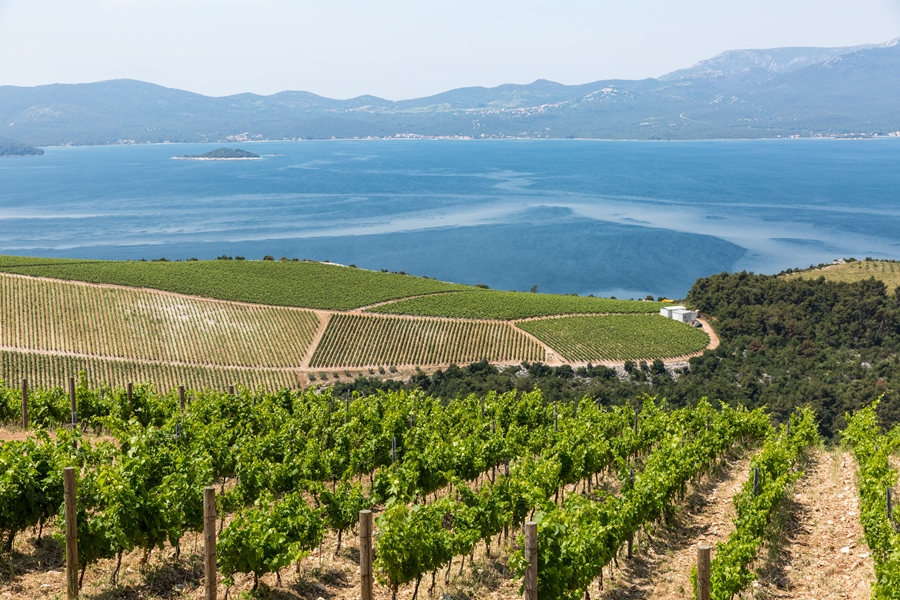 Dubrovnik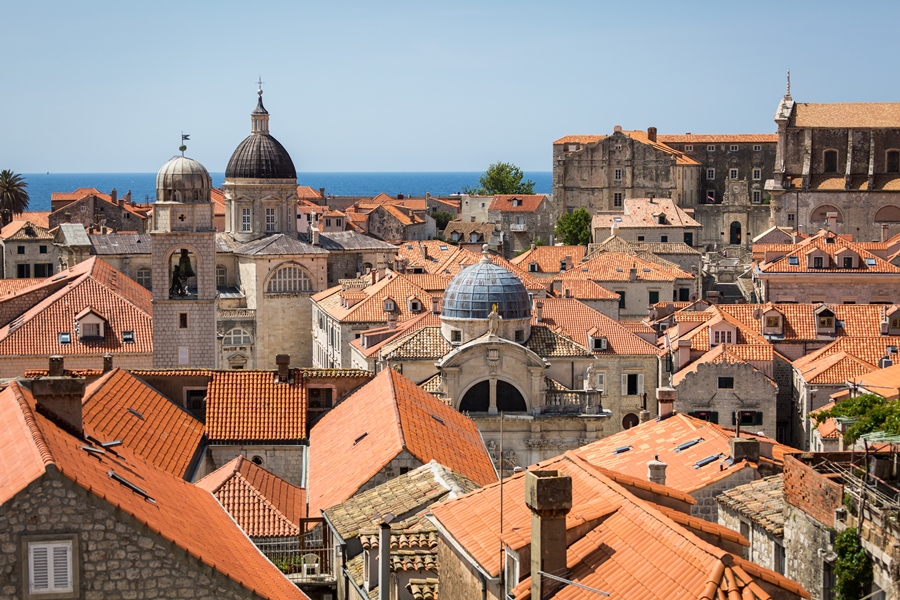 One of the immediate things you notice about Dubrovnik, apart from its obvious beauty, is just how busy it is compared to our other destinations (we were visiting in early June so still not quite in the peak of the summer season). As a result, prices for most things – including food, accommodation and beer – were higher than our other destinations (see the budget breakdown later in this post).
However, despite this Dubrovnik is still reasonable value compared to most Western European cities, and truly is a must-see destination. The thick stone walls of the old town, built between the 8th and 16th Centuries, have protected the city against a variety of invaders, and today they remain one of the best-preserved examples in Europe, if not the world.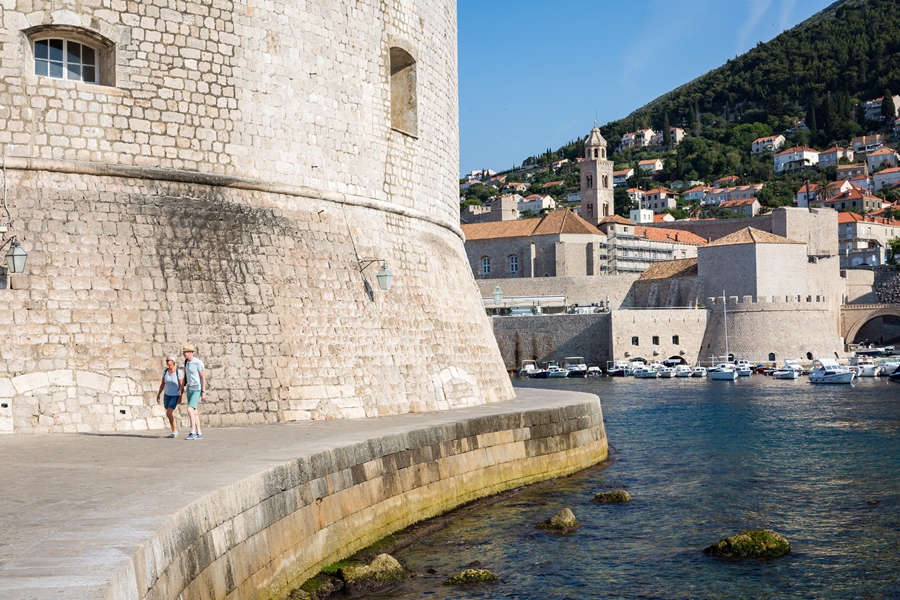 As you walk down the Stradun, the main street that links the Pile Gate in the west and Ploce Gate in the east, you will see narrow streets leading off either side, steeply rising up towards the walls and just begging to be explored.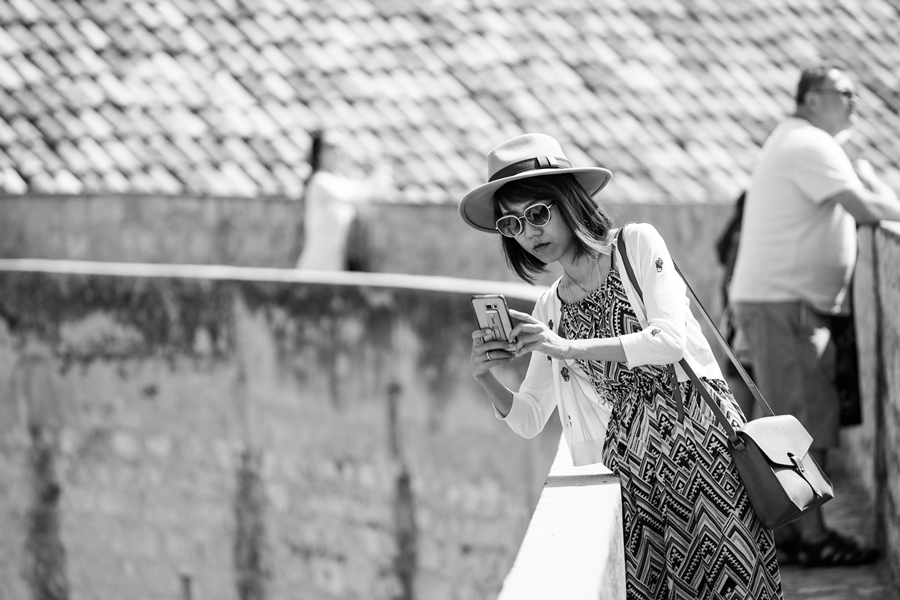 While you have to pay to access the city walls, it is well worth doing. There are almost two kilometres of wall to wander, with sweeping views across old town take in and domed church cupolas and terracotta tiled rooftops that transport you back in time (or at least to Kings Landing in Game of Thrones, which is filmed in Dubrovnik).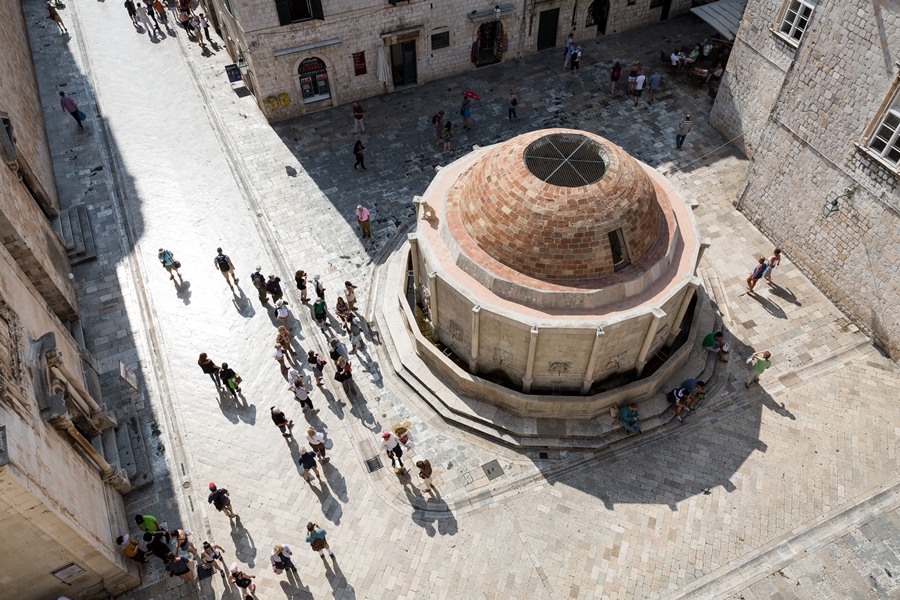 However, Dubrovnik isn't just a tourist town or a movie set – there are plenty of reminders that this is a place where real people live, work, worship and study. Satellite dishes line the rooftops, and washing lines hang from buildings, drying clothes in the 30+ degree heat. Sounds of life permeate the air – the voices of kids playing in the school yard carry along the narrow alleys, while music drifts from the stone walls of the LAUS Academy and dogs bark behind the gates of centuries-old homes.
Out of season the streets quieten at night as groups head back onto the cruise ships. However, in the summer months the reflective limestone surface of the Stradun comes alive with people eating, socialising or just taking a stroll.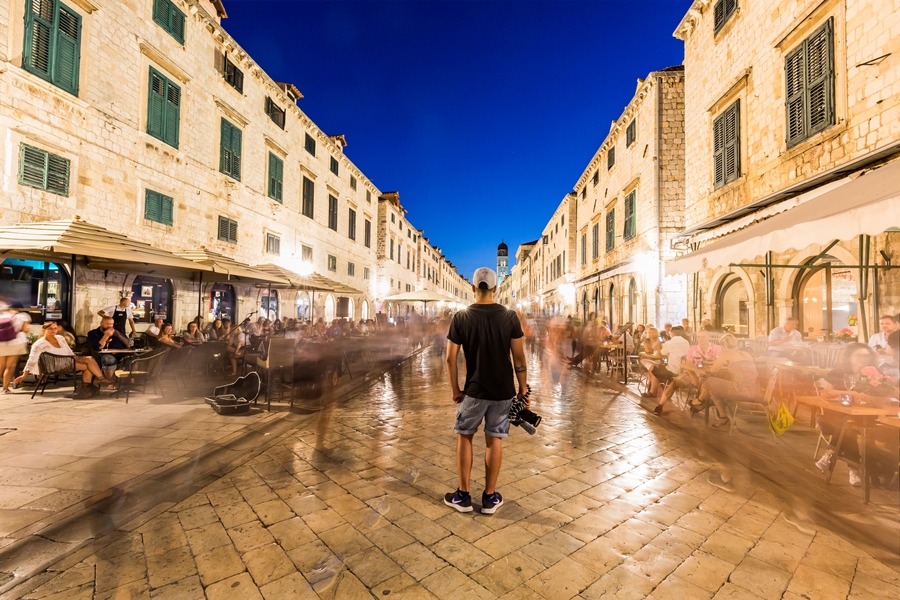 A long exposure of a busy street at night, featuring cameraman Kriss
Away from the Stradun you can escape the crowds at the harbour or one of the cities beaches, a relaxing spot to watch the sun setting over nearby Lokrum Island.
Photographing people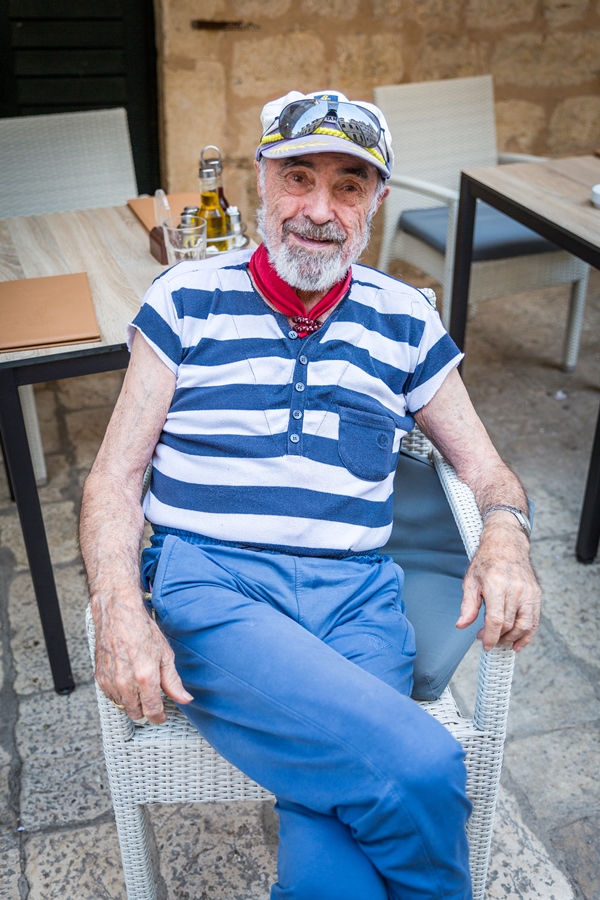 One of the greatest challenges for a lot of photographers is overcoming the nerves to ask strangers for their picture. Language barriers and fear of rejection can cause photographers to capture an image while the person is unaware, and the results don't always work.
Travel experiences are often made by the people you meet, and this is where you can achieve shots that are unique. There is nothing wrong with "me too" shots as it is always a fun challenge to try to better what you've seen, and at the very least a beautiful view is always worth a shutter click or two. However, a picture of a smiling stranger can be much more rewarding, and finding out more about that stranger's life and culture even more so.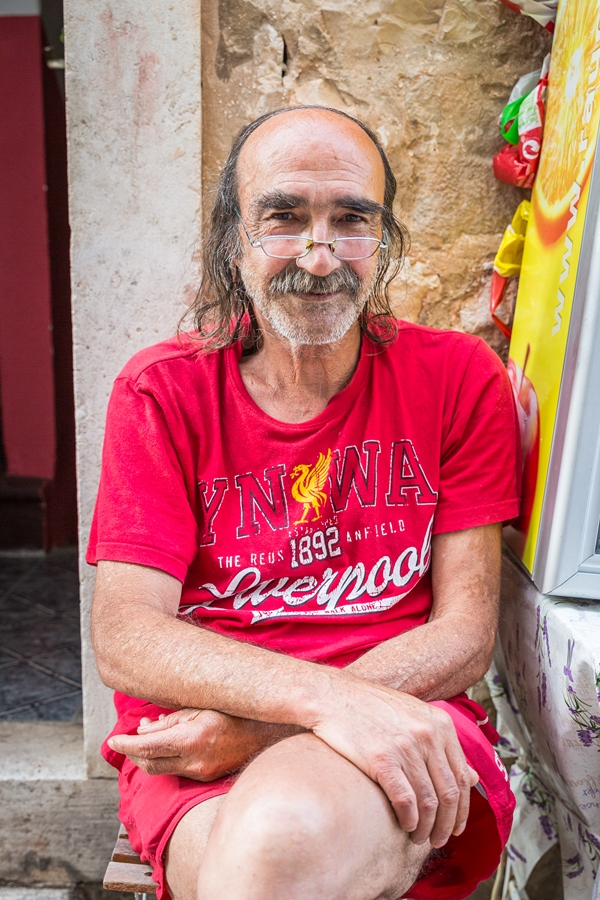 Try putting your nerves to one side and build up a conversation with someone whose picture you would like to take. If possible find a common interest such as sport, their country or religion. Ask questions and show an interest in what they are saying. Also don't be afraid to acknowledge your camera – don't hide it. If they look uncomfortable or don't want their picture taking then respect this.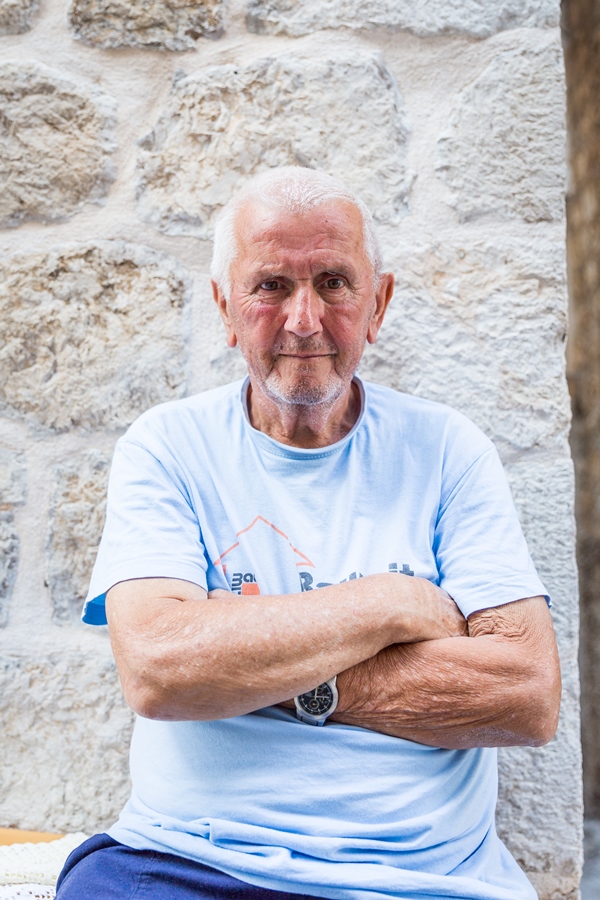 Some won't want their picture taken, some will be reluctant or apprehensive yet accept, others will want something in return. Some people, however, just love having their picture taken! Remember, if someone declines it is not the end of the world. Whomever you photograph, offer to show them the picture on the back of your camera or to email or post a copy to them. Have fun, smile and remember to say thank you.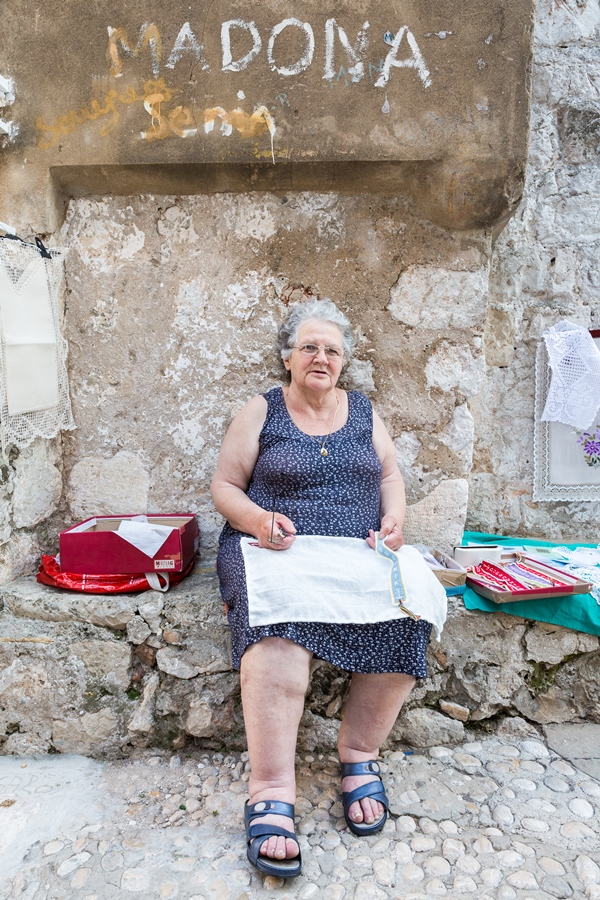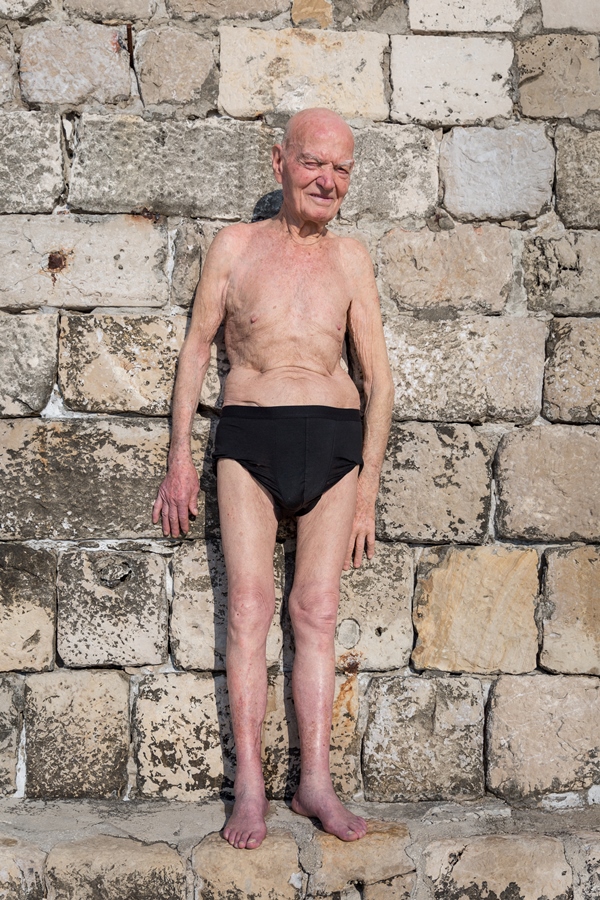 Budget
If you want to replicate the trip in these videos, I've included the location map. Our aim was to create these travel videos on a maximum budget of just £500 per person to show you what is possible with limited time and money.
While £500 is a lot of money by most peoples' standards, we felt this was a fair amount for a trip that took in numerous countries, sights and experiences. Costs will differ or fluctuate according to your specific circumstances and preferences. Flying at a different time of year or from a different airport, staying in a different standard of accommodation, travelling solo or as part of a group, choosing different restaurants or types of food, taking public transport versus hiring car – all this and much more can have a bearing on your budget.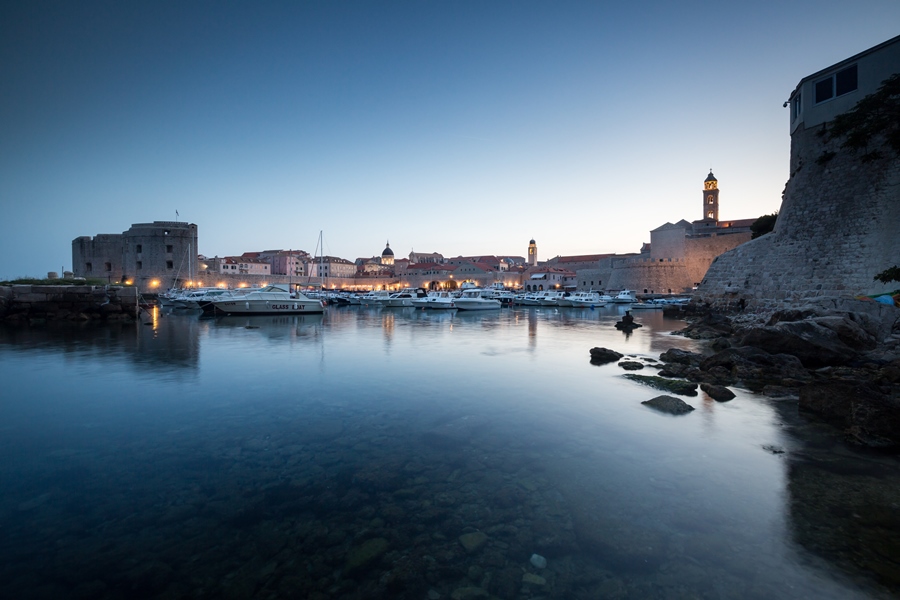 Combined, cameraman Kriss and I spent less than £700 in total (£350 each) on our flights, accommodation, car rental and petrol. While this excluded food and local charges such as entry fees, the timing of the flights meant we were able to stretch our trip to 4 nights giving us just over 24 hours in each country.
Our return flights took us from Manchester to Dubrovnik with Monarch airlines and we used booking.com for our accommodation, all of which was based in B&B or apartment-style rooms, providing excellent value and a consistently good standard.
The increased popularity of Dubrovnik did stretch our budget compared to the other destinations, with accommodation double the price. Limited parking near the old town also meant it cost a staggering £61 to park the car for just 24 hours.
Despite this, hiring a car for a road trip can be a very cost-effective way to combine the adventure, freedom and flexibility of travel. We paid just £34 for 4 days rental of a Lancia Ypsilon (via holidayautos) and while our car wasn't going to win any races, the roads in the Balkans are not meant for rushing. The twists and turns all offer dramatic views over coastlines, mountains or fjords that make getting anywhere a slow but enjoyable process.
It was economical to run the Lancia, costing us just £40 to cover around 500km. Picking up and returning the car to the same location is much cheaper than a returning it to a different city or country, which we factored into our itinerary. However, it is worth noting that you have to pay per day for a "green card" which allows you to take the car between countries. This cost us an additional £33 in total.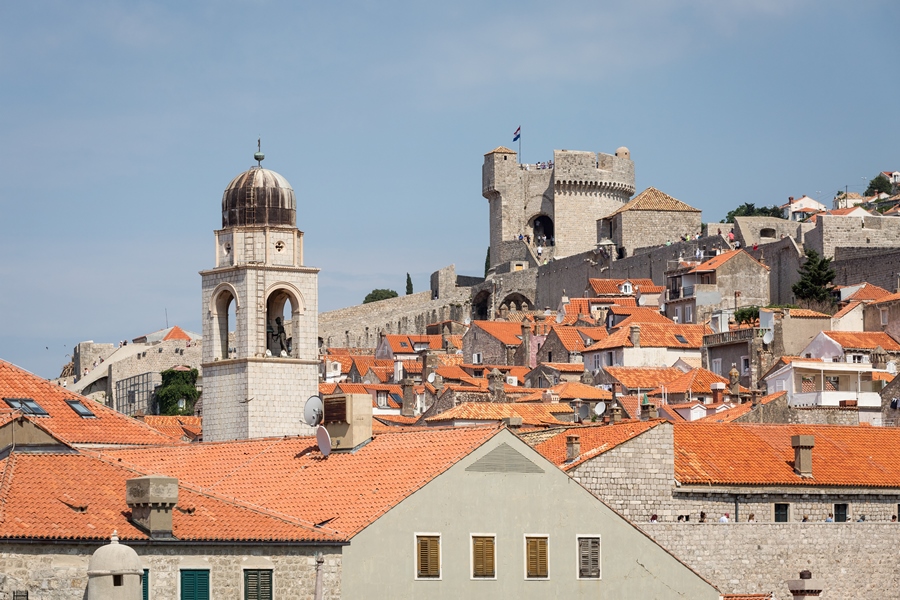 This type of trip will not be to everyone's budget or tastes. You may spend up to a few hours a day driving, but the destinations are always well worth the trip. Anyone with a taste for adventure and an enjoyment of travel will love this blend of history, culture and timeless landscapes.
If you enjoyed the video please subscribe to the Wex Photographic YouTube channel so you don't miss the next instalment of this travel photography series.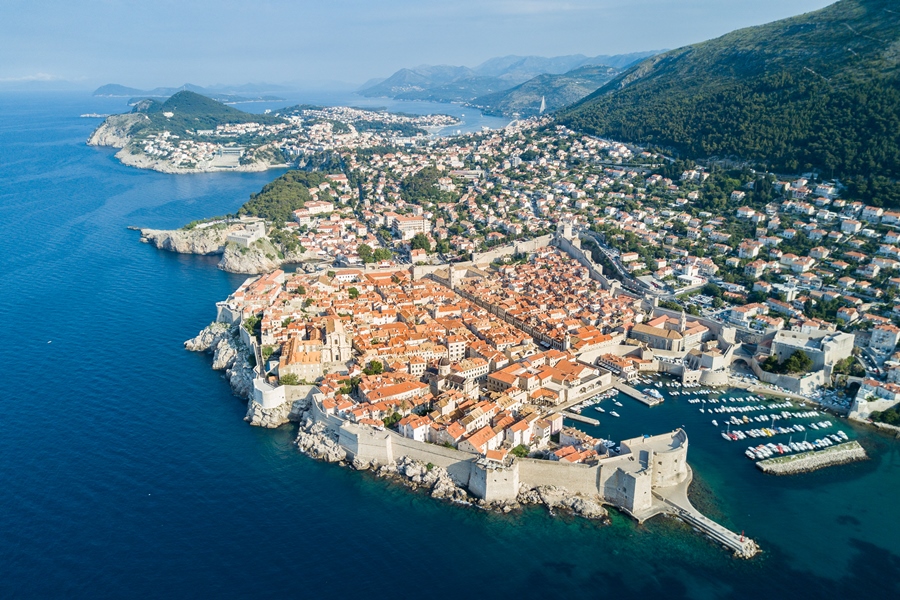 About the Author
Matt Parry is an award-winning travel photographer whose images and articles have featured in leading travel and photography publications. He has presented videos, led workshops, and given talks on travel and cityscape photography. To date, Matt has visited 60 countries across six continents. Follow his travels by visiting @mattparryphotography on Instagram or mattparryphoto.com.
Related articles