Lighting your own scenes can and will transform your photography, but which kind of lights to choose? Giles Babbidge explains what's what and recommends a few choice models.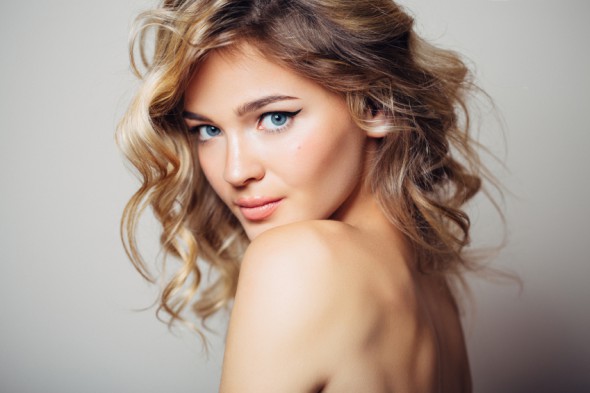 Aside from manipulating the existing light in a scene with a selection of reflectors, diffusers and other devices, there will come a time when you'll no doubt need to introduce your own illumination in order to get the desired results.
When looking to add additional lighting to your expanding kit bag, you have a number of options. For many, the obvious choice would be to invest in a flashgun. Having a flash on hand is never a bad thing, but the use of one is not always practical or permitted in given situations.
For occasions where flash is not the way forward, your Plan B comes in the form of what we call 'continuous' light. This usually involves an 'always-on' design, typically in the form of tungsten, halogen or LED lamps.
Here, I'm going to briefly outline a few of the options available, highlighting specific products suitable for various shooting situations.
Tungsten / Halogen lighting
Lastolite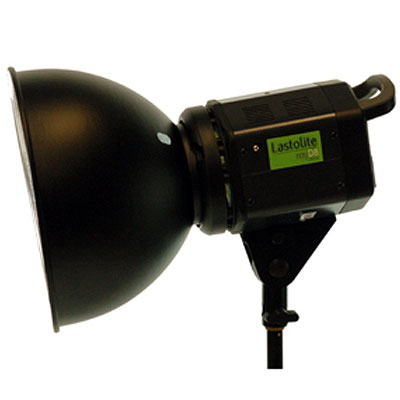 If you're new to the world of continuous lighting, and want to experiment without breaking the bank, the sub-£100 RayD8 tungsten head from Lastolite is a great option. Like many similar products, it uses a single 500w lamp and produces a typical 3200k warm glow. It is supplied with a 21cm (8.5") standard reflector, making it suitable for a wide range of subjects – everything from portraits to still life arrangements. If you like the results and wish to expand, a two-head kit is also available.
Elinchrom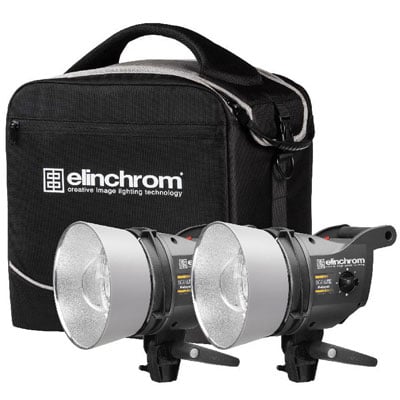 Elinchrom has long been a trusted name in the lighting world, and for continuous light it's worth taking a look at their Zoom Scanlite. Available as a single unit or two-head kit, this model features an electronically controlled, intelligent, low-noise fan cooling system. The option to use either 300w or 650w lamps means greater potential for fine-tuning, as does the ability to zoom the head for wide-angle or hotspot coverage. The centred umbrella fitting and complete compatibility with all Elinchrom reflectors, softboxes and umbrellas make it perfect for portraits. If you are going to be taking pictures in a contained area such as a small studio, lamps with fans such as these should be given serious thought, in order to keep working temperatures comfortable.
Interfit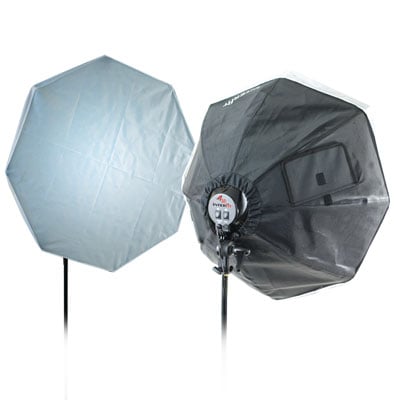 The trouble with tungsten and halogen lights is that they require colour correction – either at the time of shooting (commonly via your camera's white balance settings) or in post-production software such as Photoshop. For those who want to minimise the work, a lamp offering near-daylight colour balance is recommended. Interfit's Super Coolite 455 fits the bill here; its bank of four 55w fluorescent lamps delivers a more neutral tone of 5200k. For additional brightness, take a look at the 655, which gives the equivalent 1320w output of tungsten lighting.
LED lighting
Rotolight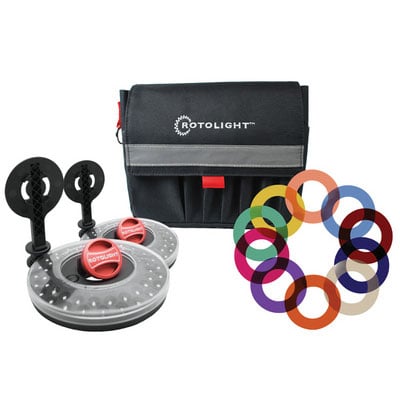 If video is your thing, consider Rotolight's offerings. Tried and tested, the popular RL-48 LED Interview Lighting Kit V2 provides everything you need to be up and running for nicely lit close-proximity 'talking head' situations. As standard, you get two RL-48 ringlights, two Rotolight stands, and an add-on Lee filter set and carry pouch. Each light's power comes from three standard AA batteries for practicality and convenience. Of course, the kit can also be used for arrangements other than interviews; product and macro work are well within its capabilities.
Interfit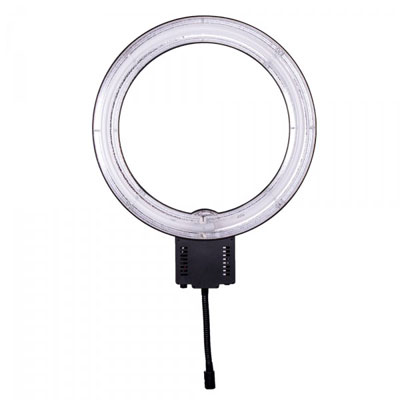 Interfit also produces ring lights. The NG-65C is a mains-powered metal-bodied model offering 260w of 5400k light. Studio photographers will already know the appeal of ring-shaped catch-lights in their subjects' eyes – where this particular light differs is that it is mounted on a flexible arm rather than the more typical on-camera arrangement.
If you want to dabble between flash and continuous, and are especially interested in macro photography, it's worth taking a look at the Strobies LED/Flash Macro Ring Light. Slightly bulkier, perhaps, as you have two parts to set up here – a controller, which sits on your camera's hot shoe, and the light itself, which attaches to the lens via one of six adapter rings (supplied). Unlike its cousin, detailed above, this model is battery-powered, with four AA batteries giving a continuous running time of approximately three hours.
Manfrotto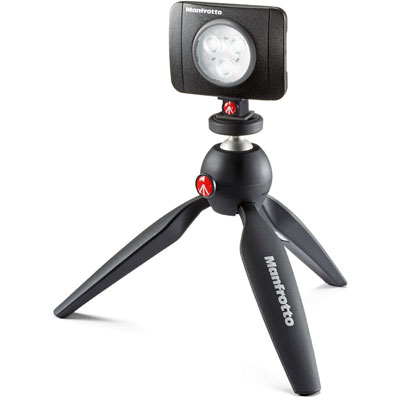 Manfrotto are most usually associated with tripods, but what you might not know is that they also produce a great line of LED lighting devices. The range spans everything from the hot shoe-mounted ML Pocket LED Light (powered by a single AAA battery) to the 99FT LED Fixture, which allows both light levels and colour temperature to be adjusted.
If still-life photography is your thing, take a look at the Still Life Kit, which contains everything you need to get up and running when lighting smaller-scale items. In the box are two lithium-ion-powered lamps, a pair of mini tripods and a 60cm silver/white reflector.
About the Author
Giles Babbidge is a commercial and editorial photographer based in Hampshire. He travels all around the UK and works with a wide range of clients – you can find out more about his day-to-day activities over at his website.
Related articles