We asked our Facebook community for the worst tragedies ever to befall their photographic kit. Read on, if you dare...
It happens. Kit gets dropped. Kit gets trodden on. Kit gets blown off cliffs by particularly vicious gusts of wind.
Maybe it's never happened to you, and maybe it never will. But plenty of photographers aren't quite so fortunate.
We were curious about the worst gear misfortunes our photographic community have suffered, so we put out a call on Facebook asking for the stories. And they certainly delivered. Here are a few of our favourites: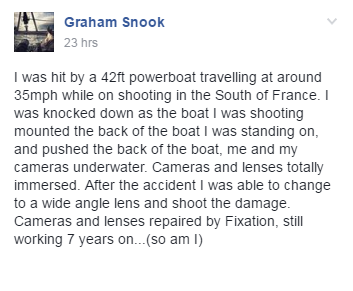 Click the post below to read all the stories in the comments – but be warned, you may have to read a few of them through your fingers...
We can't promise we'll be able to repair tragedies like these, but we'll certainly give it a go. Find out more about Wex Repair