Sometimes, it's the little things. Matt Doogue tells us the story behind a shot he discovered in his own back garden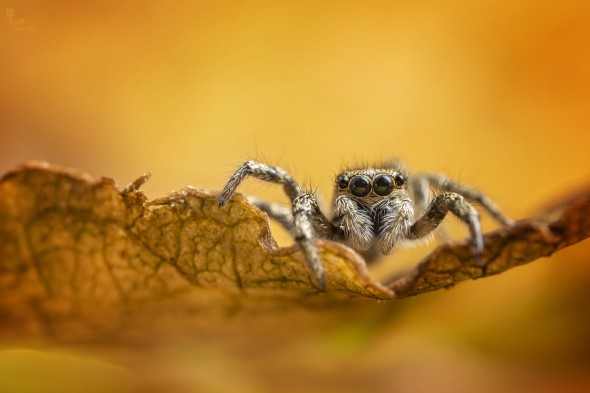 Image by Matt Doogue
Macro photography provides a window to another world, one that we can't fully appreciate with the naked eye, but can access without needing to leave the house.
Or, in Matt Doogue's case, the garden, where he captured this gorgeous spider shot. We've been fans of Matt's macro photography for quite some time – he's a regular feature of our #WexMondays Twitter competition – so we wanted to find out a bit more about how he produces his images. Read on for the story behind the shot…
On the image
"This image was taken in my garden at home in Scotland. Autumn was in full swing and the garden was a palette of golden brown colours."
"In this picture you can see a very small spider from the Salticidae family, known as jumping spiders. This particular one is a female Salticus scenicus, common name: zebra jumping spider."
On crafting the shot
"You often find these particular spiders around your garden, sunning themselves on fence panels where they do most of the hunting. However, as it gets colder they are forced to venture into the garden itself to look for their next meal."
"I found this one in the leaf litter in the garden. This particular specimen was around 5mm – they range from around 5mm to 9mm – and they move very fast, so having the camera set up and ready is key."
"I lay flat on my belly and crawled around the garden, stalking the spider until eventually I grabbed this shot. Shooting without a tripod helps when tracking live subjects."
On ensuring sharpness and detail
"I always shoot with manual focus, using an aperture of around f/8 or f/9, which is usually the sharpest part of a lens. I use dual flash, which allows me to freeze the subject in frame. Once ready, I hold my breath, compose my shot and fire off a few frames."
"Any macro photographer will tell you that the key element of a macro photograph is to have the subject's eyes in focus – as you can see in this image, the eyes are the standout feature. I shoot in Raw and add a slight sharpening to my images in Photoshop to bring out the detail a little more."
On macro photography
"For me, personally, macro photography helped me escape from a world that depressed me and allowed me access to a world I had never seen before. A world most people never get to see."
"Each day spent out in the field reveals new beauty and drama on the small scale. I can spend hours outside in the fields, or even just in my garden, and all my worries and stresses disappear. With each new subject comes a new fascination, a new species to research, a new challenge to get the perfect shot, and a whole lot of admiration for the natural world."
"The main challenge with macro photography is shooting live subjects. I often see shots online that have been set up in studios, or where the subject has been unethically cooled, frozen, and in some extreme cases glued and tied. If you spend time with your subject, learn its behaviour patterns and treat it with the respect it deserves then eventually you will be rewarded with a fantastic image."
"Focus and sharpness are critical in macro photography: for every one good shot I make, I will have ten that are out of focus. This is the nature of photographing wildlife – your subjects are living creatures, going about their daily routine."
On the kit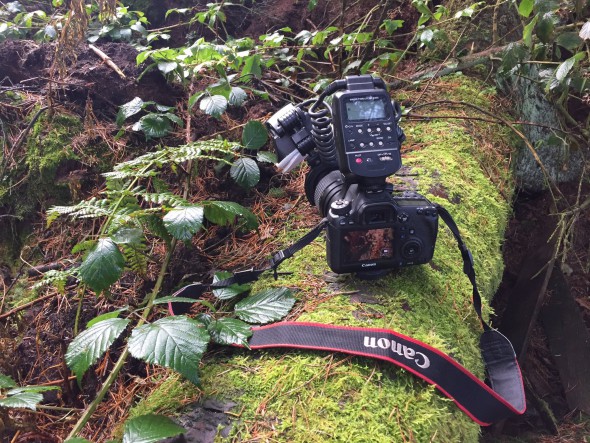 Matt's macro setup
For this shot, Matt used a Canon EOS 6D, Canon MP-E 65mm macro lens, Canon MT-24 EX Macro Twin Lite flash and a home-made diffuser made from plastic, white tracing paper and white packing foam.
About the Photographer
Matt Doogue is an award-winning macro and wildlife photographer, whose work has been published by National Geographic and the BBC. Keep up with him on Facebook and Twitter
Related articles