When Julian Claxton chanced upon a rural Ugandan school, he ended up giving 25 children the gift of photography. He tells the story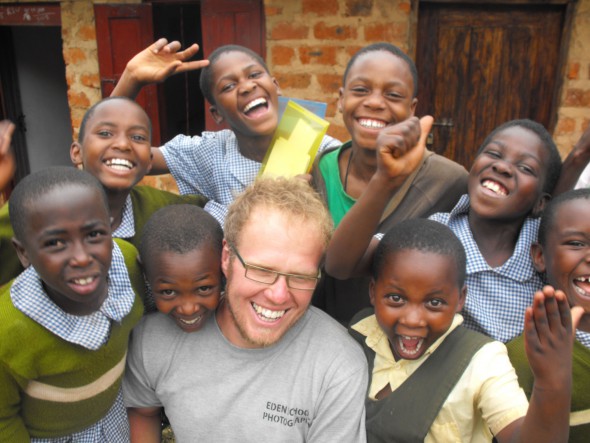 Julian with the photo students at Eden
Ever since I cycled from the UK to Rwanda a few years ago I have been captivated by Africa. The people, cultures and gorgeous colours are a photographer's dream.
In 2014 I returned to Rwanda and Uganda, exploring the countries, meeting old friends and documenting some of the people I met on my journey.
Discovering the school
Having enjoyed a peaceful morning I came across a small school in a rural mountain-top location. The morning's photography had not worked out – the light hadn't been right and I didn't feel too optimistic about my results. However, coming across 50 children singing their national anthem, stood on a large field high on the hillside, was a moment after which everything would change.
I spent the afternoon at this school, which was called Eden, learning about the children, the school and the teacher who had opened this community school only months prior. The education was basic, the buildings were small and dirty, and the children as expected had very little. I left that afternoon promising I would return at some point in the future.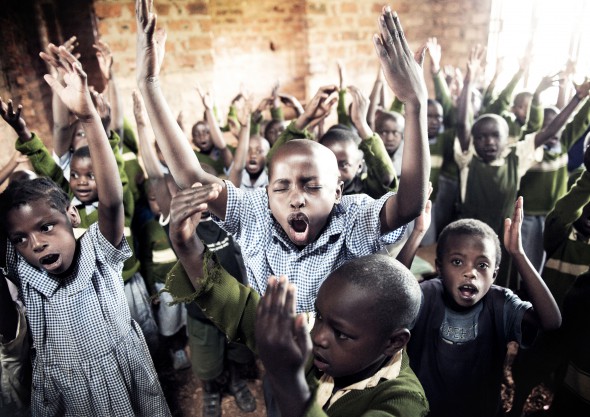 Award-winning image of the students at Eden School Uganda during morning chapel
Teaching photography
Nine months later, following a well-received exhibition from that Uganda trip, I was back at the school, bearing 25 film cameras, 50 rolls of film and a plan to give each child a camera and teach them photography.
The rudimentary brick building, which contained half a dozen benches and a scruffy blackboard, was my base for the next few weeks as I prepared to teach the basics of photography to 25 eager children.
This was the first time the children had ever touched a camera, let alone been able to understand how to use one.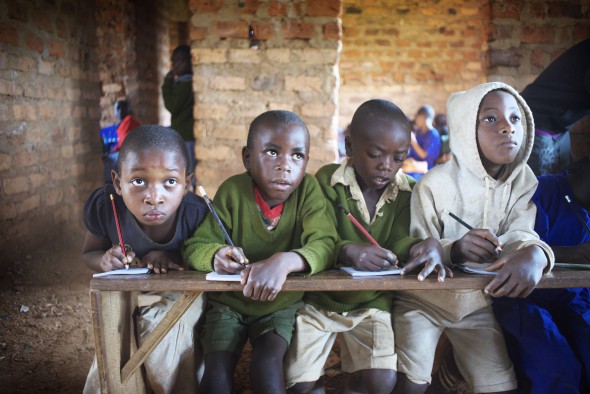 Julian with the photo students at Eden
Of course, mini disasters were never far away. A couple of camera backs sprang open with film falling across the dusty floor, batteries going missing and children holding the camera at arm's length. This was all part of the learning process and thankfully on the whole the children picked up the basics very quickly, learning how to hold a camera, how to frame a picture and how to use the basic controls.
Once this was accomplished I sent the children home with their cameras and a task. They had one week to take photographs of their life, showing what was important to them and their family.
The task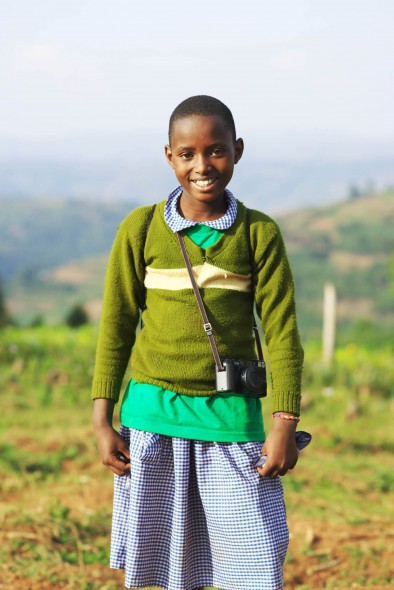 Merab, one of the photographic students at Eden, with her camera
The children departed on Friday, each proudly holding a camera. One of the teachers turned and said to me "you know, these children have nothing and will not look after these" I was a little taken aback by these comments, but nevertheless, the children walked home with their new tools to document their lives.
Over the course of the next week I arranged to walk the paths the children complete on a daily basis to get to school. Visiting each family in their home, walking miles upon miles, across valleys, up and down steep hillsides. The journey some of the children take on a regular basis was astonishing to me.
The opportunity for me as a documentary photographer to visit families and be allowed inside their homes was pretty inspiring. I felt privileged, often being the first westerner to step inside their homes and capture true rural Ugandan life.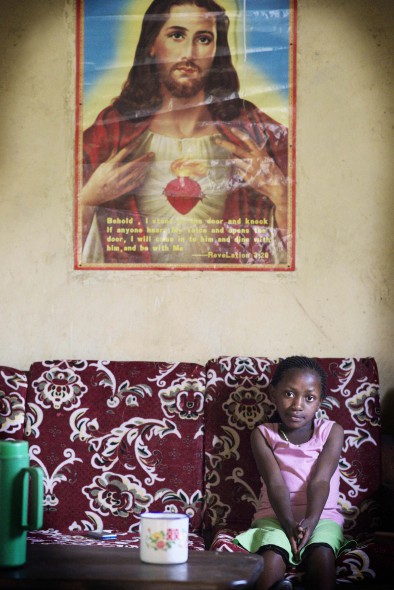 Laetitia, one of the photographic students, sits at home in rural Uganda
Scenes unfolded in front of my eyes, a side of rural life that is often unseen. Living with a family gave me the access and freedom to shoot my images and form a strong bond throughout the rural community.
Photographing the emotions of everyday life was rather special, but the real joy came when each child came out to see me with their cameras, proudly holding them with such love. "I have 12 pictures, Mr Julian" would be the comments from the children, as time after time each camera was presented in wonderful condition.
The following Friday the cameras arrived back, safe and sound.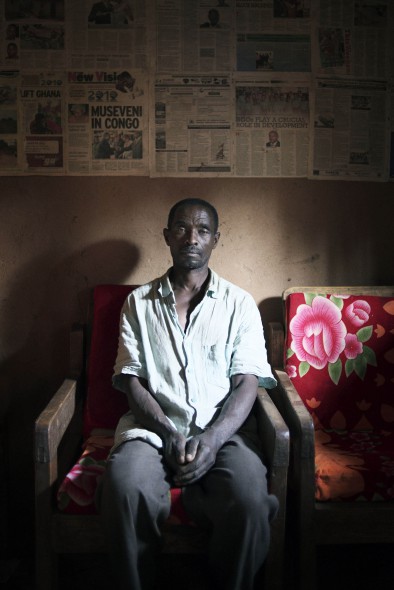 The father of Rozen.
The moment of truth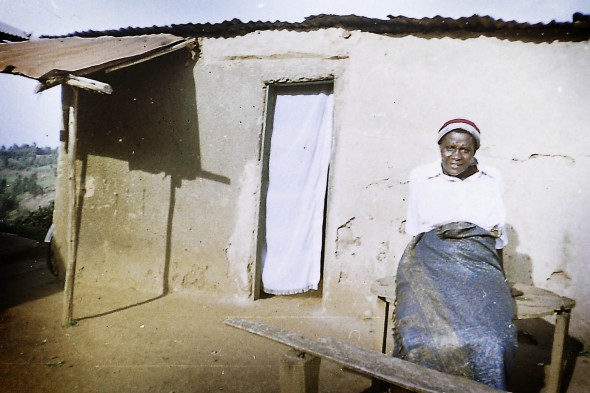 Taken by Elizabeth, one of the photographic students at Eden
Travelling to the nearest city I got all 25 films processed. As I stood in the small processing lab, I became rather nervous of what would become of my teaching. The first film arrived, and upon scanning the pictures I was thrilled to see a life of a Ugandan child unfolding in front of my eyes.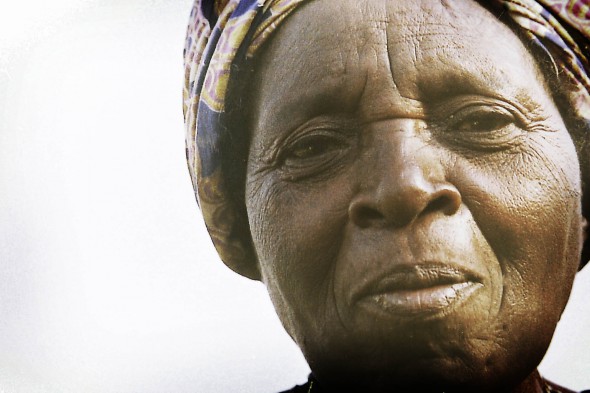 Amazing image by Adias, of her grandmother
Each child had captured their life so uniquely. Family, friends, views from their house as well as their weekend activities. It was all beautifully presented in such emotive photographs.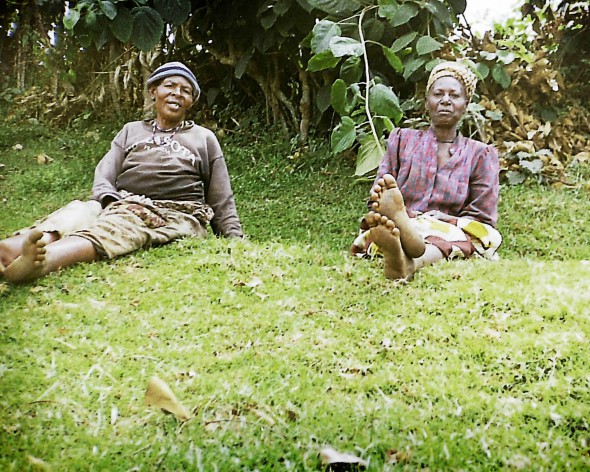 Davis, photo student at Eden, shot this picture of his family
Returning to the school, a small exhibition of images was held in the main classroom. Children stood mesmerised by the images. Shouts, laughter, pointing and fits of giggles filled the air, as for the first time these rural Ugandan children had their own pictures in print. A set of photographs to cherish and take home.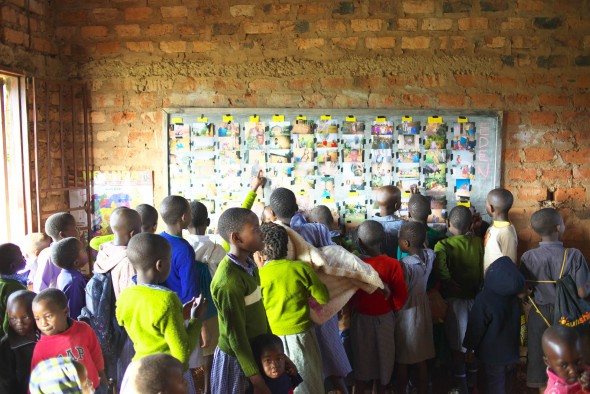 Photographic students at Eden school in front of their school photo exhibition
I left the school some cameras and plenty of film, and photography continued to be taught throughout 2015. The results have been outstanding.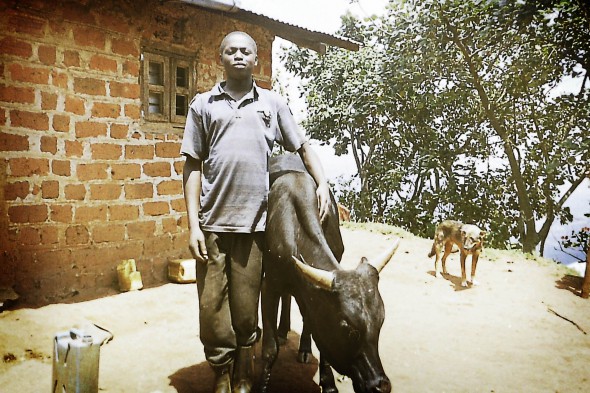 A photograph of by Felex, one of the photo students at Eden of his brother and prized cattle
I'll be returning in 2016, and I have yet more film and digital cameras ready to teach a new intake of photography students, encouraging them to photograph their life and views from their home. Naturally, as well as the ongoing photography lessons, various other facilities have been put in place, namely in 2015 a new piped water supply to the school. In 2016 I, along with those funding the project, will be providing a much needed sanitation facility for the growing numbers at the school.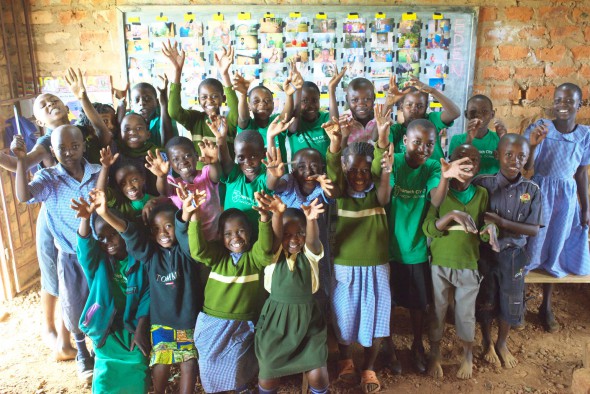 Photographic students at Eden school in front of their school photo exhibition
About the Author
Julian Claxton is a freelance photographer who has held numerous exhibitions, been featured internationally in print and been a finalist in the National Geographic competition. One of the images he shot at Eden School went on to win the 2015 Travel Media Tourism and Photography award. See more at his website julianclaxtonphotography.com.
Related articles