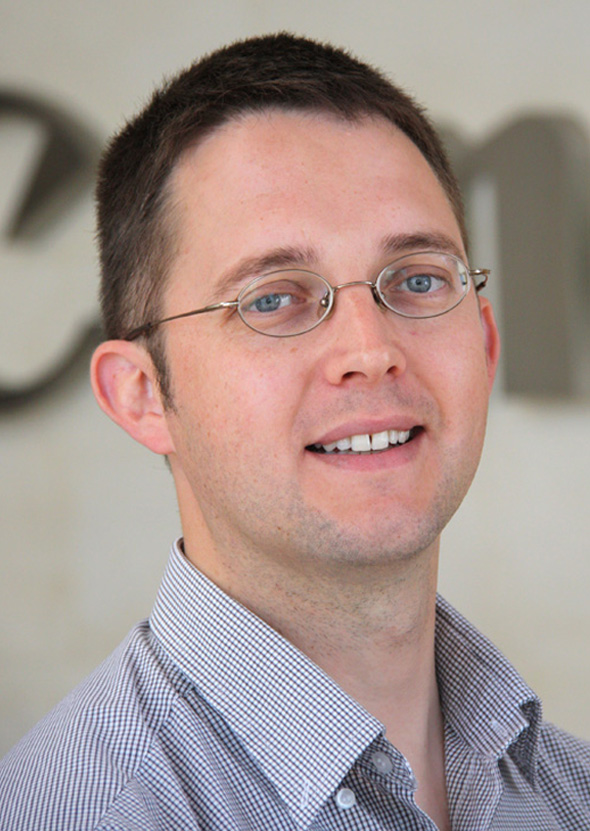 Are we likely to see Canon cameras adopt an Android OS? Does the EOS 70D's new Dual Pixel AF CMOS system have any consequences on image quality? And what relatively new feature are we likely to see on many more cameras soon? We caught up with David Parry, Product Intelligence Professional at Canon UK, to ask him all of these questions and more.
MG: Can you tell us about the EOS 70D's new Dual Pixel CMOS AF system please?
DP: So, this is a completely new system, on a 20.2MP sensor. I've already seen some people asking whether this means it's actually a 40MP sensor – no, it's still 20.2MP, it's just that each pixel has a microlens and two photodiodes. And that's the same for the entirety of the sensor, so all 20.2 million pixels have two photodiodes each. We only use 80% of the area for focusing because the accuracy drops off as you get closer towards the edges, due to lens technology.
MG: Because of aberrations?
DP: Exactly.
MG: Presumably all pixels are like that because it's cheaper to manufacture the sensor in that way?
DP: Yes - otherwise you'd have to break up the array and it doesn't make sense to do that. The beauty of this system is that each photodiode can read light independently. It looks at the two signals and works out which way the lens has to move, which means you don't have the contrast-detect system where it's going backwards and forwards. This gives you much faster and much more accurate autofocus.
MG: The EOS 650D, and the more recent 700D and 100D, employed the Hybrid AF system. Will there still be a use for that technology? Or will this newer system replace it in future cameras?
DP: We've been told there's no downside to this system whatsoever in terms of image quality. We've seen this work, and know that it works really well; it comes down to whether the public like it. If it's taken on board by the public, and people say that they want this system on more cameras, I can't see any reason why we wouldn't roll it out. What I'd personally like is to see this on a full frame sensor – how cool would that be? This can't be put on other cameras through firmware updates; this is a completely new piece of technology, so it has to be implemented as a piece of hardware. With any luck we would roll this out to other cameras, but, like I say, it depends on how well accepted this is. This isn't a cheap piece of technology, so we'll have to think about what products we put it in and how that will affect the price point.
MG: Are there any technical reasons why you couldn't have this on a full-frame sensor?
DP: I can't see why not. I mean, obviously you'd have to redesign each pixel but we do that anyway when we build new sensors. So no, I can't see any technical reason why you wouldn't be able to do this.
MG: Would it be more expensive to implement on a full frame sensor?
DP: It would definitely be more expensive, but then making full frame sensors is more expensive anyway. Whether it would be cost-prohibitive to make it that size I don't know, but I don't believe it would be.
MG: And for compact cameras? Obviously they rely on contrast-detect AF systems as standard, so do you imagine this will be featured on future PowerShots and IXUS's?
DP: I don't know. I can see it going to more SLRs, but whether it would be cost prohibitive on a compact I don't know.
MG: You'd be creating it on a much smaller scale, so could there be issues with that?
DP: Maybe if you're making it on a smaller scale there would be issues with accuracy. Perhaps if the pixel pitch is too small there could be issues, but I don't know.
MG: And you say this system has no implications on image quality?
DP: Even if you're pixel peeping and going in super close, there's no downside on image quality.
MG: The Dual Pixel AF system is compatible with over 100 lenses, but there are around 50 or so which are either not compatible or partially compatible, correct? Presumably these would be the older lenses?
DP: That's some of the older, more obscure lenses. There's only one lens I spotted on that list that I imagined some people might still have which is the EF 16-35mm f/2.8L USM.
MG: So what would the limitations be with these non-supported lenses?
DP: What will happen is that you won't see the benefits of the Dual Pixel AF system with regards to speed. The system might still work, but these lenses haven't been extensively tested by Canon Inc. What Canon Inc. has done is test all of the lenses to make sure there is 100% compatibility and accuracy with the new system. They've tested over 100 lenses, but there are some obscure ones which they haven't tested as extensively, and those are the really old ones
MG: So there may still be a benefit but you can't guarantee it?
DP: Yes, exactly.
MG: The EOS 70D's (phase-detect) AF system is borrowed from the EOS 7D, but given that this camera uses a newer processor, would there be any difference in AF speed when using it to focus conventionally?
DP: As far as I'm aware it should be the same, in terms of both speed and accuracy.
MG: One question we were asked this morning is that considering the similarities between the EOS 7D and the EOS 70D, do you anticipate the 7D is likely to be refreshed anytime soon?
DP: The EOS 7D still has a place in the line up, because there are still reasons to choose it over the 70D. There's the magnesium alloy body, extra frame per second, the lager buffer rates, the added focus modes too (the 7D has five next to the 70D's three) and the Spot AF option which is good for longer lenses. So there are still reasons to go for the EOS 7D, particularly now that it's had a firmware update which transformed I quite significantly, improving the speed of processing for example. The EOS 7D isn't obsolete just because the EOS 70D has been launched.
MG: It's interesting because they're both the same price at the moment…
DP: …which gives you a choice: if you want something that's lighter, with a vari-angle screen and with fast AF in live view then the 70D is for you. If you do a lot of work outdoors with wildlife you might want the faster frame rate, bigger buffer and magnesium alloy body of the EOS 7D. And if you have a 400mm or 50mm lens, you might want the 7D's Spot AF option too. So it really depends on what you're shooting.
MG: You mentioned the EOS 7D's magnesium body, whereas the EOS 70D's body is largely polycarbonate; what kind of protection does it have against the elements?
DP: We don't give any weatherproofing stats on these cameras, although it's the same kind of weatherproofing as you have on the 60D. When we went from the magnesium alloy body on the 50D to the polycarbonate body on the 60D we got quite a lot of flak, but I haven't seen any issues of 60D's breaking in the environments they're used in. If you look at the number of 350Ds or 400Ds that are still out there being used, you realise the polycarbonate bodies are actually really good. Obviously if you do want the magnesium alloy body, the 7D is still there in the range. We have tried to quote figures for weatherproofing before but it never seemed to work. We can't actually get the industry-standard ratings for cameras like the EOS 70D simply because they take different lenses.
MG: The 6D was the first DSLR to have a GPS system, although the 70D doesn't have this. Is this down to cost? Or due to the different target market at which the model is intended?
DP: I would say it's down to a variety of things such as size and weight, but also due to getting it to a really good price point. Obviously we have the new sensor technology in the 70D; if we included a GPS system as well it would probably make it a little bit more expensive.
MG: The 70D uses the same battery as the 6D and the 5D Mark III…
DP: Yes, and the 7D and 60D. It's a really good battery, the LP-E6, a real step up from the batteries inside the triple-digit models such as the 700D, because with those you only get around 440 shots. If you step up to, say, a 60D or the 70D, you get around 1000 shots.
MG: Potentially that makes a camera like the 70D a useful backup option for people with a full-frame body. Do you imagine professionals are likely to adopt it for this reason?
DP: Yes. That's something we always found with cameras like the 40D or 50D. It's surprising how many pros actually shoot with them, but then the image quality is amazing. If most of your stuff is landscape work you'll probably go for the 6D because it's small and light, but if now and again you get a job where you're shooting action or sports photography, a cropped-sensor camera will give you an added reach for your lenses as well as a faster burst rate.
MG: What kind of feedback have you had with regards to the touchscreens on cameras like the 650D and 700D?
DP: When we first put touchscreens on a DSLR people asked us what we were doing, and made it clear they had no intention of using them. Our response was that we hadn't done away with any buttons or controls and that the touchscreen was simply there if they wanted to use it. And then we had people coming back to us saying that the touchscreens were amazing, and that they could change the focus point quicker than they'd ever been to before, as well scroll through images and pinch to check focus. The feedback has been fantastic. I have to say I think we have really great execution here. We have a capacitive-type touch screen which is what most mobile manufacturers use; it's a touchscreen that's logical for people who are used to using touchscreens. There definitely was a reluctance when we first put it on a DSLR, but we had exactly the same reluctance when we started putting vari-angle screens on our DSLRs. People said they didn't want it, and they were worried they would break it off, or that it would let water in. But did it happen? No. People realised how fantastic it was to be able to shoot down low on the floor and still see what they were shooting. You can have a really useful piece of technology but you need to convince people of how useful it can be, and it's not until people try to it that they realise this. Video on DSLRs is another good example.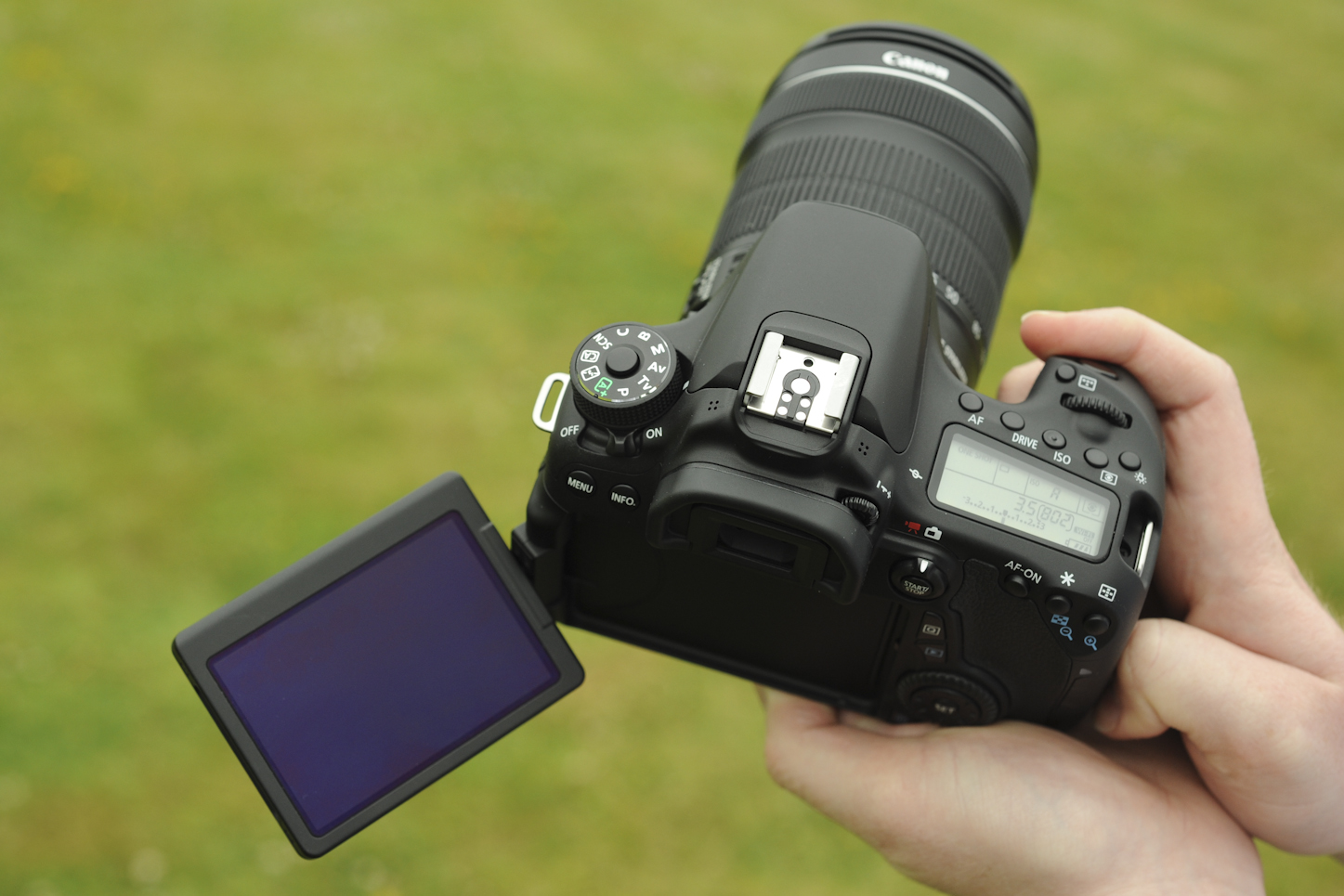 MG: And live view before that.

DP: Exactly. When we first introduced live view on the 450D people said "why would I want to use that? I can do without it". But it's great that we can show people these technologies that make things easier for them. I think people just need to try these things before deciding it's not for them. And I think today's generations are expecting that if you have a screen you should be able to touch it.
MG: You obviously had this before on your more entry-level models, but the 70D is the most enthusiast-oriented camera to have a touchscreen.
DP: We have to remember that this is relatively new on a DSLR, and if more and more people adopt it and say that they want it, and really like using it, then we'll put it onto more products. If the pros come back to us and say they'd really like having a touchscreen on the 1-series DSLRs then we'd put it on there.
MG: Can you imagine incorporating something like an Android OS on either a DSLR or a product such as the EOS M?
DP: One difficulty with doing that is that you're alienating half of the consumers. What happens to all the people with iOS devices? What we would prefer is to stick with wi-fi, and create a wif-fi execution which works really quickly and simply with all of the different formats out there. That way we're not saying to people that you have to use this particular product, or you can't use this particular product - and by doing that we're creating a camera for everyone. When you start putting technology like 3G on a camera, you have to start thinking about battery life too. And the way it seems to be at the moment, if you have a smartphone in your pocket anyway, and it does everything that the same OS would do on a camera, it's just as easy to send you image from your camera to your smartphone and do what you need to do on there. It's a difficult one because that's what's big at the moment.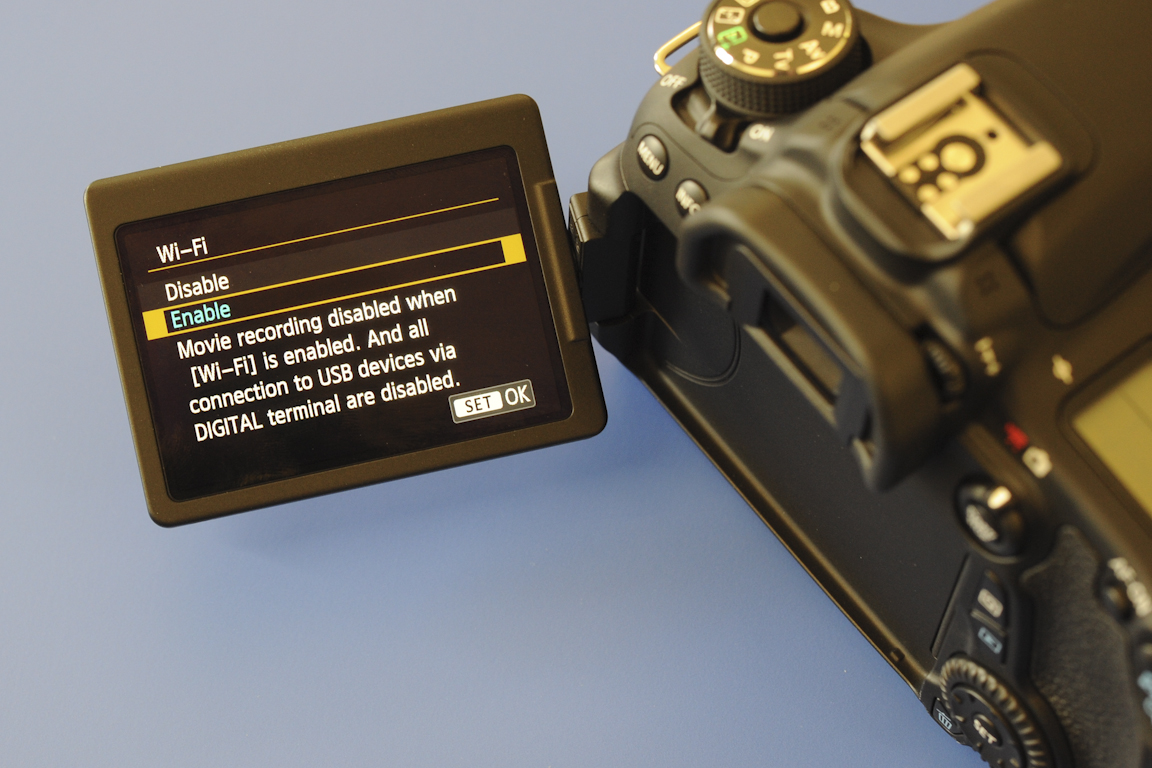 MG: With the Wi-fi functionality on the EOS 70D you can share images between cameras, is that correct?
DP: Yes, between Canon cameras. At the moment you can take an image on a DSLR and send it to your smartphone, for example, or from a compact to a DSLR.
MG: Canon you transfer images between different brands of camera?
DP: As far as I'm aware you can't do that with other Wi-fi products.
MG: It's not actually that expensive to include Wi-fi in a camera, is it? You're seeing it on particularly affordable compacts now.
DP: That's right, we have it on a compact that's around £120 (the Canon PowerShot A3500IS)
MG: That being the case, do you see that as soon being a standard feature on the triple-digit EOS models?
DP: I can see it as being included on many more cameras. I think we're going to get to a stage where if a camera doesn't have Wi-fi it just won't cut it. It will have to have Wi-fi to be taken seriously. I think it's fantastic; you should be able to send your images anywhere you want from any product we have, as far as I'm concerned. With any luck we'll see Wi-fi on more products.
MG: Can you tell us about the plans for the EOS M? Do you imagine the system will expand more towards the entry-level user or the other way? Or both?
[Unsurprisingly, David was unable to talk about any new products which may be on the way, although he was happy to discuss where the system currently stands].
DP: We've just launched a new lens for it, the 11-22mm f4-5.6 IS STM which gives people that wideangle possibility. As far as longer lenses are concerned, such as a 55-250mm lens, they're physically quite large anyway, so you might as well just use the adapter and use the existing EF-S 55-250mm f4-5.6 IS II which is under £200. That's why we went for the wider angle, to have a good compact wideangle lens in the range. The EOS M is about £400 at the moment, which is a massive reduction over when it first launched, and we're releasing a firmware update for it which transforms the autofocus on it, which wasn't quick enough. We've managed to rework the algorithms to make it quicker, and it makes a massive difference. We were really surprised with how much we've managed to change it.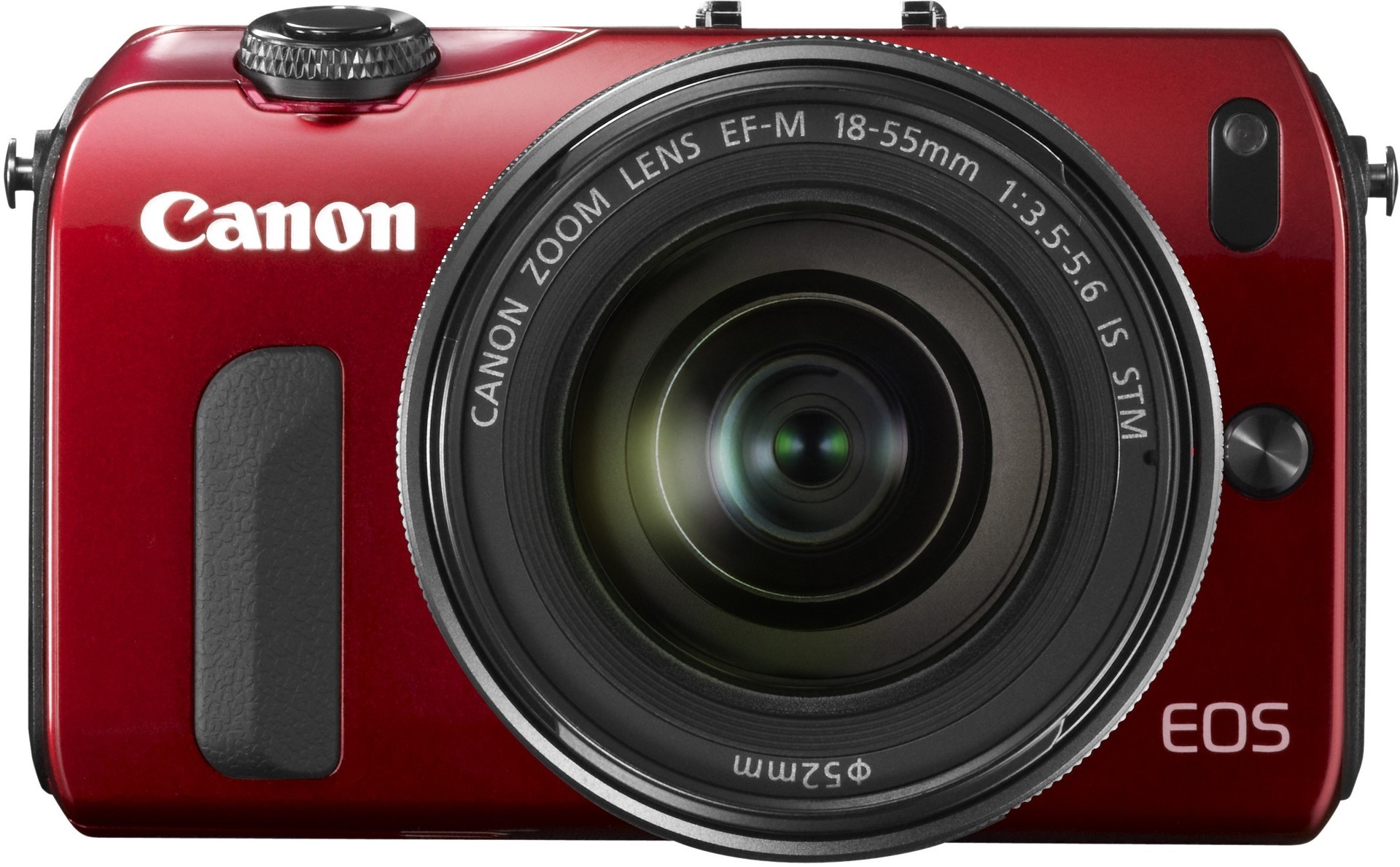 MG: Have people generally gone for the EOS M kit with the EF adapter? Are there a lot of people buying the camera for use with their EF and EF-S lenses, or do people tend to view this as a completely separate system?
DP: It's a good 50/50 split. What we've found is that it depends which retailer you talk to. Independent retailers such as yourselves have told us the adapter kit has been the big sell for people who already own an EOS camera and want to carry on using their lenses. But then when you talk to more general retailers they would say the 18-55mm kit has sold better. And that's almost the difficulty with a product like the EOS M, because we're targeting completely separate groups of people with one product.
MG: Although it's good that you can satisfy two market with one product.
DP: Yes, hopefully. With this new firmware update we should get some better feedback. But what I like is that the feedback has come in and people have said that it's a great camera, and the image quality is great but the focus is too slow - and Canon Inc. has managed to come up with a way to make the autofocus so much quicker. So rather than releasing a new camera with better autofocus, they've made this available for people who have already invested in the system.
Many thanks to Tristan Findlay, Steve Bramall, Christopher Bell and everyone else who submitted questions for this interview.