What's it like to photograph bands and artists commercially? Jordan Curtis Hughes reveals all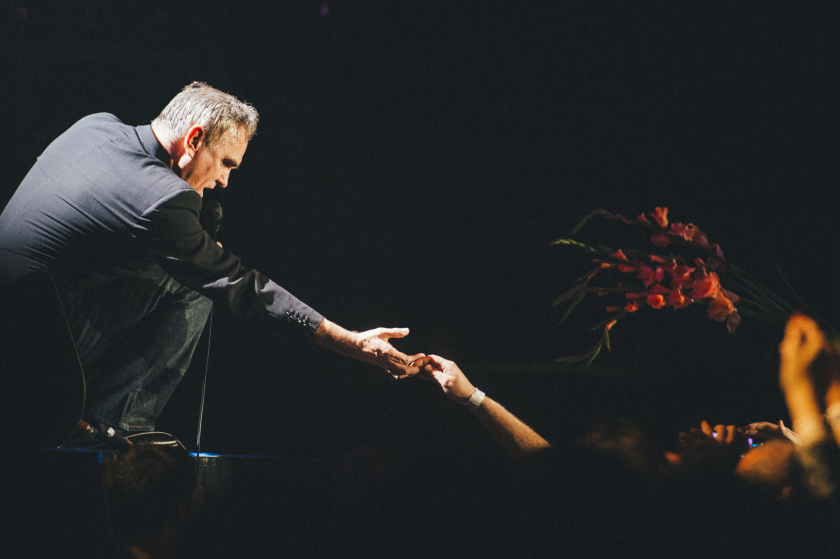 All images by Jordan Curtis Hughes
Music photographer Jordan Curtis Hughes' original and impromptu photographs feature artists at the forefront of the music industry today. With a portfolio that includes A$AP Rocky, Taylor Swift and Coldplay, his work continues to adorn magazine covers and campaigns for big brands like Levi's, Beats and Skype.
Wex Photo Video: Why did you decide to work in the music industry?
Jordan Curtis Hughes: It was a conscious decision to become a music photographer. When I was a teenager I was at several gigs a week, and I started photographing them and getting in for free. The bands that I liked motivated me to shoot. My first love was east coast punk rock – Rancid, Green Day and others.
My work tends to follow my music taste – I still want to enjoy what I am doing and keep my photography fresh. There are so many parallels between punk and grime – their DIY and working class aspects in particular – and once Grime came onto my radar I became obsessed with it.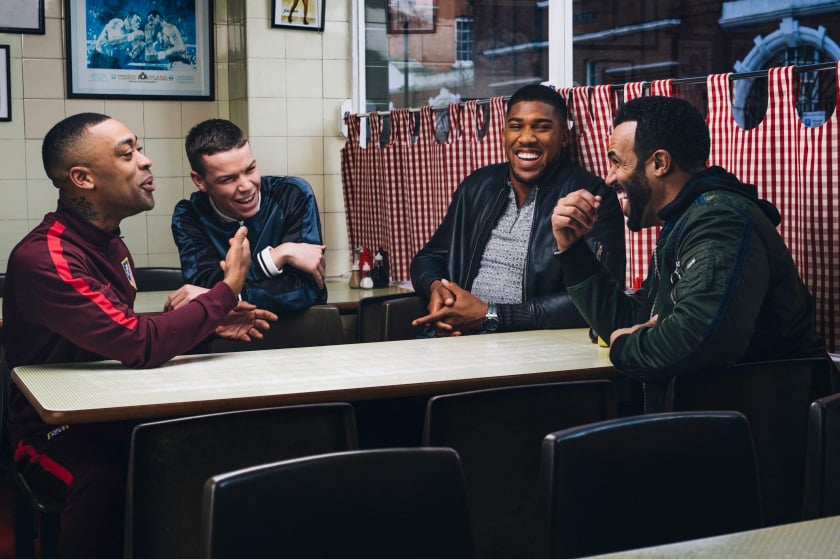 W: How do you prefer to photograph your sitters?
J: I always see the background as part of the image. It is a part of my process to photograph people in their own environment, and this even applies to more formal portrait shoots. I was shooting with a band called Astroid Boys in Cardiff, and I felt it was important for me to visit them in Wales. They were really nice boys, and since they were at home they were more familiar with their surroundings.
My setup is pretty chilled. I never have loads of crew and lighting. They literally took us around where they grew up and I photographed it!
W: Which photographers have shaped you creatively?
J: Annie Leibovitz. Her Rolling Stones photos are incredible. Her documentary approach is something that influences me. Yes they are "portraits", like for example the photo of Mick Jagger in a lift, but in that case she was just hanging out with him and happened to create those shots. Her commercial clients are ridiculous and she has a very distinct style. I would like to meet her quite a lot.
I assisted Tom Barnes for about a year and I learned a lot from him. Assisting is something that I would like to do more; it is important to keep learning. It was cool to see how his shoots typically work and how he interacts with clients.
W: Which artists in your portfolio have been the most memorable to photograph?
J: I have worked with A$AP Rocky quite a bit. I did a piece with him for the NME and we got chatting, and we found we had lots in common. He is an all-around really nice dude and he has lots of projects on the go outside of music. I went into a recording studio with him while he was making some tunes, and when he launched a music video premiere at the Everyman Cinema I got to photograph all the crowd surfing!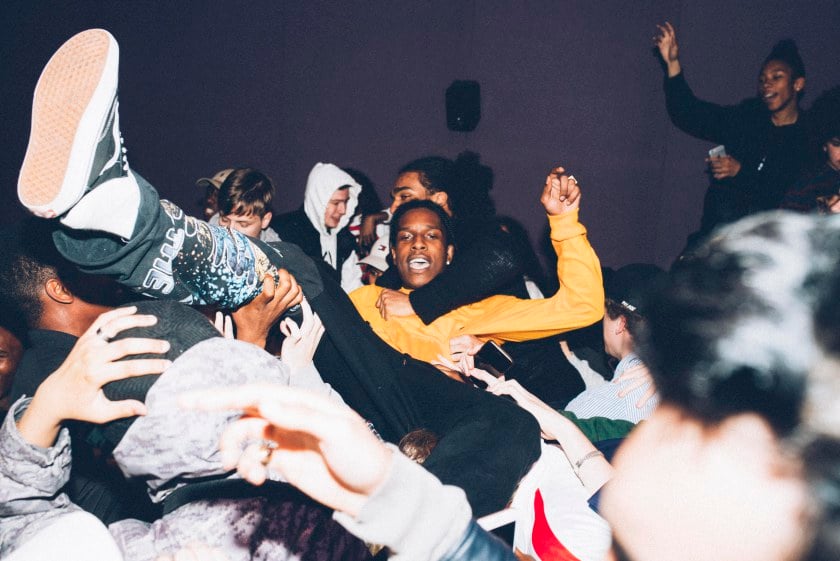 W: How do you find adapting your style for commercial collaborations?
J: It is the reality of working in the creative industry – you need to create commercials. If I could make a living shooting my mates' bands that would be amazing but commercial jobs have a lot of benefits – they give you access to wider networks and are quite fun!
My initial growing-up period was working for the NME. They would provide a brief that I would need to fulfil. It is comfortable having someone ask for 'this, this and this' and then I can put my own spin on it. Even when I am shooting a commercial it is still within my field – the Levi's collaboration was with Skepta. It is never that far away from what I do anyway.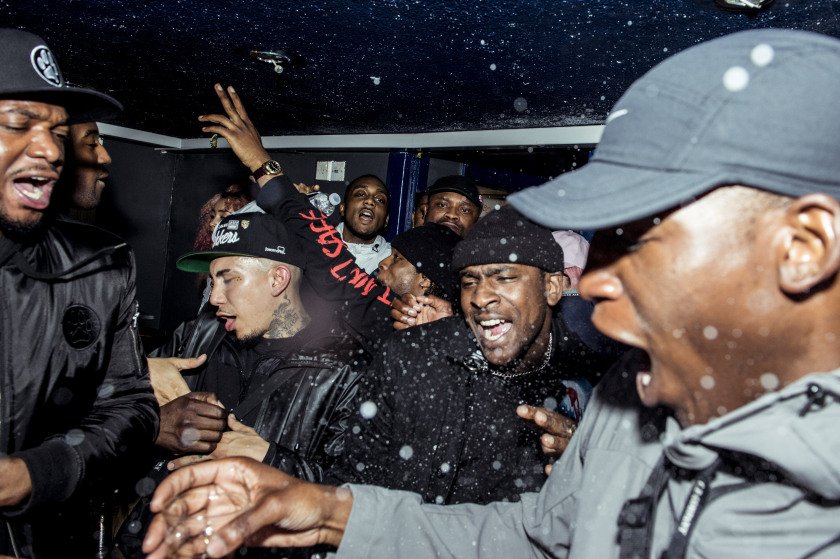 W: What is it like to see your work on the front of a magazine?
J: I was getting quarter page spreads and then half page ones. Full and double page spreads came after that. It was interesting to see my work progress. My first NME cover was with a band called Slaves, with whom I had shot a few times before, and it went really well. When I walked into my newsagents and saw it for the first time, I picked up a few copies and spread them across the magazine stand. I have done three covers since then and I still get really excited about it!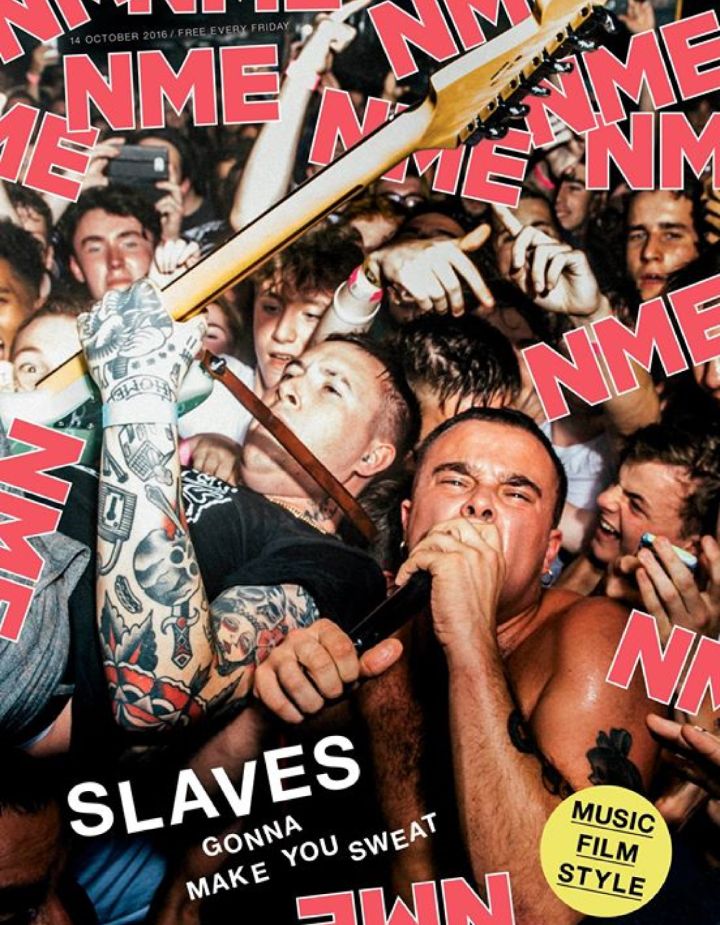 I did a Taylor Swift cover, which was really cool. She was wicked. I thought 1989 was a great pop record. We put some tunes on and she literally danced away. It was quite intense, because she had a massive creative team and had security around her, but Taylor was extremely professional and made the shoot even more enjoyable.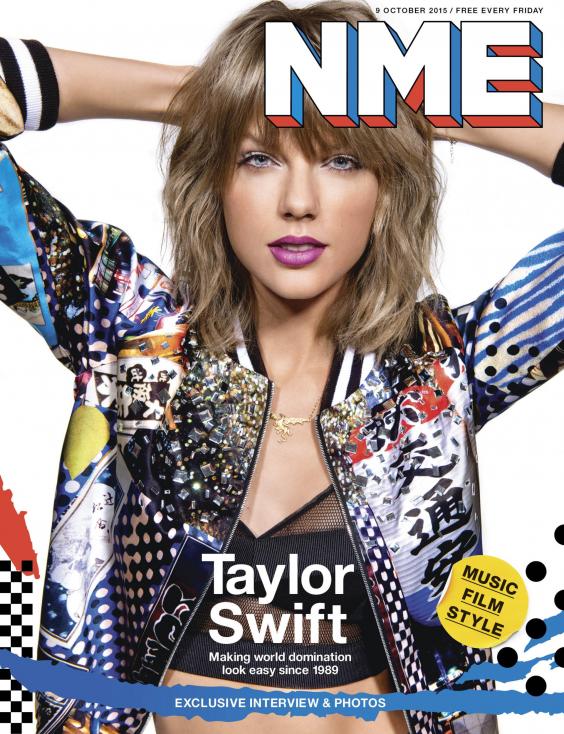 W: How would you photograph your favourite band if given the opportunity?
J: I have never photographed Green Day. It is a childhood ambition and I will never rest as a music photographer until I have photographed them. I would like to do a super-high fashion shoot. They have been wrapped in an American flag so many times. It would be cool to shoot with them in nice suits with some gelled lights!
W: What equipment do you take with you on assignment?
J: For shooting live, I have a Nikon D4. It is the ISO capacity on this camera that I favour. My Nikon D800 is a secondary body. It has been dropped before and it keeps going. A Nikon 24-70mm f2.8 is the main lens that I use for shooting live, while a 35mm f1.4 Sigma Art lens is a lot of fun for a smaller stage. I will work two bodies and keep switching between them – I never like to miss stuff. It is important to get the moment, even if it is not pin-sharp. The Clash's cover for London Calling is out of focus, but that is a wicked photo.
See more from Jordan at jordancurtishughes.co.uk, and follow him on Twitter and Instagram.
About the Author
Luke Das is a portrait photographer specialising in the performing arts. See more at his website: lukedasphotography.net.
Related articles