The #WexMondays winner for 2022 is the fantastic Richard Fox! In our interview, he tells the stories behind his beautifully atmospheric landscape images
Wex Photo Video: Congratulations on winning Wex Photographer of the Year for 2022! How did you feel at the moment you realised you'd won?
Richard Fox: Thanks very much! Well, I was stunned. I didn't start it in January aiming to be in with a chance of winning, as I have every year I've entered, but by the summer I thought that I might just be – as this year we had no official results table. When I knew the result, it was one of those moments of almost disbelief. I'm not a very competitive person and don't enter many competitions, on the whole, so to actually win a UK-wide competition is certainly a big first for me!
WPV: How have you approached the challenge of consistently getting a photo to enter every week?
RF: I just enjoy photography. I don't capture images with an aim to try and win anything, or to be popular. I enjoy the challenge; it compels me go out into nature, go for hikes and to be in the moment. So that is something I have always done. Competition entries have always been a knock-on effect of my photography.
However, entering #WexMondays every week has certainly added to the personal challenge. Ordinarily, I would capture images of a similar genre every year, depending on seasonal changes, but 2021 was a challenge, with Covid and lockdowns. Living a few miles from the Campsie Hills and The Trossachs National Park, in Scotland, has certainly helped a lot. I have also gained more confidence in trying out other genres, like indoor still-life and water-drop captures, and then also a bit more wildlife like salmon leaping, and derelict building photography.
Perhaps it has opened my eyes a bit more, and I don't feel pigeon-holed into being purely a landscape photographer.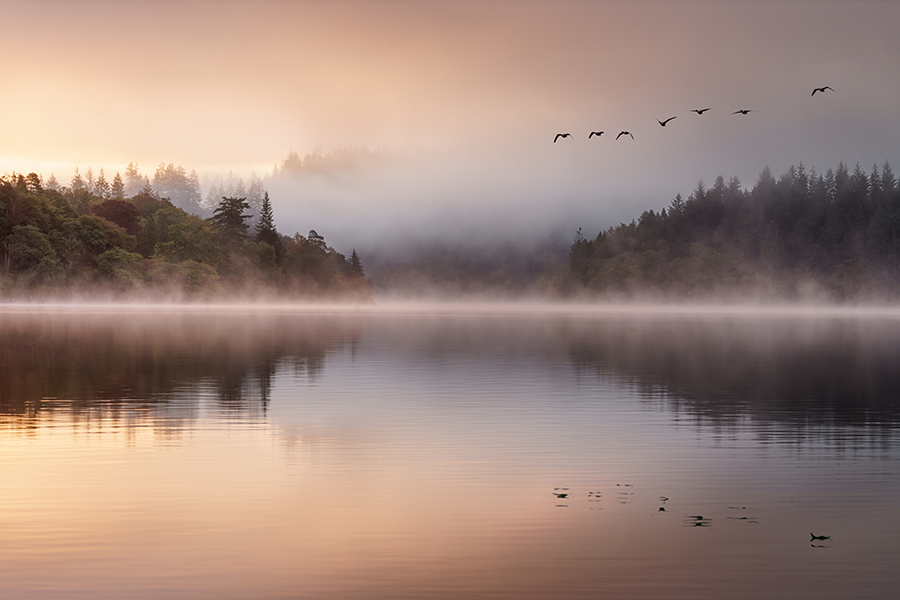 Richard specialises in atmospheric, misty shots.
WPV: Which particular entry of yours are you proudest of?
RF: I think it must be 'Cranachan'. It was one of those mornings where all the elements you want, as a landscape photographer, came together. I had looked at the forecast the evening before and was aware of the high likelihood of fresh snowfall. The forecast suggested a cloud break might be present at sunrise with the front moving south. One of those trips where you put your alarm on early and you know it's going to be a gamble as to whether it's going to be nice, or a day of low cloud, clag and flat light.
As I arrived at the carpark, I could see the gap on the horizon, but it was shrinking fast as the front moved southwards. I reached the top of the Menteith Hills, and the skies started to glow red. It was cold, but not too windy, and there was mist everywhere. As the first light hit Strathard and Ben Lomond, the hairs stood up on the back of my neck. Absolutely perfect – more to the point, beautiful. Capturing a scene is always the icing on the cake.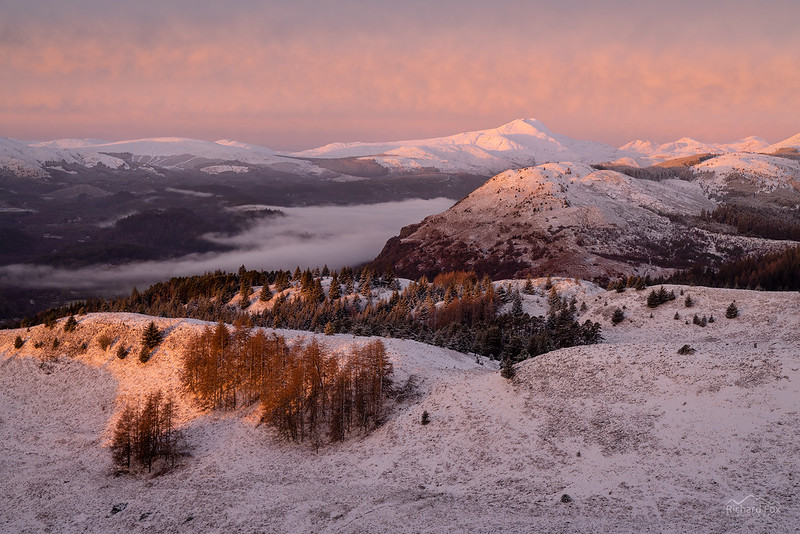 The 'Cranachan' image, Richard's favourite of his #WexMondays entries.
WPV: How long have you been a photographer – and how do you feel you have developed over the time?
RF: I would say I started properly taking landscape photographs in 2012, when I made the risky purchase of a full-frame DSLR camera (I had a Micro Four Thirds before that). My drive to take better images started there. I thought, like many, that getting an expensive camera would make me a better photographer – it didn't! I was determined to improve and get my images to the standard I had seen from fellow photographers – the quest (and addiction) had started.
I still, to this day, look at photos I captured six months ago and find myself being quite critical at composition, focusing, technique and post-processing. The initial temptation to over-clarify, over-sharpen or to over-saturate is one which I think many photographers go through.
Capturing nature in its rawness is still what I enjoy the most. Dartmoor is where I first started, and I have found it to be one of the most challenging places to capture to date. Scotland is now my home, and one of the most stunning and perhaps more forgiving places to capture.
I think my style has changed over the years; perhaps because of where I live, I capture more subtle and simple scenes that I used to. I used to shoot into the sun a lot, but it's much harder to capture the last light of day when you are surrounded by hills and mountains – unless you make the effort to go up them!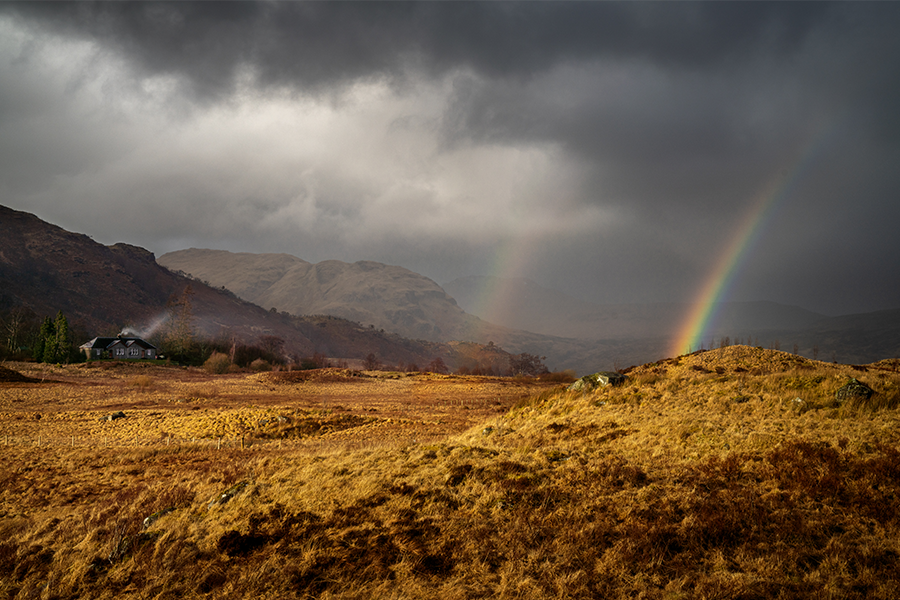 Richard waited three hours in the rain for this double rainbow.
WPV: Your shots were from a wide variety of locations. What do you look for when seeking out new places to shoot?
RF: I enjoy hill-walking and exploring. I do a lot of recceing that way, and you end up discovering new locations sometimes by chance, or finding wildlife you've not seen before. I think you need to take a chance sometimes, and walk around a corner you haven't explored, or over a hill you've never tried before. It's amazing what you can find. I think we all sometimes fall into the trap of feeling we must come back with a photo after a trip. However, with time, and perhaps developing a bit more of a portfolio, you feel more like taking a risk or a punt.
I get obsessed with looking at the OS maps and planning to visit new locations, sometimes trying to tie that up with the weather forecasts and planning software like The Photographer's Ephemeris. However, more often than not, the idea you go out with is not the result you come back with. It's always best to change your plans if the conditions look better elsewhere, or even behind you. A lot of it is down to luck with the weather, but if you don't venture out and don't go to new locations, you will not capture anything new or original, which keeps me interested.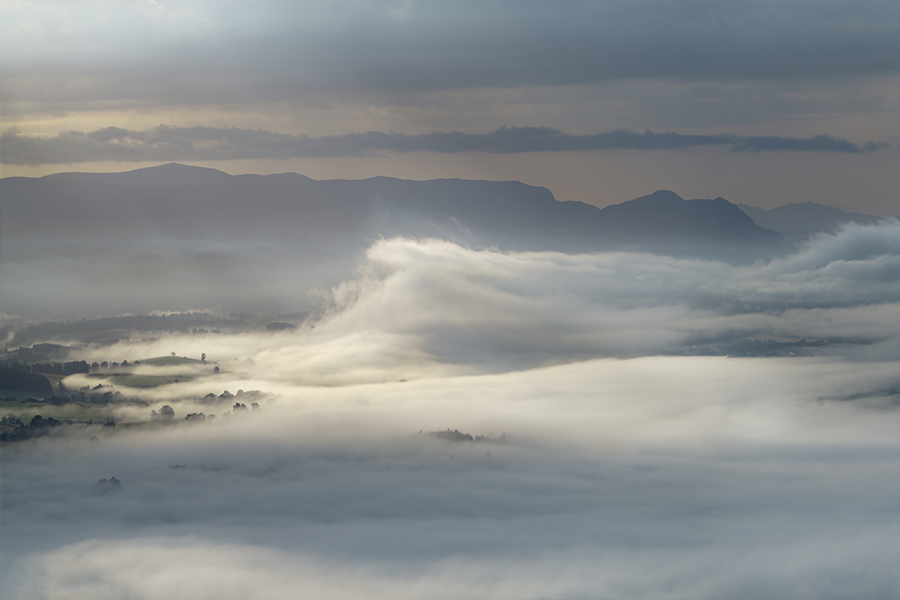 This glorious cloudscape impressed the #WexMondays judges.
WPV: Do you have a favourite location?
RF: I think it has to be the Menteith Hills area in the Trossachs National Park. It's local to me, sometimes covered in snow and the area gives you a huge 360-degree vista. It takes a good 40 minutes to climb up them – longer if snowy, blowy or boggy – but once you are there you have the whole of the Carse of Stirling, Campsies and much of the Trossachs in view. The Carse of Stirling and The Trossachs readily fill with mist and plenty of temperature inversions too (mist is my favourite thing to capture).
WPV: Are there any other photographers in the competition, this year or previously, that you particularly admire?
RF: I admire a lot of photographers, both inside and outside of the competition. It's difficult to pick one individual who has entered #WexMondays, but I think there are a few that consistently deliver good images, particularly during the last year of #WexMondays, that perhaps did not reach the top five. Also I'm sorry for those who might be reading this, that I have not mentioned below!
First, Alan Leightley. He constantly produces great landscape images throughout the year, some at unknown locations and some at well-known ones, like Bamburgh Castle, in truly epic conditions. I think he ventures out a lot, and the more you go out, the greater your chances of capturing something stunning.
Next, David Queenan. I think for me he has a very accurate eye for composition. He constantly produces very fine art images, often quite minimalist and intimate. His use of colour and editing is always pleasing to the eye.
Finally, Sarah Longes. Despite her lack of mobility, Sarah has a huge portfolio of wildlife images that always are lovely to see every week. She is not afraid to post the same subject taken on a different day, the next even better than the last. I hope at some point to have the passion to seek out wildlife that she does. She is always very supportive of other photographers too.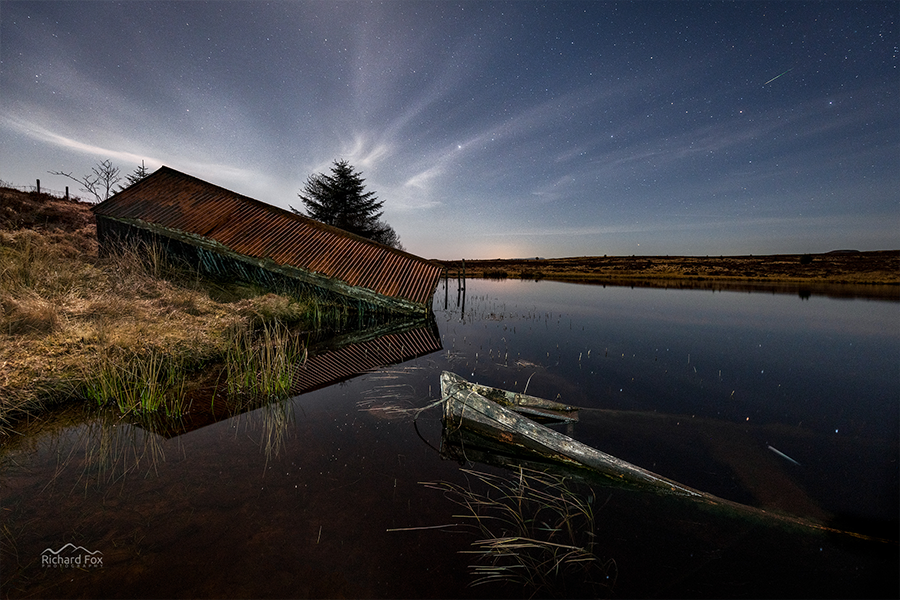 One of the Lyrid meteors is passing into the upper right of this tranquil frame.
WPV: What is your current kit setup? What do you like about it?
RF: I used to use Canon DSLRs, but when a friend shared a RAW from the first Sony A7R I was hooked, and have used them ever since. I currently use the Sony A7R IV. It has great dynamic range which helps capture those contrasty bright scenes. I didn't think going to such a high-resolution sensor would make much difference but the RAWs do look great. I feel I do more subtle cropping in post than I would have felt comfortable with previously. Big prints also look great.
I slowly moved away from using my Canon lenses and now have natives. I usually take my Sony 24-70mm f/2.8 GM. This is my favourite lens. I often leave my 16-35mm f/2.8 GM at home if I am hill-walking, to cut down on weight. The 24-70mm isn't, like many, very flare-resistant, and so I tend to use the 16-35mm for backlits. I take my Sony 70-200mm f/4 G with me up peaks as it provides more than enough reach for most mountain trips. It saves a lot on weight, and it's lovely and sharp from 70mm all the way through to 200mm.
For telephoto misty shots I always take my Sony 100-400mm G Master. It's obviously not a light lens but very adaptable and can be used for wildlife and macro especially with an extension tube if necessary.
I use the rest of the kit less often, but I have a Sony 90mm G Macro (which I use a lot during spring and summer for insects) and a few primes like the Sony 55mm f/1.8, 85mm f1.8, and also tilt-shift adapted medium format lenses like the Pentax-A 645 f3.5 35mm and f2.8 45mm lenses.
WPV: …and what do you have your eye on next?
RF: Two items, if I am honest. I have been saving up to replace my Mavic 2 Pro drone I lost last year. I really enjoyed capturing aerial shots with it and I was gutted when it developed a rotor failure whilst flying it over a local loch. Unlike when a drone falls over land, which isn't pretty, falling over a loch means it's gone for good, as are the images it may have contained! I have waited patiently for the Mavic 3 to be released, and it seems now perfect timing to get a new one.
The other piece of kit I have been looking at, particularly for the coming spring and summer months in order to dabble a bit more in wildlife photography, is a longer telephoto zoom lens. The 100-400mm is great but to have a bit extra reach, especially in crop mode, with the Sony FE 200-600mm F5.6-6.3 G OSS Lens would be awesome. We have some great wildlife here in The Trossachs, and from my trips out with the camera capturing landscapes, I've started to learn where they are located and where they feed and breed.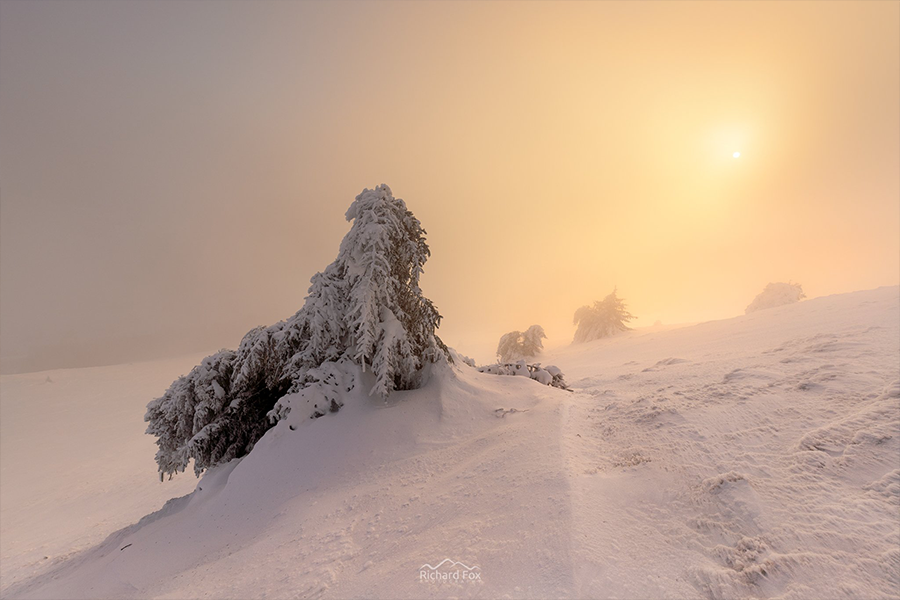 A sunrise on the Campsie Fells
WPV: What advice would you have for someone thinking about trying the competition for the first time?
RF: I would say firstly, enjoy photography. I think if you love photography, that will give you the most motivation.
Having a weekly competition to enter certainly gives you more impetus and drive. However, entering competitions can lead to both exhilaration and disappointment. You can't expect to win every week, and you can't expect to win overall.
I have to say one of the best things about the #WexMondays competition is the community spirit that it brings. It can be hard to take rejection. However, I have found, in hindsight, it has made me a stronger person.
The most important thing is to have pride in your work and like your images first and foremost. Being self-critical is important and asking fellow photographers their opinion, when delivered in a constructive way, can also be very helpful. In most competitions judges are looking for something eye catching, perhaps out of the ordinary and or original. The challenge is to find and capture it.
Richard Fox is on Twitter as @RichardFoxPhoto.