An inspiring architectural image tops the sixteenth week of our #WexMondays competition – photographer Iain Tall tells us how it was done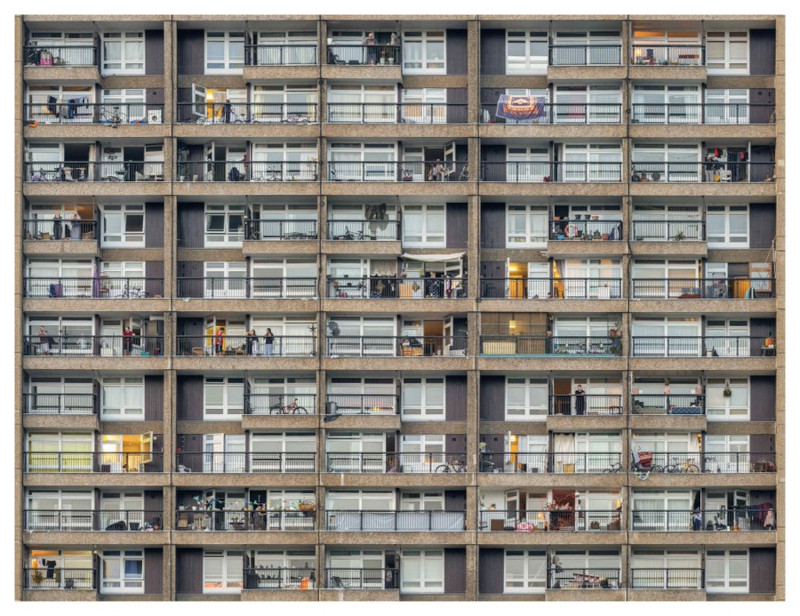 Image by Iain Tall
Shapes, lines, details and a good story – this image by photographer Iain Tall (@IainTall on Twitter) has it all. The shot impressed our judges hugely thanks to its stately composition, its mastery of form, and its feat of timing. After all, the image wouldn't quite have had the same impact if it hadn't been captured at the exact moment of a Thursday 8PM clap for the NHS.
Iain was gracious enough to spare us some time to chat photography and give us a little inside info on how this shot was captured – so let's waste no more time and get into the story behind the image...
Wex Photo Video: Congratulations on a great winning image, Iain! What were the main challenges of grabbing this shot?
Iain Tall: The hardest task for getting this shot was actually being able to find a clear spot where I was perfectly perpendicular to the building. Doing this helped to line up the vertical and horizontal lines of the building, and given that this is in quite a dense residential area, I needed to know the streets. Then there was obviously the good timing of getting the clap for the NHS at 8pm.
WPV: What kit were you using when you snapped it?
IT: It was a spur-of-the-moment shot. I grabbed my Canon EOS R and 100-400mm Mark II lens, and that was it.
WPV: What post-processing (if any) did you do on the image?
IT: It's actually a stitch of three images. I wanted to get in as much detail on the balconies as possible, so a tight zoom was needed. The images were stitched in Lightroom, and I made basic adjustments to exposure, highlights, etc, etc.
WPV: How would you describe your style of photography? How has it evolved over the years?
IT: I'm a kind of mish-mash photographer; I try and do a little bit of everything, and never really concentrate on one style of photography. Most of my images are from the great outdoors, but if I could have one wish, I'd like to spend another year in the national parks of South Africa. That would suit me to a tee.
WPV: Do you have your next #WexMondays image planned?
IT: I have a few ideas up my sleeve, but it's such a competitive weekly comp with some amazingly talented photographers, it's sometimes hard to keep up, but watch this space.
Iain Tall is a London-based photographer and an ambassador to the British Photography Awards. Keep up with his photography on Instagram, @iaintall.
Want to enter #WexMondays for yourself? Here's how to do it!
Related articles