Minimalist architecture takes the top spot in the eighteenth #WexMondays competition – we speak to photographer Paul Crudgington about his fabulous shot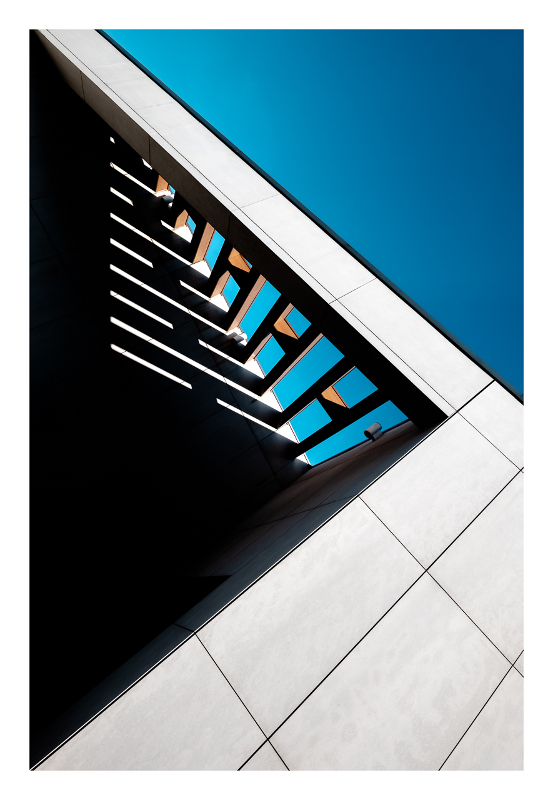 Image by Paul Crudgington
Lines, shapes, colour, form, the interplay of light and shadow – this shot blends all the elements of a good photograph together perfectly. It's the work of Manchester-based shooter Paul Crudgington, also known as @PaulCrudge on Twitter, and when our #WexMondays judges clapped eyes on it, they knew it'd be the winner of the competition's eighteenth week.
We love everything about Paul's clean, well-composed shot, and with the news that he's also been shortlisted in the Open Competition for the Sony World Photography Awards, we wanted to find out more about him and his images. So, over to Paul!
Wex Photo Video: Congratulations on a fantastic winning shot! Can you tell us when and where you captured it?
Paul Crudgington: Thank you! It was a goal for 2020 to win at least one #WexMondays so I'm chuffed to have done so. The photo was made in Ancoats, Manchester, on the 9th of May. The building is the New Islington Free School, located a few yards from where I live.
WPV: What were the main challenges of grabbing this shot?
PC: The main challenge was getting the angle right, as there's a fence between the Rochdale Canal tow path and the building itself, which is too high to see over. I had to manoeuvre the camera through an opening on the gate and compose using the camera screen.
WPV: What kit were you using when you snapped it?
PC: For this photo I used my Fujifilm X-T2, handheld with the 10-24mm wide angle lens at f/8, ISO 200 and 1/500sec.
WPV: What post-processing (if any) did you do on the image?
PC: I endeavour to do as much in camera as possible, so with exception of a small tweak to the crop, the composition is as it is on the RAW file. The main processing was done on the shadows to darken them and increase the contrast in Lightroom, as well as some content removal in Photoshop to remove a small distracting cloud, alongside further darkening of the shadows.
WPV: Your architecture photography is going from strength to strength (congrats on the Sony Award shortlist!). What do you find interesting about this particular genre – what keeps you coming back?
PC: Thanks! Making the Sony shortlist was a surprise to say the least and I'm honoured to have been shortlisted.
My minimalist architecture work was born out of a frustration early on in my photography journey of living in Manchester and the incessant rain and greyness. I would see these amazing minimal images online or in magazines with deep blue skies, wonderful colours and deep shadows, and would long to live somewhere with better weather!
So I decided to embrace the situation and challenge myself to create those type of images in Manchester, and it not only changed my photography for the better, it also changed my relationship with the city.
I'm as interested in the 'spaces' that buildings inadvertently create and how we interact with them, as I am the buildings themselves. It's also about finding beauty and interest in something that would otherwise be considered ugly or mundane. I wonder how many people have walked passed this building, noticed the interesting shadow created by the beams and thought, "That's cool!" Not many, I imagine!
WPV: Do you have your next #WexMondays image planned?
PC: Not yet. I usually just set out on a photo walk when the sun is out and skies are blue and work on instinct, but my last few images for the weeklies have all been planned in as much as I needed to wait for clear blue skies. During lockdown I've been using my camera less, but I've been much more productive. This image was pretty much the only one I made that entire week, but I'd spotted the scene a few days prior on my daily walk so I made a note of the time and vowed to come back with my camera and make the photo. I'm always on the lookout for new and interesting scenes when out and about and will often revisit a place at different times of the day to see what the light is creating.
Paul Crudgington is a photographer based in Manchester. Follow him on Instagram, @paulcrudge, and see more of his images at his website, paulcrudge.photography.
Think you've got what it takes to enter #WexMondays? Here are the rules and everything else you need to know!
Related articles