A crafty creation nets David Hixon a win in the nineteenth week of #WexMondays – here's how the shot was put together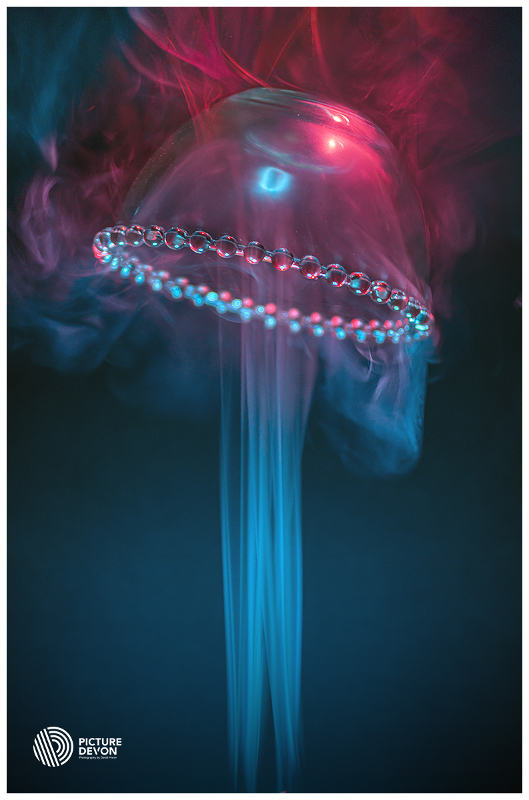 Image by David Hixon
Shooting at home is no barrier to creativity for #WexMondays photographers – as ably proved by David Hixon, also known as @PictureDevon on Twitter. His fascinating, ethereal image was a hit in the nineteenth week of our competition, and saw him impressing our judges enough to claim the top spot.
This was David's second win in the 2020 competition, and once again we wanted to know all about how his image was put together. So, we did the straightforward thing, and asked him! Over to David...
Wex Photo Video: Congratulations on another win! Talk us through this particular image – how did you put this shot together?
David Hixon: Firstly, I'd like to say thank you for another #WexMondays win. It is the result of an idea that's been floating around in my head for a while after seeing a 'chic style' beaded glass bowl (courtesy of M&S). That has all the makings for some jellyfish art, I thought, and bought one, then promptly laid it aside.
But the idea resurfaced when the Covid-19 lockdown happened. I had the basic ingredients: the bowl for the 'bell' of the jellyfish and some incense cones for its smoky 'arms' underneath and its wavy tentacles. So, I suspended the bowl in a cotton sling hanging from a laboratory stand, then adjusted the height over the cones – not so close that they would appear in the photo, but not so far that the smoke would go into the bowl.
For the lighting I used some LED torches, a flash ring and a sheet of red acetate. Then I set up the camera, taking photo after photo and tweaking the settings to get the look I wanted.
Finally came the time-consuming task of sifting through them all to narrow down a handful of images that I could process to create the final image, 'Chrysaora'.
WPV: You're usually a landscape and seascape photographer – how have you approached the challenge of shooting at home?
DH: Luckily, studio photography is not completely unfamiliar to me as I've created miniature scenes before in a small box room at home. However, during lockdown I use our shed as a makeshift 'shedio', because it's larger and good for projects involving artificial light. On hot, sunny days though, with incense cones and joss sticks smoking (as for Chrysaora), it's a bit like working in a foundry.
WPV: How are you finding the challenge of being creative in these unusual times? Does putting yourself in the mental space to take pictures require more mental energy?
DH: Well, these unusual times have forced me to change my photographic direction, but I don't feel particularly more challenged to be creative; it's just different, which is actually quite inspiring really. I hope I never lapse into a creative comfort zone.
Even exchanging the great outdoors for a shed hasn't cost me my sanity. I keep sketch pads full of ideas that have come to me over the years – a habit from my graphic design training – so I turn to those if I get a spell of creative block. I do struggle when the end result fails to match up to the idea, but I'm a practised problem-solver.
WPV: We talked about your kit setup last time we spoke – I was wondering if there's anything you had your eye on for the future? Any lens, camera or accessory that seems like it might be your next move?
DH: For now I see myself sticking with the Sony A7R II. I would like to replace the Canon 24-105mm lens (my favourite) with a Sony E mount equivalent, also maybe get a wide-angle lens for landscapes and seascapes. As for accessories, I would like to get a reasonably priced flash for the Sony, such as a Hahnel Modus 360RT Speedlight, and a few more good quality graduated filters.
WPV: Is there any advice you'd give to someone entering the #WexMondays competition for the first time?
DH: The first bit of advice is to read the rules! (having fallen foul of that when I first started). Do take inspiration from other entries and study them, but create something truly original yourself – that will convey something about you as well as presenting something unique. Don't worry too much about kit – a good photo is possible with affordable kit if you catch the moment right. Whatever you end up doing, just have fun with it!
WPV: And finally, as ever... do you have your next #WexMondays image planned?
DH: While I'm enjoying my studio-based photography I'll most likely concentrate on that for the short term. I still have plenty of ideas bubbling away in my head. I'm planning to create a series on my original glass jellyfish idea with a more minimal fine art look. I also want to revisit the miniature landscape idea. In the longer term as the lockdown is eased I hope to go back to my main love of fine art seascape, photographing all the places I was hoping to do pre-lockdown. But I'm sure I'll be back in a smoked-filled shedio from time to time.
To see more of David's images, visit his website: picturedevon.co.uk.
Think you've got what it takes to win #WexMondays? All you need is a camera and a Twitter account! Head here for the full rules.
Related articles