The second winner of our 2020 Twitter competition was a fabulous aerial image from Glastonbury! Jason Sturgess tells us how he grabbed it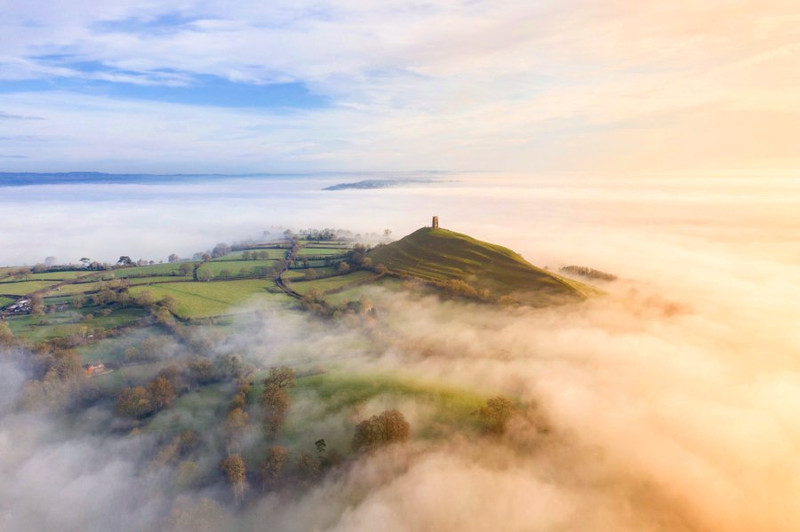 Image by Jason Sturgess
One thing we love about our weekly #WexMondays Twitter competition is the sheer variety of shots we see. Not only are there portraits, landscapes street shots and more, all taken on different types of camera, we also see plenty of fabulous drone shots!
It's always a pleasure when one of these images takes the top spot, and in our second week we saw a very worthy winner indeed from Jason Sturgess, who is also known as @DroneStudio on Twitter.
We couldn't resist catching up with Jason to get the lowdown on how this shot was pulled off, so read on for the full story!
WPV: Congratulations on a fantastic winning shot! Can you tell us when and where you captured it?
Jason Sturgess: This shot was captured back in early January, in Somerset, at Glastonbury Tor at sunrise. I live locally, so always pop my head out the window before sunrise to see what the sky is doing. On this particular morning, I could see the low drifting fog, and jumped out of bed and headed to a local hill on the outskirts of Glastonbury overlooking the Tor, and boy was I treated to an amazing view of the golden sun bouncing off the mist.
WPV: What were the main challenges of grabbing this shot?
JS: Does getting myself out of bed count? I'm not really a morning person, but I have learned over the past four years of droning that a good percentage of my best drone images are captured at sunrise. So this is an area that I have improved on as of late, and I made an exception to get up early and go and shoot whenever I can.
WPV: What kit were you using when you snapped it?
JS: Mavic 2 Pro.
WPV: What post-processing (if any) did you do on the image?
JS: I always shoot in AEB Mode on my drone and use the three shots, which I then combine together in Lightroom for the best image quality. I like to keep my work as real as possible and only tend to boost the vibrance a little, and then boost the highlights to give my images a nice warm glow.
WPV: How long have you been taking aerial photographs? What do you enjoy most about it?
JS: This is my fourth year droning the skies. My first ever drone was the Phantom 4, and I've never looked back. Everytime I fly, I get super-excited about seeing the images on my desktop when I go to edit them when I get home. Just think – ten years ago, this kind of imagery would only have been possible in a helicopter, and would have cost thousands.
I just love the perspectives you can get, and you can't help but feel that every image you take, no one else will have. Every image feels unique. I spend most of my weekends exploring Somerset and Dorset and capturing views from the skies, and have built up a pretty good portfolio over the past couple years. I'm hoping to release my first photography book later in the year, showcasing stunning landmarks across somerset, taken with a drone.
WPV: Do you have your next #WexMondays image planned?
JS: Well this weather needs to sort itself out first, as every weekend this year has been wet or windy, So hopefully I'll be out this weekend and can capture something magical to share with everyone. I like to capture views no one else has, so you will have to stay tuned to see what magical location I come up with!
You can see more of Jason's images on his Instagram: @Jason_Sturgess
Fancy your chances at being the next Wex Photographer of the Year? Here's how to enter our weekly #WexMondays competition.