A masterful wildlife moment – read all about how the winning shot of #WexMondays' twentieth week was captured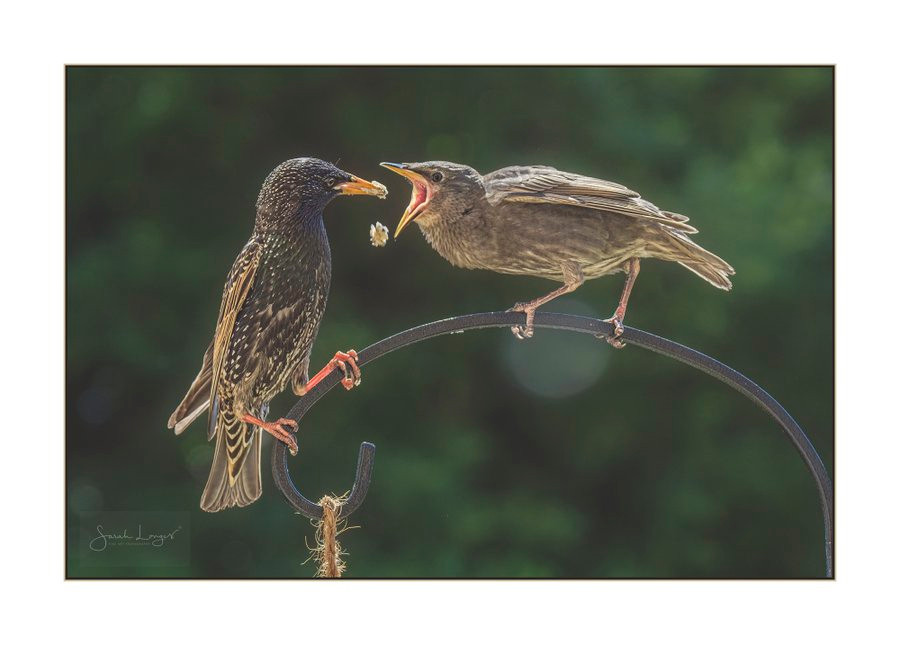 Image by Sarah Longes
Sometimes, the most memorable moments are the ones we make ourselves. Though Sarah Longes (known as @MiradorDesign on Twitter) has been stuck inside due to her shielded status while COVID-19 has been ongoing, she's used this as a chance to set up a spot for birds in her flat's communicable garden. The result has been this fabulous image of feeding starlings, which topped the twentieth week of our #WexMondays competition.
The judges simply loved this shot – the timing, composition and pitch-perfect focus – and we wanted to learn more about how it was put together. So, over to Sarah!
Wex Photo Video: Hi Sarah, congratulations on a fantastic winning shot! Can you tell us when and where you captured it?
Sarah Longes: Thank you so much! Well, like many of us in recent times, I was at home when I captured this, shooting through the window of our ground-floor flat. I'm one of the shielded and hadn't been able to leave home since the 22nd of March. The moment I got the NHS text message telling me to remain at home for up to 12 weeks, I ordered a new bird-feeding station. I just couldn't bear the thought of being completely separated from nature and wildlife for that length of time. My husband set it up for me outside the flat, on a small area of lawn in the communal gardens.
This image was taken on the 21st of May, another very warm and sunny day in a month that felt more like summer than spring. The starlings that nest in our roof had finally fledged and were bringing the juveniles to the feeder. It was just delightful to see and hear them! The thought of seeing fledglings had really been keeping me going.
WPV: What were the main challenges of grabbing this shot?
SL: The main challenge for me with all the photographs taken of birds at the feeding station is my windows! The kitchen window is out of reach and the bedroom window is too high, so I have just the living room window and an awkward angle. The windows are a tilt-opening style, so I end up with quite a narrow field of view. It took a while, with Simon moving the stand around outside, to find the best position for the feeders. These are challenging times though, so everyone is finding ways to work around obstacles.
WPV: What kit were you using when you snapped it?
SL: I took this image using the Fuji X-T2 and Fujifilm XF 100-400mm. It was taken at 128mm, equivalent to 192mm, f/6.4 ISO800 at 1/640sec to freeze the action.
WPV: What post-processing (if any) did you do on the image?
SL: I initially adjusted basic exposure, highlights and shadows, curves and colour in Camera RAW. I like to create a bit more clarity to the subjects' features using dodge and burn in an adjustment layer in Photoshop. There are also some filters that I like to use in Topaz Studio to create more adjustment layers that I can mask aspects from into the final piece.
WPV: What do you enjoy about bird and wildlife photography? What keeps you coming back?
SL: I've always had a passion for the natural world. I started out mainly painting and drawing my subjects until disability affected my manual dexterity. I couldn't give up the creative arts, and so photography became my focus. Being outdoors with nature has become not just a passion, but also a therapeutic management for me as I continue to battle chronic illness.
But even more than that, the naturalist in me has a constant need to learn, to explore the joy in discovery. Being able to watch a particular species over time really allows you to understand their behaviour and their place in the environment. That is the very best way to become a better wildlife photographer! You have to really get to know your subjects. There are so many mental and physical health benefits, to us all, from engaging with nature, and I have been really thrilled to see more people doing this throughout the pandemic.
WPV: Do you have your next #WexMondays image planned?
SL: I've been filming and photographing the garden wildlife every day as I like to take part in The Wildlife Trust's "30 Days Wild" challenge. I've actually really enjoyed photographing the starlings in the rain! My plan really is to finally leave this house, to seek out some of my other favourite wildlife subjects that I have been really missing through the spring. Government advice for the shielded has changed to allow us to now take a daily outing for exercise and mental wellbeing. We are still advised to strictly social distance ourselves and cannot meet up with groups or go to any shops as the rest of the population. I'm not bothered about the shops though! If I can find some of the summer migrant birds, at my local wetlands area, along with the fabulous array of butterflies, damselflies and dragonflies that I love photographing, I will be absolutely overjoyed.
Sarah Longe is an artist, photographer and poet. See more of her work at miradordesign.wordpress.com.
Reckon you've got what it takes to win #WexMondays? Head here for all the information you need, and get psyched for next week!
Related articles