A fabulously atmospheric image won the eighth round of #WexMondays – we talk to the man behind the camera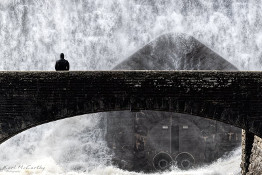 Image by Karl McCarthy
A striking composition, sharp as a tack, full of drama and detail. This image by Karl McCarthy, also known as @McCarthyKarl, wowed the judges of our weekly #WexMondays competition on Twitter, and deservedly claimed the top spot for the week.
We love seeing different images every week when looking through the competition entries, and Karl's image immediately stood out, with its clever use of silhouette and the spectacle of rushing water against the precise details of the stone bridge.
Karl agreed to chat to us for this week's winner interview – so without further ado, let's get to the man behind the lens!
Wex Photo Video: Congratulations on an excellent winning shot! Can you tell us when and where you captured it?
Karl McCarthy: The image was captured at Caban Coch Dam in the Elan Valley, on Sunday March 1st, 2020
WPV: What were the main challenges of grabbing this shot?
KM: It was quite breezy and I had to deal with a lot of spray from the water flowing over the dam wall. It was a matter of getting a couple of shots then wiping the lens, meaning I had little time to compose.
WPV: What kit were you using when you snapped it?
KM: Nikon D850 with a Sigma 150-600mm handheld.
WPV: What post-processing (if any) did you do on the image?
KM: I didn't need to do a lot of post processing, did the usual lens correction in camera Adobe Camera Raw and just a gave it small crop and a curve adjustment to boost contrast in Photoshop.
WPV: Looking at your Instagram, while you definitely have an eye for a dramatic landscape, you definitely seem to enjoy experimenting. How would you say your photography has evolved since you started taking pictures?
KM: I do love taking landscape and astro photographs but I'm always trying to learn new skills behind the lens and post processing. I think where I've evolved mostly is in my post processing. My earlier images were heavily processed as I relied on this to make an image but now my concentration is now more behind the camera, getting the composition and exposure as I want it. This keeps my post processing to a minimum and trying to get the images to look as natural as possible.
WPV: Do you have your next #WexMondays image planned?
KM: Yes. As the world is challenged with the coronavirus I think many photographers are challenged with learning new photographic skills; myself included; and my next entry will show this.
You can see more of Karl's images on his Instagram, @mccarthy.karl.
Reckon you've got what it takes to win our weekly #WexMondays competition? All you need is a camera and a Twitter account! Head here for the rules and everything you need to know about how to enter.
Related articles