In the midst of Rugby World Cup fever, we speak to a pro who has been covering the tournament about what it's like to shoot sport for a living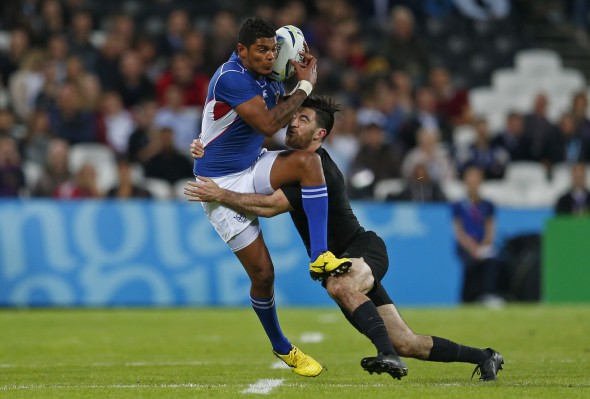 New Zealand v Namibia – IRB Rugby World Cup 2015 Pool C. Eddie Keogh/REUTERS
If like us you've been glued to your TV throughout the entire Rugby World Cup 2015, you may have spared a thought for the huddle of photographers down by the pitch. Perhaps some of you even threw a glance towards your own camera, and thought that, actually, taking photos of rugby matches would be a pretty nice way to make a living.
Well, we had the same thought, and so we got in touch with one to find out a little more. Eddie Keogh is a pro sports photographer, who started out shooting football in Liverpool thirty-odd years ago and began to specialise in sport including rugby, golf, tennis, horse racing and more.
When we spoke to Eddie he was in the queue to get into Wembley Stadium for another job, gear already slung on his back. With no time to waste, we got right down to it…
South Africa v Japan – IRB Rugby World Cup 2015 Pool B. Eddie Keogh/REUTERS
Setting up
In the fast-moving, no-repeats world of sport, Eddie has to be sure that his gear is not going to let him down at a crucial moment. This means that before he even gets to the ground he's already in a world of double-checks and extra redundancies.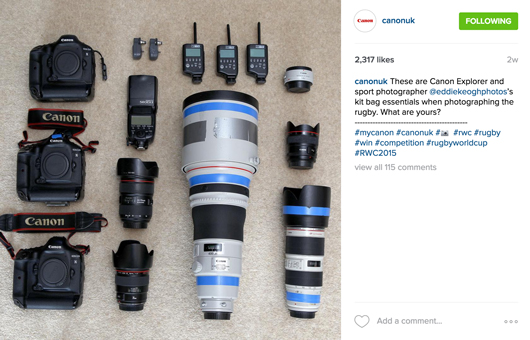 'First of all, at home, you get everything ready,' he says. 'Make sure everything's charged, make sure everything's working, make sure you've got all the right equipment the job might require. Check that you've got waterproofs for yourself and the cameras, and a spare of everything in case something goes wrong.'
So what's the right equipment for a game of rugby? Eddie has a range of glass to go with his three Canon EOS 1D X bodies, setup that sees him prepared for all the situations that can and do arise.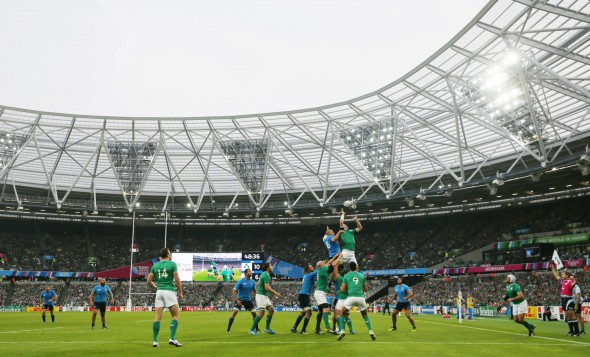 Ireland v Italy – IRB Rugby World Cup 2015 Pool D. Eddie Keogh/REUTERS
'For rugby I carry a 14mm f/2.8, a 24-70mm zoom and a 70-200mm, which is the real workhorse for sports photographers. I use that to cover the near try line. I also have a 400mm f/2.8 for getting midfield action and covering anything that happens at the other end of the pitch. (I've also been using the 500mm f4 at certain grounds where the photo position is further back.) They are both beautifully sharp lenses. It's also good for incidentals – shots of the manager, shots of anyone in the crowd, that kind of stuff.'
Approaches differ for various sports, but in rugby Eddie has no time for changing lenses. The 24-70mm is just in case something happens in front of him or in the crowd right behind him, but otherwise his setup gives him a good spread to cover anything that might occur.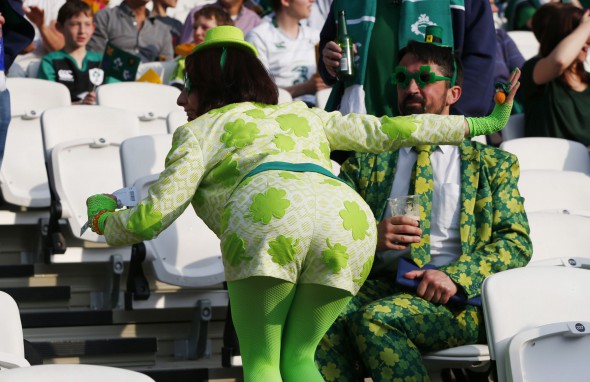 Ireland v Italy – IRB Rugby World Cup 2015 Pool D. Eddie Keogh/REUTERS
During the game
You've heard the phrase 'never take your eye off the ball'. Well, it's equally applicable to the photographers as it is the players.
'When your job starts, you've got to concentrate one hundred per cent,' Eddie says. 'Before the game it's different – I've just joined a queue now with fifty photographers and we'll have a good old laugh and a good old chat. But once the game starts… imagine travelling thousands of miles somewhere to do your job, and then not concentrating for one second, taking your eye off the ball to talk to someone, and then something happens which becomes the story of the day. It's the goal, the incident, the red card or a bad tackle, and that's it. You go home without it.'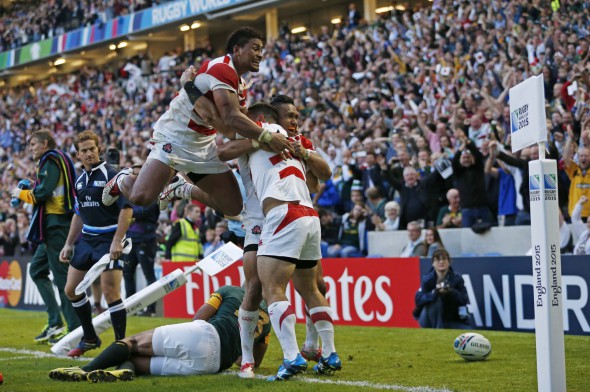 South Africa v Japan – IRB Rugby World Cup 2015 Pool B. Eddie Keogh/REUTERS
Long gone are the days when sports photographers could at least wait until the end of the day before filing their pictures – as in so many things, the internet changed everything.
'We send all our pictures now off the back of the camera,' Eddie says. 'At the RWC we have internet cables at all our photo positions, so we can just plug in and send. As backup we also have two MiFis in case one breaks down, and use two different networks – Vodafone and O2. You're shooting and then instantly uploading – you can have every frame sent automatically, or in this tournament we decided that we would just send the individual frames we thought were relevant.'
England v Australia – IRB Rugby World Cup 2015 Pool A. Eddie Keogh/REUTERS
If it's a night where Eddie is making selects, he's making them straight away, determining which pictures are pivotal and sending them on just seconds after the picture is taken.
'Straight away, as soon as the goal is scored, as soon as the game even starts, the first batch of pictures have got to be on the wire,' he says. 'BBC online are going to want a picture to go with their running commentary, as are The Guardian, The Telegraph, Mail Online. They all want content immediately.'
It sounds like quite a high pressure environment?
'No, not at all,' says Eddie. There's a slight pause. 'As long as you know what you're doing.'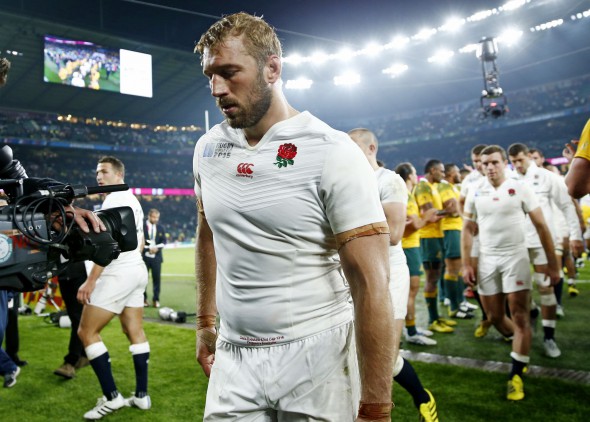 England v Australia – IRB Rugby World Cup 2015 Pool A. Eddie Keogh/REUTERS
Tips for starting out
Assuming that everyone hasn't been scared off by that, if you'd be interested in learning to shoot sport for a living like Eddie does then his main tips can be summarised as follows: start small, and know your stuff.
Of course, there is some gearing up to do as well. 'If you want to shoot sport, unfortunately you are going to need a longish lens,' says Eddie. 'It doesn't have to be majorly expensive – the Canon 70-200mm f/4 is razor sharp.'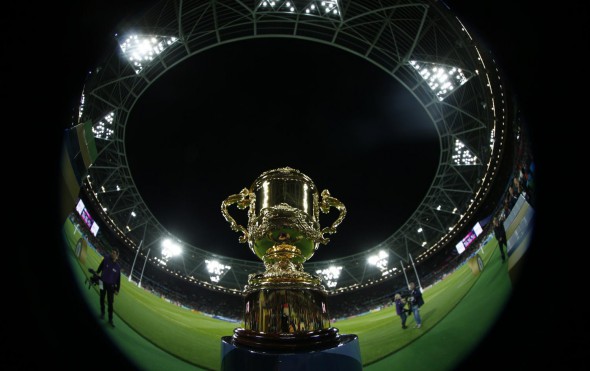 New Zealand v Namibia – IRB Rugby World Cup 2015 Pool C. General view of the Webb Ellis Cup before the match. Eddie Keogh/REUTERS
'The main thing is just to get out there and start using it, get out to the local park to see football, rugby, hockey – whatever. If it's a sport you play or like, that's a great place to start. Once you have an understanding of that sport you'll start to understand where the best pictures will be. Go through your images afterwards and be critical about where you need to improve. Then repeat the process again and again and again. Trust me, you will get better. That's how good photographers become good.'
About the Photographer
Eddie Keogh is a Reuters photographer with more than 30 years' experience photographing every kind of sport you can think of. His internet home is eddiekeogh.com.
Related articles