We take a trip to the Broadcast Video Expo in London to see the latest developments in professional video cameras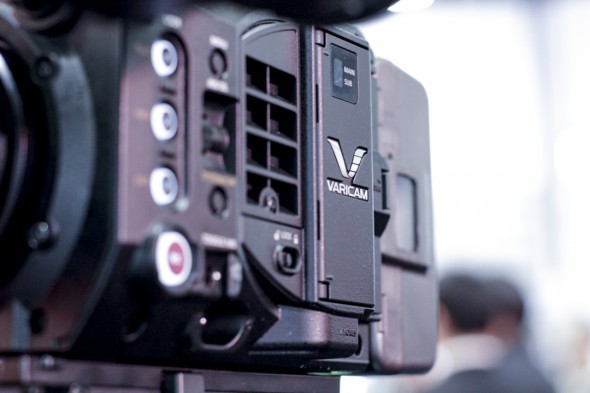 February in the world of UK pro video means one thing: Broadcast Video Expo at Excel Centre, London. It's the biggest trade show of its kind in the UK, bringing together the latest in professional camcorders, field recorders and monitors, lighting and more.
Here's a breakdown of the most interesting things we saw…
Canon
Canon stands at video expos are always busy places and 2016 was no exception. Part of what makes a Canon stand so popular at these shows is the sheer amount of demo equipment: you can pretty much get hands-on with anything. Two of Canon's 4K offerings attracted particular attention this year – the 4K recording 1D X Mark II and the 4K broadcast-flagship C300 Mark II.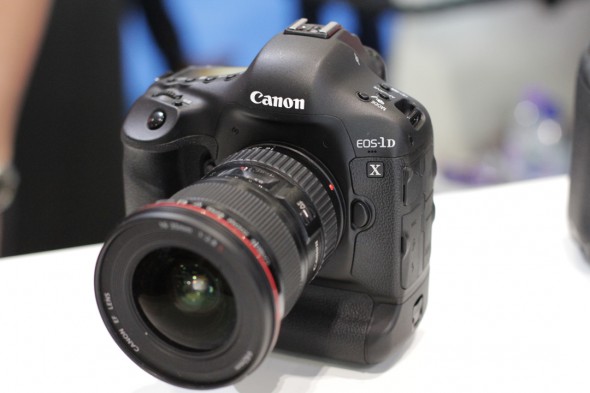 Canon EOS 1D X Mark II
The 1D X Mark II is Canon's flagship DSLR and incorporates 4K motion JPEG at very high datarates, and despite not including the wide dynamic range C-Log profile, it is capable of producing truly stunning 4K imagery. In the hand it feels robust, like it could be used confidently in any environment, yet lightweight enough to be a viable gimbal-cam.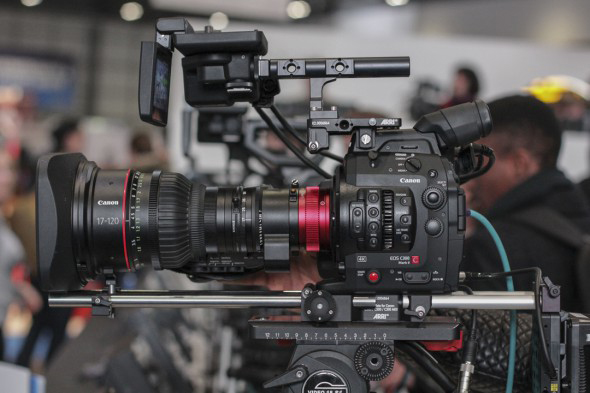 Canon C300 Mark II
If it's cinematic imagery in a compact, familiar package you're after then the C300 Mark II is the camera to check out. The C300 Mark II has just been cleared as a Tier 2 4K model by the EBU, so we expect to see its use grow from now on for UHD acquisition. For me though the most exciting part of the C300 Mark II isn't the 4K aspect – the fact that it can shoot 2K/12-Bit/4:4:4 puts its colour and dynamic range capabilities close to that of cinema cameras that cost three times as much. Watch this space for more content on these features of the C300 Mark II over the coming months.
Of course, 4K isn't necessary for everybody. Still massively popular is the C100 Mark II, which captures the same organic, pleasing Super 35mm imagery as the original C300 but in a lighter package and at a slightly lower datarate.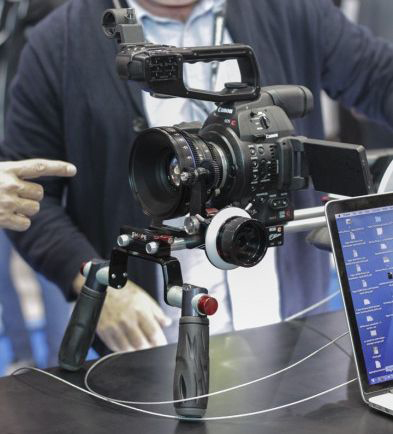 Canon C100 Mark II
However, we are currently offering the C100 Mark II with the inclusion of the Atomos Ninja Star,64GB CFast card and an ultra-strong right-angled HDMI cable for no extra cost so you can get the best out of the sensor and even record for broadcast. The C100 Mark II comes with Canon's mega-helpful DAF continuous autofocus as standard, making it the ideal one-man-band Super 35 camcorder.
Panasonic
The big camera news of BVE 2016 was Panasonic's VariCam LT. Essentially a condensed VariCam 35, it brings the big-budget 4K look of its bigger brother down to a manageable shoulder-mount size for the freelance camera operator. In terms of internal recording capabilities, it can shoot 4K 60p in AVC-Intra codecs and, interestingly, records ProRes in HD.
This camera will appeal to professional operators looking for a 4K model with more traditional ergonomics to the competition – Panasonic will also be releasing a beautiful OLED EVF for it and a shoulder mount system.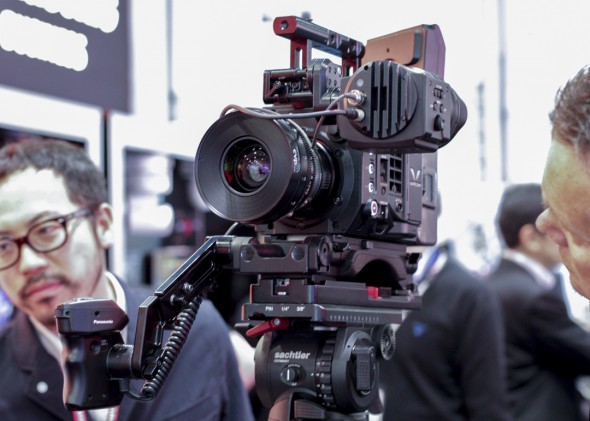 Panasonic Varicam LT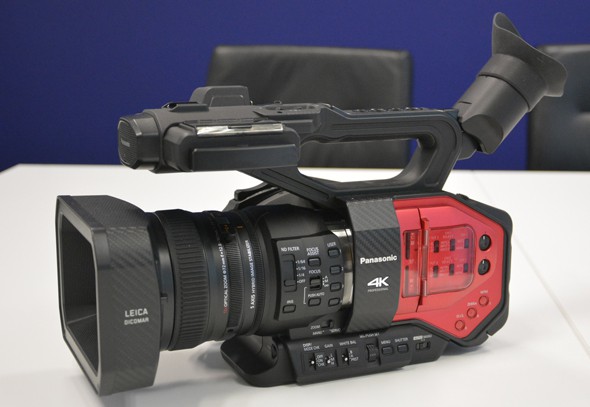 Panasonic DVX-200
More accessible for many though is the HVX-200, Panasonic's very popular combination of a Micro Four Thirds sensor and fixed lens technologies. The result of this marriage is a handheld professional camcorder that is both ergonomic and cinematic. The traditional handheld design is immediately familiar, and the depth of field afforded by the sensor adds production value. As such, the camcorder has appeal for documentary makers, event videographers and more, a compromise offering the best of many worlds.
I had a thorough demo of this camera and something I hadn't realised is that the HDMI output can be 10-bit, although enabling this does sacrifice on-board recording. Still, being able to output 10-bit imagery to an Assassin recorder in Panasonic's wide dynamic range V-Log profile means getting the best out of the sensor, and more options in post, and what's more this footage will cut perfectly with 10-bit V-Log material from the aforementioned VariCam LT and the Panasonic GH4R. This threading together of the range using the same gamma and bit depth values is a distinctly Sony-esque route and I expect it to do very well for both Panasonic and end users alike.
Sony
Although Sony didn't have a stand at this year's BVE, it still announced a new camcorder: the PXW-Z150, a 4K recording 1-inch-sensor handheld camcorder with an 18x zoom. Its body and layout seems based around the traditional Sony handheld pro camcorders of old but don't be fooled: the larger-than-1/3" sensor and XAVC recording capabilities make this a very modern camcorder indeed. Not only has the XAVC format begun to make 4K a standard now in Sony models, the PXW-Z150 also shoots 120fps in HD. We'll have more information on this model in the coming weeks.
Just like in the real world of video production, the Sony A7 and FS series cameras/camcorders were ubiquitous at the show. The original A7S is still proving popular but its replacement, the snappily-titled A7S II, has added 4K recording and now fits neatly into the 4K XAVC family.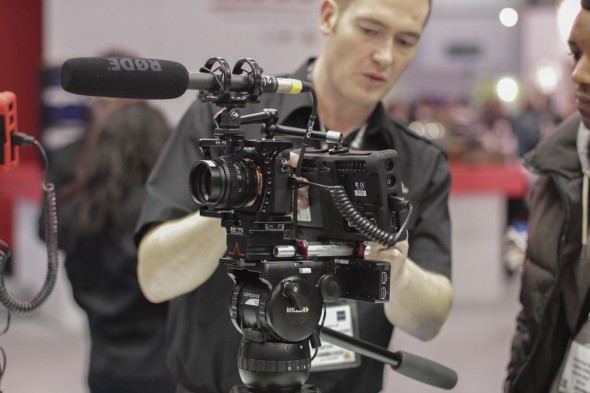 Sony A7S II with Atomos Ninja recorder
The lightweight, handheld and capable FS5 was on plenty of stands. There's a tendency to see the FS5 as a lighter, smaller version of the FS7. This is a fair view, but I've another way of looking at it: when bought with the kit lens, it's like the Super 35mm 4K equivalent of the old Sony Z7. It's a comparison that is testament to Sony's evolution and innovation in sensors and recording codecs: 1/3" sensor and 25mps HDV to Super 35mm and 100mbps 4K XAVC. How times change.
Sony FS5 with Atomos Ninja recorder
Good news for FS5 owners is a new firmware release that addresses the edge-tearing and blocking issues some users have been experiencing when recording on-board. There's some test footage out there that demonstrates the improvement, and with the previous firmware release allowing the camera to record on-board and output 4K to a recorder, it's fair to say that the FS5 is a more capable camera now than it was on release. The on-board 4K recording is the ideal solution for run 'n' gun jobs, whilst adding an external recorder to record in a higher datarate is ideal for jobs where quality and options in post are needed. And speaking of external recorders…
Atomos & Shape Rigs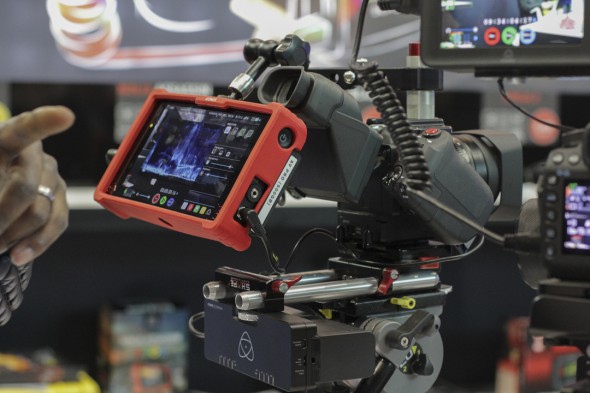 Canon XC10 with an Assassin recorder
By the far the busiest stand at BVE 2016 was that of Atomos field recorders. Atomos' recorder range are the great enablers of the video world: Their HD range of Ninja recorders have enabled shooters with AVCHD camcorders to shoot for broadcast jobs and their Shogun andAssassin recorders have helped unleash the 4K potential of the Sony A7S.
The stand had practically every combination of camera and recorder going, and supporting many of the cameras and recorders were rigs and cages from Canadian manufacturer Shape. Particularly impressive was the C100/300 rig they had displayed, which incorporated an arm to mount a Ninja recorder. There was also a reminder that Nikon have a role to play in professional video as well, as also displayed was the D810 with a Ninja recorder.
However, the pick of the bunch for me was the various cage and rig options for the Sony A7and A7 II cameras when couple with the Shogun and Assassin recorders. These combinations are the best option for those wanting to get the best out the impressive A7 series.
Related articles