From NAB 2016, Canon brings out a cine zoom at a lower price and a high-ISO Super 35mm camera head
Canon CN-E 18-80mm T4.4 Lens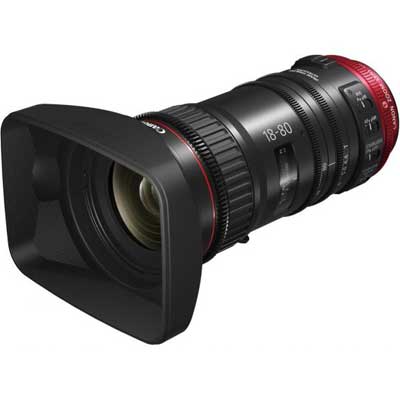 The world of servo zooms for video and cine use has traditionally been a pricey one, with the lenses needing to be par-focal and also nowadays to cover a Super 35mm image circle. Add in the need for a constant aperture and the price rockets higher, going from something you might buy to an item you'd rather rent.
Not so with Canon's new EF mount CN-E 18-80mm T4.4 cine zoom. Announced at this week's NAB exhibition in Las Vegas, this lightweight model comes in at a revolutionary price for the world of servo cine zooms: £4699. The 18-80mm zooming range is flexible enough for most documentary work and although the T4.4 constant aperture isn't mega-fast it certainly is wide enough for most actuality and broadcast-style shooting, especially when you consider the superb high-ISO performance of modern Super 35mm camcorders. What's more, the 9-blade iris will produce very smooth, rounded bokeh.
Another cool feature of the CN-E 18-80mm is the servo zoom functionality. As standard, the lens has buttons built into the right hand side of the body allowing you to zoom in and out. On top of this, Canon announced the ZSG-C10 zoom grip that neatly fits on to the side of the lens to give you a traditional broadcast-style handgrip and zoom rocker.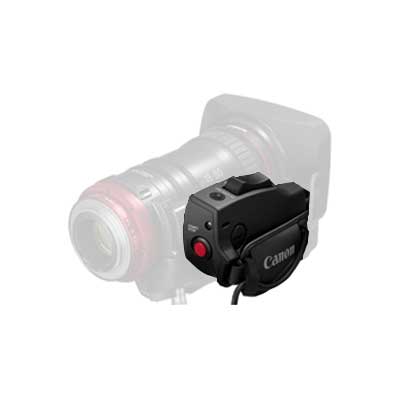 This unit is optional and doesn't actually have to mount to the lens directly: it has a standard rosette mount, so if you wanted to have your grip in a more comfortable position (e.g. at the end of your shoulder rig's right handle) then this is possible as well. The ZSG-C10 is coming in at a very reasonable £429.
Other neat features of the lens include Image Stabilisation and, most impressively, that it's par-focal, so it will hold focus as you zoom. Moreover it's actually very lightweight, coming in at only 1.2kg when the grip is attached. There's a 0.8 pitch gear ring up at end of the focus ring so you'll be able to use the lens with follow focus without having to adapt anything, but if manually focusing isn't your thing then you're in luck as the lens works with both the DAF continuous autofocus and face-detection feature of Canon's latest Cinema EOS camcorders.
This is an exciting lens and looks to be the beginning of a new range of lightweight, affordable cine zooms from Canon. It is the ideal run 'n' gun solution for C100 and C300 users who feel they would benefit from a more traditional broadcast-style lens.
Canon ME200S-SH Camcorder head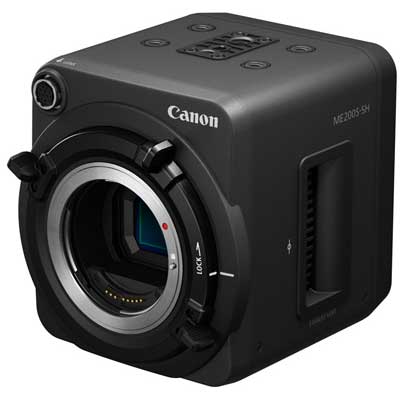 Canon have also announced a Super 35mm camera head with high ISO capability. Using the same the sensor as the C100, the ME200S-SH is a multipurpose camera head that has both HDMI and HD-SDI outputs and an ISO range up to 204,800. It has an EF mount and uses the same DAF continuous autofocus feature as seen on the Cinema EOS series camcorders.
The camera doesn't have any on-board recording capabilities, and as such it feels very much like a camera that would suit studio use, but its diminutive size lends itself to a variety of applications such as gimbal and drone use. For recording and monitoring, simply add third party field recorder and decide on your codec and bitrate.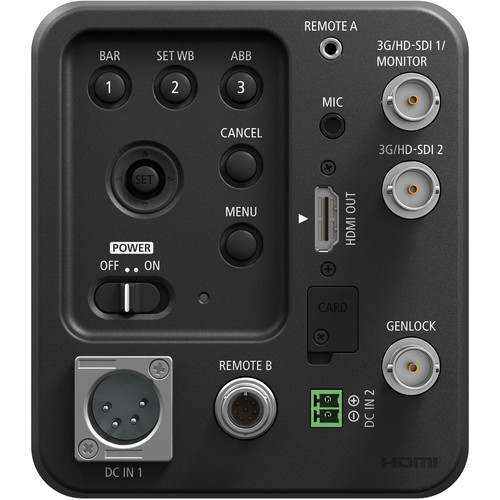 It will be interesting to see how the ME200S-SH is used and which applications it suits. The "cube" shape is used by a few camera manufacturers and invites the user to rig the camera their own way, so I expect to see some ME200S-SH-specific cages and rigs appearing. Moreover the camera's Infrared feature will likely see it being used for night time filming and security purposes, as well as more standard broadcast applications.
The ME200S-SH is coming in at £4369 and is available to pre-order now.
Related articles