Canon has updated its DSLR and enthusiast compact lines with the Canon 1200D and PowerShot G1 X Mark II respectively. Find out what they offer and what we think of them in our hands-on review.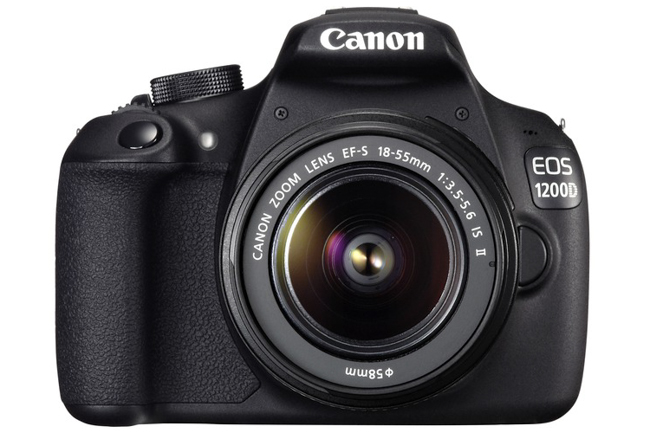 The Canon EOS 1200D presents a number of upgrades over the EOS 1100D predecessor, the most significant of which being the sensor. The company has equipped the model with an 18MP APS-C sensor in place of the previous 12.2MP alternative, and although a DIGIC 4 processor drives the camera as before, the ISO 100-6400 sensitivity range now features a useful extension equivalent to ISO 12,800.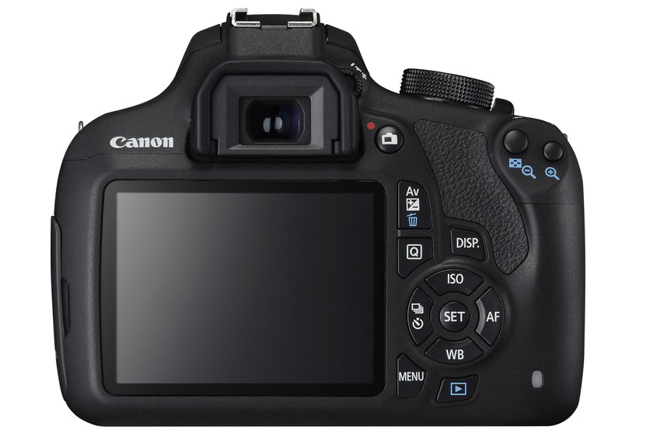 Canon has also upped the size and resolution of the 1100D's display for the new model, now offering a 3in LCD screen with 460k dots, while video recording has also been expended to now offer a full HD setting. The pentamirror viewfinder is unchanged from before, however, with 95% coverage.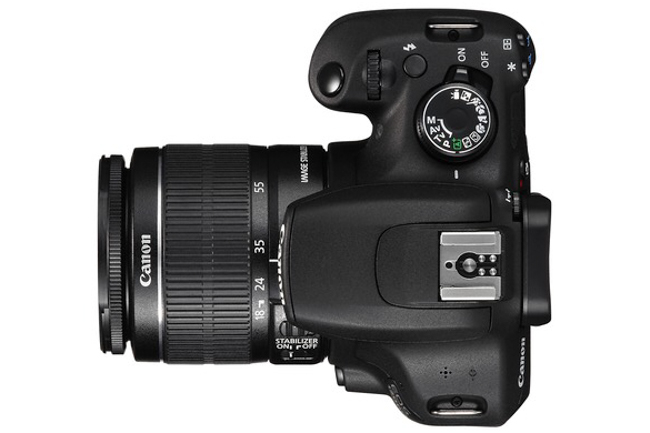 Other features on the new camera include a nine-point AF system and a 3fps burst option, as well as a Scene Intelligent Auto mode to better recognise the subject being captured.
Canon is also making a smartphone app available to EOS 1200D users, dubbed Companion App. Available for Android from launch, and with an iOS version on its way, this free app is said to help users understand not only the functionality of their camera but also photographic principles, with tutorials and videos to guide the new user.
Canon PowerShot G1 X Mark II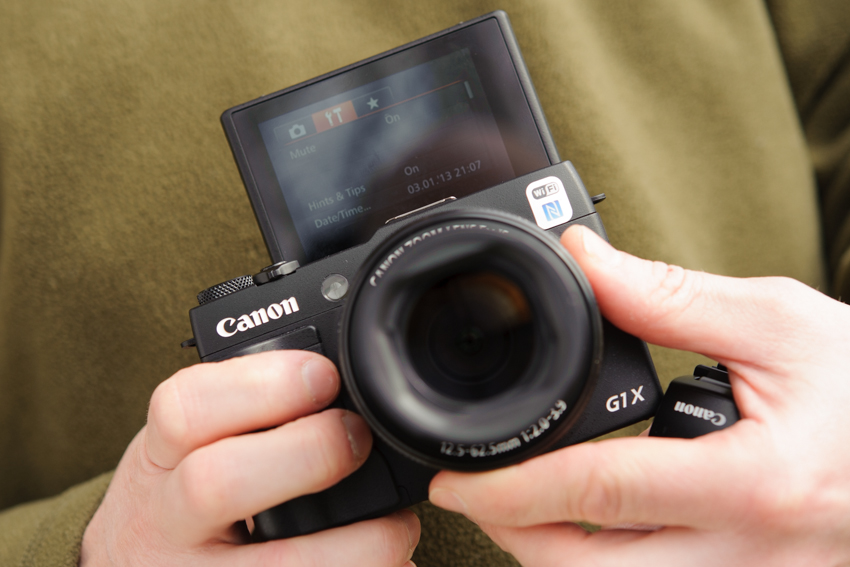 The Canon PowerShot G1 X Mark II updates the Mark I version released back in 2012, with a number of changes around the body and under the hood. The camera can now capture images in either 4:3 or 3:2 orientations at the same 12.8MP sensor resolution, while the new 24-120mm f/2.0-3.9 lens is both longer and brighter than before. It features two control rings around its barrel, one of which rotates continuously and the other of the 'stepper' kind. Between them, can be used to manually focus the lens, zoom between popular focal lengths and select other options such as ISO, while a nine-bladed diaphragm on the inside is said to deliver circular bokeh.
The G1 X Mark II also offers a tillable LCD touchscreen (based on capacitive technology), Wi-Fi and NFC and the useful focus peaking function. Canon is also said to have made the 31-point focusing system 42% speedier than the system on the Powershot G1x, partly due to the design of the lens and partly thanks to the processing power. Canon's Intelligent IS system also makes an appearance, helping to adapt the camera's image stabilisation technologies between different shooting situations. The new model is also joined by the EVF-DC1 electronic viewfinder, an optional viewfinder that slips into the camera's hotshoe (discussed below).
Canon EOS 1200D specifications:
18MP APS-C CMOS sensor
EF-S lens mount
ISO 100-6400 (exp. to ISO 12,800)
DIGIC 4 processor
Full HD video
Pentamirror viewfinder, 95% coverage
3in LCD, 460k dots
9-point AF system
Scene Intelligent Auto mode
Feature Guide
3fps continuous shooting
Canon PowerShot G1 X Mark II specifications:
12.8MP 1.5in CMOS sensor
24-120mm f/2.0-3.9
ISO 100-12,800
DIGIC 6 processor
Full HD video
3in tiltable touchscreen LCD, 1million dots
31-point AF system
Intelligent IS
Canon EOS 1200D and PowerShot G1 X Mark II: hands-on review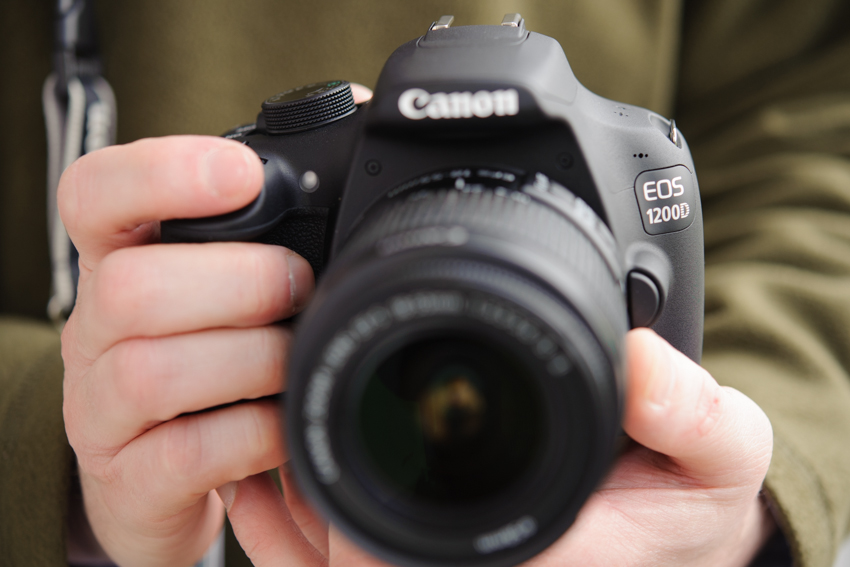 We had a hands-on with pre-production samples of both the Canon EOS 1200D and PowerShot G1 X Mark II earlier in the week. Canon has stated that the EOS 1200D is designed for those used to using a smartphone or compact camera that may want a little more power in their hands. Such users already had the EOS 1100D to turn to, but the new model is arguably a much better proposition with regards to user experience and image quality.
The 18MP sensor, for example, is a significant step up from the 12.2MP sensor featured in the model's predecessor, and should allow for even greater enlargements. The new ISO 12,800-equivalent setting, meanwhile, should also make it slightly more willing to shoot in problematic lighting conditions.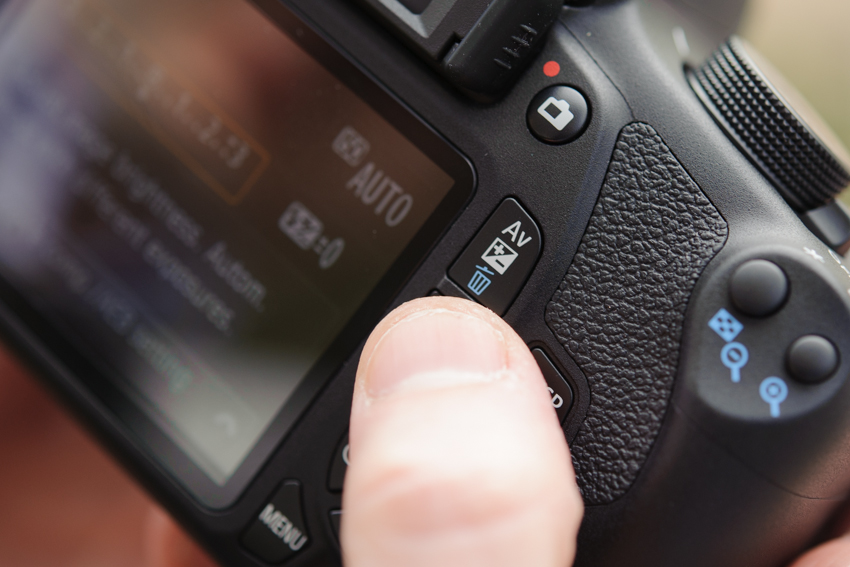 The camera's matt-black finish makes it feel better in the hand than the EOS 1100D's smoother casing, while there's also a rubber thumb rest on the rear where there wasn't one before, which makes it feel and look more complete. And, while the increase in size to the LCD screen may have left slightly less room to the side for physical controls, these remain large, clearly labelled and all easily accessible. In fact, the only gripe concerns the access lamp, which would be better positioned where it's not naturally obstructed by the hand.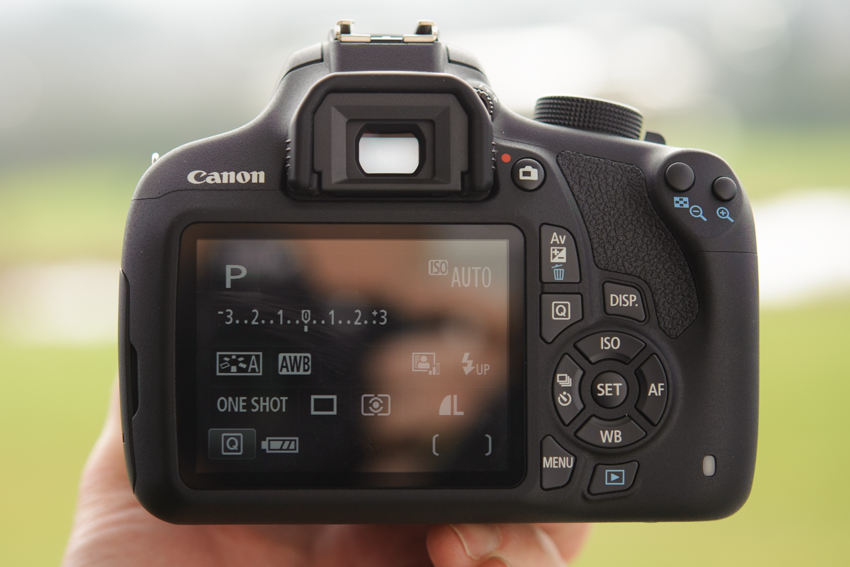 There appears to be nothing out of the ordinary with regards to operation. The viewfinder shows its nine focusing points as bright red dots spread well across the frame, and autofocusing with the 18-55mm IS kit lens is as prompt as we're used to seeing on such models (there are certainly slower performers at this level). The menu is also navigated quickly and easily, with practically zero delay when moving through options, while the mode dial is pleasingly tactile and tall enough to allow for a decent grip.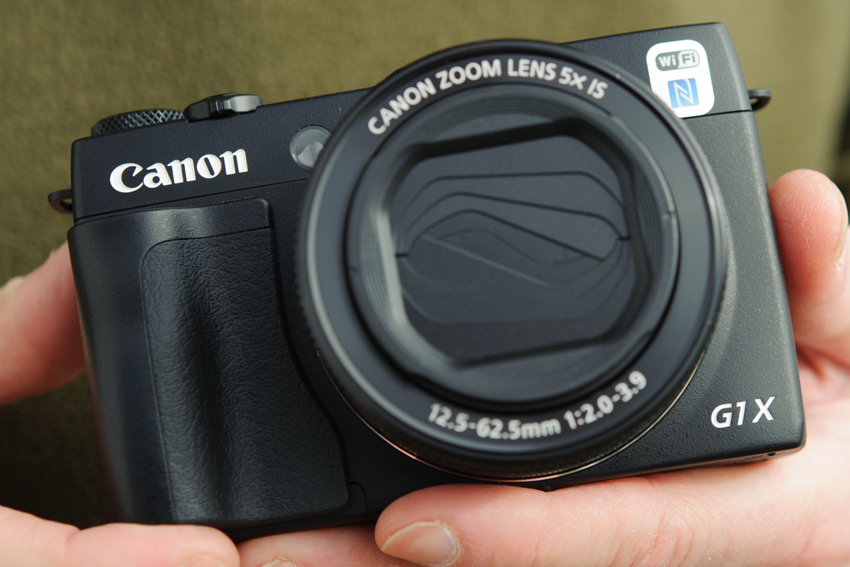 The Canon PowerShot G1X Mark II, meanwhile, is a very different beast to the PowerShot G1 X before it. It's lost that model's more traditional G-series styling and instead opts for a design influenced by the Canon EOS M Compact System Camera. This time around there's no optical viewfinder, although the EVF-DC1 (pictured below) electronic alternative is available separately. This displays details with 1.44million dots and can be tilted upwards when required, with a locking button at its side to stop it from moving out of place. The finder itself does very well to reproduce the scene in front of it, with a good magnification colours that do well to match what's on the camera's LCD screen, together with clear exposure information.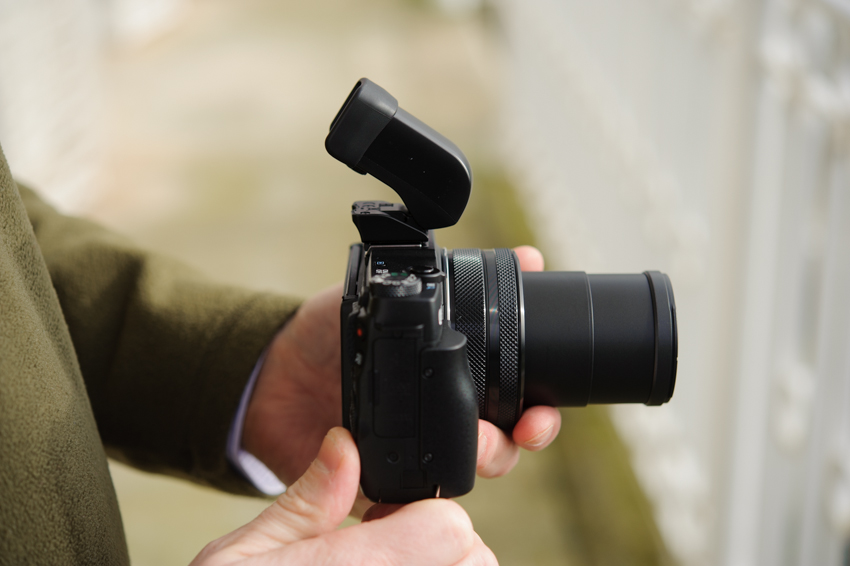 Canon has furnished the camera with a 3in tiltable LCD screen, which can be pulled suprisingly far away from the body and adjusted around an angle to the point where it faces forwards; this makes it ideal for images containing the photographer. As this is turned, the display quickly flips so that you're not looking at any exposure information upside down. As a capacitive display it's also pleasingly responsive to the touch, producing a focus box over an area of the screen that's touched with no delay, just slightly dipping in sensitivity when swiped (when, for example, reviewing images). It also displays a perfectly decent viewing angle when viewed from an angle.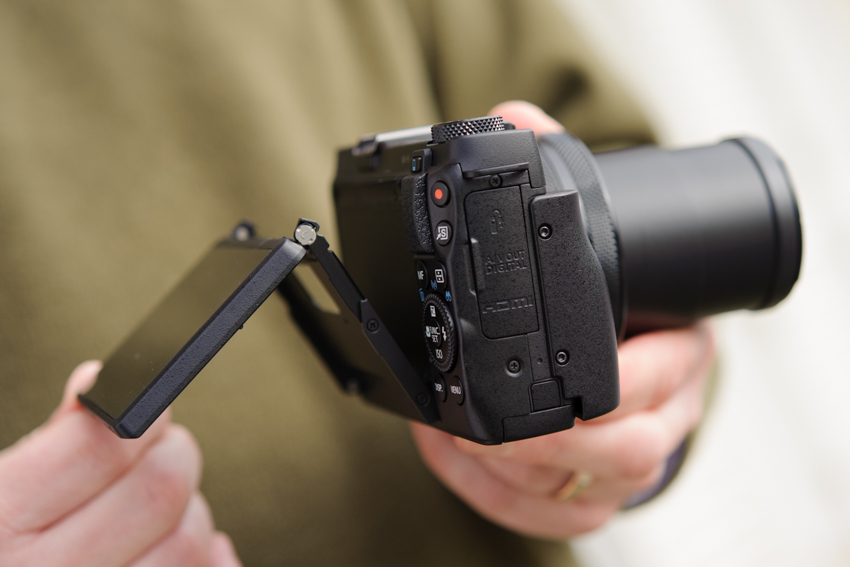 The camera starts up in just under a second which is standard for such a model, while focus appears reasonably quick when switching between different subjects. It's perhaps not quite as fast as the latest breed of CSCs, although the sample we handled was admittedly a pre-production model. There is, however, almost no delay between the subject being bought to focus and the image being captured, which is great.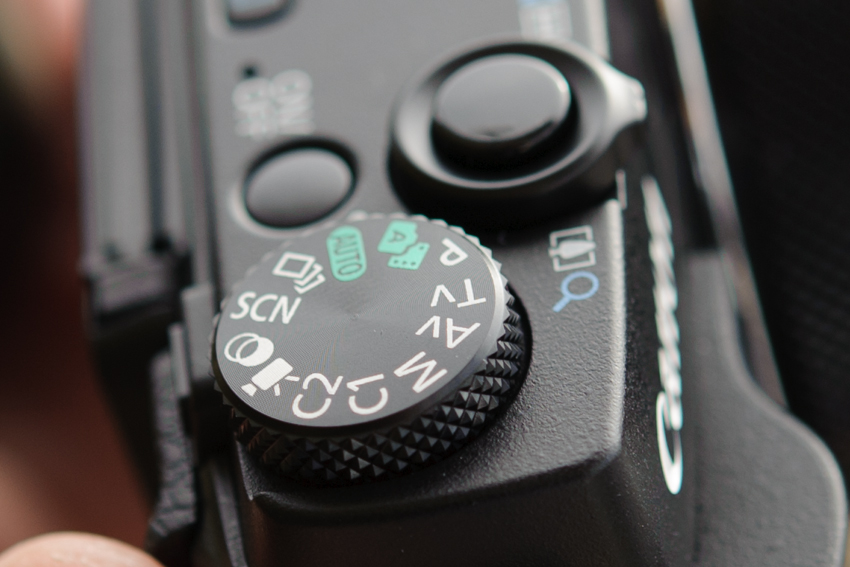 The camera's grip, which has also be restyled from the previous model, is also appreciated, given the camera's overall weight; without it, it would feel lacking and would no doubt be less comfortable to hold steadily, particularly at longer focal lengths. The mode dial also provides access to all commonly-used automated and manual exposure settings (including two Custom options), although it would be operated more easily were it a touch taller.
Conclusion
While the Canon EOS 1200D isn't too wild a departure from the existing EOS 1100D, the handful of changes Canon has made do at least make it a stronger competitor against other cameras at this price point. That being said, there is much competition from the likes of the Pentax K500, Sony A58 and the now-replaced Nikon D3200. Handling is improved thanks to the casing and the thumb rest, while the screen is far better than before, although on paper it's the jump in sensor resolution that's makes the greatest impact.
The Canon PowerShot G1 X Mark II is no doubt a camera that will appear on the shortlist of those considering both a high-end, enthusiast compact and a Compact System Camera. Its large sensor, bright lens and articulated LCD screen will no doubt all score points among its target audience, but the decision to remove the optical viewfinder could prove controversial; some will no doubt fall for the electronic alternative and appreciate its clarity and 100% coverage, while others may have preferred a built-in option that would at least be more immediately accessible.
Related articles: