With a sophisticated design and ground-breaking new internal optics, Canon might just have created the best portrait lens ever seen
TL:DR: Don't have time to read the article in full? Click here for a quick summary.
The selection of lenses for Canon's full-frame mirrorless EOS R system keeps getting better and better, with the news that the firm has taken the wraps off a brand new optic – the RF 85mm f/1.2L USM.
This short telephoto lens provides a focal length of 85mm, one of the most popular lengths for portrait shooting due to the way it compresses an image and does not distort a subject's features the way a wider-angle lens does, creating a flattering final image that shows off the subject looking their best.
Canon has paired this with another lens feature that's hugely popular with portrait shooters – a wide maximum aperture, in this case f/1.2. This not only improves the lens' performance in low light, but also allows for the creation of images with shallow depths of field, and beautiful bokeh in the defocused areas. Canon says that thanks to advanced optical technologies that have been introduced to this lens, its performance and sharpness should be top-notch even when it's being used wide-open.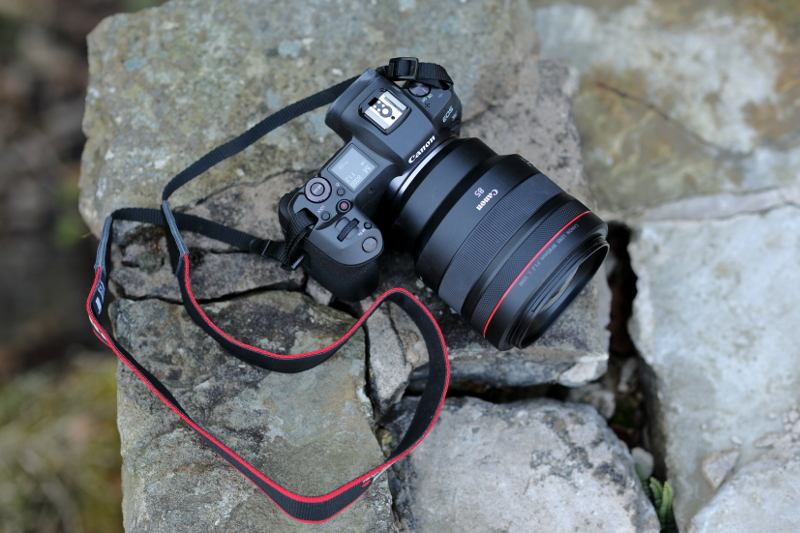 So what is it that's new under the bonnet here? Canon has taken advantage of the specific design of the RF lens mount, with its shorter flange distance and large diameter, in order to create a lens that's both high-quality and surprisingly compact in terms of its physical dimensions.
The lens features a combination of optical elements – aspherical elements, Ultra-low Dispersion (UD) elements and Blue Spectrum Refractive (BR) optics. These are all designed to minimise optical aberrations and deliver an image that's stunningly sharp on every level, even when used at its maximum aperture. Canon says it's currently the sharpest lens in the entire stable.
Canon has particularly paid attention to the manufacture of its aspherical lens element, which the firm says has been made by "carefully and skilfully grinding and polishing a glass block into an intricate shape with the ideal curvature that converges parallel rays to a single point." The end result of this is an element that effectively eliminates spherical and chromatic aberration across the image's entire frame. Also present and correct are advanced lens coatings – the Air Sphere coating and Super Spectral coating – which improve light transmission and prevent unwanted reflections.
Sample images taken by Canon Ambassador Rosie Hardy
For that shallow depth of field that makes such a difference in portraiture, Canon has also equipped the lens with a nine-bladed aperture, producing a smooth and round area of focus against a stunning defocused area, for extra-impressive portraits at the wide end of the lens.
The lens also offers a superior handling experience, as befitting the ergonomically designed EOS R cameras. The RF 85mm f/1.2L USM is built with L-series quality, boasting a body that is weather-sealed, with fluorine coatings on the front and rear elements to protect it from water and dust. All this makes it a dependable outdoor lens, as useful for on-location portraits as it is for studio work.
Using the lens is a pleasingly tactile experience too, thanks to the built-in Lens Control Ring on the lens barrel. The ring is programmable, allowing you to assign your preferred function to it – ISO, aperture, shutter speed and exposure compensation are all selectable, allowing you to change settings without taking your eye from the viewfinder.
Autofocus hasn't been forgotten – Canon has included its ring-type USM autofocus motor, the same one as was seen on the previous RF 50mm f/1.2L USM lens. This focusing motor drives the lens elements quickly and efficiently for superb autofocusing results, with a microprocessor that uses a high-performance CPU and works in tandem with the fast communication of the RF-mount (which uses a bespoke 12-pin connection between body and lens).
This is the first telephoto prime of the RF series. It joins a number of other optics – including the RF 50mm f/1.2L USM, RF 35mm f/1.8 MACRO IS STM, RF 24-105mm f/4L IS USM and RF 28-70mm f/2L USM – to provide truly comprehensive coverage for Canon's full-frame mirrorless cameras. The system now has a truly exceptional portrait lens, and we wouldn't be surprised if more and more photographers started making the jump.
We're looking forward to getting a close look at this lens and putting it through its paces – in the meantime, stay with us for all the latest coverage and updates on Canon's EOS R system.
Too long; didn't read
Who's it for? Users of Canon's EOS R full-frame mirrorles system who are looking to shoot dynamic and pin-sharp portraits.
What does it compare to? Something like Sony's G Master 85mm lens, which is also designed for a full-frame mirrorless system. It's also worth noting that Nikon's Z-mount full-frame mirrorless system doesn't have one of these lenses yet.
Why should you care? The RF 85mm f/1.2L USM is another clever lens that makes the most of the strengths of the EOS R system, providing further proof that Canon's new mirrorless line is a step into the future.
For articles on future Canon releases, stay up to date via our YouTube channel, Facebook, Twitter and of course, the Wex Blog.
About the Author
Jon Stapley is a professional journalist with a wealth of experience on a number of photography titles including Amateur Photographer, Digital Camera World and What Digital Camera. See more of his writing at jonstapley.tumblr.com
Related articles