People are always talking about the increasing power and capability of digital technology and therefore the growing need for bigger, faster media storage formats. Lately this need has increased even more so, with the introduction of HD Movie capable DSLRs. Nikon got the ball rolling with the Nikon D90 and Canon soon joined in with the Canon EOS 5D Mk II.

Video in general is becoming more and more popular with the ever-perpetuating phenomena of YouTube and the like where videos of longer and longer length are able to be posted. It is no surprise to anyone therefore, that SanDisk stepped up to the plate with a 32GB 133x Compact Flash card that can take the pace, earlier this month.
The 32GB 133x SanDisk Extreme III Compact Flash card is capable of storing over 90 minutes of full HD video and its 30 megabyte per second (Mb/s) write speed means all this data can be transferred to your PC or laptop in approximately 15 minutes. Additionally, the 32GB SanDisk Extreme III 133x Compact Flash card enables photographers to shoot in RAW for longer.
In order to further support the demands of new technology, SanDisk has also announced that it is upgrading the SanDisk Extreme IV high-performance range by 12.5% to a speed of 45Mb/s.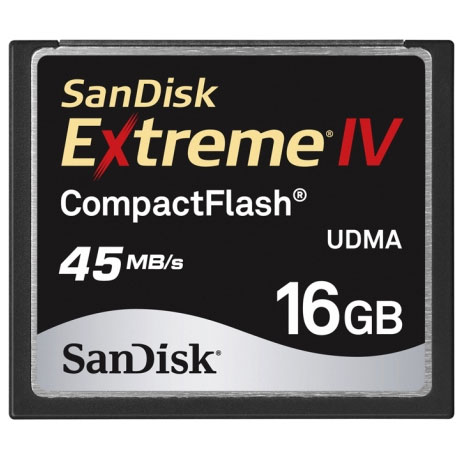 The SanDisk Extreme IV Compact Flash 45Mb/s 300x cards are compatible with all CF-compatible cameras and have been tested on the latest digital SLR camera to have been released by all the top manufacturers. The SanDisk Extreme IV 45Mb/s Compact Flash cards speed up workflow and are ideal for working professionals – the 16GB SanDisk Extreme IV offers the fastest write speed at that capacity of any card on the market.
Whilst obviously suitable for photographers shooting in RAW/NEF as it processes and responds faster, the SanDisk 16GB Extreme IV card also facilitates a noticeably smoother workflow for photographers shooting in burst or in continuous shooting mode, especially useful for wildlife, sport or fashion photographers.
As with all SanDisk cards, the SanDisk 133x Extreme III Compact Flash cards and the SanDisk 45Mb/s Extreme IV Compact Flash cards are able to perform in temperatures ranging from minus 25C (-13F) to 85C (-185F), making them one of the most durable memory formats in the world. It seems that with such advancements taking to the stage, that SanDisk have the memory market wrapped up. For photographers who are undoubtedly excited at the technology before them in the digital SLR market, SanDisk have here created a solution which enables you to get the best out of your camera.
SanDisk 30MB/s Extreme III SDHC