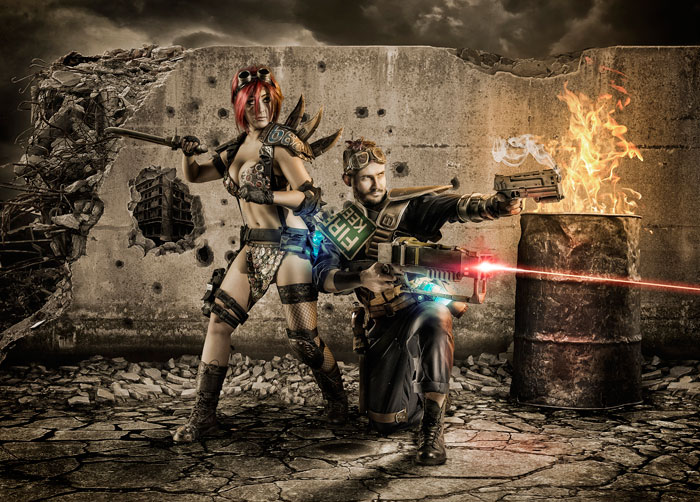 Join renowned photographer and retoucher Andrew Dobell of Creative Edge at our Showroom for a fantastical seminar set to inspire and excite!
Andrew specialises in compositing and Photoshop, and has become particularly well-known for his fantasy and super hero images. For one evening only he will be discussing the key techniques of compositing, alongside an abundance of other key skills, which have come to define his work and photographic style. Hear Andrew discuss particular images in detail, as well as, his broader career and learn from the best. This seminar provides a great insight into the heights you can reach in camera and through post-processing, inspiring any photographer from beginner to pro to take their work to the next level.
During the seminar Andrew will cover:
The key techniques of compositing essential to his work
Planning and Preparation
Stock Images - What to use and where to find them
Shooting - How to shoot for composites to achieve the best results
Cutting out - Separating your model from the background; the essential skills
Assembling your background - How to create your scene
Dodge and Burn - How to work non-destructively while adding light and shade
Special Effects - How to create cinematic effects
Unifying your image
Andrew will also be answering any questions you may have at the end of the seminar.
Event Information
Event: Compositing and Creative Edge Seminar with Andrew Dobell
Date: Wednesday 21st October - 6.30pm - 8.30pm
Location: Wex Showroom, Norwich
Please note that tickets for this event are being made available via Eventbrite. Clicking 'Book now' will take you to the Eventbrite website where you can register for a ticket.
See our Events index for a full list of events planned in the near future. If you would like more information on any of the events or you would like to make some suggestions for possible events please send us an email to [email protected].
About Andrew Dobell
Andrew specializes in imaginative and dramatic Photography and Digital Art primarily creating cinematic composite images with his skilled use of Photoshop. Having first discovered Photoshop in 1996 at collage, back when it was Photoshop 4, Photoshop has since become a central part of his Artwork as it's progressed into Creative Suite and Creative Cloud.
He is most well-known for his artistic composite images of Super Heroes and Fantasy Characters that have led to him teaching his compositing style in workshops, being featured in national magazines and having his work featured in numerous publications.
A skilled Photographer, Andrew has been working professionally within the photographic world since 2006, and has worked for a diverse range of clients, including Callaway Golf, Nurofen, Hilton Hotels and many more as a Photographer, Retoucher and Digital Artist.
You can see more of Andrew's work at http://www.creativeedgestudios.co.uk/