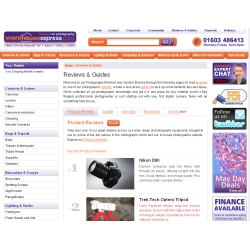 As some of you may have noticed, we have recently been working very hard on our Reviews & Guides section, and are adding new pieces of content - from reviews, to guides, to charts and brochures and even a comprehensive glossary - on a regular basis. As well as technical reviews from experts such as Chris Packham, Damien Lovegrove and Andy Rouse, we've also got reviews from our ever-entertaining in-house expert Ben Weeks and some of his comrades. For those of you who enjoyed the Lake District Compact Camera Test last year, the boys have just got back from the Lakes once again, so watch this space for Part Two, which features the Fuji F200EXR, Samsung WB500, Panasonic LX3 and Olympus Tough 8000.
We're also developing a comprehensive Guides section with information on what to look for when Buying your first Digital SLR and all you need to know (and more!) about Exposure, as well as Lens Sense, Binocu-huh?, Bags of fun for everyone, Andy Rouse's Tripod Buying Guide, Chris Packham's guide to Making your own Wildlife Films and Steve Aves' Lighting Guides. As well as much, much more.
Check out our new Charts section for little gems such as the Lens Recommendations and Monitor Calibration charts, which will help you make the right choice for the kit you need.
We would like to know more about what you guys want from us, so get in touch! Is there is an area of photography that you feel a bit vague about and would like us to try to clear the fog with a helpful guide? Or perhaps there is a particular type of product that you feel we need more reviews of? Let us know by commenting on this article, or send an email to [email protected]. We are always looking for ways to improve the service we give you and we need your input.
Over the next few months we'll be expanding our Underwater section so watch out for reviews of underwater cameras and also keep your eyes peeled for more from our newest expert, up-and-coming fashion photographer Koko Brown. In addition we're hoping to soon get our hands on the latest DSLRs from Canon and Nikon and bring you in-depth reviews of each of these. So; first, get in touch, and second, watch this space!