In 1998, Fuji launched the smallest, lightest digital compact camera, which sported an at-the-time fabulous 1 megapixel. Ten years on and FinePix are launching a new tag-line: "FinePix - more than you imagine". According to Fuji, the tenth anniversary and the tag-line combine to commence a new chapter in digital imaging. In the exciting times that are ahead for Fuji, the following four series' (S, F, J and Z) are jostling to take the limelight.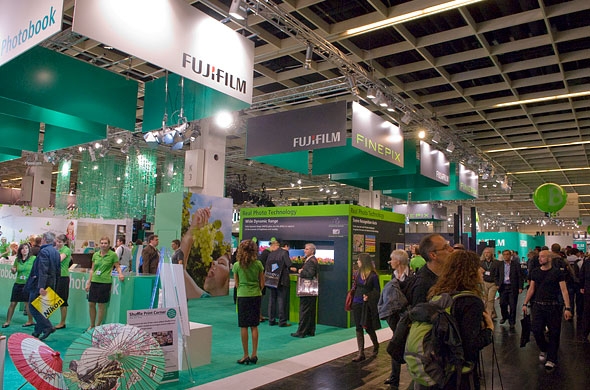 Firstly, the S-series. The Fuji FinePix S-series offers outstanding image quality in an SLR-style camera that boasts a long, high-power zoom lens. Second in the line-up is the F-series, which sits at the top of amateur/enthusiast level cameras, just below the point that takes you into DSLR territory. Thirdly, the FinePix J-series combines user-friendly technology with high quality imaging, and last but not least, is Fuji's FinePix Z-series, a fashionable, stylish and fun series, that comes in a variety of eye-catching colours and is packed with top-notch features and imaging opportunities.
Back in August in the run-up to Photokina, Fuji released a few additions to these series' and today we got to see them in the flesh at Fuji's - needless to say massive - photokina stand.
Fuji FinePix S2000HD
The Fuji FinePix S2000HD is an ultra-zoom camera that is fully compatible with high definitions televisions, able to clearly display photos as well as play video. Featuring a 15x zoom as well as 10 megapixels, the Fuji S2000 HD can record HD movies at 1280 x 720 pixels and wide screen stills at 1920 x 1080 pixels. The digital compact camera comes with a remote control and a cable so you can connect quickly and see the results instantly.
The zoom on the Fuji FinePix starts at 28mm and is ideal for shoots from landscapes to interiors as well as sports and action photography, with the Dual Image Stabilisation and high ISO sensitivities providing a solid prevention of blur. The FinePix S2000 HD features all the usual technology we've come to expect on these type of models, such as Face Detection and automatic red-eye removal and also offers Instant Zoom and Zoom Bracketing. Instant Zoom keeps the subject in the shot even at long distances by providing a wide-viewing area around the frame and Zoom Bracketing takes three shots at three different degrees of magnification (the original, 1.4x and 2x), at a single press of the button. You can choose the best shot on your camera, rather than having to use editing software on your PC.
Fuji FinePix F60fd
The Fuji FinePix F60fd offers all the same features as the FinePix F50d including the 12 megapixel CCD sensor, and adds a few benefits such as the 3" LCD screen, improved Face Detection and Auto-Scene Recognition Mode. This digital camera was designed to provide creative opportunities for photographers who want a more challenging and accordingly more rewarding experience, whilst still offering auto mode for those who want easy, hassle-free photography.
A great feature that is starting to be seen in digital cameras and here is a first for Fuji, is the Scene Recognition function that detects what settings are best without the user needing to pre-select a mode.
Fuji FinePix J150W, J120, J110W & J100
Fuji's additions to its J series all feature a 10 megapixel CCD sensor and 5x optical zoom, with the variations being due to the size of the lens and the LCD. The Fuji FinePix J150W and J120 offer a telephoto range up to 175mm and have a 3" LCD screen. The Fuji FinePix J100 and J110W have a screen of 2.7" and a focal length range of 28mm-140mm, including wide-angle capability. Full of useful features such as 13 shooting programs, Face Detection and a high ISO sensitivity, the Fuji FinePix J-series is a family-friendly camera that is simple to use whilst being capable of producing great pictures.