The Fuji X-T1 combines a high-resolution EVF with a weather-sealed body and much more. Matt G got his hands on it.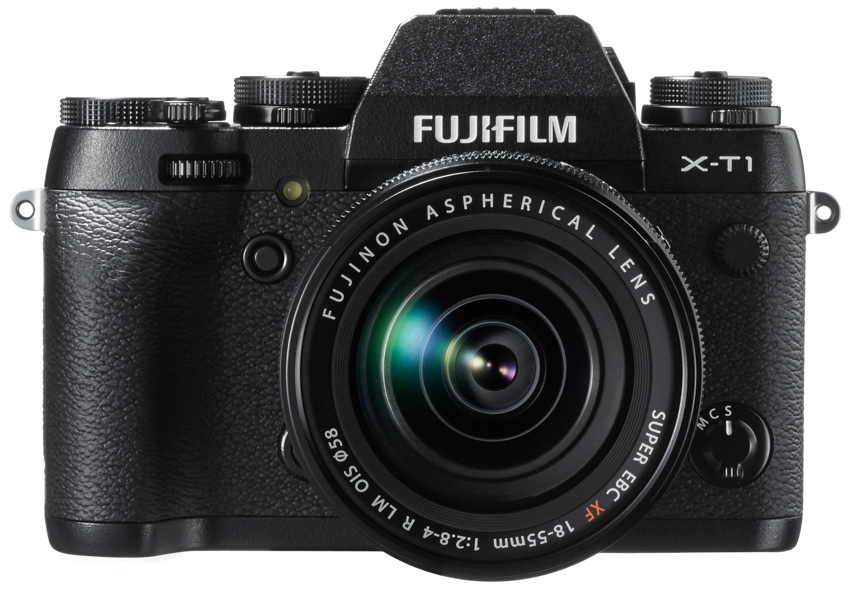 The latest addition to Fujifilm's popular X-series of Compact System Cameras, the Fuji X-T1 combines a number of desirable features from previous models with a number of improvements, and wraps them inside a new, weather-resistant body. These include the 16MP X-Trans CMOS II sensor from the Fuji X-E2, which contains phase-detect pixels to complement the camera's contrast-detect AF system, as well as the previously seen EXR Processor II. A redesigned circuit board now allows for a maximum expanded sensitivity setting equivalent to ISO 51,200, while the Lens Modulation Optimiser is said to maximise the performance of each lens used.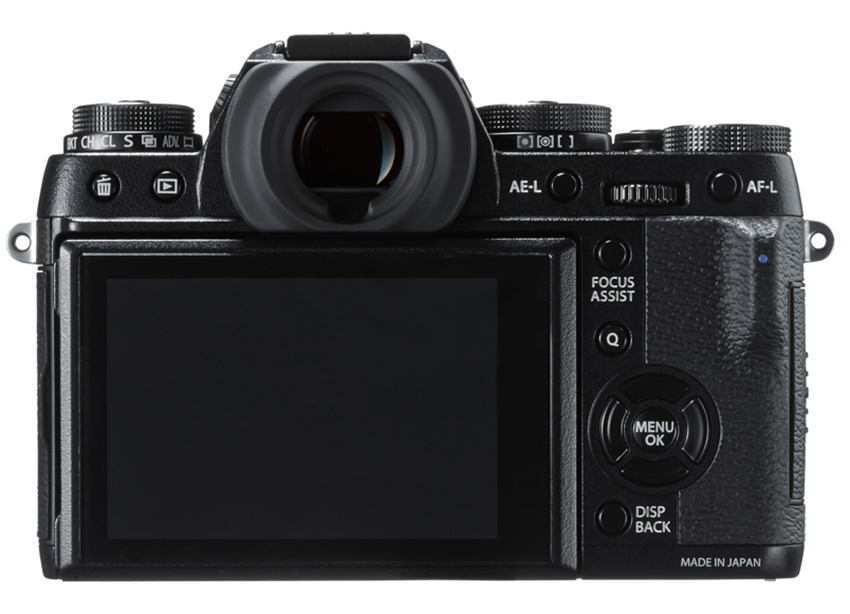 Arguably the highlight of the spec sheet, the newly developed Real Time electronic viewfinder is said to have the world's highest magnification (0.77x) among digital cameras, as well as a lag time of 0.005sec. The OLED panel at its heart contains 2.36million dots, while a button at the side of it allows the photographer to toggle between four different displays, one of which rotates the display by 90 degrees to match shooting in the portrait orientation.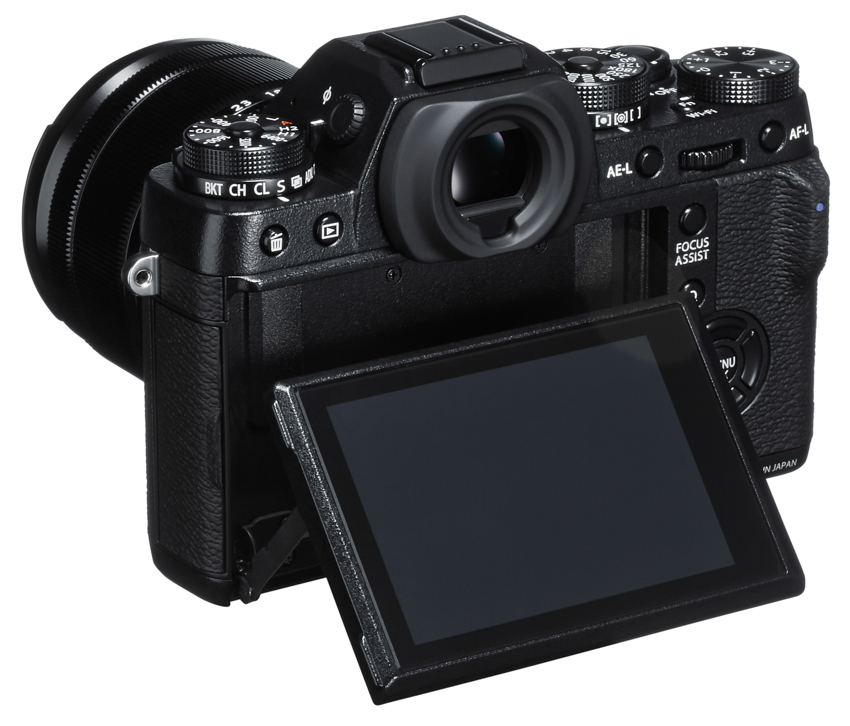 The Fuji X-T1 also becomes the third X-series model to offer a tiltable LCD on its rear. This measures three inches in size and has a high resolution of 1.04million dots, with its outer panel constructed from tempered glass for sturdiness. Mounted on a hinge, this can be pulled away from the camera's body and adjusted up and down to shoot different styles of shooting.

The X-T1's body boasts a die-cast magnesium construction, with milled, aluminium dials on its top plate used for regulating sensitivity, shutter speed and exposure compensation. The camera boasts 80 seals around its body for dust- and water-resistance, and Fujifilm also claims to have designed the body with telephoto and large-diameter lenses in mind, so that the camera continues to provide a good balance when such optics are used.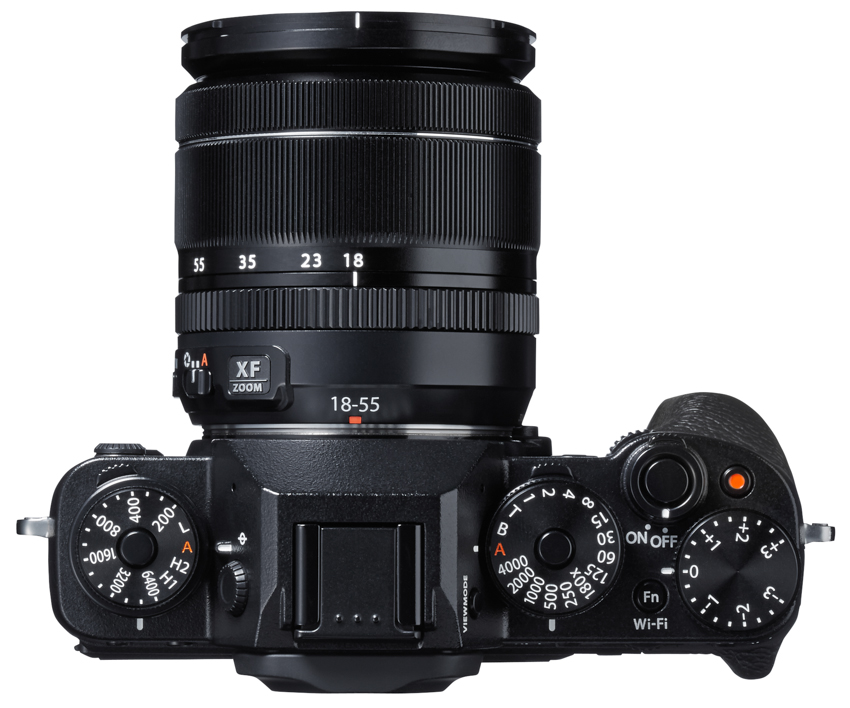 Other features of interest include an external (supplied) flash with a guide number of 8m at ISO 100, as well as a hotshoe above this for those seeking to use external flashguns. The camera can be programmed to shoot continuously at a rate of 8fps with AF tracking enabled, while built in Wi-Fi allows for images to be shared without the hassle of cables. Finally, time-lapse enthusiasts will be pleased to discover that the camera also comes with a built-in intervalometer.
Fuji X-T1 specifications:
16.3MP X-Trans CMOS II APS-C sensor, no low-pass filter
Fuji X mount
ISO 200-6400 (expandable to ISO 100 and 51,200 equivalent)
EXR II Processor
Built-in Wi-Fi
Full HD video, H.264 compression
Real Time OLD viewfinder, 2.36million dots
1.04million-dot, tiltable LCD screen
Die-cast magnesium body with aluminium dials.
Water and dust-resistant (when used with weather-resistant lens)
8fps continuous shooting
Approx. 440g (including battery and memory card)
129 x 89.8 x 46.7mm
Fuji X-T1: Hands-on review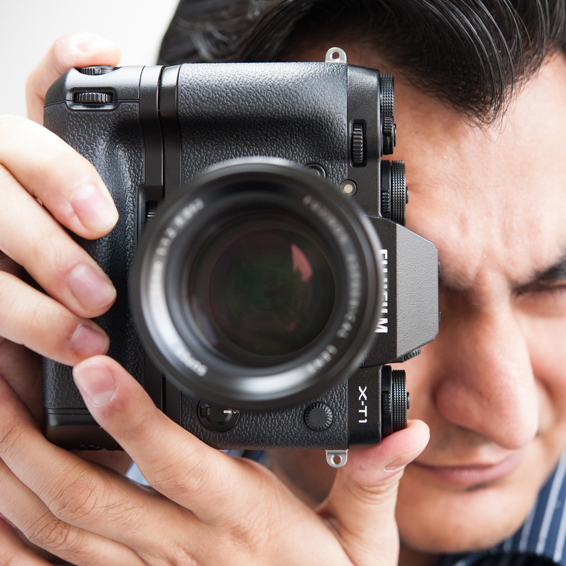 We got our hands on a pre-production sample of the Fuji X-T1 last week, in addition to the new VG-XT1 battery grip (shown in the image above) and the 56mm f/1.2R lens to get a better idea of what it would offer the user.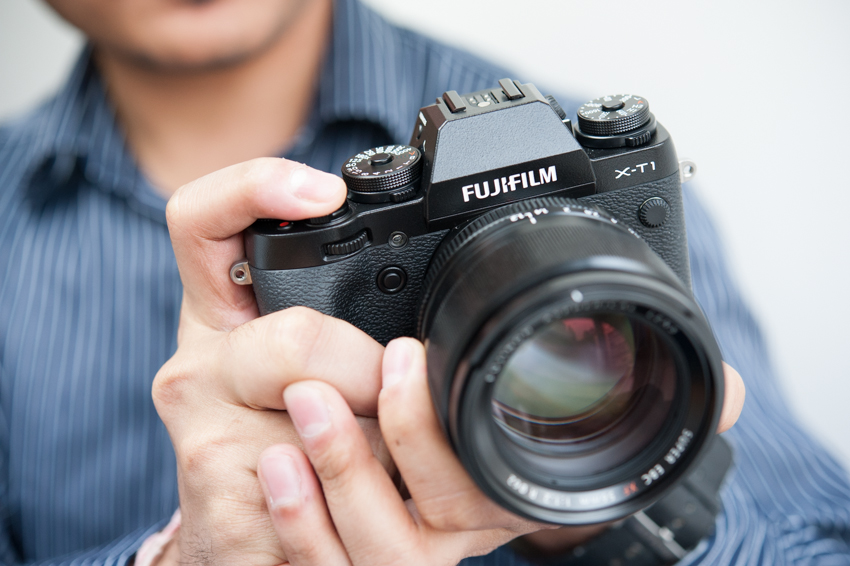 The camera is clearly an X-series model at its heart, although, as the first model in a new sub-series, some changes from previous offerings are not entirely unexpected. Perhaps the first thing that you notice is the grip, which is noticeably more defined next to the recent Fuji X-M1 and X-E2, which should go some way to helping support larger and heavier lenses, as Fujifilm claims. Even so, in the hand, the camera is much lighter than expected, while the tactile rubber finish around its body makes it feel secure.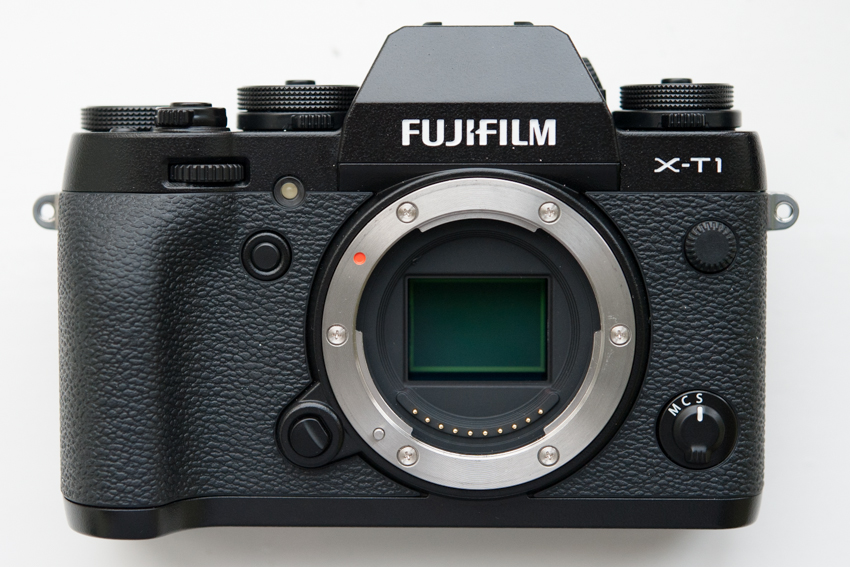 The Fuji X-T1 employs the same X-series mount common to Fujifilm's previous mirror less models, which makes it compatible with all lenses released for the system to date. Against the APS-C-sized sensor inside the body, lenses are subject to an effective focal length magnification of 1.5x. So, with the XF18-55mm f/2.8-4 R LM OIS lens available as an option with the body, the user has an effective focal range of around 27-82.5mm. This is on a a par with lenses released for other models, although its wider than average aperture range should give it a slight advantage in low light and when seeking particularly shallow depth of field.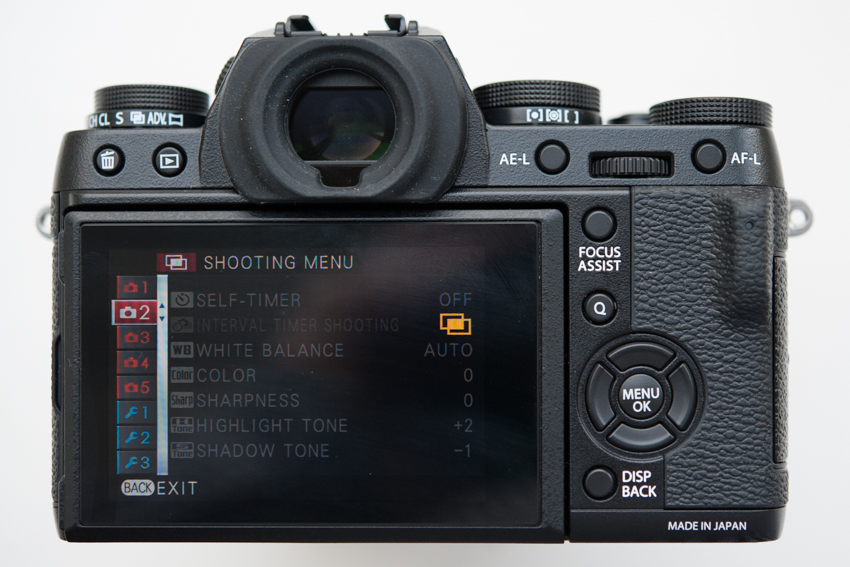 The rear of the camera has a fairly standard assortment of controls, with plenty of room left over for comfortable handing. Playback, Delete, AE-L and AF-L controls are positioned above the display, in addition to a small command dial, while Focus Assist and Display options lie either side of the menu pad dial. There's also a Q button used to bring up the Quick menu; here, many commonly-used options can be changed, such as image quality and white balance. The controls here are fairly flush against the body, which makes everything fairly easy to access, although some may have preferred the larger buttons of the X-E2. There is certainly space for this, although only perhaps those with the largest hands may find this to be an issue.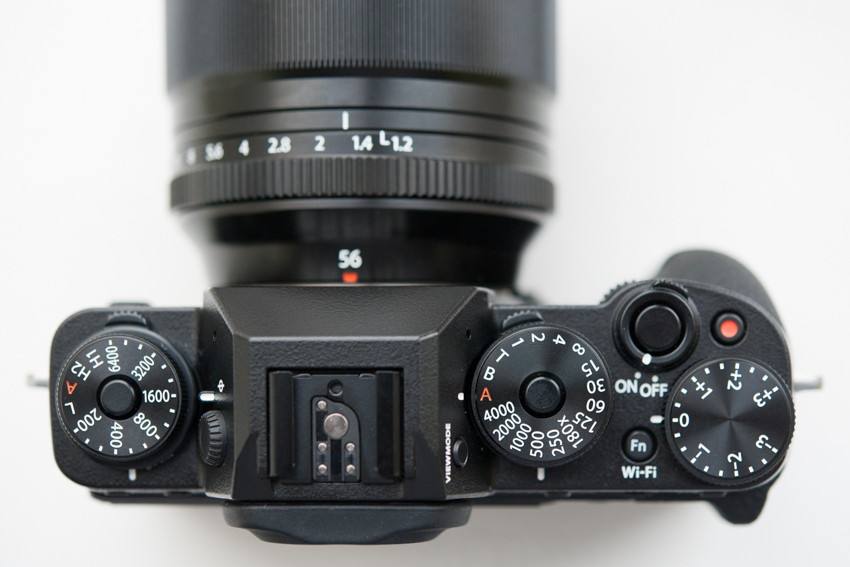 The top-plate contains three dials for instant access to main exposure settings. There's a dial for adjusting the camera's sensitivity on one side, with another for shutter speed and a further dial for exposure compensation on the other. Other controls include a shutter release button encircled by an on/off control and a small red button to its side used to activate movie recording, as well diopter correction to the side of the viewfinder.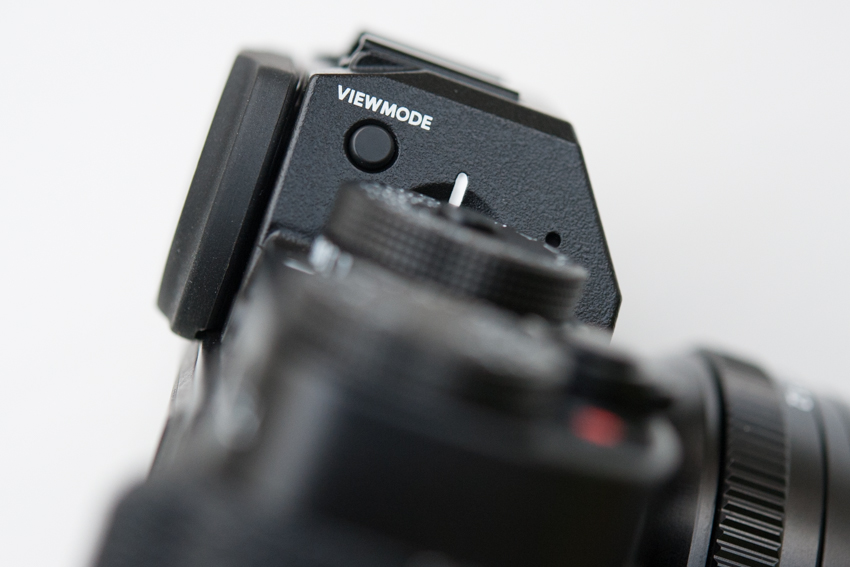 On the other side of the viewfinder lies a button marked 'Viewmode', which alternates between the different viewfinder display options. When the 'Full' mode is selected the scene really fills the frame, although not to the extent that it requires you to look around the viewfinder to see all details. Sadly we weren't able to test the viewfinder in any demanding conditions, but in fine conditions we were impressed by both the clarity of the feed and its stability, together with the clear exposure information displayed alongside. Electronic viewfinders continue to improve, and this is certainly one of the best we've used on such a model. There's also a 'Dual' mode available through the Viewmode control, which displays a small Digital Split Screen next to the main display for fine tuning focus, with a distance scale underneath this. Focus peaking is also available.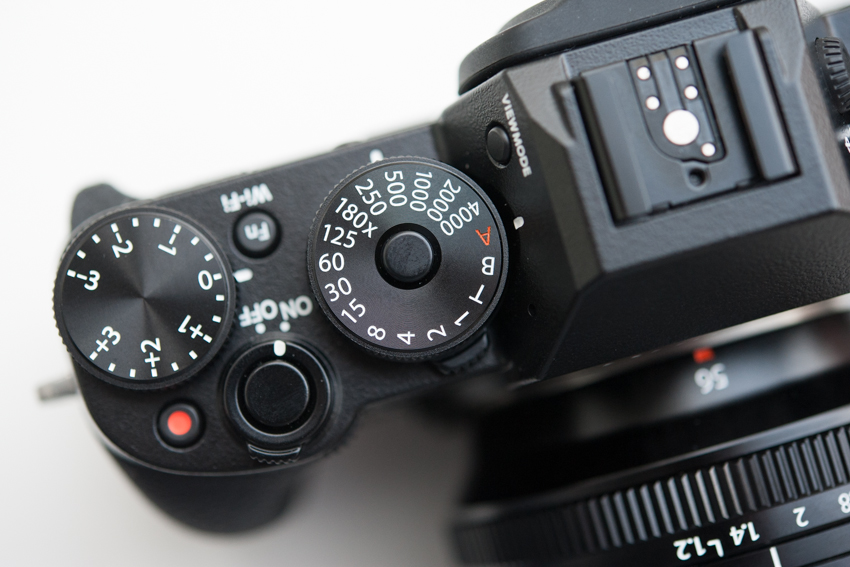 The exposure compensation dial on the side of the top-plate is large and clearly marked, and thankfully there's a good resistance to it when turned. Such dials, particularly when positioned so close to the edge of the camera, can often be unwittingly knocked out of position, so it's nice to discover this is far less likely here.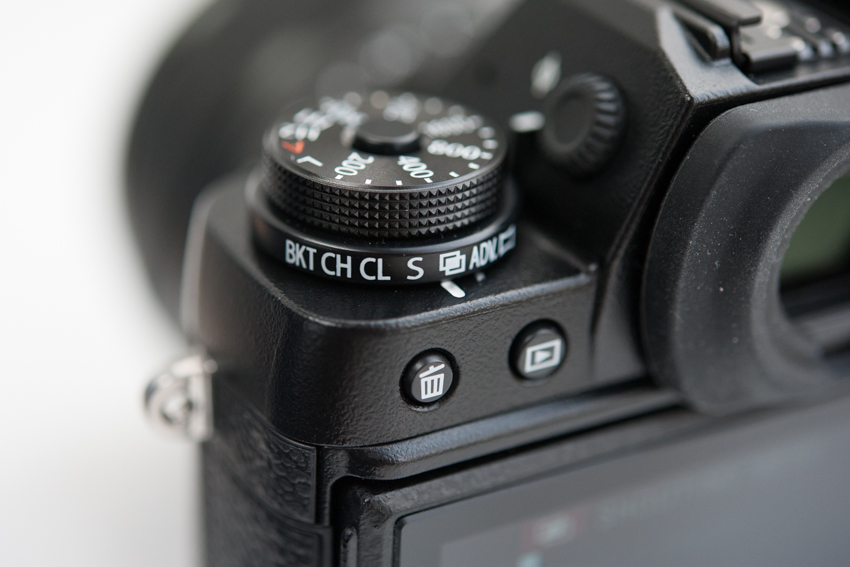 Beneath the dial for adjusting sensitivity is a collar used to change the camera's drive mode, with continuous shooting and bracketing options accessible here. Turning this may appear awkward at first, although a small protrusion around the front of the dial allows the finger to get better purchase, which actually makes this fairly effortless.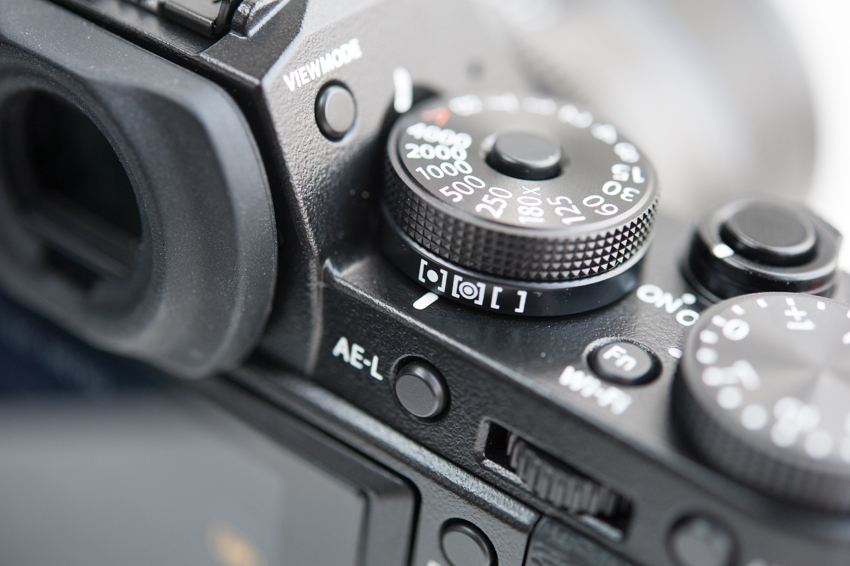 On the other side of the top plate, the metering mode is changed in the same way, with multi, centre-weighted and spot patterns on offer. The shutter speed dial above this also moves well, although it requires a press of the button in its centre to turn. As with the exposure compensation dial, this should also make it more difficult to turn accidentally. We would, however, like to see the command dial behind this a little more exposed, as it only comes out from the back plate a little.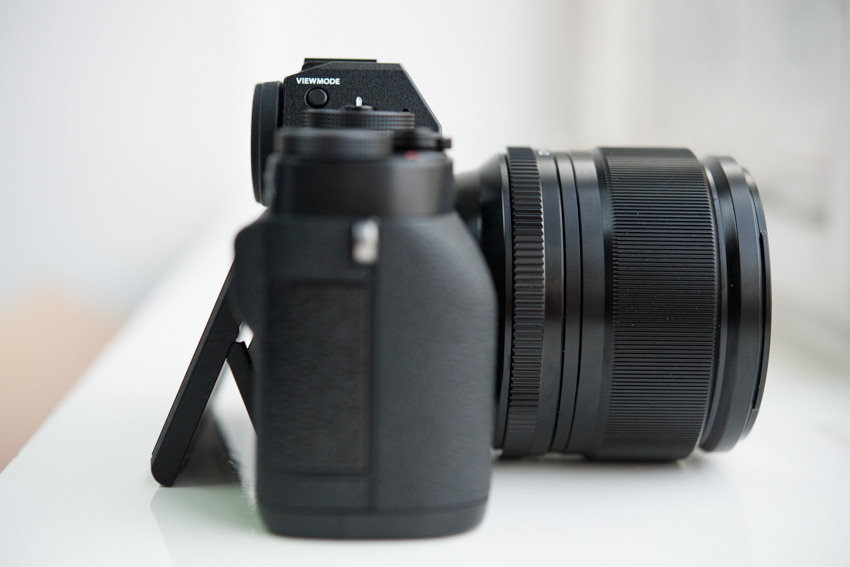 The camera's display doesn't extend too far out from its body, although it's far enough to turn the display so that it's at a 90degree angle to the back plate. There didn't appear to be anything out of the ordinary here, with a fine reproduction of the scene and decent viewing angle, with the the usual slight drop in visibility when used in slightly brighter conditions (which is perhaps less of a concern with a camera sporting a tillable display). The camera's AF system appeared to work well against low-contrast subjects when the focus point had been defined, and focused swiftly through the range against more problematic subjects, although this could only be tested with a pre-production sample of the XF56mm f/1.2R lens. Fujifilm actually claims that with its XF14mm f/2.8 R lens in the High Performance setting, the X-T1 can focus faster than any other camera with an APS-C sensor or larger.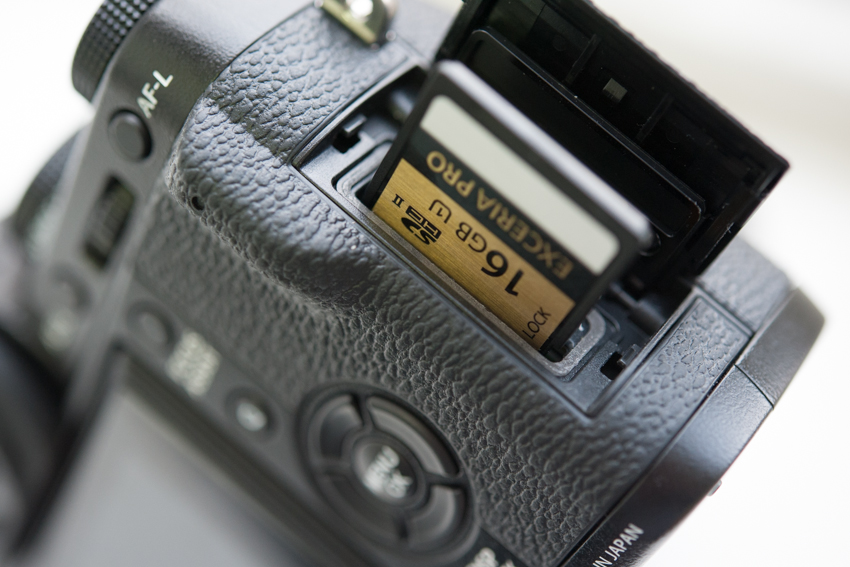 The memory card is removed and replaced via a door to the side of the camera; this will no doubt please those used to tripod-based shooting who may remove and replace their cards while the camera is still mounted. The X-T1 is also notable for being the first to accept the latest UHS-II SDHC cards (pictured above), which theoretically allow faster transfer speeds than existing UHS-I media.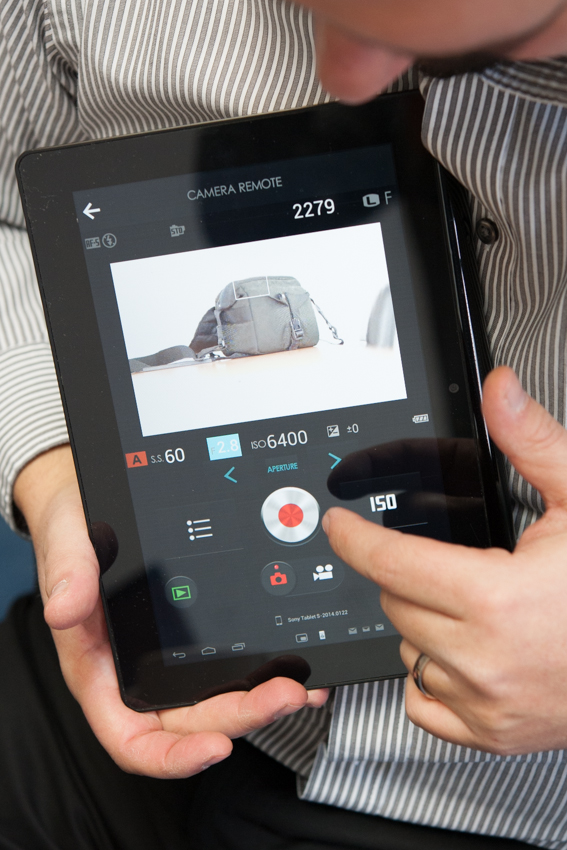 The X-T1 is the latest Fujifilm X-series model to boasts Wi-Fi built into its body, and a control for this is also available on the top plate. This is twinned with the Fn button which can have its function changed according to the user's preference. As with many other Wi-Fi-enabled cameras, the Fuji X-T1 also allows the user to control the camera remotely through a tablet or smartphone, something the company was keen to show off. Despite it only being a pre-production sample, there didn't appear to be any issues with the connection between the two devices or general operation.The camera managed to focus on the subject and capture images with no delay, and it was great to see so much control on offer through the app itself. Fujifilm claims it has tested this over a range of up to 15m without any obstacles, which should suffice for most applications.
Fuji X-T1: Final thoughts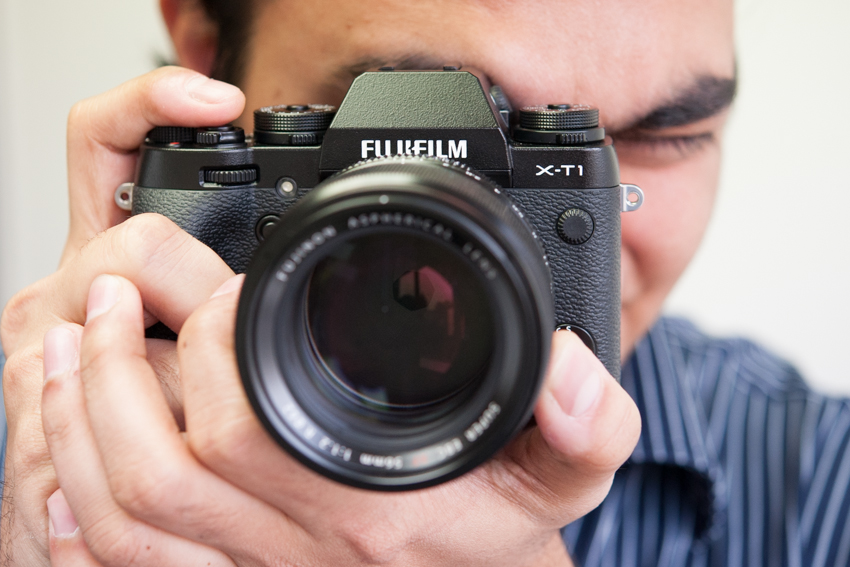 There's plenty to like about the new Fuji X-T1 and it's easy to see its appeal to a broad range of users, from those looking to step up from older DSLRs and Compact System Cameras to those looking for a capable backup to another body. Furthermore, it's styling should also ensure it appeals to users of Fujifilm's current and retired compact cameras, such as as the Fuji X100 and X100s, perhaps those looking for something similar but with the benefit of interchangeable lenses.
With its many physical dials and spacious layout of controls, the Fuji X-T1 offers an excellent user experience, and it's great to see the company putting in so much effort into the electronic viewfinder, something that continues to divide opinion among photographers used to optical alternatives.
The camera's weather-sealing, together with the focus on better supporting telephoto optics, also suggest Fujifilm may imagine such a model to be used by wildlife and nature photographers currently using DSLRs, particularly with the forthcoming release of a weather-resistant XF50-140mmF2.8 R OIS WR zoom lens. Given that the X-series appears to be currently appealing mostly to street and documentary photographers, it will be interesting to see if the arrival of new lenses results in it gaining popularity among photographers working in different genres.
Perhaps the only omission likely to bother a few is touch functionality for the rear display. It's a feature which can be incredibly useful on cameras with articulated displays, given their suitability for awkward shooting, but it's still not made its way to Fujifilm's X-series CSCs (despite its appearance on rival cameras from the likes of Olympus and Panasonic). Still, even without this, the X-T1 shows itself to be a compelling option for those looking for a small-format, high-spec CSC.