A whole new camera – an incredible redesign makes the X-T4 an exciting prospect for stills and video shooters
Take a look at our hands-on field test with the X-T4
The new X-T4 isn't just an upgrade over its predecessor – it is a whole new level of camera. Some game-changing new features make the Fujifilm X-T4 a perfect camera for shooters who are looking for a true hybrid between stills and video. The body itself is very slightly heavier and bulkier than the X-T3 – let's find out why…
Internally we have a 26.1MP APS-C X-Trans 4 CMOS sensor, powered by the X-Processor 4. This is the same combination as we have seen in the X-Pro3, so we know the image quality will be top notch. So why buy the X-T4 instead? Well, one reason is the addition of IBIS. In-body image stabilisation has finally been added to the X-T4 and it provides a whopping 6.5 stops of stabilisation on 18 out of 29 of Fuji's XF lenses. The IBIS unit itself is 30% smaller and 20% lighter than the one in the X-H1, which means the X-T4 can keep the compact feel and lightweight design that Fujifilm are so passionate about. This new feature works in both stills and video mode.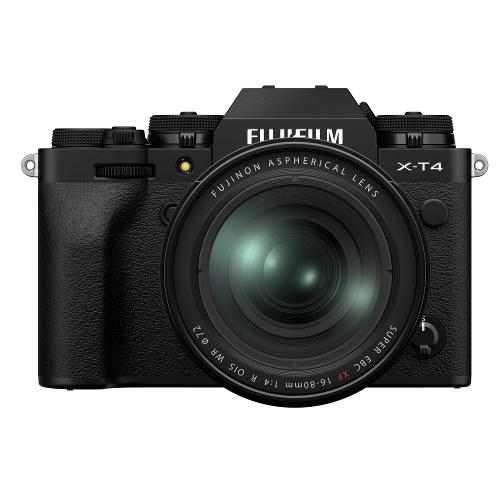 The Fujifilm X-T4 seen front-on
Sitting in front of the sensor on the X-T4 is a brand new mechanical shutter. This has been designed for a far longer life expectancy than the shutter in the X-T3, doubling the tested shutter actuations from 150,000 to 300,000. If this wasn't enough, the new shutter also allows the X-T4 to have a greater continuous shooting speed – up to 15fps using the mechanical shutter. For anybody out there who is interested in the sound of a shutter, you'll be pleased to know that not only is the new mechanical shutter a lot quieter, but it also sounds delightful. Using the electronic shutter (ES) you can shoot short bursts of up to 30fps (with a 1.25x crop).
Blackout time and release lag time have both been shortened, making the X-T4 a powerhouse for action shots. A new AF algorithm means the AF speed can be as fast as 0.02secs, with huge improvements noticeable in AF tracking as well as face and eye detection. Focusing in low-light situations isn't a problem for the Fujifilm X-T4 either, with AF available down to -6EV.
The fully articulating screen opens up a range of new shooting and composing possibilities
Normally we wouldn't cover the externals of a camera this early in a blog but the there are some pretty big upgrades in this sector which set the X-T4 apart from its competitors. Another reason for the X-T4 being slightly chunkier is the addition of a fully-articulating screen. This will allow stills shooters to obtain new angles without pulling a muscle, but, maybe more essentially, it makes the X-T4 a viable camera for movie shooters. Next, we have a new battery. It's always a contested point, but Fuji can be congratulated for holding on as long as they could before making this change; it is now really a necessity. This new battery, the NP-W235 is bigger in size and capacity. The X-T4 is CiPA rated to 500 shots, and 600 shots in Eco mode, which is great for a mirrorless body!
The X-T4 is also fully weather-sealed, which means it can be used even in harsh environments. This was incredibly useful when we tested the camera, reviewing almost entirely in torrential rain. To see our full test, just click the video at the top of the page.
Other than what we've mentioned already, the body itself stays similar to the kind of design we've seen previously – with the addition of a new switch. To enter video mode, you no longer use the drive dial on the top left of the camera. That dial has been slightly re-organised, and so changing from stills to video now has a dedicated switch under the shutter speed dial, atop the camera. This well-designed extra doesn't just give you the ability to shoot video, it totally changes the camera. Your "Q" menu becomes a video menu, the main menu shows video options and most importantly – it does NOT continue to use your stills settings in video mode and vice versa. For example, in most cameras, if you are shooting stills in manual mode and you switch to manual video mode, your settings (shutter speed, aperture, ISO and – most annoyingly – picture profile) will be kept the same. However, this new setup by Fujifilm allows you to shoot video and stills with ease, swapping quickly between the two modes and keeping your video settings separate from your stills settings. Great, great, great! We love this!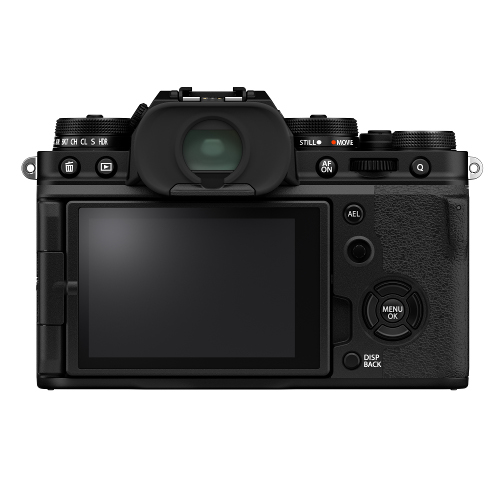 A look at the controls on the rear of the X-T4
The video capabilities on this body are hugely exciting. You can shoot up to C4K60P 10-bit 4:2:0 internal or if you need that extra colour depth, you can output the video through the HDMI for 4:2:2. If slow motion is more your thing then the X-T4 can shoot 1080p up to 240fps, outputting (in PAL) at 25p or 50p, providing 4x or 8x slow motion.
If IBIS isn't enough to keep you steady, and you don't fancy slowing things down, you can make use of the X-T4's Digital Image Stabilisation (DIS) in video mode. This mode essentially slightly crops your image and then uses that crop to stabilise your footage. Therefore, using this setting when shooting in certain resolutions can incur up to a 1.29x crop. Below is a table of exactly what cropping occurs in which resolutions, however if you think you'll be using multiple settings and resolutions for a project, you can set the crop permanently at 1.29x so everything stays consistent.

There is a 3.5 mic/ line input, but sadly no headphone output, however, Fujifilm have included a USB-C to headphone adapter in the box, which means you can monitor your sound as soon as you start shooting. Also, in the box is a USB-C charging lead, but no charger. You will be able to purchase a dual battery charger if you prefer to charge externally or need to run multiple batteries.
The camera with the VPB-XT4 battery grip attached
Another option could be to purchase the new VPB-XT4 battery grip, which allows for one battery in the camera and two in the grip. The grip also has a headphone output if you prefer not to use the USB-C adapter, or want to plug in whilst using audio. You can charge all three batteries simultaneously by plugging in the camera with the grip attached, meaning you can leave it overnight without having to swap around batteries.
This truly impressive new addition to Fujifilm's range, really takes into account how creatives use the cameras. Its huge list of upgrades over its predecessor make this body a viable option for current Fuji shooters, and creatives looking for a body that offers complete versatility.
About the Author
Amy Moore is Wex Photo Video's Technical Editor for Photography. She enjoys numerous types of photography, especially landscapes and meteorological photography.
Related articles