The X-T100 might be small, but it's packed with features and is compatible with Fujifilm's extensive range of X Mount lenses
Pre-order the Fujifilm X-T100 in Champagne Gold, Dark Silver or black.
Fujifilm's latest addition to its premium X Series of mirrorless cameras, the X-T100, packs an impressive roster of features within a tiny 448g body. The CSC is compatible with all 26 of Fujifilm's Fujinon X Mount lenses, but perhaps the most surprising feature for a mirrorless camera at this price point is the presence of an electronic viewfinder (0.62x magnification).
Other additions indicative of a more expensive camera include a built-in flash and rear LCD touch-screen – this can be used for touch shooting and to select AF points. The X-T100 also ships with a plastic grip, which can be attached or removed according to preference. The camera is available in a variety of colours and features an anodized coated aluminium top cover. Beneath this attractive, vintage exterior is a 24.2MP CMOS APS-C sensor. In addition, the X-T100 hosts a variety of automatic functions including Fujifilm's Intelligent Hybrid AF and an evolved SR+ Auto Mode – now combined with subject and scene recognition.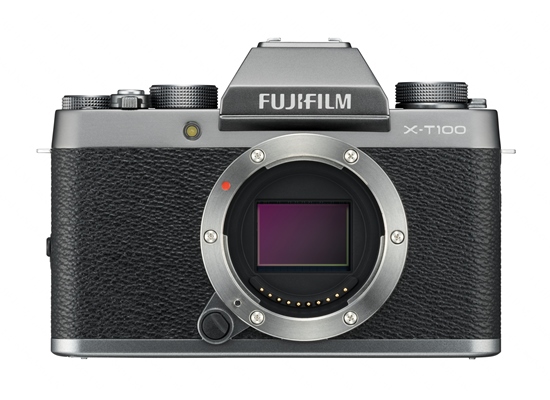 The camera's precise autofocus is complemented via the presence of phase detection and an algorithm that was originally developed for flagship X Series models. The X-T100's feature set is bolstered by a 430-frame battery life and a three-way tilting LCD monitor. The X-T100 resembles its X Series counterparts with three control dials. One of these dials can be customised to operate various functions including Fujifilm's Film Simulation Modes and Advanced Filters.
While it would be silly to compare the X-T100's performance with a smartphone – its sensor is around 14 times bigger – the camera is packed with smart device functionality that will no doubt appeal to photographers who are active social media users. Bluetooth Low Energy allows you to quickly and automatically transfer photos to a smart device via Fujifilm's free Camera Remote app. And, if you prefer the tactile nature of a hard copy, the X-T100 is also compatible with the instax SHARE SP-3 printer. In addition, users can take advantage of Fujifilm's Film Simulation Modes and Advanced Filters for additional in-camera creativity. The former will include 11 variations and the latter will include 17 variations.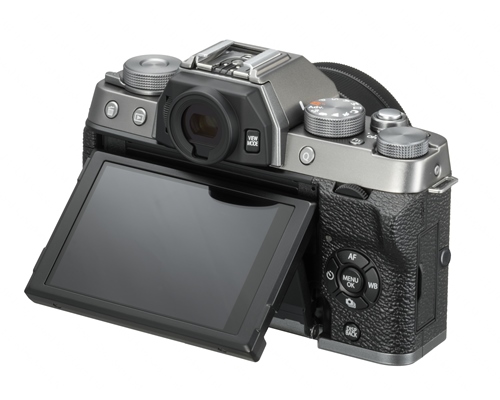 The X-T100's small form factor makes it an ideal everyday camera or travel companion. Sharing your experiences couldn't be easier and with access to Fujifilm's X Mount lenses, you're sure to sight some serious compositions within that 0.62x magnification viewfinder.
About the Author
Mike Harris is Wex Photo Video's production editor and is an experienced journalist with a passion for motorsport photography. You can view his portfolio via @MDHarrisPhoto on Instagram.
Related articles