The Fujifilm X-T3 betters its predecessor in a number of ways and boasts internal 10-bit 4K at 60fps, an APS-C mirrorless camera world first
Amy Moore takes a first look at the Fujifilm X-T3.
While other manufacturers wrestle for the full-frame mirrorless crown, Fujifilm has announced a game-changing mirrorless APS-C, the X-T3. Packed inside the X-T3's attractive, angular body is a new back-illuminated 26MP X-Trans CMOS 4 sensor and X-Processor 4 image processing engine. But, stills image quality is only the half of it. The X-T3 is currently the only APS-C mirrorless camera in the world that can record 4K at 60fps in 10-bit, internally. So, whether you're into photography, creating videos or both, read on. The X-T3 is a camera you won't want to ignore...
Sensor and image processor
Fujifilm has revealed that the X-T3's X-Trans CMOS 4 sensor boasts four times the number of phase detection pixels than the camera's predecessor (the X-T2) and the more recent X-H1 – this has increased the phase detection AF area to cover approximately 100% of the frame. Improvements have also been made to the mirrorless camera's low-light performance. The X-T3's native ISO range is 160-12,800 – this is slightly broader than the Fuji X-T2 and Fuji X-H1's 200-12,800.
The Fujifilm X-T3 is a stylish-looking APS-C mirrorless device. It's available in black and silver.
If that wasn't enough, Fujifilm has also extended the X-T3's low-light AF limit to -3EV, a far cry from the -1EV and 0.5EV offered in the X-H1 and X-T2 respectively. We've been told that the jump from X-Processor Pro to X-Processor 4 has effectively tripled the X-T3's image processing speed. Autofocus has also benefited from the boost, with a 1.5x faster processing speed and improved accuracy (metering is also 1.5x faster too).
Not only is the X-T3's processing power set to handle complex functions, such as Fujifilm's Color Chrome Effect [sic], but the 26.1MP sensor should substantially improve Face and Eye Detection AF performance. Fujifilm reckons that the performance of the X-T3's Face Detection AF has doubled in comparison to the X-H1 and X-T2, when used to capture a moving subject. Face and Eye Detection AF can be used during video recording too.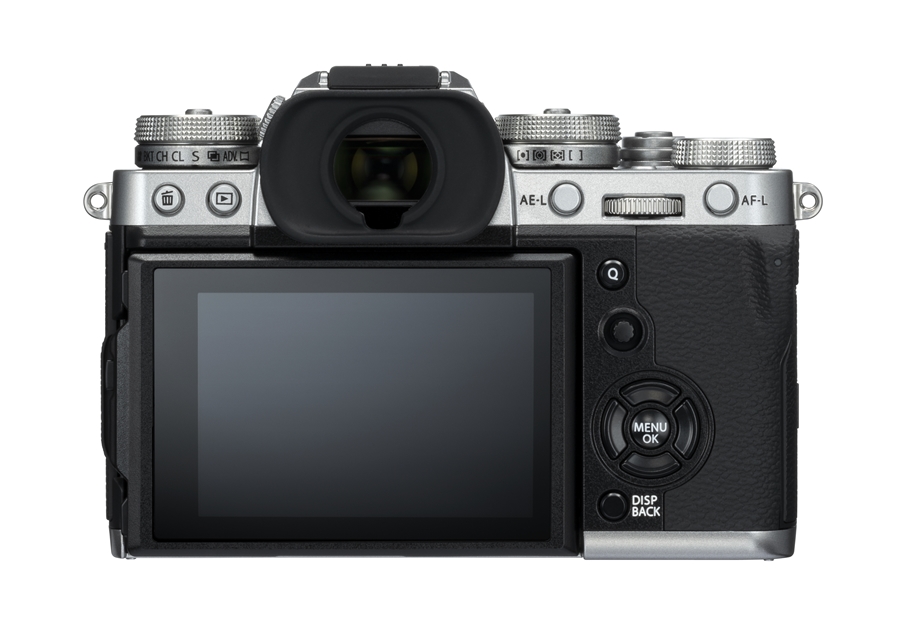 Video capabilities
Arguably, the X-T3's most exciting feature is its ability to record 4K at 60fps in 10-bit, internally. For the video inclined, that's 4K at 60fps in 10-bit 4:2:0 internal SD card recording and 4K at 60fps in 10-bit 4:2:2 HDMI output (both can be filmed at the same time). The X-T3 supports MPEG-4 AVC and HEVC video formats, so a high 200Mbps bitrate can be used when recording 4K at 60fps in 10-bit 4:2:0. Fujifilm tells us that ALL-Intra and Long GOP video compression options are available. This is important, because when using ALL-Intra alongside a V60 SD card or above, 4K video can be recorded at 400Mbps (up to 30fps). Other benefits when shooting video include a reduction in rolling shutter distortion and up to two stops of noise reduction.
The X-T3's video potential doesn't stop there, a firmware update – due by the end of 2018 – is set to allow the camera to record in the Hybrid Log-Gamma HDR system (developed by the BBC and Japanese public broadcaster NHK). This same update should allow X-T3 users to output Film Simulation and F-Log footage simultaneously. Film Simulation users will be glad to know that the X-H1's popular ETERNA mode returns as a feature on the X-T3. Filmmaking is further streamlined via the presence of a headphone jack.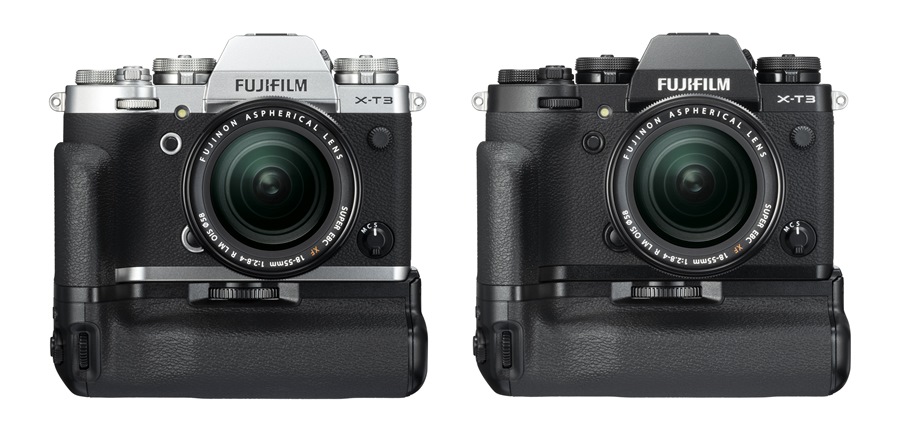 The VPB-XT3 Vertical Power Booster Grip carries two additional batteries, allowing you to use your X-T3 with a total of three batteries so you can keep shooting for longer.
Continuous shooting
Action photographers will no doubt take full advantage of the X-T3's improved tracking performance. Continuous shooting has been significantly improved. Using the electronic shutter, the CSC is capable of blackout-free continuous shooting of up to a huge 30fps, far exceeding the X-T2 and X-H1's 14fps. Similarly, the mechanical shutter is capable of continuous shooting at 11fps (without the vertical grip), bettering the aforementioned models' ability to shoot at 8fps.
Additional features
The release of the Fuji XT3 will mean that for the very first time, an X-Series camera will feature the Color Chrome Effect [sic], previously only available on the GFX50S. X-T3 users can look forward to using the effect to produce deeper colours and gradation in subjects with highly saturated colours. In addition, the presence of the powerful X-Processor 4, enables the Color Chrome Effect [sic] to be applied on both single shots and bursts.
X-T3 users can look forward to getting more from Fujifilm's famed Film Simulation modes, thanks to the new Monochrome Adjustment function. Although we've yet to get our hands on a review sample and delve into this new addition, we do know that this new function can be used alongside the Monochrome and ACROS Film Simulation modes.
A new Sports Finder mode is targeted towards action photographers by capturing a 1.25x crop, marked on the rear LCD or EVF. The larger field of view is intended to aid the manual tracking of a subject, while also decreasing the blackout time. The capture of fast-moving subjects is also benefitted, thanks to the X-T3's new Pre-Shoot function. This feature provides your reactions with a leg up by releasing the shutter when the shutter button is only half-pressed down.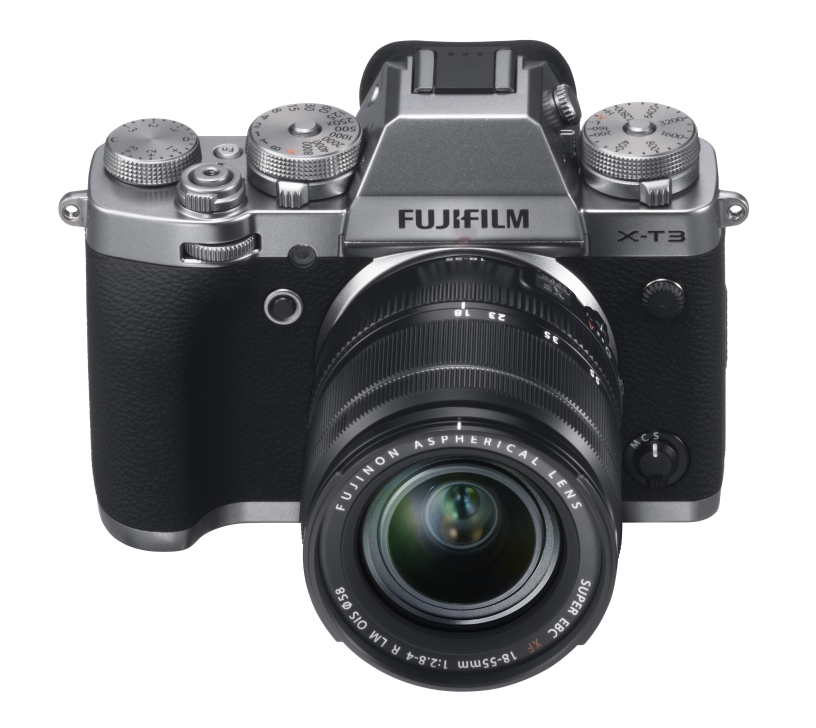 Build and form factor
Retro is in vogue and Fujifilm has a reputation for making photographic equipment that channels the romanticism of the cameras of yore. The X-T3's angular body is dripping with nostalgia and looks particularly attractive when dressed in silver. But, don't be deceived. Beneath that classic veneer, you'll find plenty of mod cons. The camera's impressive 3.69-million-dot electronic viewfinder [EVF] boasts 0.75x magnification, a display time lag of 0.005 seconds and a refresh rate of around 100fps.
Even the dioptre adjustment has received some attention and can now be locked to prevent unintentional changes. Although it doesn't feature a top-panel LCD, the X-T3 features a button layout that's similar to the X-H1. The layout of the rear panel is very similar, two large dials flank the EVF and as the right hand clutches the grip, the thumb and forefinger have access to the front and rear command wheels. The rear LCD touch screen is 3in and features 1.04-million dots, and around 100% coverage.
First impressions
Obviously, we'll reserve our final judgement until we receive a review sample, but the X-T3 is sure to outperform its predecessor and then some. Improved low-light performance is always welcome, but the advancement in continuous shooting – using both the electronic and mechanical shutter – will surely excite a few action photographers. Better tracking further reinforces this camera's suitability for capturing fast subjects and we haven't even mentioned the leap in video. We said it at the beginning at the article and we'll say it again, the ability to record 4K at 60fps in 10-bit (internally) is an APS-C mirrorless camera world first. Enough said.
For articles on future Fujifilm releases, stay up to date via our YouTube channel, Facebook, Twitter and of course, the Wex Blog.
About the Author
Mike Harris is Wex Photo Video's production editor and is an experienced journalist with a passion for motorsport photography. You can view his portfolio via @MDHarrisPhoto on Instagram.
Related articles