New versions of the legendary HERO promise never-before-seen levels of video stabilisation in an action camera
GoPro has returned with a bang, taking the wraps off its brand new HERO7 camera. The new HERO7 is no reinvention of the wheel – it's still a tough, waterproof camera with a fixed lens that shoots high-quality stills and video – but it improves on what has come before in a number of significant ways. The HERO7 comes in three different versions – Black, Silver and White. Let's waste no more time and dive straight into the feature sets of these new cameras...
At first glance, this is a similar proposition to the HERO6. It shoots beautiful, crisp 4K 60fps video and 12MP stills, and can burst-shoot stills at up to 30fps. It's tough, able to take a few knocks and is waterproof down to 10m without a housing. What's new is that the footage it captures is ultra-stabilised. GoPro is touting this new model as boasting 'gimbal-like' video, meaning that footage captured in motion should look smooth and polished without the need for extra accessories like the Karma Grip. The package does it all in one.
It's comprehensively well-specced. When you're shooting in Full HD you can slow the footage down to 240fps (8x slower than normal), allowing for the easy creation of stylish slow-mo clips. There's also the option to use the new stabilisation technology to create super-smooth time-lapse videos with camera movements, and these can also be sped up (by up to 30x) to cover longer periods of time – GoPro refers to these as 'time warp videos'.



On the stills side, the new headline feature on the table is intelligently automated shooting. The GoPro HERO7 is able to intelligently apply HDR, noise reduction and local tone mapping to optimise your shots and make them look as good as possible straight out of camera – this is called 'Superphoto' mode. Other automated modes include face detection, smile detection and scene detection; however, for those who prefer to have more control over their images, the HERO7 Black can shoot in RAW format, allowing for extensive post-capture tweaking.
GoPro has long been focused on easy image sharing, and the HERO7 Black is no different. It can capture clips at the Instagram-friendly lengths of 15 and 30 seconds, and it's easy to set the camera up to instantly stream footage to Facebook Live. GoPro has added on the option of portrait-orientation shooting, designed specifically for sharing to Instagram Stories. There's also full compatibility with the GoPro QuikStories mobile app, which is designed to aid and augment clip sharing, and users also have the option of setting up automatic backup to the cloud, with up to 250GB of storage available with a GoPro Plus subscription. If you choose not to use this option, it's still possible to squeeze the maximum amount of footage into your SD card thanks to High Efficiency Video Compression (HEVC), which cuts down the size of large files without compromising on quality.
The HERO7 Black carries a 2in touchscreen on its rear, which can be used for intuitive controls such as Touch Zoom. Other features include photo timer, GPS and a three-microphone setup with wind suppression, all of which have been featured on previous models.
As has been standard with GoPro releases for quite some time, the HERO7 Silver is a slightly stripped-down version of the HERO7 Black, made more affordable by the paring down of a few features.
So what's different? Well, on the HERO7 Silver, 4K footage can only be recorded at 30fps, not 60fps as on the Black, and slow-motion capabilities when shooting in Full HD bottom out at 2x rather than 8x. The resolution of the sensor is a little lower, at 10MP as opposed to 12MP (though it has Wide Dynamic Range functionality), and the burst shooting is knocked down to a still-respectable 15fps.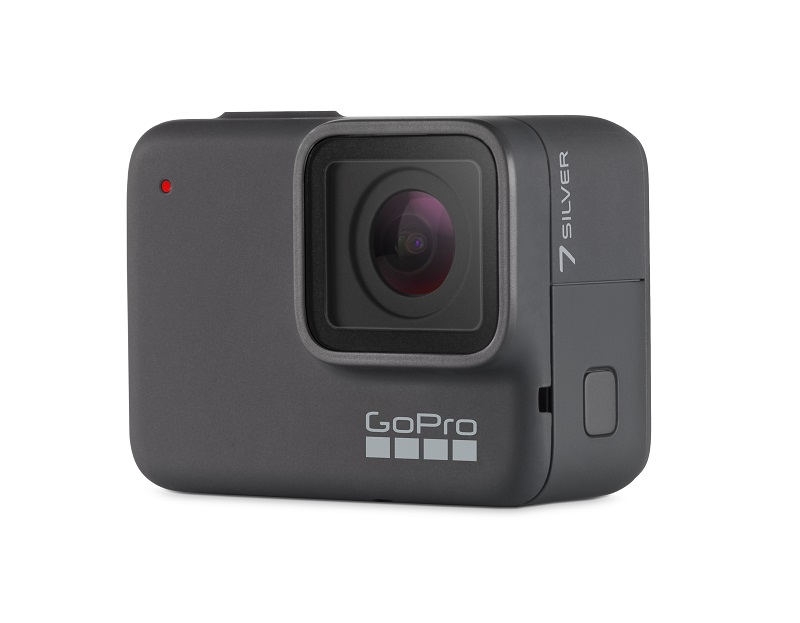 Stabilisation is still present but not quite the showboating headliner it is on the Hero 7 Black – it's standard 2-axis stabilisation rather than the 3-axis hypersmooth version – and the Silver records sound with a two-microphone setup as opposed to three. Also, whereas the Hero 7 Black is powered by a removable 1220mAh lithium-ion rechargeable battery, the Hero 7 Silver makes do with a built-in non-removable version.
A more basic version of the HERO7, the White skips out on 4K – its video resolution tops out at 1440p – and it has the 10MP sensor of the Silver without the Wide Dynamic Range option. It's also missing all the same features as the Silver, in comparison to the Black, with the additional caveat that there's also no GPS functionality.
It's important to note, however, that this is still a great camera – still waterproof to 10m, able to take some punishment, and still equipped with all those share-friendly GoPro functions. If you don't need higher resolution, it's a great choice.
First impressions
The GoPro HERO7 isn't a major update by any stretch, but it's great to see GoPro getting back to basics and focusing on what it does best – listening to its users and improving its products based on what they've expressed an interest in seeing. In this case, moving footage that looks a lot less jerky and janky. Ultra-stabilised footage isn't something any other comparable action camera is doing at the moment – and this means GoPro has rediscovered a USP.
About the Author
Jon Stapley is a professional journalist with a wealth of experience on a number of photography titles including Amateur Photographer, Digital Camera World and What Digital Camera. See more of his writing on Jon's author page.
Related articles