The DJI OSMO, an all-in-one gimbal with an integrated camera, promises 4K footage at an affordable price. Stuart Dennis gets a closer look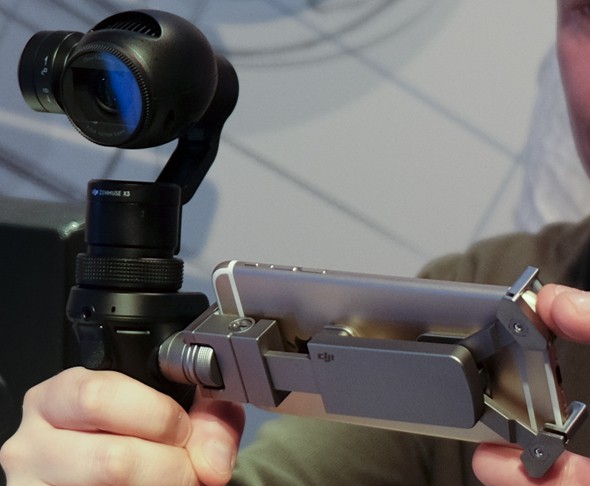 Stuart gets to grips with DJI's latest venture
We've seen the rise and rise of DJI brand over the last few years, as the company has consistently broken new price points with its hugely popular drone and gimbal products. Here at Wex, we are big fans in particular of their Ronin M handheld gimbal system, which allows us to grab smooth, flowing shots with small camcorders like the Canon XC-10 and video-capable DSLR/CSC cameras like the upcoming Sony A7S II.
Recently we were invited by DJI to a very secretive product launch in London Bridge. Was it going to be a new drone? An even more compact handheld gimbal? Well, I guessed the latter… and I was nearly right!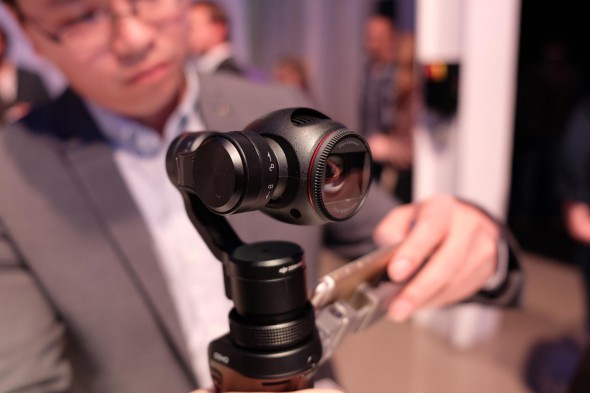 Revealed… the DJI Osmo
Grabbing stabilised 4K video at a low cost is about to get much easier. The product launched was the DJI OSMO, an all-in-one 3-Axis gimbal that combines one-handed operation and an integrated camera head taken straight out of DJI's Inspire drone, and is going to cost a very reasonable £549. A video of the type of footage you can achieve is below.
The ZenMuse X3 camera used can shoot 4096 x 2160 at 24/25 frames per second (FPS) in MP4 down to Class 10 Micro SD cards, along with the ability to shoot at HD resolution to 120fps. There's an integrated microphone for sound as well as a 3.5mm jack input for adding an external mic like the Rode VideoMic Go, and a thumb control for panning and tilting. The pan and tilt functionality doesn't just add a level of flexibility to video: you can also recording moving timelapses on the OSMO, and take 360-degree photographs.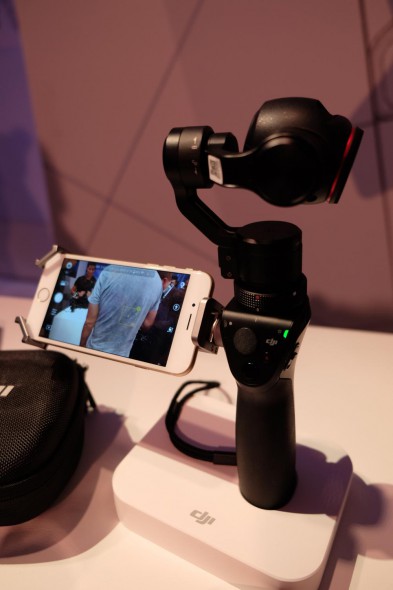 In terms of monitoring the OSMO relies on two things. First, the user having a smartphone, and second the user having the DJI app installed on that smartphone. With these criteria filled, we found this system worked really well. The OSMO actually comes with a universal mount that can take most smartphones, and this fits securely onto the OSMO handle using a rosette mount. There will be a range of mount options for the OSMO, and we were given a glimpse of footage from it using the upcoming bike handlebar mount.
Another exciting aspect of the OSMO is that you'll be able to fly the newer ZenMuse X5 and X5R camera/gimbal combos as well in the future. This means a camera with a Micro Four Thirds sensor and mount, and interchangeable lenses.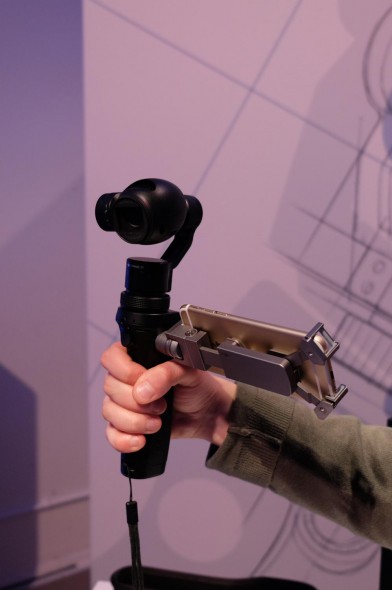 We picked up the OSMO and were really impressed with the build quality and how well-integrated it all felt. Over the last two years I've tried a few small single-handed operation gimbals that can fly small cameras like GoPro, but the OSMO felt head and shoulders above these in terms of ruggedness and ease of use.
The OSMO doesn't replace existing gimbal systems like the Ronin M, instead it complements the larger models. The integrated nature of the ZenMuse X3 camera and lens package, combined with the fact that focus is at a set distance, means that it's less flexible than putting a DSLR on a Ronin M in terms of field-of-view and depth-of-field options. However, that "built for each other" aspect of the ZenMuse X3 camera and its integrated gimbal means there's no set-up time with the OSMO, and you can react much faster.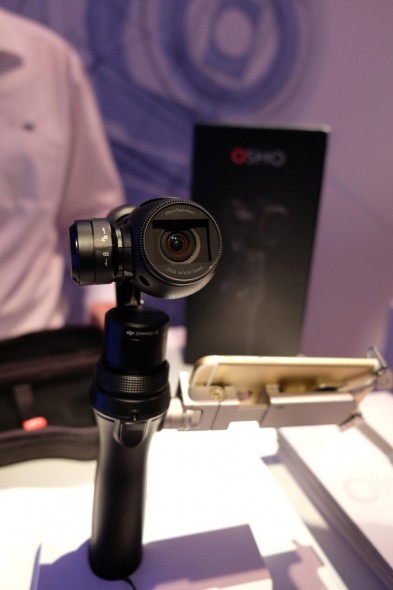 Overall, the OSMO is a really exciting new step for the ever-expanding world of gimbals. I think DJI's decision to integrate its own camera systems into it is the key here: it just makes sense to remove all the setup shenanigans and make it a truly "run and gun" device.
We can see the OSMO becoming a standard kit-bag item for videographers due to its versatility for all sorts of video applications: short "walk and talk" shots, stabilised action-cam shots, in-car use and sporting events to name but a few.
We're expecting the OSMO to land in early November.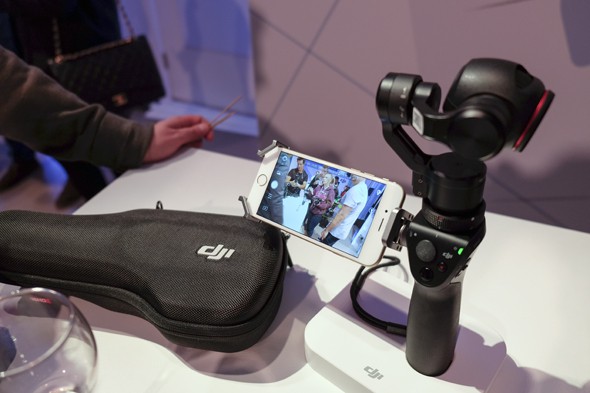 Related articles