Hasselblad weren't showing off at Photokina 2008. Instead they simply exuded class. Hordes of visitors soaked up the experience of their area: hands-on H3DII tours, live studio photography, Phocus software demos and the inspiring Masters 2008 gallery.
Hasselblad H3DII
The H3DII is the latest digital medium format camera behemoth from Hasselblad, available in 22, 31, 39, and 50 megapixel resolutions. The sensor area is twice the size of a 35mm DSLR sensor (48x36mm vs 36x24mm), and the 50 megapixel H3DII-50 churns out huge 300mb files.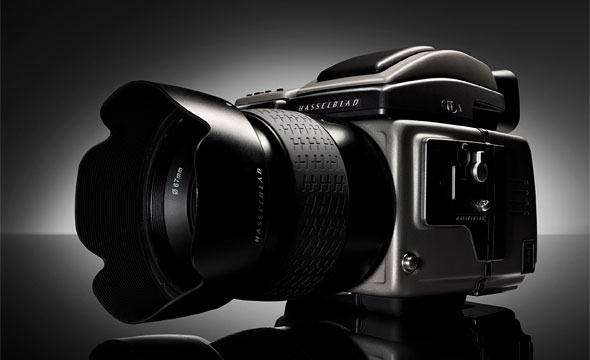 Hasselblad have re-aligned their pricing and are currently offering the H3DII-31 + 80mm lens for £9,495. The slogan splashed across the page reads "If you thought you couldn't afford a Hasselblad… Think again". Despite being double the cost of a Canon 1Ds Mk III or Nikon D3, you would be hard pushed to achieve better image quality with a budget of £10k. Your bank manager begs to differ; instead he/she highly recommends a 4mp Vivitar camera. Second-hand.
Live Studio Photography
The live studio photography demonstration brought home the power of tethering a Hasselblad system to a computer (an Apple Mac in this situation). The model was lit with a Profoto lighting system and the setup produced instant previews for the crowd via widescreen TVs. Simply replace the Photokina crowd with paying clients glued to the screen and hey-presto: you're a professional studio photographer! *Your experience may vary. Additional work and effort may be required.
Hasselblad Phocus Software
The H-system cameras capture an exceptional amount of data, so it's paramount to convert this RAW data effectively for perfect output files. Hasselblad have developed image processing software called Phocus to bridge the gap from 'lens to laptop'. Phocus performs digital lens corrections for aberration, distortion and vignetting. The software also deals with moiré in a very effective manner – by removing moiré directly with RAW data this preserves more image detail than a filter effect applied later in your workflow.
Hasselblad Masters 2008
On display were the 10 winners of Hasselblad Masters 2008, an annual competition showcasing the finest photography with Hasselblad cameras. The competition is split into architectural, editorial, fashion / beauty, fine art, general, landscapes / nature, upcoming, portrait, products, and wedding / social categories. Make sure you spend some time viewing the full gallery for each photographer by clicking on the thumbnails!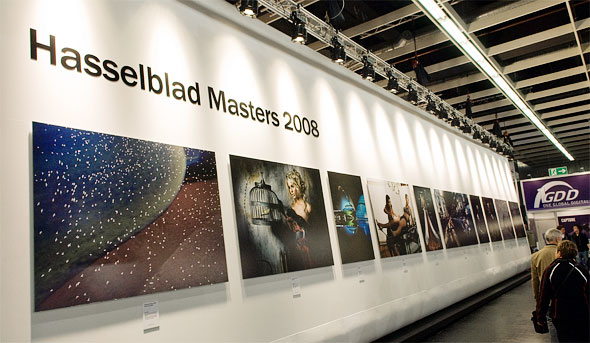 It's also worth mentioning the very very important persons (VVIP) area where all the secret business deals are struck. Despite my best efforts to look important, the polite hostess wouldn't let me in. Maybe in 2010.