Canon has announced two new mid-range telephoto zoom lenses, the EF 70-200mm f/4L IS II USM and the EF 70-200mm f/2.8L IS III USM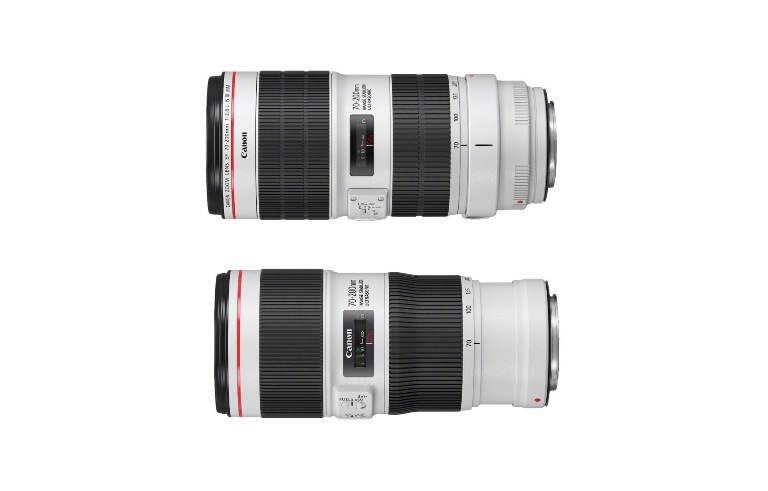 Canon EF 70-200mm f/2.8L IS III USM (top) and EF 70-200mm f/4L IS II USM (bottom).
Canon invited us to RAF Cosford Air Show where an impressive display of aircraft allowed us to try out its recently announced duo of 70-200mm lenses. Both lenses were pre-production models so we are unable to publish the images taken. However, the quick test allowed us to really get a feel for some of the lenses' exciting new features.
The EF 70-200mm f/4L IS II USM looks set to deliver the quality we've come to expect from Canon's L-series, boasting the same high-quality internal optics as its predecessor. A notable physical change to the lens is its redesigned zoom ring, which has created a ridge providing a more ergonomic grip. This makes the zoom ring easier to define from the focus ring, while making it far easier to use when wearing gloves.
The lens' minimum focusing distance has been reduced from 1.2m to 1m, which makes it even more practical in everyday scenarios. Even though the optics within have not changed, the front element has been brought forward. Although this has made the lens very slightly longer, it helps to reduce ghosting and flaring (as does its Super Spectra Coating).
A new fluorite coating that repels oil and water – helping to reduce fingerprints and watermarks – has been added to the front and rear elements of both the f/4L and it's bigger brother, the EF 70-200mm f/2.8L IS III USM. The Mark III also sports Air Sphere Coating (ASC) technology, which helps to reduce flaring and ghosting. This larger zoom lens, again, shares the same optics as its predecessor, as well as its exterior design. It also boasts 3.5 stops of image stabilisation to help ensure blur-free shots.
Related articles