Speed, portability and intuitive design all help to make Olympus' new body an exciting new addition to the OM-D series
The new Olympus OM-D E-M1 Mark III has been 4 years in the making. With the Mark II being released in 2016, this model has been long-awaited, and from initial testing it seems like it was worth the wait.
Internally sits a 20MP Micro 4/3 Live MOS sensor powered by a Truepic IX processor. That processor drives a fully packed feature set, to make the E-M1 III a portable, yet professional solution.
Image stabilisation is a headline in this new body, with up to 7.5 stops available. This huge option for stability means sharp images will be available for those who like to use slow shutter speeds, long lenses hand-held or anybody who suffers from shaking whilst trying to capture images. In our initial testing (which you can see in the video above) we manage to truly handhold a 2 second exposure in the London underground (one on an escalator!)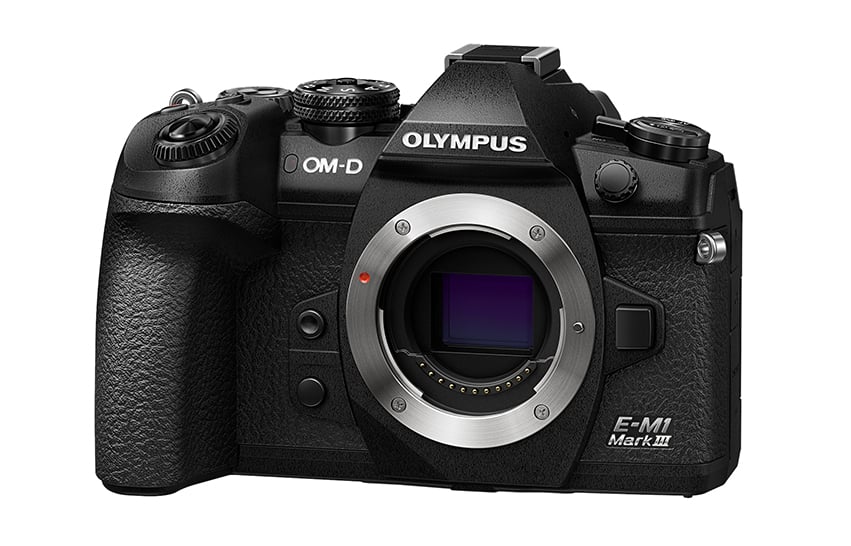 The AF system has been improved, with 121 cross-type phase-detect autofocus points which allow for shooting down to -6EV. Multiple AF modes include an AF distance limiter – for picking out subjects at specific points in the frame, as well focus stacking (3-15 shots) and focus bracketing up to 999 shots. Custom AF target modes allow you to design the right AF zone for you, so no matter what you're shooting, the camera can tailor its AF system to your needs. Face and Eye AF tracking modes make portrait shooting easy, even when your subject is moving, and with E-M1 III, your subject is able to move a lot.
Continuous shooting with AF/AE tracking is available at up to 18fps in RAW and you can shoot up to 76 RAWS before the buffer fills up. Pro Capture mode allows you to half press the shutter button and lay in wait for the action to begin. When it does, and you press the shutter button, the camera will actually record up to 35 frames prior to pushing the shutter. As the human body's reactions can be a little slow at times, this ensures you always capture the moment of action, even if you miss it! With locked focus and exposure, you shoot up to 60fps, but only for approximately 50 images. This feature is designed purely for those moments that you really don't want to miss, like someone jumping/falling into the pool, or your Labrador destroying Auntie Mildred's freshly iced retirement cake (although slow motion video might work best in that particular scenario).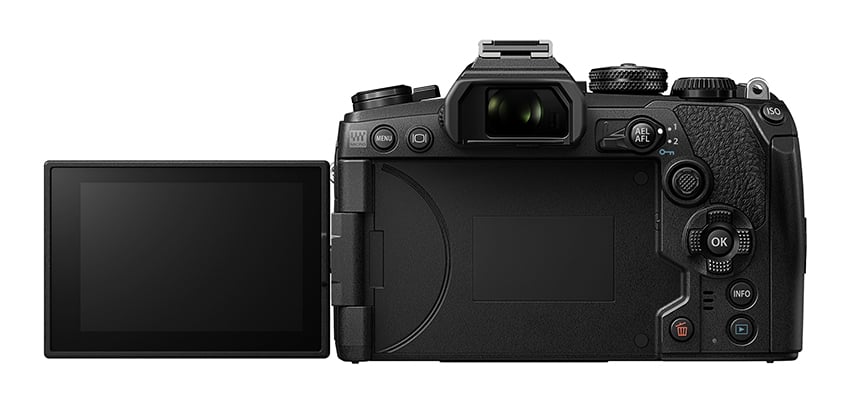 For anyone who wants to shoot video the OM-D E-M1 III can shoot up to DCI 4K at 30p 4:2:0 8-bit internally, and up to 120fps in full HD, essentially providing 4 times slow motion video. You can also output to a HDMI monitor/recorder and output 4:2:2. The incredible image stabilisation makes hand-held video easy, so you can document your days or travel adventures, without the need of a gimbal.
Externally we see Olympus' expected design, using plenty of knobs and dials. This means having to access the menu happens rarely, and if you take the time to set up the camera the way you like it at the start, it is easy to move forward with from that point on. The camera is weather-sealed, and freezeproof, meaning its tough magnesium alloy body can withstand use in extremely harsh shooting environments. Dual SD card slots make this body even more capable of holding its own in professional environments, and the battery, although the same model as its predecessor, is CiPA rated to 480 shots.
This new body manages to pack a huge feature set into a body that is well balanced against its native lens setup, whilst being able to generate incredible results for both stills and video.
Olympus M.Zuiko Digital ED 12-45mm f/4 PRO
Today Olympus also announces a new PRO zoom lens for its Micro 4/3 system, packing versatility and high-end optical performance into a travel friendly zoom lens.
This new lens is built with the same design principles as the, incredibly popular, ED 12-40mm f/2.8 PRO. It focusses on optical quality as well as superb practical performance. Aspherical elements as well the use of ZERO (Zuiko Extra-low dispersion Reflection Optical) coatings make for clear, high-definition images, with reduced aberration, distortion, ghosting and flaring.
With an equivalent 35mm zoom range of 24-90mm this really is n all-in-one lens, and nothing supports that notion more, than its incredible macro capabilities. This new 12-45mm can shoot at 0.25x (0.5x 35mm equivalent) with. Minimum focussing distance of just 12cm at 12mm and 23cm at 45mm.
This new, small yet powerful zoom lens is sure to be a popular model with Olympus users. The weather-sealed design could be paired up with a camera such as the new E-M1 Mark III to create a hardy camera and lens setup – useable even in difficult condition.
To find out more about the M.Zuiko Digital ED 12-45mm f/4 PRO, or to place a pre-order, visit our store page here…
About the Author
Amy Moore is Wex Photo Video's Content Marketing Manager. She enjoys numerous types of photography, especially landscapes and meteorological photography. Check out her instagram here!