The Olympus OM-D E-M5 II arrives with a 40MP composite shot mode and the 'world's most powerful in-body five-axis image-stabilisation system'.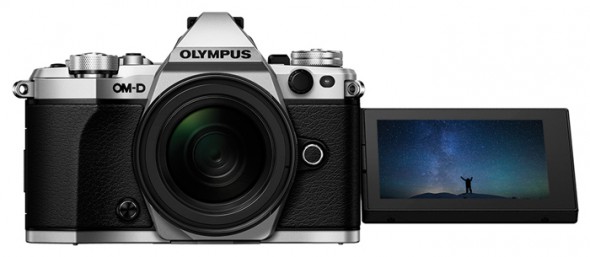 Olympus has announced the OM-D E-M5 II, a direct replacement for its OM-D E-M5 Compact System Camera.
Positioned between the Olympus OM-D E-M10 and the flagship OM-D E-M1, the new model arrives three years (almost to the day) after the original OM-D E-M5, a camera that has proved incredibly popular among enthusiast photographers.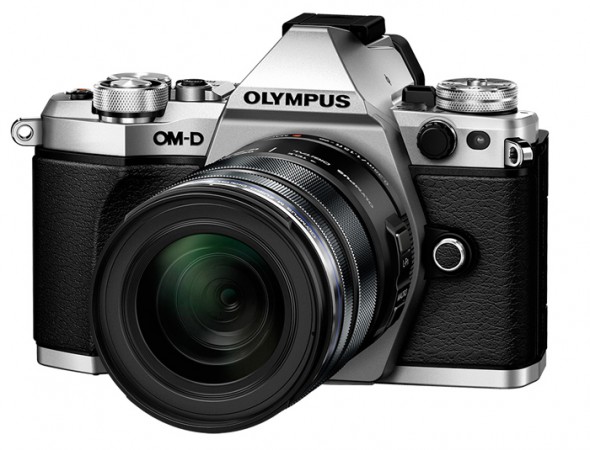 The Olympus OM-D E-M5 Mark II boasts a redesigned, five-axis image-stabilisation system, which promises a benefit of five extra stops of shutter speed. The company is keen to stress how advantageous this feature is to both stills photographers and videographers, with the promise of 'blur-free' video that could usually only be achieved with the aid of a gyro rig or tripod. The company goes so far as to claim that the system is the 'world's most powerful five-axis, in-body image-stabilisation system', with correction for yaw, pitch and roll, as well as vertical and horizontal shift.
The redesigned image-stabilisation system also allows for a new High Res Shot feature, which captures eight images in quick succession and blends them together to create a single 40MP image. As standard, images are captured at the 16.1MP resolution of the camera's Live MOS sensor, which, along with the camera's TruePic VII engine, has been carried over from the camera's predecessor.
In many other areas, Olympus has maintained and improved features from the original OM-D E-M5. Full HD video is now available in a wide choice of frame rates, up to 50/60p and including 24/25p, with footage recorded at 77Mbps. Audio, meanwhile, is recorded via stereo microphones on the camera as standard, while a port around the camera's side allows for external microphones to be used.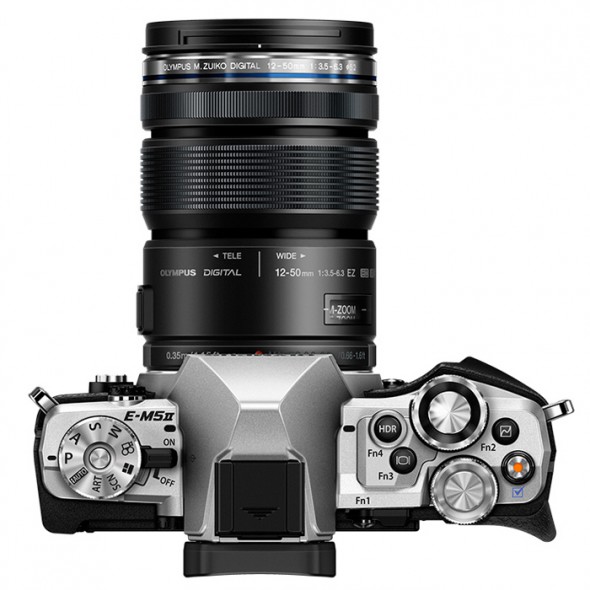 The dust- and splash-proof magnesium-alloy body now also boasts freeze-proofing to make it usable in colder conditions, and while the rear touchscreen display carries over the same 3in dimensions and 1.04-million-dot resolution from before, it can now be fully articulated thanks to a joint at its side (whereas the OM-D E-M5 had a tiltable screen). The 2.36-million dot electronic viewfinder found on the OM-D E-M1 has also been incorporated into the OM-D E-M5 II, with an eye sensor to its side and a wide range of customisable options available in the menu.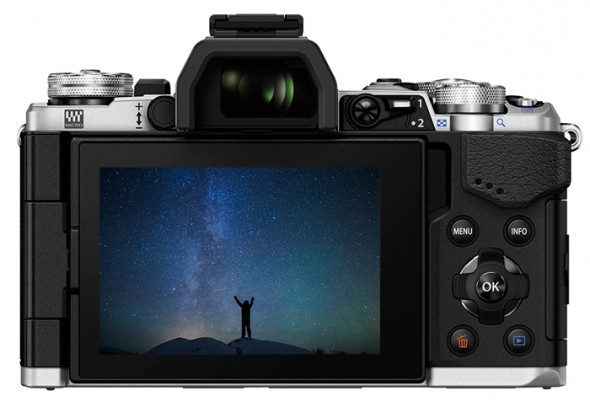 Wi-Fi has featured on the last two Compact System Cameras from Olympus, the OM-D E-M1 and the O-MD E-M10, so it's no surprise to see it here too. The system works with the same OI.Share app as previous Wi-Fi-supported models, with wireless image transmission and remote control over the camera's functionality possible.
Elsewhere, the camera offers a FAST AF system with 81 addressable points, as well as focus peaking to assist when focusing manually. Those frequently capturing with wide-aperture lenses in brighter conditions will also be pleased to learn of the camera's maximum 1/16,000sec shutter speed when used in the Silent mode, while those looking to tether the camera can also now do so through the camera's USB port and Olympus's Capture software. Other notable features include an Interval Timer and Live Bulb mode, as well as Multi Exposure and HDR options.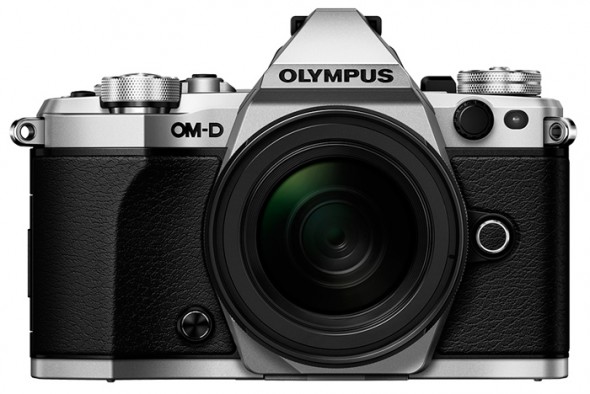 A small flashgun that fits into the camera's hotshoe has been provided as standard with the model, although Olympus has also integrated a flash-sync socket to the front plate. Micro HDMI and USB 2.0 ports can also be found at the side of the camera.
Olympus OM-D E-M5 II: Key Specifications
16.1MP Live MOS sensor
TruePic VII processing engine
5-axis IS system (redesigned), 5EV effect
Full HD video up to 50/60p
40MP High Res Shot mode
10fps burst shooting (up to 11fps in Silent mode)
3in touch-sensitive display, 1.04-million dots, fully articulated
2.36million-dot electronic viewfinder
Flash sync socket
Built-in Wi-Fi
Dust-, splash- and freeze-proof magnesium casing
Hotshoe
SDHC/SDXC slot
419g (body only)
Related articles