Not only is Sigma supporting Sony's E-mount with the announcement of two new Art lenses, but the company is set to re-release a number of existing lenses to fit Sony's full-frame mirrorless line-up

Sigma Art lenses: Seven Sony E-mount primes
Sony full-frame mirrorless cameras have gained huge popularity recently, which Sigma has acknowledged. Not only has Sigma announced its 105mm f/1.4 DG and 70mm f/2.8 DG Macro (both available in E-mount), but the company has now announced that seven lenses from its current Art line-up will be re-released in E-mount for Sony A7 and A9 users, listed below.
- 14mm f/1.8 DG HSM
- 20mm f/1.4 DG HSM
- 24mm f/1.4 DG HSM
- 35mm f/1.4 DG HSM
- 50mm f/1.4 DG HSM
- 85mm f/1.4 DG HSM
- 135mm f/1.8 DG HSM
Each lens will have individually tuned autofocus drive control systems that offer high-speed data transmission to the body, while offering the same efficiency of focus that Sony's own lenses do. This includes continuous focus, which is not currently supported by the widely used MC-11 Sigma adapter. Although we're yet to test its effectiveness, this is an exciting development, which is sure to spark fresh interest in the Art series from Sony users.
Sigma has also stated the lenses will be compatible with Sony's in-body image stabilisation, sensing the focal range and fine tuning stabilisation for optimum results. Each lens will also have compatibility with in-camera aberration correction, including distortion, chromatic aberration and peripheral illumination. Adaptors are never anyone's first choice, so this is great news for Sony full-frame mirrorless users who can finally take full advantage of Sigma's Art series.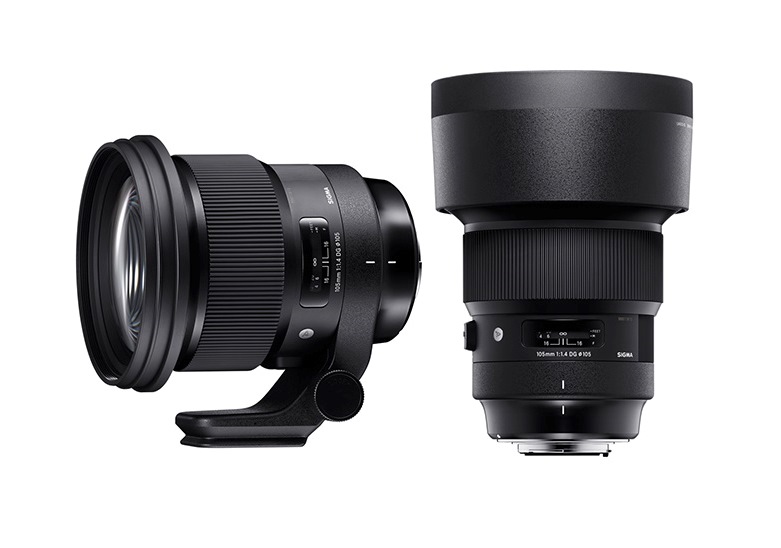 Sigma 105mm f/1.4 DG HSM
The first of Sigma's two Art line-up additions is the new 105mm f/1.4 DG HSM. This wide aperture, mid-telephoto lens boasts crisp resolution and the chance to produce breath-taking bokeh. It contains 17 elements in 12 groups; three FLD (F Low Dispersion), two SLD (S Low Dispersion) and one aspherical element in order to minimise axial chromatic aberration and maximise image quality. The large 105mm filter diameter helps to scoop up light into the large front element, delivering a huge amount of peripheral light and minimising vignette.
The 105mm f/1.4 DG promises the same durable build quality we've come to expect from the Art series. The lens hood is carbon fibre reinforced plastic and a removable Arca-Swiss type tripod socket is included too. In addition, the premium-grade elements are protected via dust- and splash-proof sealing.
Of course, one of the most exciting things about this lens is its availability in Sony's E-mount (alongside Canon and Sigma fit). As this lens is built for full-frame cameras, it will be compatible with the Sony A7 series. This includes full compatibility with continuous focus — not currently available with the Sigma MC-11 converter.
Its medium telephoto focal range and incredibly wide aperture, paired with the promise of quality optics and the Art series' durable build quality, should make the Sigma 105mm f/1.4 DG an attractive prospect for professionals. It looks set to perform well in a variety of situations, but Sigma has highlighted portraiture as its true calling.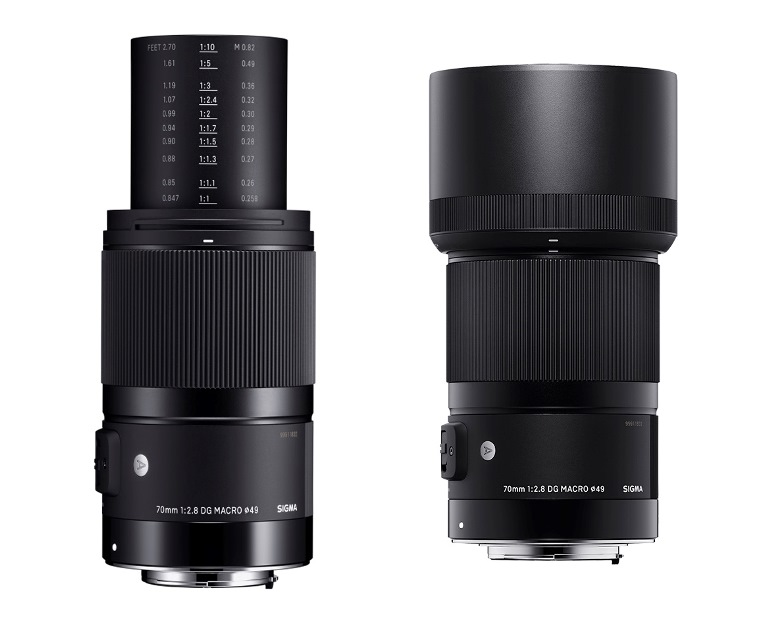 70mm f/2.8 DG Macro
Alongside the 105mm f/1.4 DG HSM, Sigma has announced the 70mm f/2.8 DG Macro. This new addition to the Art line-up will be available in Sigma and Canon mounts, as well as E-mount, for full-frame Sony mirrorless cameras. As you'd expect, this Japanese-made lens is dust- and splash-proof, and like all good macro lenses, it boasts a maximum magnification ratio of 1:1.
The lens' employs the use of 13 elements in 10 groups. This includes a floating, two-group focus mechanism to help prevent aberration, and two FLD and two SLD glass elements. The optic also features an element with a high rate of anomalous partial dispersion and a high index of refraction; this helps to minimise axial chromatic aberration. Resolution is increased at close shooting distances, thanks to two aspherical lens elements, and the 70mm DG Macro's construction should allow for the pairing of sharp areas of focus and bokeh, without colour streaking.
The lens operates via a focus-by-wire system, meaning there is no direct mechanical connection between the focus ring and focus drive system; the result? The large manual focus ring (suited to the fine requirements of macro photography) can be adjusted during AF. In addition, the presence of a new coreless DC motor provides fast AF with minimal sound.
Although produced for use with full-frame Sony mirrorless cameras, the E-mount version of the 70mm DG Macro contains the same optical system found in other variants. Sigma's MC-11 Mount Converter is not required; the lens is capable of in-camera image stabilisation and lens aberration correction as standard and is also compatible with Sony's Continuous AF. It's also worth noting that the Canon mount lens is compatible with Canon's Lens Aberration Correction function.
The lens' 72mm thread will fit Sigma's 72mm Macro Flash Adaptor, allowing for the use of various 72mm accessories, including Sigma's EM-140 DG Macro Flash. The device is also compatible with some Sigma tele converters too. Although not available for the Sony E-mount compatible lens, the TC-1401 allows the lens to be used as a 98mm f/4 macro, with AF at 0.5mm to infinity. The TC-2001 allows the lens to be used as a 140mm f/5.6 macro with manual focus.
Sigma Firmware Update
Sigma is on a roll when it comes to new releases. It's also announced a firmware update to a large portion of its Canon mount lenses. Version 2.0 allows users to perform aberration corrections that match the optical characteristics of their lens. It will even be possible to help prevent the occurrence of errors, by turning on Lens Aberration Correction before starting to take videos.
To find out which lenses will be compatible with this firmware update, visit the Sigma website for details.
Related articles