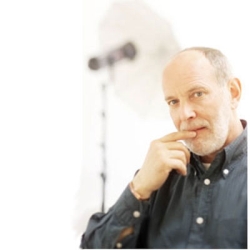 Last Saturday found me at the foot of the South Downs, one of my favourite parts of England. However I didn't see much of the Downs that day because I was presenting a one day lighting seminar in a small, dark room! The venue was the East Sussex National Golf Club near Uckfield in East Sussex, a modern and very luxurious hotel, where I was tucked away in a room with fourteen people, all there to learn about studio lighting.
Some of the people who came already had studio lighting and wanted to learn more, whilst some wanted to see what was available before they dived in and bought their own equipment.
Starting at the beginning is always a good idea with anything technical, so I began by explaining the technical aspects of lighting. We looked at power and how it's delivered and the link between flash duration and colour temperature. We looked at various types of flash head and I pointed out the differences between them. I fielded a lot questions in this first session, and everyone seemed pleased with the progress we made.
We stopped to refuel with coffee and biscuits and them moved on to syncing, flash meters and the art of metering, white balance and then to camera speeds apertures. I also mentioned other important things about flash heads, like trigger voltage, modelling lamps and fuses. We also looked at the Bowens Pulsar trigger, the device I always use for these seminars for cordless and safe syncing.
Next we started some very basic lighting set ups, first using one single head with a brolly and then adding a fabric reflector to create the lighting for a very simple portrait. I also explained the virtues of the basic umbrella and the different ways it can be used. After everyone had taken a few pictures of me in the lighting set up, we broke for lunch.
At lunch there was much discussion about famous photographers, camera clubs, cameras and everything photographic. As usual I was bombarded with questions and struggled to eat my sandwich! But I enjoy these parts of the seminar as everyone starts chatting away to each other about their cameras, their favourite lenses, their work and what they like to shoot.
We started our next session with some low key work, always a favourite of mine. Working with just one Bowens Gemini 250 with the Grid reflector and honeycomb we shot a couple of classic low key pictures, which were turned into B&W in the camera and looked fantastic. It's always a surprise to people just how effective it can be, shooting with one light.
From there we moved on to high key lighting, still the most popular part of the seminar. We looked at various accessories like the Softlite for main lighting and High Performance Reflector for background lighting, both ideal for high key work. From there we moved on, using a variety of accessories, each one creating a slightly different effect. I always finish the day by demonstrating the Bowens Sunlite Supersoft reflector, a great combination that gives a superb light for portrait photography.
By the time we had finished, everyone seemed to have enjoyed the day and were all keen to have their pictures taken in each of the lighting set ups I demonstrated. I always feel it's important for people to know what it's like sitting in front of the lights rather than just standing behind them with a camera!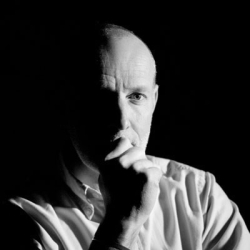 I was very pleased with the day, it went very well and the group were very nice and gave plenty of positive feedback. I think that there are so many benefits to be gained from this course, apart from the obvious knowledge you will gain about studio lighting. You will also be able to see and use the latest equipment and accessories, which gives you a great opportunity to 'try before you buy'!
Another benefit is just being able to spend the day with other photographers. Everyone is so keen to share their own knowledge about cameras, lenses and all things photographic. At the end of the course people swapped cards, email addresses and phone numbers, eager to stay in touch with each other in the future.
I hope that I've given you an idea of what to expect on the course and hope that you will be able to join me in the future. I bring all the lighting and accessories, so all you need to bring is your camera.
Tickets for our next lighting seminar are on sale already, this time in Bristol on 4th April 2009. As usual, the cost is £150.00 per person and that price includes drinks, a buffet lunch and afternoon tea. Plus everyone who comes to the course will receive a £25.00 Wex Photographic voucher to be spent on lighting, or in fact anything else that you like.
I look forward to seeing you there!
Steve Aves.