What's new on the Olympus Pen-F? We run through the main highlights of this stylish CSC.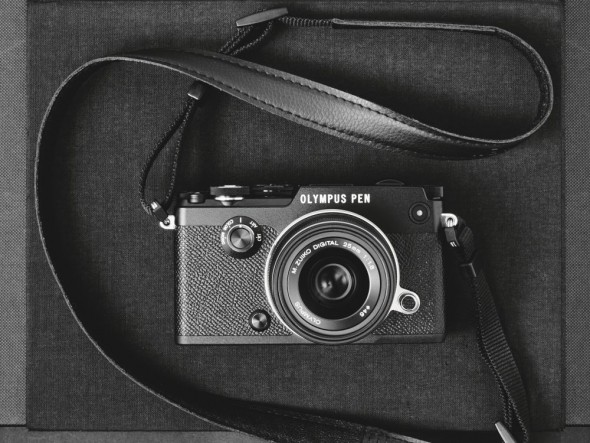 1. Design
Olympus is known for the sleek, sophisticated design of its cameras, and the new Pen-F continues in that fine tradition with a metal-cased body that looks and feels premium. As you might expect, it harkens back to the classic Pen-F film SLR designs from the 1960s. It's light, too, and Olympus are keen to press the point that it's quite a bit lighter than your average DSLR, weighing only 427g. This is a camera that's intended to make a statement about the kind of person you are, someone who appreciates style as well as substance.
2. EVF and screen
So let's get to the substance – this is the first camera PEN camera to feature a dedicated viewfinder, but despite having a modern 2.36-million OLED EVF, the PEN F still manages to mimic an old-school shooting experience with its rangefinder-style handling. Visibility through this camera's viewfinder is crisp and gives a good indication of exposure and it also has focus-peaking functionality to help ensure images are correctly focussed. The camera also features a vari-angle LCD touchscreen that makes it easier to compose shots at extreme angles.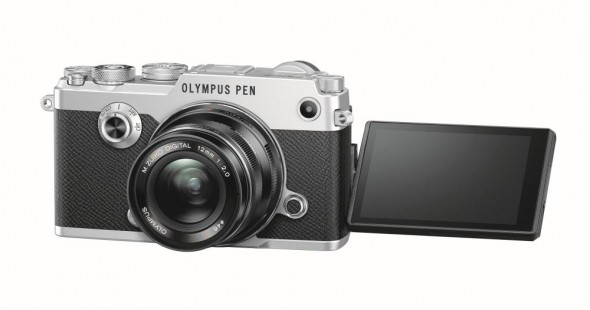 The Olympus Pen-F also sports a vari-angle LCD screen
3. Optical Image Stabilisation
The firm's legendary 5-axis Optical Image Stabilisation is included in the PEN F, another sign that Olympus means business with this camera. Great for taking pictures in challenging lighting scenarios, the camera's stabilisation allows you to "get back" up to five EV stops of exposure, which means you can use slower shutter speeds handheld, instead of bumping up the ISO sensitivity.
4. New controls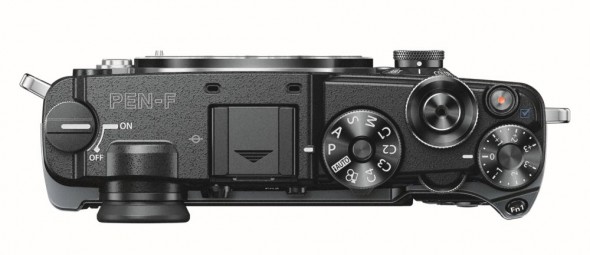 Complementing the new design are some new physical controls. Chief among these is a large metal dial on the front, referred to as the Creative Dial. This allows you to adjust the camera's on-board Art Filters and Colour Profile Controls for an instantly stylised look, without having to delve into the menus. Adjustments include film grain, saturation settings, monochrome profile control and a whole lot more. The camera's control layout provides a solid manual photography experience, with all key settings available on just the buttons and the dials.
5. New sensor and composite shot mode
The newly designed 20MP Live MOS Image Sensor comes without a low pass filter for ultimate image quality. Like several of Olympus's OM-D cameras, it also features a composite mode that combines several shots to make a single high-resolution image, up to the equivalent of 50MP, by shifting the sensor very quickly. It would be interesting to do a comparison between this camera and the Canon 5DS R, but that's perhaps the subject of another video.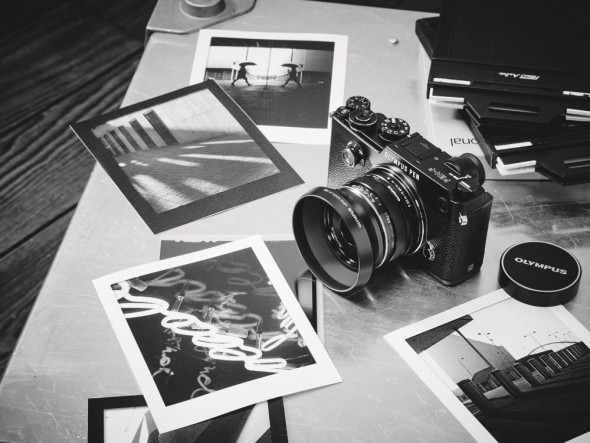 6. Speedy, accurate shooting
With a top shutter speed of 1/8000sec and a maximum burst rate of 10fps, the Olympus Pen-F is built for speed. This is made possible by the TruePic VII engine, improved 81-point contrast detect focusing, eye detect and touch AF. In practical use the PEN F is quite speedy. Compared to previous cameras in this range, this latest one is in a different class altogether.
The PEN range had previously been treated like a style accessory, with a very basic feature set, that placed more emphasis on aesthetics than function. But Olympus seems ready to take it seriously. It's time to do away with any pre-conceptions you may have had about the PEN brand. The PEN F ushers in, what we hope, is a new age for the OMD sister range. If you want style and substance, this is a camera that demands attention.
Related articles