The Wex Video team were at the annual International Broadcast Conference in Amsterdam this weekend and caught up on the latest cutting-edge developments in pro video.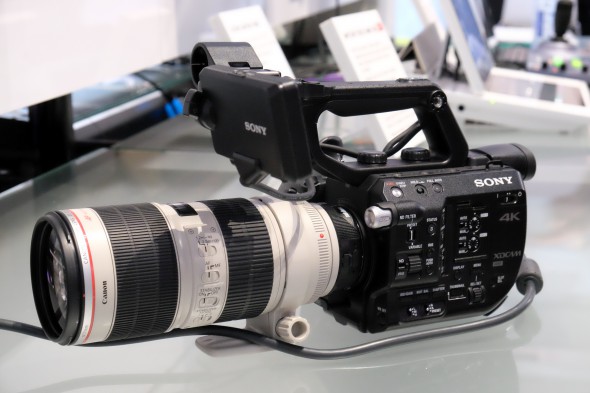 Sony A7S II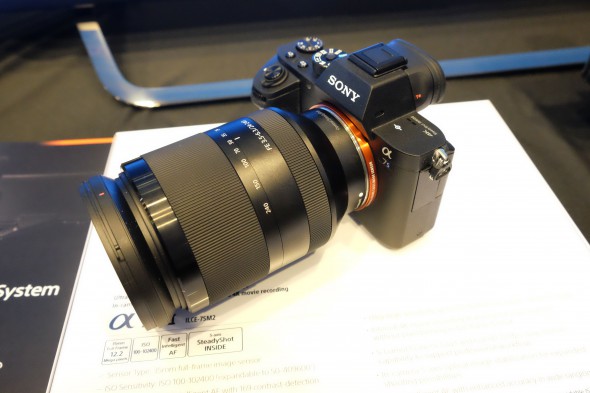 The big surprise of the show this year was the announcement of Sony's follow up to the A7S, the straightforwardly named A7S II. Building on the success of the former's out-of-this-world low-light performance, full-frame aesthetic and ability to output 4K video, the A7S II now has 4K internal video recording in the XAVC format and 5-Axis stabilisation.
Adding to its already impressive pro video feature set is the new S-LOG 3 profile, which promises an even more film-like gamma curve than the popular S-LOG 2 (also included). Moreover, Sony have added support for new colour gamuts such as DCI-P3 for cinema projection and the new 2020 gamut for future HDR screens.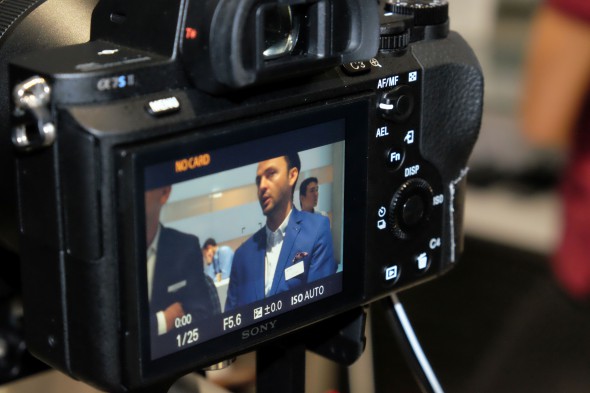 The original A7S was a big hit in the video world and these new features on the A7S II point to Sony's continued emphasis on high-end video features at the top of their A7 range.
Sony FS5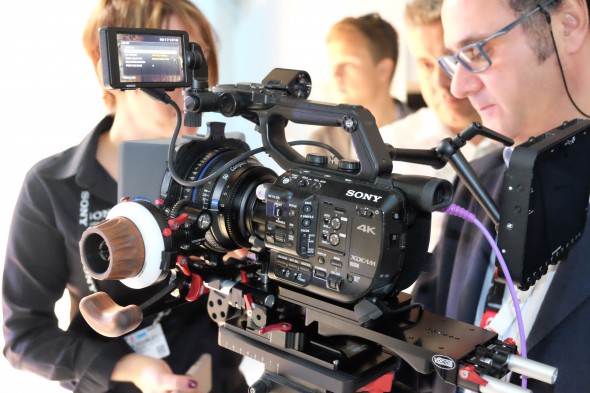 Sony's FS7 camcorder, released last year, has been a big success thanks to the combination of semi-shoulder-mounted ergonomics and internal 4K recording at an affordable price.
This autumn, the FS7 has gained a smaller, lighter sibling in the form of the FS5. Rather than a shoulder-mounted design, the FS5 incorporates a more handheld feel, and the result is one of the most compact affordable 4K camcorders on the market.
It shoots 4K in 8-Bit 4:2:0 in XAVC, can go to 240fps in 10-bit 4:2:2 HD, and records to inexpensive SDXC card media. It also uses a variable neutral density filter, giving users a two- to seven-stop range that moves smoothly rather than incrementally.
Both the EVF and top handle are removable, making the body section only 0.8KG and therefore ideal for gimbal and drone use. What's more, the XLR inputs are actually built into the body, so despite the camcorder's modular design you don't lose connectivity when stripping it down.
The FS5 takes some of the best features of the FS7 and scales them down into a more manageable and inexpensive model. It's sure to be very popular.
Canon C300 Mk II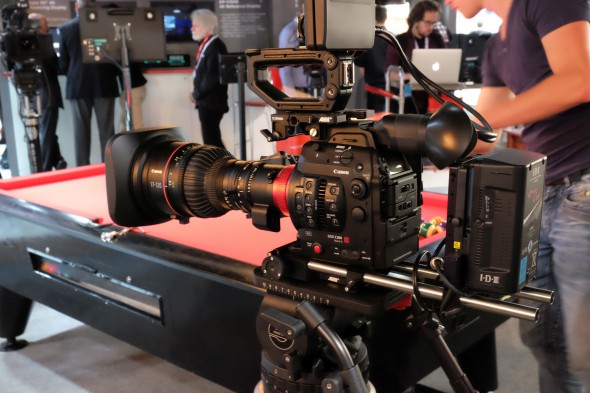 Canon's original C300 model has formed the backbone of many a television production over the last three years, and there's been a lot of excitement over its upcoming 4K successor. Canon's large IBC stand showcased the C300 Mk II, which offers beautiful 4K recording up to 30p in the new XF-AVC format.
It uses the now familiar Cinema EOS form factor so most existing shoulder rigs and baseplates will fit, however the top handle section has improved to be more rugged and wobble-free.
The card recording format has also been upgraded, and now uses ultra-fast CFast card media, the speed of which can handle 120fps in 2K resolution.
The combination of familiar Cinema EOS ergonomics and powerful 4K capabilities make this the perfect step-up from the C300, and we can see this being a standard in broadcast for a good few years.
Canon XC10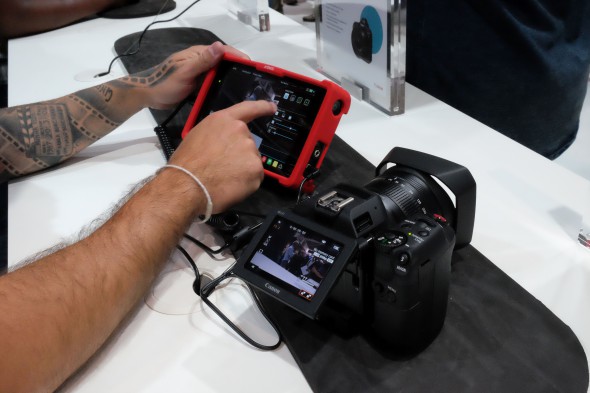 Compact yet powerful, Canon's XC10 delivers outstanding 4K XF-AVC images at similarly compact price, and we got our hands on it at Canon' massive IBC stand.
Using a newly developed 1" sensor and fixed 24-240mm lens, the XC10's DSLR form-factor belies its powerful 4K/UHD capabilities, recording ultra-high bitrate XF-AVC to CFast card media just like its much bigger C300 Mk II brother, and can also shoot in the Canon Log and Wide DR picture profiles of the larger Cinema EOS range camcorders. This combination of handheld size and top-end image quality make the XC10 a great all-round 4K/UHD for journalists, event videographers, and C300 Mk II users looking for portable b-camera.
We'll have a video review of the XC10 up very soon.
Atomos Assassin 4K Recorder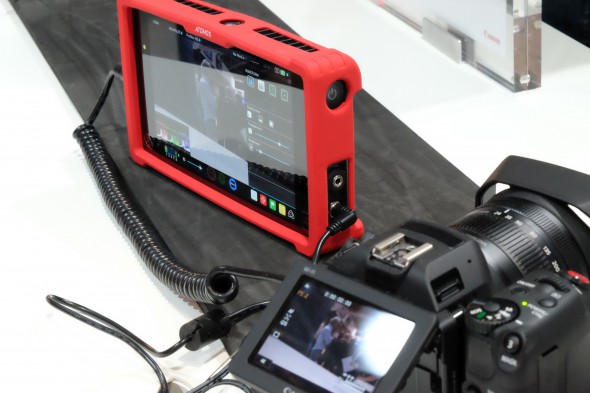 Atomos's always-impressive exhibition stand showcased their new Ninja Assassin recorder, an HDMI-only version on their Shogun recorder.
The Ninja Assassin has the same recording capabilities as the Shogun: 4K/UHD/HD recording in high-bitrate ProRes down to inexpensive SSD drives, and uses the same HD LCD Screen as the Shogun.
The Assassin was frequently spotted around IBC connected to the Sony A7S, A7S II, A7R II and Panasonic GH4 cameras, demonstrating that combining this 4K recorder with the UHD/4K output of a compact system camera makes for a viable video camera.
We'll have the Ninja Assassin in stock very soon and we're really looking forward to hooking it up to our A7R II. We'll share the results with you.
DJI ZenMuse X5 Series Camera & Gimbal for Inspire drone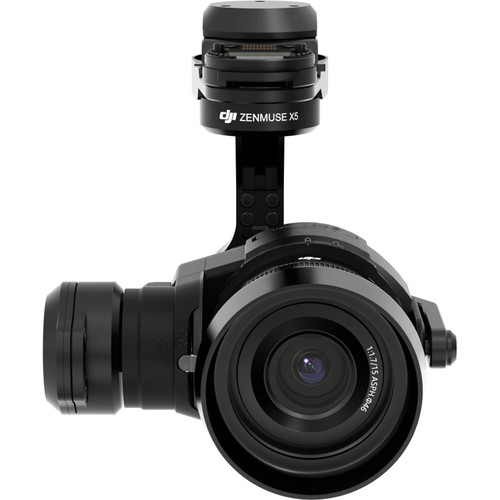 The DJI stand was buzzing this year as the successful drone and gimbal manufacturer caught everyone's attention with their new ZenMuse X5 series camera head and gimbal packages for use on the DJI Inspire drone.
Two new models were announced: The X5 Pro and X5 Raw. Whereas most lightweight drones uses cameras with small 1/4'" sensors, both the X5 Pro and X5 Raw camera/gimbal combos use a Micro 4/3 sensor and mount so you can interchange lenses (compatible models listed below). The benefits of the new large sensor camera heads are best expressed visually in their promotional video, but put simply DJI's decision to go bigger means greater light-sensitivity and dynamic range. Moreover the interchangeable mount means higher quality optics for shaper detail.
The two models differ in recording capabilities: The X5 Pro can record at 4096×2160 @ 24fps or 1920×1080 @ 60fps in MPG4 format, whilst the X5 Raw shoots at 4096×2160 @ 24fps or 3840×2160 30/25fps in lossless Raw. Both models can shoot 16MP stills.
We'll be taking pre-orders for this seriously impressive camera/gimbal upgrade for the DJI Inspire very soon…
Related articles