Fujifilm announces a duo of intriguing new lenses for its X-series cameras
Fujifilm has released an ultra-wide zoom and a telephoto prime. The first of the two new lenses is the Fujifilm XF 8-16mm f/2.8 R LM WR. This wide-angle zoom boasts a maximum constant aperture of f/2.8, so you can achieve fantastic images even in low-light situations.



Offering 12-24mm (in 35mm equivalent terms), this lens houses twenty elements in thirteen groups. Four aspherical lens elements help to control distortion and spherical aberration, while six ED lens elements – including three super-ED elements – help to control lateral chromatic aberration.This means photographers are able to shoot at f/2.8 and still retain image quality.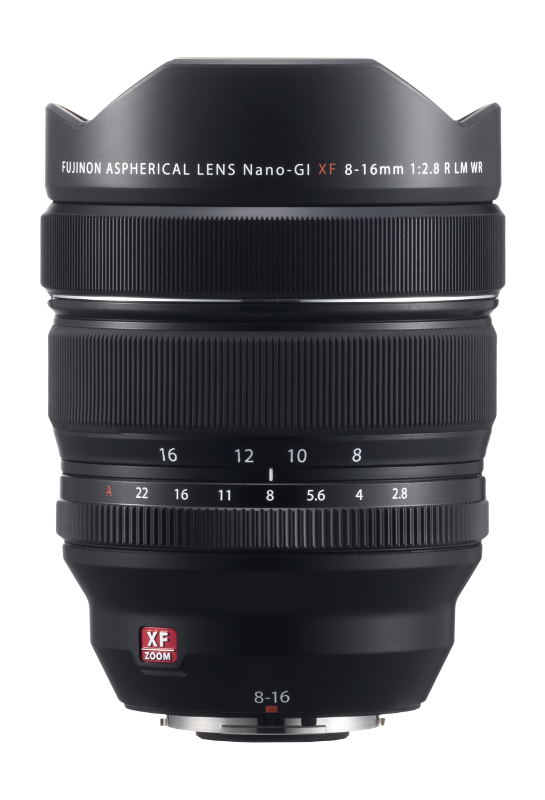 Fujifilm has also made it possible to use the lens at its maximum wide-angle focal length with a new field curvature correction mechanism. Inside is a special element designed to react to the different zoom lengths available and correct field curvature accordingly. By reducing this distortion, the 8-16mm will have fantastic edge-to-edge sharpness. A Nano-GI coating on the rear surface of the front two elements has been used in order to help reduce ghosting and flare to create the clearest possible images.

Durable build quality means this lens is weather resistant, with the barrel sealed in eleven places to protect from dust and moisture. The design means the lens can be used in temperatures as low as -10°C and the front element has a fluorine coating that also repels water and dirt, so maintaining the cleanliness of your lens is easier. A linear motor system makes autofocus highly precise, very fast and almost silent. Paired with the weather-sealing, this makes the 8-16mm a perfect lens in lots of different environments.
The other new lens, the XF 200mm f/2 R LM OIS WR, has also been given an impressive specification and will be a welcome addition to the growing Fujifilm range. Inside the barrel you'll find nineteen lenses in fourteen groups. Three ED elements – including a super ED element – help to remove chromatic aberration, while high-precision polishing technology, which was developed for cinema lenses, has been used to create a beautifully creamy bokeh.
Five stops of image stabilisation make shooting with the 200mm easy, even when using slower shutter speeds, although with a maximum aperture of just f/2 the lens is able to let in a lot of light already. The lens can also recognise its shooting conditions, such as whether it's being used on a tripod or handheld, and will apply the correct level of stabilisation for the situation.
Autofocus performance is expected to be top notch. A linear system and lightweight elements should make it quick and highly accurate, as well as being almost silent. A Focus Preset button means you can easily switch to a preset point of focus to capture your subject quickly, and a Focus Limiter switch means you can select to shoot up to five metres or with the full focal range. A new Focus Control button at the tip of the lens can be assigned to be a Focus Preset, or as AF-ON or Focus Lock.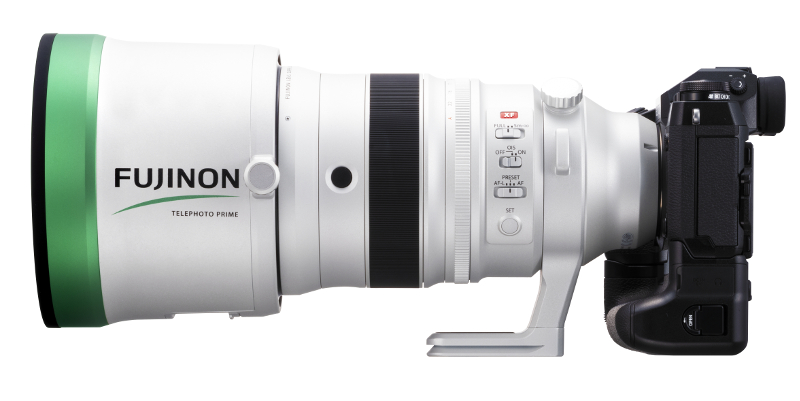 Like the 8-16mm, the 200mm is weather resistant and highly durable. Seventeen seals make the barrel weatherproof and it is also able to shoot in temperatures as low as -10°C. A fluorine coating on the front element helps to repel water and dust, while the lens is painted a light silver colour in order to keep it from overheating in harsh summer sunlight. This paintwork is also designed to diffuse the light it reflects so that it doesn't cast any strong reflections.
The lens will be bundled with the XF 1.4x TC WR teleconverter for even greater reach. This makes the 200mm with the 1.4x teleconverter attached, equivalent to 427mm (in 35mm equivalent terms). The tripod mount is Arca Swiss compatible, which many users will be pleased to hear and the PRF-105 protective filter will be launched at the same time as the lens.



Fujifilm XF 8-16mm f2.8 R LM WR Lens
The ultra-wide angle nature of the Fujifilm 8-16mm f2.8 XF R LM WR Fujinon lens makes it a perfect lens for a landscape, architecture or nightscape photographer. The lens offers razor sharp detail across the entire frame and even at the max F2.8 aperture. This constant F2.8 aperture is maintained by the 20 elements in 13 groups, including four aspherical lens elements to control distortion and spherical aberration. In addition, six ED lens elements including three super ED elements will control lateral chromatic aberration. This is truly a stunning lens and its technical superiority goes hand-in-hand with its premium build quality and weather-sealing.
£1,479.00 inc. Cashback View
Fujifilm XF 200mm f2 R LM OIS WR Lens with 1.4X XF TC f2 WR Teleconverter
The Fujifilm 200mm f2 XF R LM OIS WR Fujinon Lens with 1.4X XF TC f2 WR Teleconverter is the first super-fast f2 telephoto lens for the mirrorless X-Series system. It boasts ultra-high image quality, a focal length equivalent to 305mm in 35mm film format and it pairs perfectly with new XF teleconverter, which extends the focal length of the lens by 1.4 times.
£3,949.00 inc. Cashback View
Related articles