At BVE 2017, Matt Higgs takes a quick look at some new Vocas baseplates designed specifically for the Sony FS7 II camcorder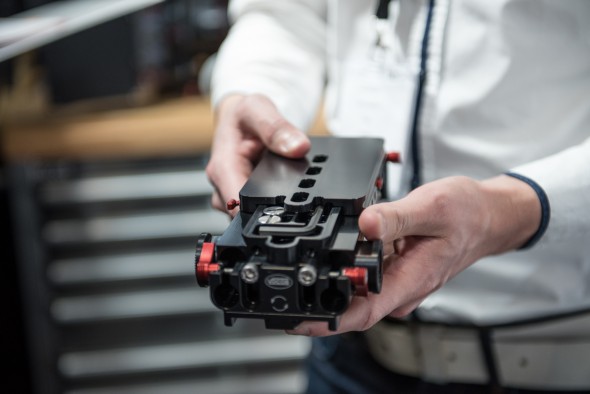 We caught up with Vocas at BVE 2017 to check out their recently launched accessory range specifically designed for the FS7 II (and compatible with the original FS7). The products on display included a new top plate that features rail support, a PL mount and two baseplate options, all Dutch-manufactured to the brand's refined and robust standards.
Both of the new Vocas baseplates utilise the curvature of the FS7's underside, keeping them compact but providing a larger adjustable and removable shoulder pad for improved ergonomics. The Mark II baseplate has 15mm rod support and utilises three additional screws that can be found beneath the original FS7's shoulder pad for total security, meaning that in total, this plate has five secure points of connection. Integrated rail holders can be found at the front and the rear of the plate, while also at the back is a tool-less and adjustable VCT-14 lock, which makes play a thing of the past. The second USBP 15 MKII baseplate has a split design with a slide lock plate system, allowing its quick release onto other supported products.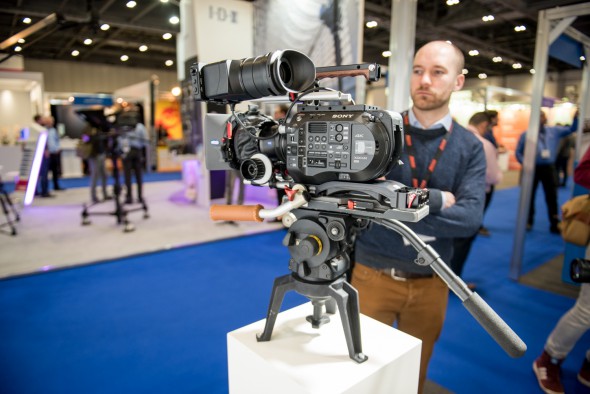 The H-Cheese plate revealed for the top of the camera has straight-through 15mm rods that are compatible with all common Vocas accessories such as matte boxes, in addition to a variety of threaded mounting options for things like microphones. This plate can be used with the original handgrip of the camera, maintaining access to all connections.
A PL support bracket was also on display at the show – this can be attached to the front of the aforementioned H-Cheese plate. This bracket supports the brand's PL to E-mount adaptor, allowing its use with the FS7 or FS7 II without the need for rods.
Of course, all of the attachment points on these products are compatible with Vocas's other accessories; these include wooden handgrips and knobs, which allow the user to tailor their rig to their personal preference.