The most powerful portable tablet yet from Wacom, the MobileStudio 16 is a revelation for on-the-go editing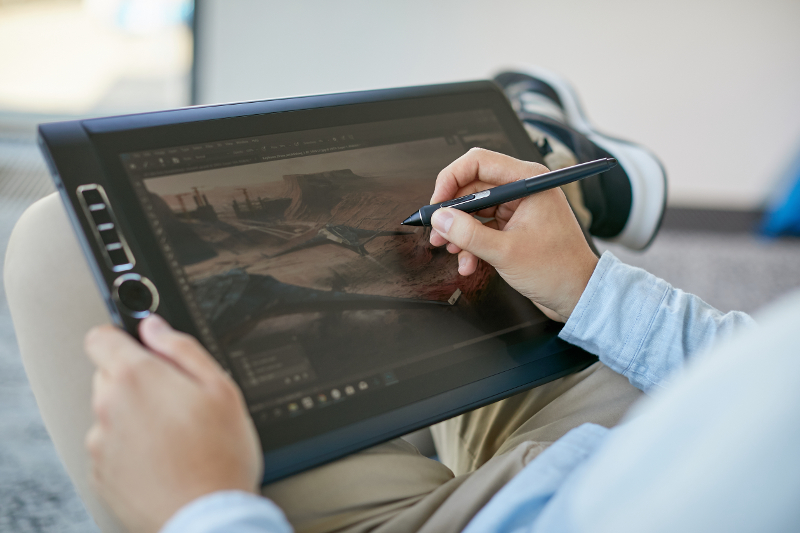 Today, Wacom is taking the wraps off the MobileStudio Pro 16, its most advanced mobile model yet.
Providing outstanding 4K resolution (3840 x 2160) and 85% Adobe RGB coverage, the MobileStudio 16 lets you view and edit images and videos with unprecedented detail and fidelity for a tablet of its class. Its 15.6-inch display not only looks fantastic, but also provides real pen-and-paper feel when paired with the Wacom Pro Pen 2 stylus.
If you've never tried introducing a tablet into your editing workflow, it's definitely worth a go – you'll be astounded by how tactile and enjoyable the process can be. The Wacom MobileStudio 16 is a fantastic example of a well-engineered editing tablet, ideal for novices and experts alike. The stylus provides 8,192 levels of pressure sensitivity, tilt sensitivity and virtually lag-free tracking, all of which allows you to get really precise with your edits.
Let's take a closer look at some other features of this new tablet.
Features
Thanks to its i7 Intel chip, the Wacom MobileStudio 16 is fast and responsive, and the top-notch quality of the display is down to the VIDIA Quadro graphics card. Even if you're working on demanding projects with large files, the MobileStudio 16 will be able to handle it.
The MobileStudio 16 provides 16GB of system memory, with up to 32GB of RAM possible, and provides 512GB of SSD storage that can be replaced and upgraded if you need more. It also has Thunderbolt connectivity for fast file transfers.
Control-wise, as well as the stylus, the MobileStudio 16 has customisable ExpressKeys that can be set to the user's preferred functions; there are eight of them in total, meaning indivudal users can get really specific with how they want their MobileStudio 16 to operate. It also has radial menus and multi-touch functionality, and as with many Wacom tablets, the overall effect is a product that's simply a joy to use and operate. Photo editing can often be a little laborious, but the MobileStudio 16 completely transforms the process.
The Wacom Link Plus adaptor can be used to connect the MobileStudio to a Mac or PC, allowing it to function as a standard display. The MobileStudio 16 also comes with a cintiq stand that can be set at three different angles.
Fingerprint unlocking helps you keep the MobileStudio 16 secure, and it's got decent battery life too, able to run for about 5.5 hours on a full charge.
Providing an unprecedented level of on-the-go creative freedom, the Wacom MobileStudio 16 should find a home with creatives of all different stripes. We're really looking forward to getting a closer look at the MobileStudio 16 in action – so stick with us for more content in the future!
About the Author
Jon Stapley is a professional journalist with a wealth of experience on a number of photography titles including Amateur Photographer, Digital Camera World and What Digital Camera. See more of his writing at jonstapley.tumblr.com
Related articles