Wex Photographic is proud to be the lead partner of Norfolk & Norwich Open Studios 2015 and a supporter of Norfolk & Norwich Festival.
Image: Jemma Mickleburgh
We are delighted to announce that Wex Photographic is the lead sponsor of Norfolk & Norwich Open Studios 2015 and a supporter of Norfolk & Norwich Festival.
For 16 days each year, Norfolk & Norwich Open Studios celebrates the county's artists and their achievements by offering them the opportunity to open their doors to the public to exhibit, sell and talk about their work. Norfolk & Norwich Open Studios 2015 will see over 450 artists exhibiting across 248 venues throughout Norfolk. Ten Norfolk schools will also be involved, showing the exceptional artistic talent of young people in the county.
As part of our involvement in the festival and Open Studios programme, we will be hosting a number of exciting events in the region throughout May and June, celebrating the best of local art and offering exclusive shooting opportunities, including walkabouts, workshops and a photographic symposium.
Wolf's Child Rehearsal Workshop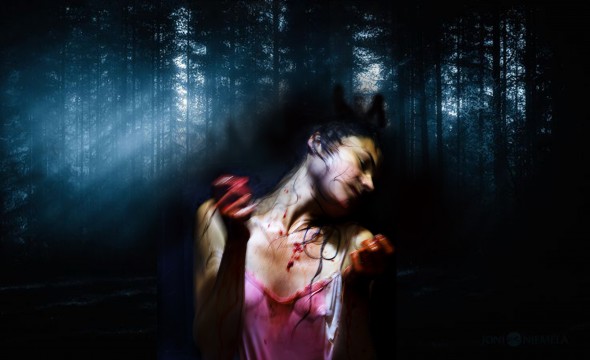 Image: Steve Tanner
Join Dibs McCallum and the Wex team for an exclusive photographic workshop offering unique access to Wolf's Child, a large-scale, immersive theatre production taking place in the dark woods surrounding Felbrigg Hall. With our experts on hand for advice on camera settings and shooting techniques, you will have the chance to capture scenes and cast in the full dress rehearsal of this thrilling new production.
Wolf's Child is a brand new creation from WildWorks, co-produced by NNF in partnership with the National Trust.
Friday 1st May. Felbrigg Hall, Norwich. £70 – timings to be confirmed
More details and booking information will be released shortly –
stay tuned to our events page to keep up to date.
451 Rehearsal Workshop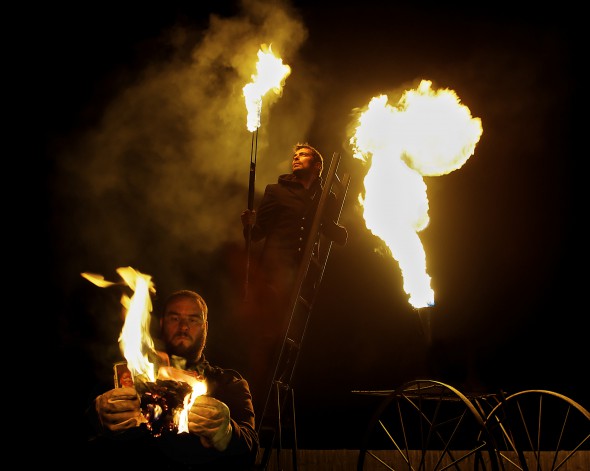 We are offering five lucky photographers the chance to push their skills to the limit with an exclusive workshop at 451, an incendiary open-air performance involving high-octane dramatic action and pyrotechnics. Led by pro photographer Damien Demolder, this unique experience will see you improve your event photography while enjoying the drama of the grand finale show of Norfolk & Norwich Festival 2015. Places for this event are strictly limited to five and are not available anywhere else.
The performance will take place on Thursday 21st May, at the St James Development Site, Norwich (click here for directions). You'll be shooting from around 8pm until 11pm.
Produced at 101 Outdoor Arts Creation Space. Commissioned by Without Walls Street Arts Consortium, Brighton Festival, Greenwich and Docklands Festival, Norfolk & Norwich Festival.
Thursday 21st May. St James Development Site, Norwich – timings to be confirmed
How to Enter
To enter, simply email us at [email protected] with your full name and a contact telephone number, including 451 Workshop in the subject line. The competition closes at midday on Thursday 7th May 2015. Five winners will be selected at random from all valid entries. Good luck! T&Cs apply.
NNOS Walkabouts
Image: Jemma Mickleburgh
Join us as we take our Wex Walkabout series to Norfolk & Norwich Open Studios for special photo walks around two of the Open Studio Art Trails. Stretching from the coastline to the market towns of Norfolk, the NNOS Walkabouts will offer some great photo opportunities at a broad range of studios covering a variety of arts and crafts, from painting to wood turning. There are two walkabouts on offer – one taking place in the north of the county and the other in the south. Both trails will start at the Wex Photographic showroom.
Thursday 28th May, 10am-4pm. From Wex Showroom, Norwich. FREE
North East Trail
The North East Trail features a delightful variety of craftspeople and artists, based in a range of fascinating studios full of character. From the seaside home of sculptor Belinda Opie to the personal and confined space of John Etheridge's studio, this trail offers a unique opportunity to photograph a range of spaces and subjects.
South Norfolk Art Trail
Running for the first time this year, the South Norfolk Trail shows off the talents of a range of artists working in the south of the county, from Topcroft to Harleston. The trail ends at Designer Makers 21 in Diss, a collective of designers and craftspeople whose studios and shops occupy a large Victorian building on the high street, offering photographic opportunities in an array of whimsical spaces.
Wex Photography Symposium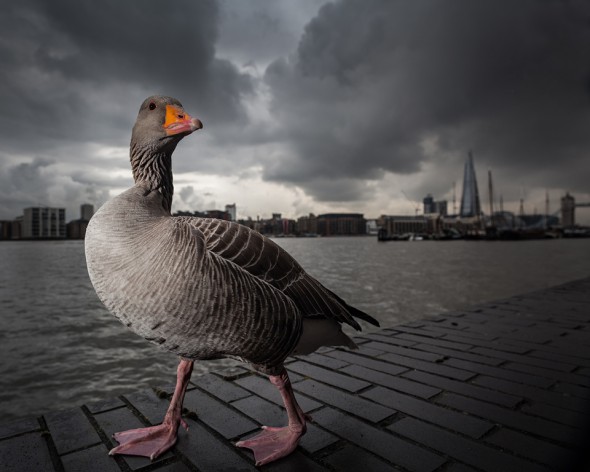 Image: Lee Acaster
To mark the beginning of a three-year partnership with Norfolk & Norwich Open Studios and to round of this year's programme, we are delighted to announce the inaugural Wex Photographic Photography Symposium.
In keeping with the Norfolk & Norwich Open Studios spirit of promoting local artists, the symposium is a day of enlightening talks and practical demonstrations from Norfolk-based professional photographers and videographers, including celebrated fashion and music photographer Paul Bayfield, celebrated portrait photographer Peter Everard Smith and Wex Photographer of the Year 2014 Lee Acaster.
Featuring a mix of established and up-and-coming talent covering a range of subjects, the symposium provides something for everyone, regardless of your skill level. See below for the full line-up; more details we will be announced nearer the date.
Tickets are available for the whole day or for individual talks. Concessions are available for students, OAPs and Norfolk & Norwich Open Studios artists. More details and booking information will be available soon. Stay tuned to our events page to keep up to date.
Sunday 7th June. The Forum, Millennium Plain, Norwich.
£8 per talk (£5 concessions). £40 for all-day ticket (£30 concessions)
Related articles
451 Workshop Competition Terms and Conditions
The promoter is Wex Photographic, 13 Frensham Road, Norwich, NR3 2BT.
One entry per person only, no bulk or third-party entries will be accepted.
You must have a suitable camera (film or digital with some degree of manual control) to be considered.
The competition closes at midday on Thursday 7th May 2015. Entries submitted after this point will not be accepted.
The competition is open to all UK residents except employees of Wex Photographic, the companies or organisations with whom the competition is being run, their agents or anyone directly connected with the competition.
No responsibility can be accepted for entries lost, delayed, or have insufficient postage applied or damaged in the post. Proof of delivery will not be accepted as proof of receipt.
Postal entries for the competition should be sent to Wex Photographic (Competitions), 13 Frensham Road, Norwich, NR3 2BT. Please provide us with your name, address, telephone number and the competition you are entering. Illegible entries will be deemed void.
Prizes are as stated only and no cash alternatives will be given. However, Wex Photographic retains the full and free right to alter prizes should circumstances change.
The name(s) of prizewinner(s) will be made available to those who send a stamped addressed envelope to the competition entry address.
All entrants to competitions and offers are deemed to have accepted these rules and agree to co-operate in any future publicity that may arise.
Winners will be selected at random and announced within 3 days of the competition closing date.
No purchase necessary to win nor enter.
Wex Photographic reserves the right to amend the competition terms at any time.