Pete Hutchinson takes a look at ASUS' sleek-looking travel display with a thin and lightweight form factor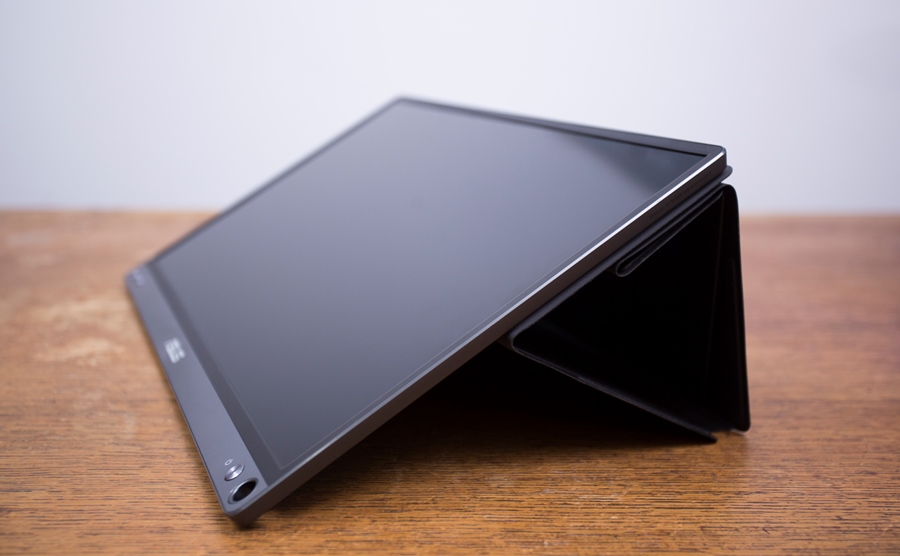 ZenScreen MB16AC core specs:
15.6-inch (1920 x 1080p) IPS screen
Single USB-C connection for both video and power transmission
Weighs only 780g and is just 8mm thick
Foldable smart case – doubles up as a protective sleeve and stand
Automatically senses orientation
The perfect travel monitor?
I travel a lot for work and have always preferred editing videos on a big desktop computer as opposed to using a laptop on the go. ASUS is set to change all that with its new 15.6-inch portable monitor: the ZenScreen MB16C. This USB monitor allows users to work more efficiently and comfortably, while travelling, by simply plugging into a laptop or PC.
The ZenScreen has an ultra-slim 8mm profile and weighs just 0.78kg, meaning you can slip it into your hand luggage with ease and it comes with a foldable smart case removing the need for a big stand. I like how the monitor draws power from the device it's used with, doing away with the hefty power cables and adapters a normal display would have.
Obviously, this is something to bear in mind if you want to edit without direct power to your laptop, in which case you'll have to keep an eye on the monitor's battery level indicator. Aside from the typical laptop users, if you are someone who likes to take a compact PC on trips – like a Mac mini or Mac Pro – then this is a great lightweight monitor solution to pair it up with!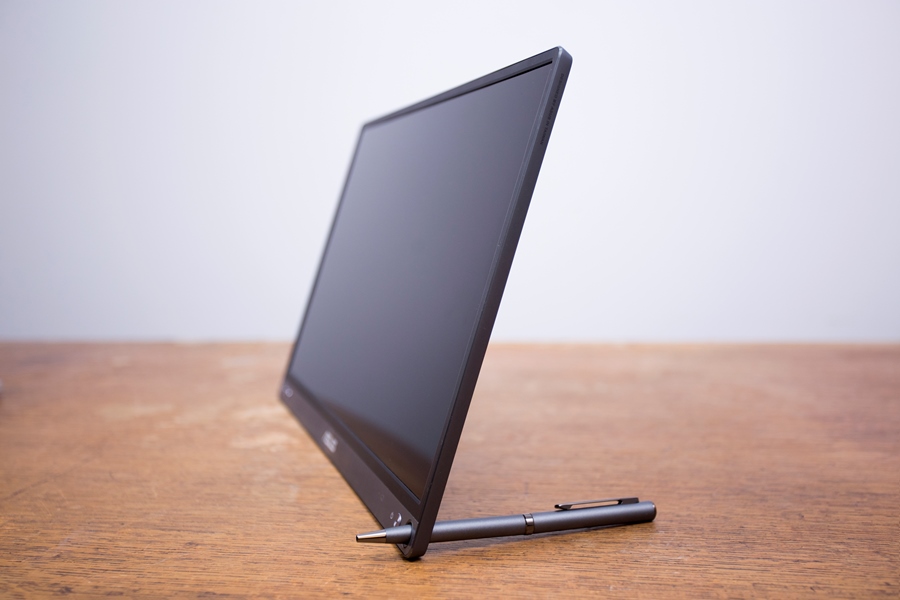 Compatibility and operation
Operation of the device is very simple as it only has three buttons and one USB Type-C port. If your laptop doesn't have a USB Type-C port, the ZenScreen comes with a handy USB Type-A adapter. The monitor works seamlessly with most new devices, and older devices simply require you to download the necessary ASUS drivers. If you are concerned about the compatibility of your device, you might want to try this helpful tool.
I absolutely love the well-designed folding smart case, which allows the ZenScreen to stand up in a number of different orientations, including a vertical one which works well when editing vertical Instagram videos. This could also be utilised well for applications such as scrolling, looking through a Twitter feed or coding.
The ZenScreen also comes with a standard ballpoint pen that fits through a hole in the bottom right-hand corner of the display, allowing you to stand the device up without using the smart case. However, I found this a bit gimmicky and preferred to use the smart case – especially since it provides added protection.
Speed of use is a really important feature for me and the ZenScreen didn't disappoint. It boots up in just a few seconds and features automatic orientation detection, so you don't have to change the screen's orientation manually. Another nice touch is the ability to change between a few different picture modes, including sRGB Mode, Scenery Mode, Theatre Mode, Night View Mode, Game Mode, Reading Mode and Darkroom Mode, with QuickFit and GamePlus modes too, meaning the ZenScreen will appeal to those who have more than one use for it.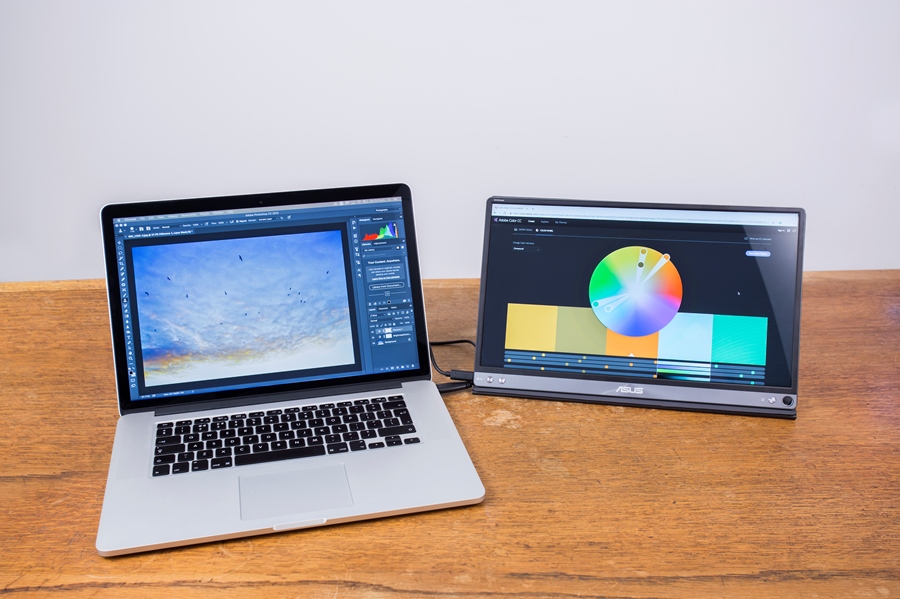 Screen quality
The ZenScreen rocks a 15.6-inch full HD 1080p display, with a 16:9 aspect ratio. I think this is a really nice size for most tasks and a similar size to most laptop displays that you'll probably be using it with. At 200 nits, the ZenScreen's brightness isn't amazing so I wouldn't recommend it for outdoor use, but it works just fine indoors.
I found the monitor's colour accuracy to be decent enough for consuming media and basic editing, but would advise switching over to a higher quality monitor when you're back from your travels to finish a video edit or similar. The ZenScreen has a handy blue light filter – adjustable within the settings – which we really like for those late nights, when you're trying to save your eyes from melting! It is also an IPS monitor, which means brightness and colour won't be affected when you are viewing it from different angles.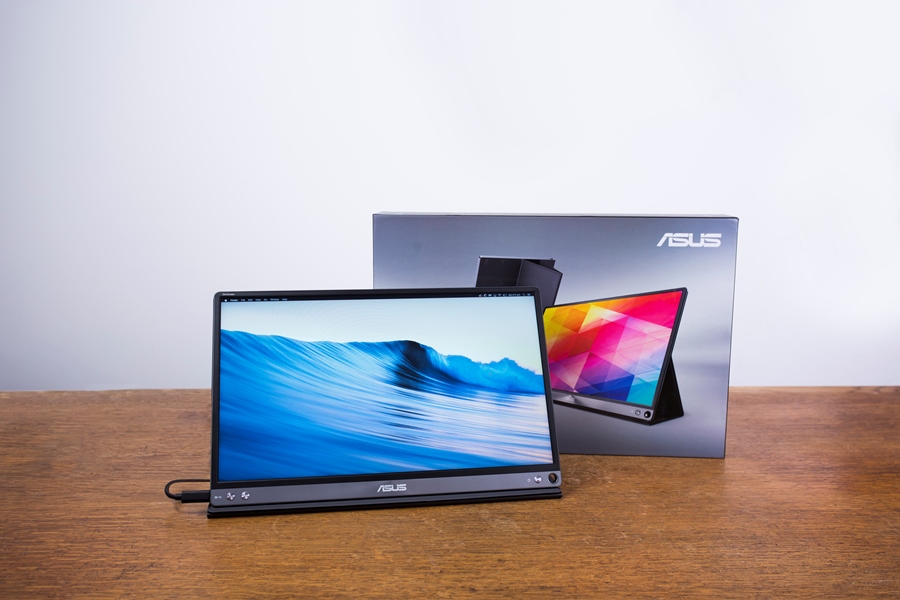 Overall thoughts
The ZenScreen MB16AC is a great display if you are looking for extra screen real estate while travelling. It boasts a small and light form factor without any awkwardly large cables or connectors. The foldable smart case does a great job of protecting the screen and acts as a versatile stand, suitable for both horizontal and vertical orientations.
The screen quality is ideal for typical use – it's not likely to blow you away, but for a lightweight travel accessory I'm impressed. Paired with a laptop, I found the device great for editing photos or videos. I typically had my effects and settings up on the ZenScreen so that the main video could be previewed in full-screen on my MacBook Pro.
About the Author
Pete Hutchinson is a videographer and photographer based in London. Follow him on Instagram. He also runs Outsight Creations, a small production team specialising in the creation of travel and adventure themed content.
Related articles