One third of Brother Film Co Marcus Ellingham takes us behind the scenes, during the production company's Boardmasters Festival 2017 shoot
Marcus, Luke and Hugo Ellingham have gone from filming VHS skateboarding videos, for fun, to producing content for clients including Nike, Red Bull and McLaren — via the aptly named Brother Film Co. But, the trio of brothers returned to their extreme sports roots when filming Boardmasters Festival 2017. We catch up with Marcus and find out how Sony's FS7 and FS5 fared over a weekend of live music, surfing and skateboarding.
Wex Photo Video: How did the project come about?
Marcus Ellingham: Our youngest brother Hugo had DJ'd Boardmasters three years prior, that's how the event organisers Vison Nine had heard of us. They invited us to pitch projects for two of their festivals, NASS and Boardmasters, and we won both pitches!
W: The live performance sets the tone of the whole film. How did you go about capturing it?
M: The live performance was central to the film. It was this aspect of the project that we thought would set it apart from other festival highlights movies. With the help of Vision Nine, we got in touch with Hein Cooper, a singer songwriter, who had a song that matched the vibe of the festival perfectly. We chose Watergate Beach as a location and scouted it out a couple of days beforehand.
We thought it would be the perfect place to stage the track, especially due to the light in the late afternoon. We had a crew of three and a two-hour window with the artist to record the session —the clock was against us. We set up three microphones, two Aston SPIRITs for the guitar and a Shure SM58 for the vocals, running into a Zoom recorder. Hein nailed it in three takes, which was pretty impressive!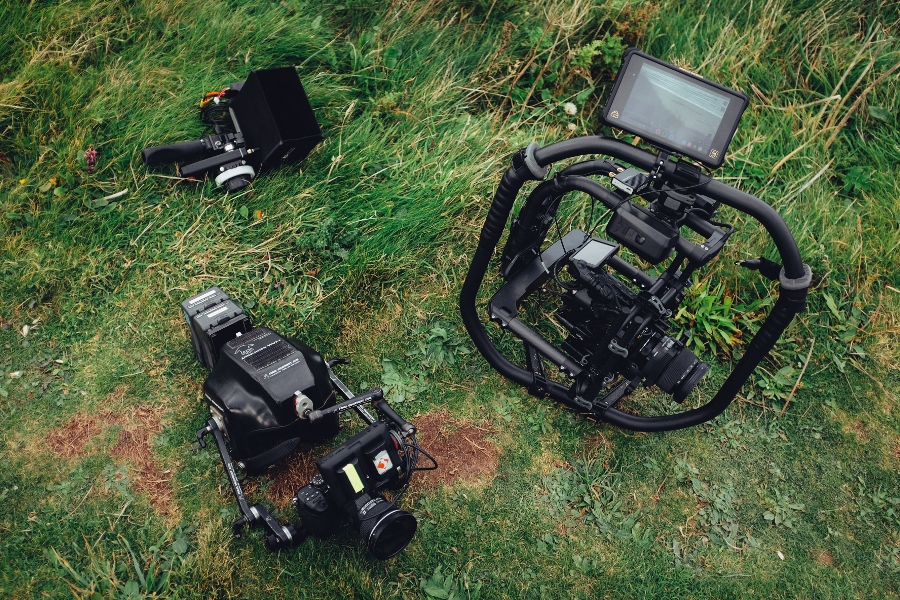 W: Why do you tend to shoot on Sony cameras?
M: A couple of years ago we decided to move to a cinema camera, having previously used DSLRs. We deliberated between Blackmagic and Sony, and eventually opted for the Sony FS7 after hearing some great reviews. A year later, we wanted a matching camera for our gimbal system and decided that the smaller FS5 was a good solution. For 99% of projects we use our own in-house kit; as we know the systems so well, being able to keep a similar menu system across different cameras is crucial. We love the FS7's image quality, and for the price point, the ability to capture great looking slow-motion is a huge plus.
As mentioned, the smaller FS5 is used with our MōVI Pro gimbal, whereas the FS7 is reserved for handheld or tripod work. For Boardmasters, we used the S-Log 2 picture profile for a nice flat image. We don't often use a LUT to help judge exposure when shooting in S-Log, we're used to working with the FS7 and FS5, and so we just use the histogram.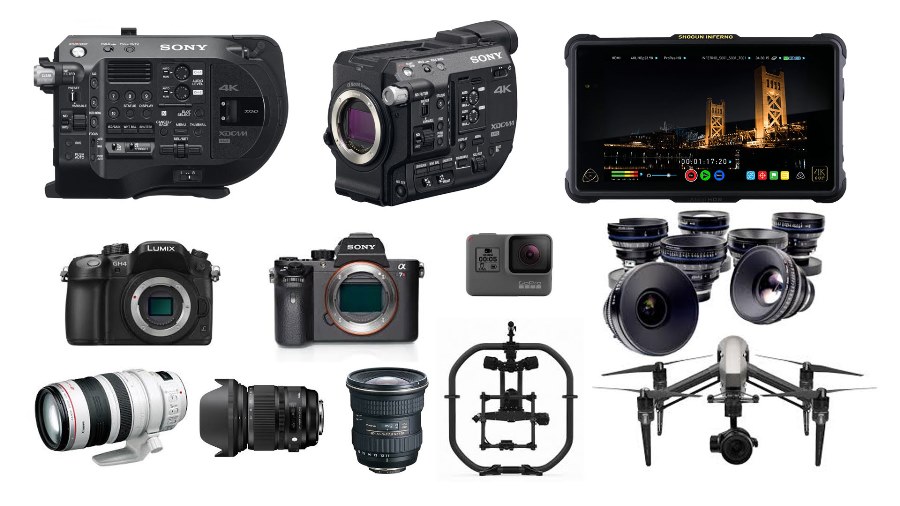 A breakdown of the kit used to film the festival.
Cameras:
- 2x Sony PXW-FS7
- 1x Sony PXW-FS5 (RAW upgrade) with the Atomos Shogun Inferno
- 1x Panasonic LUMIX GH4
- 1x Sony A7R Mark II
- 1x GoPro Hero 5
Lenses:
- Zeiss ZE primes
- Canon 28-300 L Series
- Canon 70-200 L Series
- Sigma 24-105 Art
- Tokina 11-16mm
Gimbals & drone:
- DJI Inspire 2 drone
- MōVI Pro
- DJI follow focus
- The Kryten helmet rig

W: You mentioned you've got the RAW update for the FS5. How did you find it?
M: The RAW upgrade for the FS5, paired with the Atomos Shogun Inferno, is a brilliant combination. Couple that with the MōVI Pro and you've got a powerful setup that'll create some super smooth shots. The Atomos Shogun Inferno is easy to use and very bright when shooting outside, thanks to its daylight viewable 1500nit screen. It's very power hungry though, so we power the device straight from the MōVI Pro — reducing the number of batteries we have to carry with us.
This setup takes the FS5's 8-bit limitation and allows us to record up to 4k DCI in 12-bit CinemaDNG at either 25p or 50p. If we go into 10-bit ProRes, we can shoot 4K at up to 120fps. We often record in ProRes format to speed-up our post-production workflow, which was essential for the Boardmasters project!
W: How big was your team?
M: We had a team of eight working on the Boardmasters project: A core of five operating on the ground, a two-man drone team and a time-lapse specialist. By chance, we were contacted by the time-lapse specialist, based in Cornwall, about six weeks before the festival. His name was Adrian Cabello, and we got him on-board to capture a number of time-lapses over the course of two days. He used a Sony A7R Mark II and a motorised mSlider to get those shots; he's very highly recommended.
We were also very lucky to have access to Anthony Butler's footage from the weekend. Anthony is a pro in-water filmmaker and was filming across the weekend for the World Surf League competition. He shot everything on his Panasonic LUMIX GH5, and it was awesome to use it in our production. It really lifts the piece! We ended up shooting about 3.5TB of footage and had a MacBook Pro setup in the production office. Between us, we'd ingest footage and make selects over the course of the weekend — delivery of the after movie was the following week, so there was no time to hang around!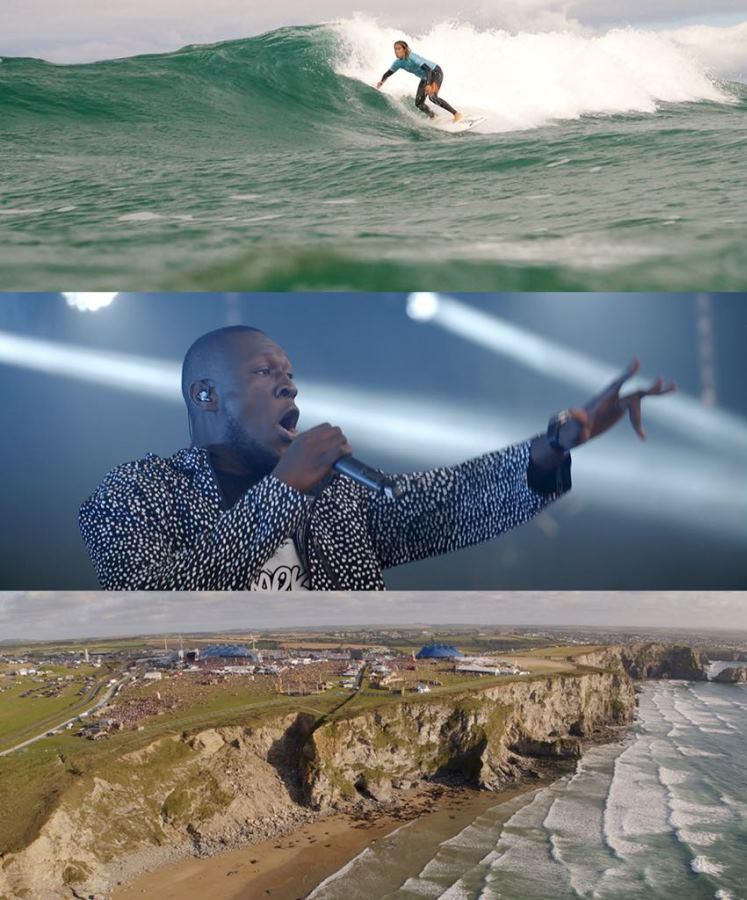 W: Can you explain your approach during the edit?
M: Over the course of the weekend, and during the drive back to London, we sifted through the raw footage and made selects. This gave us two days thereafter to edit the first cut. We already had a rough structure for the edit, which meant we could quickly place key shots and flesh out the timeline. Once the cut was in place, we produced the sound design and a final colour grade to finalise the film. Most of the audio was added in post-production, using sound effect libraries and was pulled together by our youngest brother Hugo, who is our sound specialist.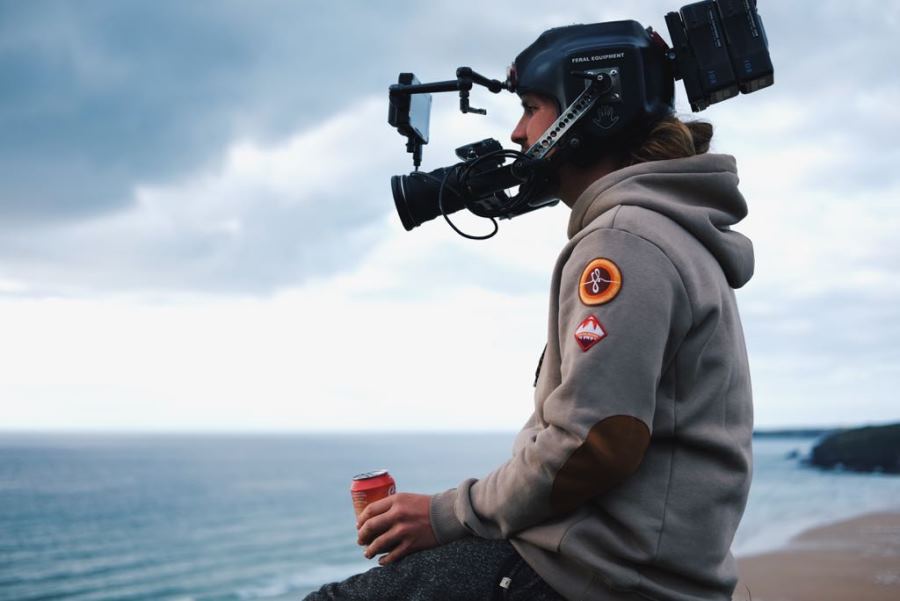 W: You also did a whole other POV edit. Can you tell us more about how you did that?
M: We hired a rig from Feral Equipment called The Kryten, which we used alongside Panasonic's LUMIX GH4, a Tokina 11-16mm lens and a SmallHD DP4 monitor. We'd wanted to do a POV edit like this for a while and were waiting for the perfect project. Boardmasters has a lot of visual variety, with music, surfing, skate and BMX events, and food. We also wanted to deliver multiple films for the festival, and we felt that seeing the whole experience from someone's POV would be brilliant.
In regards to using the rig, we knew what we wanted to capture for the POV edit, and planned out our time to explore the festival to capture all of the scenes we wanted to show. One of our guys wore the helmet for over eight hours — it's counterweighted by two large V-Lock batteries, so it's pretty heavy!
W: Was there anything that didn't go to plan?
M: The shoot went relatively smoothly, although it was a very busy five days. A lot of work went into scheduling, especially as the festival is split into two different sites, 30min drive from each other. The main difficulty was the weather on the Friday. It rained hard almost all day, so we prioritised indoor areas and stages, using the better weather on Saturday and Sunday to film outside.
About the Author
Kristian Hampton is Wex Photo Video's Technical Editor for Pro Video. A video specialist who has worked in corporate studios for companies such as Vodafone Group and PwC, as well as working as a freelance grip on various TV productions and features. He also runs Krade Media, providing enterprises with production services. Follow Kristian on twitter @KrissHampton
Related articles