Filmmaker Sunny Kang talks us through his latest documentary commissioned by BBC Three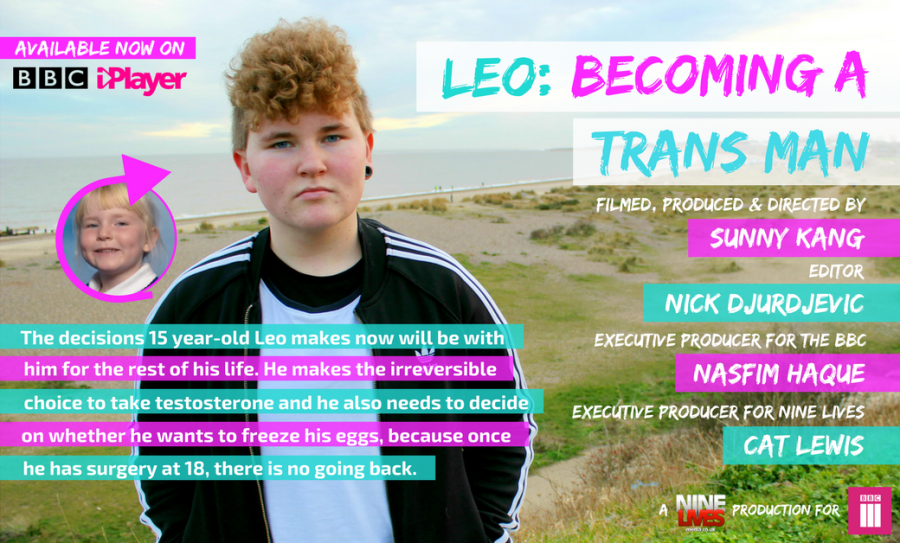 We sat down to chat with filmmaker Sunny Kang about his latest project. Leo: Becoming a Trans Man is a documentary commissioned by BBC Three, which Sunny self-shot, directed and produced.
Sunny completed a Masters in documentary production at the University of Salford, from which he has worked his way up from runner to producer and director for Nine Lives Media. He has worked on a variety of factual programming for BBC One, Channel 4, Channel 5 and CBBC.
Wex Photographic: How did this project come about?
Sunny Kang: Four years ago Nine Lives Media made a documentary about Leo for CBBC. This was called My Life: I Am Leo. It received a huge amount of publicity and won a children's BAFTA and an International Emmy Award.
Four years later, Leo was turning 16, which means legally in the UK he can now take testosterone and then freeze his eggs. These are life-changing decisions, some results of which are irreversible, and we wanted to document this part of Leo's life. The programme itself was developed by Nine Lives Media and pitched to BBC Three. Once the programme was commissioned and given the green light, I was asked to shoot, produce and direct this documentary Leo: Becoming a Trans Man.
WP: Can you tell us more about the distribution with BBC Three?
SK: The distribution is different with every programme, but as this was a documentary commissioned by BBC Three, they would essentially distribute the documentary through their channels. As BBC Three is online only, we knew the documentary would available on BBC iPlayer and also the channels social media platforms, including YouTube. This gave us the opportunity to reach a worldwide audience.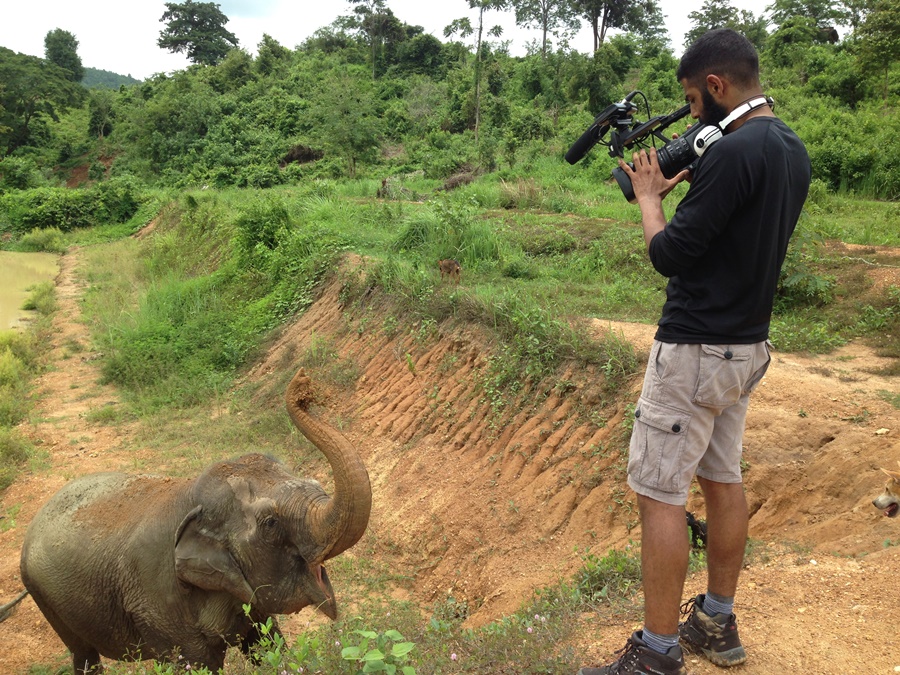 Sunny has worked on a range of programmes that have been successfully pitched, produced, and distributed by broadcasters. Often he's shooting on fixed-lens cameras such as the Sony PMW-200
WP: How do you go about pitching an idea to broadcaster?
SK: There are a number of ways to pitch, depending on the broadcaster. For example with traditional broadcasters like the BBC, ideas would normally go through a channel called BBC Pitch. This is an online submission. But with somewhere like Vice it's a different process.
I think now if I had an idea, I would first take it to a production company to develop and pitch with them. I think any strong idea these days also requires a strong company's backing. Broadcasters may only commission an idea of mine if it's attached to a television production company who has experience making the type of programme that I have in mind.
WP: How did you plan the project?
SK: With regards to the planning process, the main aspect was communicating with Leo and his mum Hayley, establishing what exactly they had coming up in their lives and what Leo was happy to have included in the documentary. At every stage of the process Hayley was involved, because Leo is under 18 and our duty of care for him was paramount.
I then researched the topic thoroughly, finding out as much as humanly possible, speaking with those experienced in the field and gaining access to any organisations or professionals who could help tell Leo's story. In the documentary Leo visited the Tavistock and Portman Hospital, which is the only gender clinic for under-18s in the country, and Bourn Hall, which is an IVF clinic. Gaining filming access to these two places was hugely important.
During filming we shot various pieces to camera, video diary snippets and also a master interview where we used an Eye Direct. The master interview was done towards the end of the shoot, and I wanted the film to feel authored by Leo, so using the Eye Direct technique helped achieve this style.
From pre-production to delivery was around 6 months. This is a considerably long time for this type of film, which was partly because filming would only mainly occur on weekends and for small periods at a time, due to Leo's age.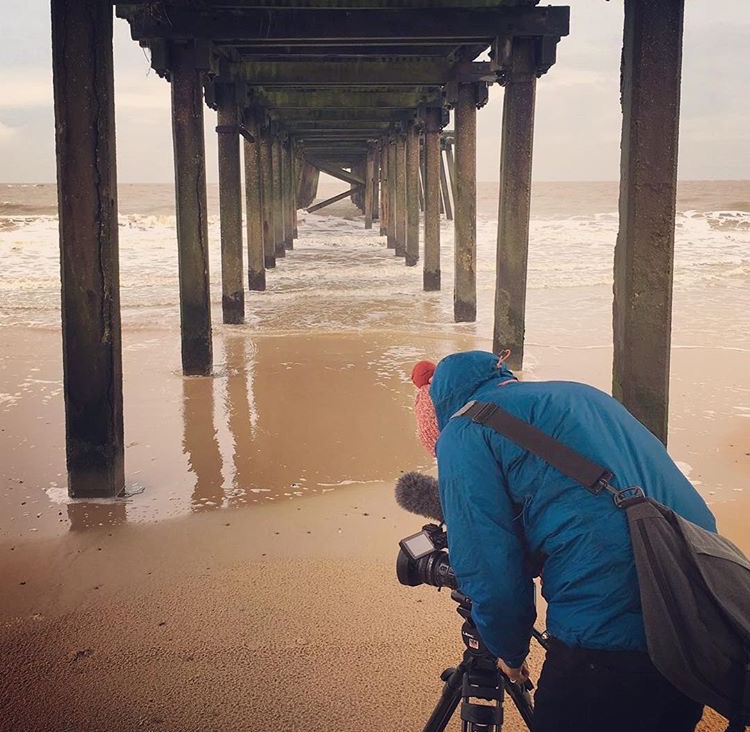 Sunny filming GVs for the documentary "Leo: Becoming a Trans Man", shooting on the Sony PMW-200.
WP: Can you tell us about the gear you used to shoot it?
SK: The cameras I used were a Sony PMW 200, a Sony FS7, GoPros and a DJI Phantom 4.
The Sony PMW200 is a great fixed lens camera, which records at 50Mbps, a standard requirement when shooting for broadcast. This is a real versatile camera that really works for various scenarios in observational documentaries.
I used the Sony FS7 for mainly the master interview and some lovely GVs. The prime I used for the interview was a classic Canon nifty fifty. This camera, with a good zoom lens, is the future of observational documentary filming.
The GoPro cameras were for the classic car journey shots, which are not broadcast quality, but we are allowed around 25% of the final duration to be under the broadcast requirement.
The DJI Phantom 4 I operated myself. I wanted to get a sense of where Leo lived, which is a small seaside town, and these drone shots really helped break up the scenes and establish settings. Plus, another great trick I discovered was using it to capture steady walking shots. I'd found this difficult to achieve with a camera mounted on my shoulder. So I used what I had with me at the time, which was a Phantom 4 – walking and shooting with it in my hands (not flying). It gave me really smooth shots, and its high frame rate capacity also allowed me to use some slow motion walking shots to create a certain mood.
For audio, I used was two very versatile Sennheiser G3s and a Rode NTG 3 on top of the camera. For the majority of the time it was just me shooting, so booming wasn't an option and all sound was fed through the camera.

The two main cameras Sunny used throughout this documentary: the Sony PXW-200 (the new version of the now discontinued PMW-200), and the ever-popular FS7.
WP: The Sony PMW-200 was released around 5 years ago now. What is it about the camera that has made you stick with it, instead of shooting more with, say, the FS7?
SK: I think one of the main factors is cost. With certain projects, especially with long-form documentaries where we would need to hire the kit for around a year, it would be better to film with a Sony PMW 200, than have fewer days with an FS7 or FS5. The Sony FS7/5 and Canon C300 would have a better look, but a fixed lens camera has durability and a pick-up-and-go quality that the FS7 and FS5 do not. Overall in documentaries, content is king!
WP: Can you tell us more about your editing process, and how you decide on what makes the cut?
SK: Before the edit began, I had a very clear idea how the programme would come together. I did make a rough paper edit to make sure there was a clear direction and motive. When it came to the edit, we decided to watch the majority of the footage and then cut firstly the most important scenes to see if they worked how we imagined. Then we worked around our best scenes and created the important narrative arc, giving the documentary a sense of journey.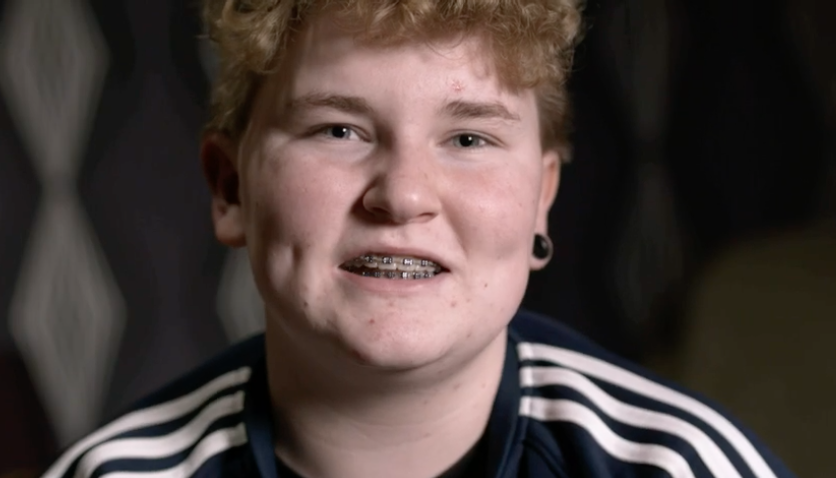 Sunny used Eye Direct for some of his interviews, allowing him and Leo to keep eye contact whilst Leo looked straight down the lens.
WP: Leo comes across as being very comfortable with being filmed and documented; can you tell us more about your directing style and how you go about building this relationship?
SK: Leo had already made a film for CBBC, so he was a natural. Over the course of the shoot we had to build a strong relationship with both Leo and his family; it was important that everything we discussed with Leo was also discussed with his mum Hayley. When filming any child like Leo, it is important to film for small periods, have a parent or guardian present at all times, and keep an ongoing conversation to make sure Leo is comfortable.
WP: Any key takeaways to share with other filmmakers wanting to self shoot & produce their own documentaries?
SK: My advice would be to develop programmes that you are interested in making. When starting off in TV, it's rare for employers to come to you. So instead go to them with great programme ideas, illustrating you have a good understanding of the industry and that you're passionate about particular subjects. If a production company really likes your idea, then this could be a way to get your foot in the door.
Keep up to date with Sunny's latest work by following him on twitter @sunykang, or instagram @sunnykang20
About the Author
Kristian Hampton is Wex Photo Video's Technical Editor for Pro Video. A video specialist who has worked in corporate studios for companies such as Vodafone Group and PwC, as well as working as a freelance grip on various TV productions and features. He also runs Krade Media, providing enterprises with production services. Follow Kristian on twitter @KrissHampton
Related articles