Don't let its small form factor fool you, Blackmagic's Pocket Cinema Camera 4K might just be the biggest announcement of NAB 2018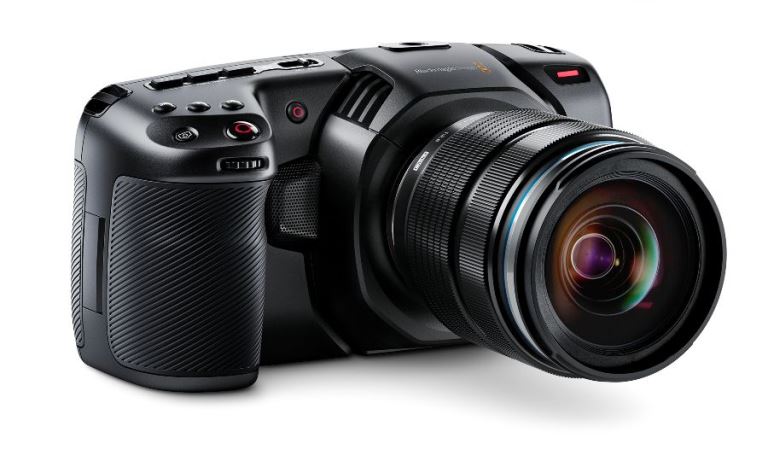 We've eagerly awaited a successor to Blackmagic's popular Pocket Cinema Camera, and the Pocket Cinema Camera 4K's spec list certainly doesn't disappoint.
Blackmagic Design rocked the world of video when it announced its Pocket Cinema Camera back at NAB 2013. The diminutive 1080P RAW/ProRes recording device proved popular among the filmmaking fraternity, and many have been calling for a successor ever since. Finally, the wait is over…
The Pocket Cinema Camera 4K [BMPCC 4K] combines high-end specs and a devilishly low price point, making it quite possibly the announcement of NAB 2018 (so far…). Let's put that into perspective. That's a 4K 60p 12-bit RAW recording cinema camera — the size of a DSLR — for less than £1,500. And it's supplied with a free copy of Da Vinci Resolve Studio…
You'll see from the image that it's not really going to trouble the likes of RED or LEICA in the looks department, but for serious day-to-day shooting a camera's functionality and ease of use is far more important than aesthetic splendour. It's clear from the published specifications, button placements and menu system that the BMPCC 4K is designed for practical use. Sure, it's not really a 'pocket camera' anymore, but the improvements over the last model will make you forget that pretty quickly. Here's why…
The Sensor
The original camera used a Super 16mm sensor that caused a huge 2.5x crop (in full-frame terms) and low light performance was really poor. The new 4K model is now full-sized Micro Four Thirds, so no crop with an M43 lens and less of a crop than before with third party lenses — Metabones' range of Speed Boosters for the M43 mount make other fields of view possible too. This range of lens options ought to reassure anybody who is disappointed that the BMPCC 4K isn't using a Super 35mm sensor, and I think all of us who experienced Blackmagic's original 4K offerings can feel relieved that it hasn't simply downsized the Production Camera 4K or used that sensor.
The sensor has ISOs all the way up to 25,600, and also has the capability of performing 2017 and 2018 's favourite sensor trick, dual native ISO. The dual ISOs are 400 and 3,200, a reassuringly wide enough gap between the natives to be useful. We haven't seen what these look like yet, but if the way the technology has been implemented on Panasonic cameras is anything to go by, it'll be a hugely useful feature. Those shooting in a variety of natural lighting conditions should benefit from this feature in particular, and they are surely the filmmakers this camera will appeal to.
Recording codecs and media
Blackmagic cameras have always offered some of the highest quality ProRes and RAW DNG codecs as standard recording options, and the BMPCC 4K continues this trend. Recording to both CFast 2.0 and SD card media, the camera also offers a USB-C output so the aforementioned codecs can be recorded directly to the external hard/flash drives for longer form shooting.
Here's the complete list of Codecs, Formats and Framerates…
Codecs:
CinemaDNG RAW, CinemaDNG RAW 3:1, CinemaDNG RAW 4:1, ProRes 4:2:2 HQ QuickTime, ProRes 4:2:2 QuickTime, ProRes 4:2:2 LT QuickTime, ProRes 4:2:2 Proxy QuickTime.
Recording Formats:
Lossless CinemaDNG RAW, RAW 3:1 and RAW 4:1 with film dynamic range at 4096 x 2160, 3840 x 2160 and 1920 x 1080. Apple ProRes 4096 x 2160, 3840 x 2160 and 1920 x 1080 with either film, video and extended video dynamic range.
HD Video Standards:
1080p23.98, 1080p24, 1080p25, 1080p29.97, 1080p30, 1080p50, 1080p59.94, 1080p60.
Ultra HD Video Standards:
2160p23.98, 2160p24, 2160p25, 2160p29.97, 2160p30, 2160p50, 2160p59.94, 2160p60.
4K DCI Standards:
4KDCIp23.98, 4KDCIp24, 4KDCIp25, 4KDCIp29.97, 4KDCIp30, 4KDCIp50, 4KDCIp59.94, 4KDCIp60.
There is currently no indication of the new ProRes RAW codec being introduced for the time being. As ProRes RAW is a collaboration between Atomos and Apple, I expect it to remain exclusive to Atomos products for a good while.
The Body
Blackmagic has clearly listened to customer feedback and learnt from previous errors, because the BMPCC 4K now looks and feels like a fully-fledged production tool. The camera has dedicated buttons for ISO, shutter, white balance, aperture, focus magnification, zoom, framerate changes, as well as a menu button that's backed up with a scroll wheel for navigation. If buttons aren't your thing, then the 5in touch-screen utilises the same UI as the URSA Mini Pro, so it's really easy to navigate from there as well.
The larger size of this model isn't just for reassuring heft: The handgrip side of the camera is where the audio action is, and you'll be very pleased know that this camera takes audio seriously by adding a phantom powered Mini XLR input, 3.5mm input jack and a headphone jack. This is a huge improvement on previous Blackmagic models and the standard of features professional filmmakers expect from their cameras.
The larger body also means that the camera can take standard Canon-style EP-L6 batteries. That said, I'd still recommend looking at a bars-supported battery plate solution, like a V-lock plate or Gripper battery, for longer shoots.
First impressions...
I'm generally not one for hyperbole with new camera releases that haven't been delivered or thoroughly tested, and as always, I'll reserve my judgement until after the release. But based on what we know so far, it's fair to say that Blackmagic has knocked it out of the park as far as product announcements go. After all, it's going to shoot 4K 12-bit RAW at 60p in a body not much bigger than a DSLR. That's too good a combination of factors to ignore, and I suspect many industry colleagues will be adding this to their basket as I type. I might just do the same…
Related articles