Same sensor and fixed-lens combination coming to you in three flavours: the GX10, XF400 and XF405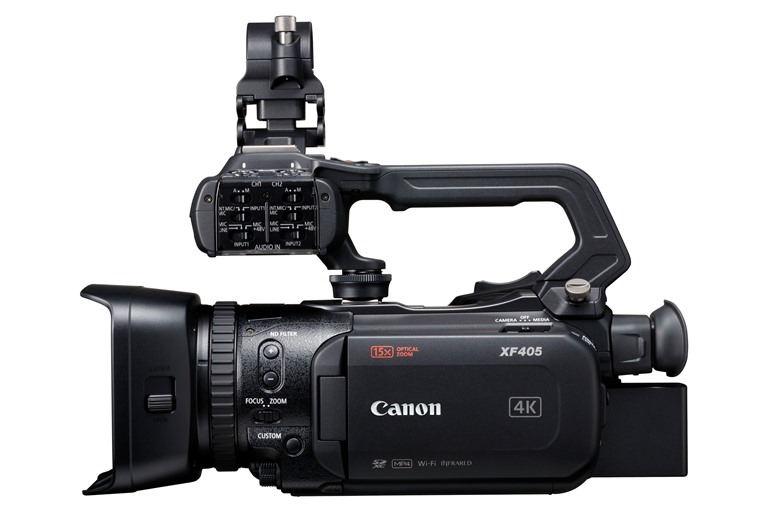 Today we see Canon bring three new compact video cameras to its lineup. I say three, but really it's the same camera (i.e. same sensor, lens and processor) but with some additional features the further we go up the line.
At its base we have the GX10, which packs in some impressive capabilities, with the headline feature being its ability to record broadcast-quality 4K and Full HD.
The base camera at a glance (GX10):
• 1.0 type CMOS sensor
• 4K UHD 50p internal recording to SD card
• 15x optical zoom (up to 30x in Full HD)
• 5-axis image stabilisation
• Dual Pixel AF
• Dual DIGIC DV6 processors
• Up to 100fps in Full HD
• Built in three stage ND filtration
• Wi-Fi and FTP connectivity
The XF400:
• All of the above
• Balanced XLR inputs on the top handle
The XF405:
• All of the above
• HD-SDI output via a BNC connector

All three cameras feature the same compact and lightweight body – (left to right) GX10, XF400 and XF405
Recording
All three models can record 4K UHD 50p at 150Mbps and Full HD at up to 35Mbps as MP4s, to either of the two built in SD card slots, or to both if you want an instant back-up.
In terms of slow-motion capabilities you can of course achieve a 2x slow-motion effect with 4K UHD 50p footage if you're editing in a 25p timeline; however, in Full HD these cameras can record up to 100p, meaning you can achieve 4x slow motion.
Sensitivity wise, the 1-inch sensor couples with the dual DIGIC DV6 processors to give up to 12 stops of dynamic range when using the Wide DR mode.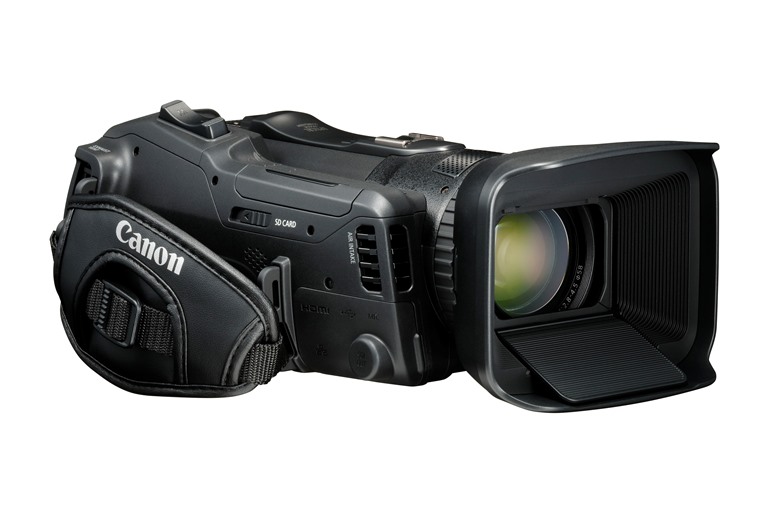 Fixed lens
At the front we see a newly developed 15x (in 4K) powered zoom lens, that when filming in Full HD is increases to 30x zoom without any image deterioration. If you're not too familiar with describing zoom range this way, then this 15x zoom lens covers the focal ranges of 25mm-382mm. The lens has a 9-blade iris diaphragm that opens up to f/2.8, which should help in capturing smooth and natural-looking bokeh. There's a single control ring on the lens that can be used for both manual focus and zoom control. Switching between the two controls is done through a switch on the side of the camera. Underneath the lens is another rotating control wheel for iris control. So, combined with the zoom rocker switch on top of the camera, all the manual controls that you would need for run-and-gun style shooting have a dedicated physical controller – No faffing around in menus. Unfortunately there doesn't seem to be a selector for the amount of gain, but on the other hand there are 5 customisable buttons on the body, so with some tweaking this could be a pretty streamlined camera to operate.
These cameras feature 5-axis image stabilization to help reduce image distortion for when operating handheld. Couple this with Canon's renowned Dual Pixel Autofocus system, and you've got a camera that is going to be ideal for run-and-gun situations. There's also the ability of using touch focus as each of these cameras has a 3.5-inch LCD touch screen, a feature that we saw and welcomed on the Canon C200.
Focusing on portability and ease of use, an 8-stop, 3-stage electronic ND filter is built into the camera body. Should you still want to use further filtration or attach lens adapters there is a front 58mm front thread. As an additional purchase, Canon also offers a 0.8x wide angle and 1.5x tele converter if you want that added flexibility.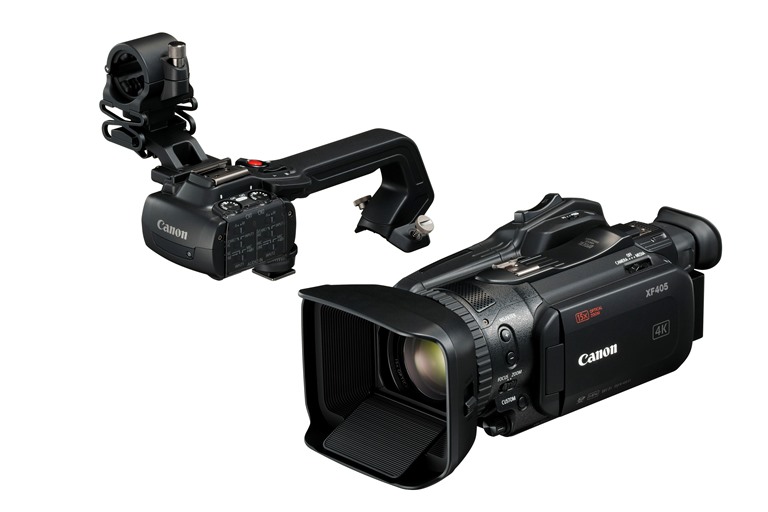 Audio
All three cameras have a built-in stereo condenser microphone and a 3.5mm jack headphone output. However, if you opt for the GX10 then you don't have any form of handling what's considered professional-standard audio, as this does only come with the one 3.5mm jack unbalanced input.
In contrast, both the XF400 and XF405 are supplied with a top handle that houses two balanced XLR inputs and can supply 48v Phantom power – something that may be seen as a necessity for using high-end microphones. Both of these models also offer the ability to record four channels of audio in LPCM, as opposed to just the two channels in AAC.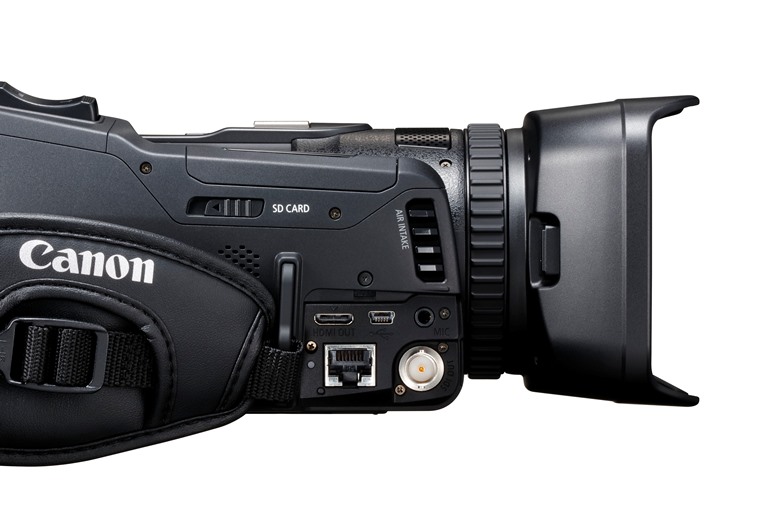 All models have HDMI output. However, the XF405 is the only one to feature a 3G-SDI output too.
Connectivity
All models come with dual band 2.4/5GHz Wi-Fi built in, which allows for remote control of the camera via smartphone or through a computer's Internet browser. It also allows for wireless FTP of the video files captured. Each camera comes with a traditional-style remote control should you want to trigger recording remotely and make some basic setting changes – this method also saves some battery life, as you don't need to enable the Wi-Fi.
All models have a HDMI output, and all can output 4K UHD in 8-bit or Full HD in 10-bit both using 422 Chroma subsampling. The XF405 has an additional HD-SDI output, perfect for when using this camera in a live situation or multi-camera setup. However this is limited to only being able to output Full HD in 10-bit 422. Both the XF400 and CF405 have an RJ45 connection for LAN functionality.
Summary
With their compact form factors and impressive recording capabilities, these three cameras from Canon look to have a real place in the run-and-gun, newsgathering and documentary worlds.
They house most of the features (and in some cases much more advanced features) that we would normally expect to see in larger ENG-style 2/3" sensor cameras. The lack of XLR audio inputs does put a bit of a damper on the GX10, but at least you still have the option of running a single external audio source through the unbalanced 3.5mm jack input. If that's not enough for you then at least there's the XF400 and the XF405 to help you easily to get around that issue. All in all, whether you're an experienced camera operator, or the corporate employee who seems to do filming every now and then, these new cameras should make setting up your shot, or capturing action on the fly that bit easier.
Shipping is expected for November 2017.