Charlie Watts talks his latest personal project, a short film telling the story of Somalia-born Idris
Funnily enough, Strive would probably never have happened if we didn't mess up while shooting another short film.
The first time I met Idris, I was shooting another personal project. He was hanging around a corner shop with some friends, and we interviewed them all for a short documentary I made called "People". When I got back home, I was looking through the rushes, and we had shot everything with them at 25fps. Which you may think is fine, but the problem was our other three days of footage had all been shot at 50fps so we could conform it to 24fps for some slow motion.
Luckily one member of the group took my Instagram handle that night, so he could see the film when complete. So, I just messaged him when I got in and we arranged to shoot again the next evening (we didn't tell them we had messed up though).
That next night I got into quite a deep conversation with Idris, as he'd been the first to meet us. We got on really well and I gravitated towards his story. I guess the reason I wanted to tell his story was because, one, he has this extremely positive outlook on life, and two, his story was one that was fascinating and I felt simply needed to be told.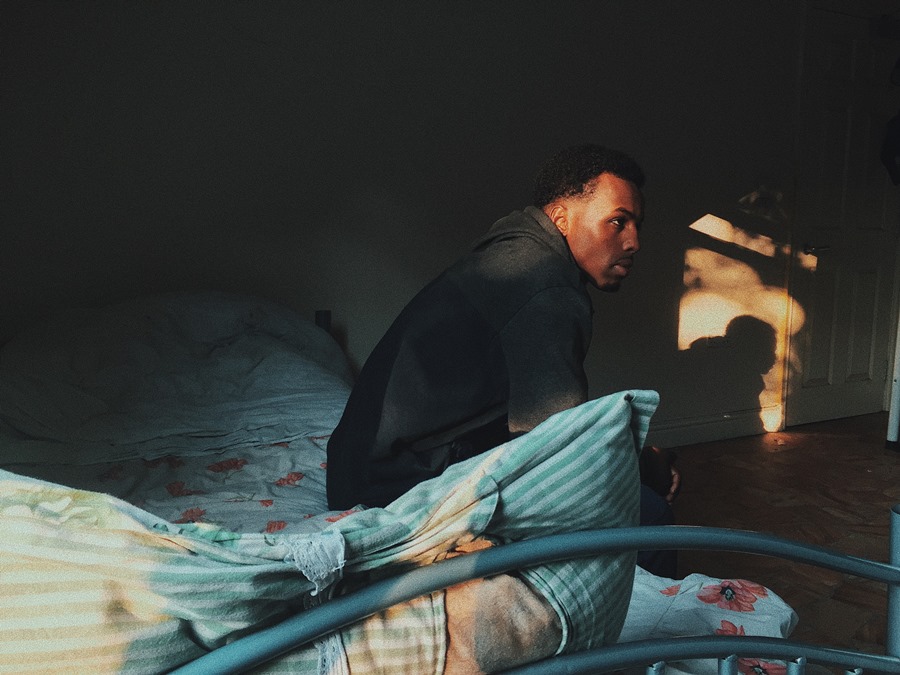 The shoot
I've done this style of short documentary filmmaking a few times in the past, and honestly a lot of the time you just have to let the story play out. It's completely different to producing a fictional narrative, where you have complete control on everything from location, costume and characters.
With this film, I met Idris on a number of occasions before we even began filming. I'd say two months were spent just grabbing a drink with him or watching the football. At the end of the day I was asking him to let me into his life and document it; I don't think you can ask someone for that unless you have a personal relationship with them. I had a rough structure in my head and shots I wanted to get, but then sometimes we would just see something and shoot on the fly.
We probably shot on four or five occasions. Idris will forgive me for saying this, but he wasn't the most reliable when it came to schedules for filming. More often than not, if the weather was looking good for particular things we wanted to shoot, I'd just call him up and ask if he was free. The boxing gym was a funny story because we just rocked up at the end of one of his sessions and managed to shoot everything you see in the film in 15 minutes (with a scary gym instructor telling us to hurry up).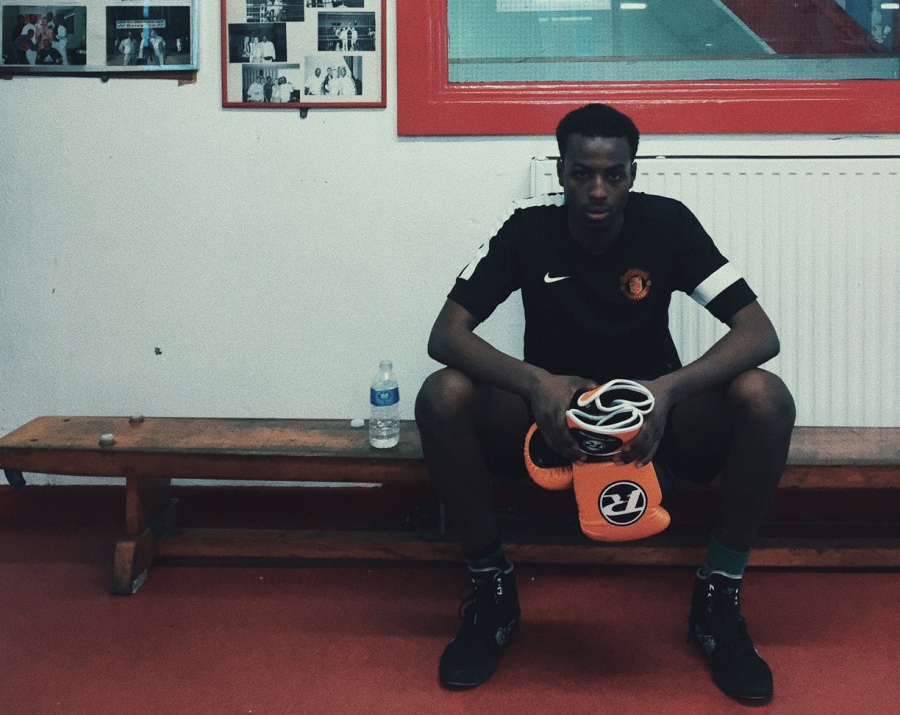 The gear
The Sony A7S is a fantastic camera. It's completely changed my approach to filmmaking and I love it. Having said that, for this I wanted to use something that was better suited to run and gun. Something that we could easily plug audio into and that was fast to operate. Like I mentioned previously, we had 15 minutes in that gym! Matt did a great job getting the footage under such pressure. It was my first time using theFS and I am super happy with the results.
We shot everything at 1080p in S-Log2 at the native XAVC-L codec that FS5 shoots. Initially I wanted to shoot it in 4K; however, after some reading up I was surprised and a bit disappointed to discover that the camera would only shoot 10-bit bit at 1080p! The 4K recording codec in camera is limited to 8-bit 4:2:0. We wanted the codec to withstand how we were going to manipulate it in the grade. So, after some debate, Matt and I opted to shoot in 1080p. Next time I shoot with the Sony FS5, I think I'll look into using an external recorder such as the Atomos Inferno – this way I can get 4K RAW out of the camera and record it straight into 10-bit ProRes, or even 12-bit CinemaDNG.
I was really pleased with when we got the footage into post-production. I love the grading process of making a film because it really can add an extra depth to the final piece. The XAVC-L codec held up really well in post and gave us a fair bit of latitude to play with. I was really satisfied with the results the FS5 gave the production as a whole.

In terms of glass, we used the Canon L-series 50mm f/1.2 and the L series 16-35mm, which is the one thing that kind of bummed me out shooting this piece. Don't get me wrong – I am really happy with the way the film turned out. But it would have been nice to shoot on some cine lenses.
Ultimately though, it's about the story. With today's endless amounts of kit, everyone can shoot beautiful looking footage. But, first and foremost if your story doesn't say anything it's just a set of pretty looking pictures.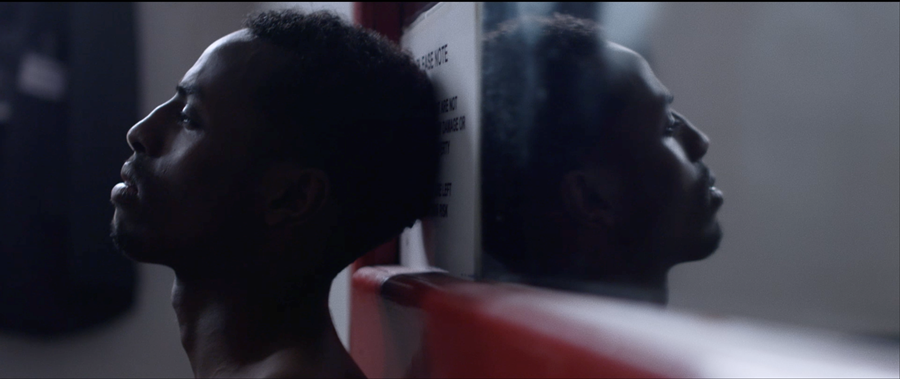 Finally, lighting. I hate lighting for this type of content; I will always opt for natural light over anything. My favorite frame from the film is what you see in the locker room, and that was all natural from an overhead window to the right of the room. It was beautiful.
I am in no way saying never light anything, because most of the time you need to; we did have a Rotolight to hand for each shoot just in case, and ended up using a 1x1 LED panel light to light the prayer scene.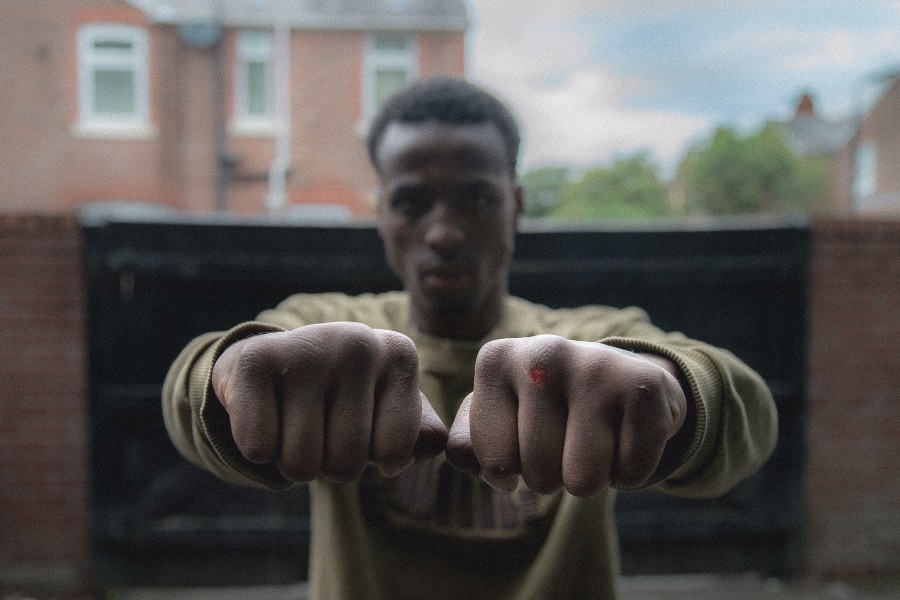 Post-production
It's quite hard to explain how I went about editing this. I always start with the voice over, and I went to see Idris one afternoon in between filming to record the narration you hear in the film. We probably talked for around an hour and a half in my portable sound studio (my car). I used a Zoom H4N, which I attached to a Gorillapod and clamped it around the headrest. It allowed me to sit in the front and monitor the sound while Idris relaxed on the back seat.
The tedious part of the process was then to cut that down to something like three minutes. It was literally just a case of cutting, cutting and cutting, and that built a foundation to lay pictures to. Sometimes this can work the other way around – you may have shot something that you know you need to touch up in the narration.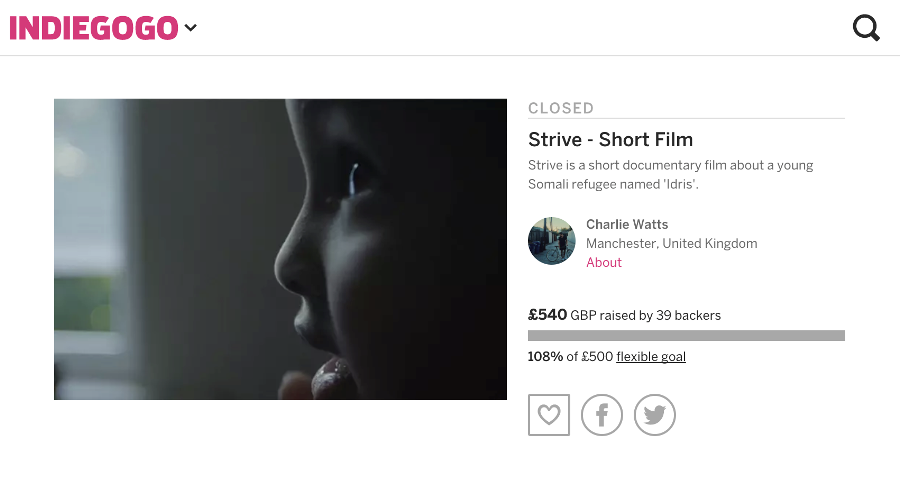 In the edit, I was watching it through, and it just didn't feel right. It was missing something – the beginning of Idris's story in Somalia. I didn't have a budget, so travelling out to Somalia to shoot some pickups was out of the question, and Idris had no footage from his childhood either to include.
So, I decided to look online for alternatives and found some lovely footage of a small boy in Ethiopia, which would work perfectly. Now the problem was that this footage wasn't cheap to license, so I decided to start an Indiegogo page, and to my amazement we hit the target.
Instagram, I find, is such a powerful tool for filmmakers and photographers. I had complete strangers investing in the project solely because they follow my work on Instagram.
A lot of the time some people can be a bit anxious about self-promoting. And yes, to a certain extent you don't want to go overboard, but I do think you should be confident enough to push your work out there for people to see. After all, the purpose of making film is so people can watch and engage with it.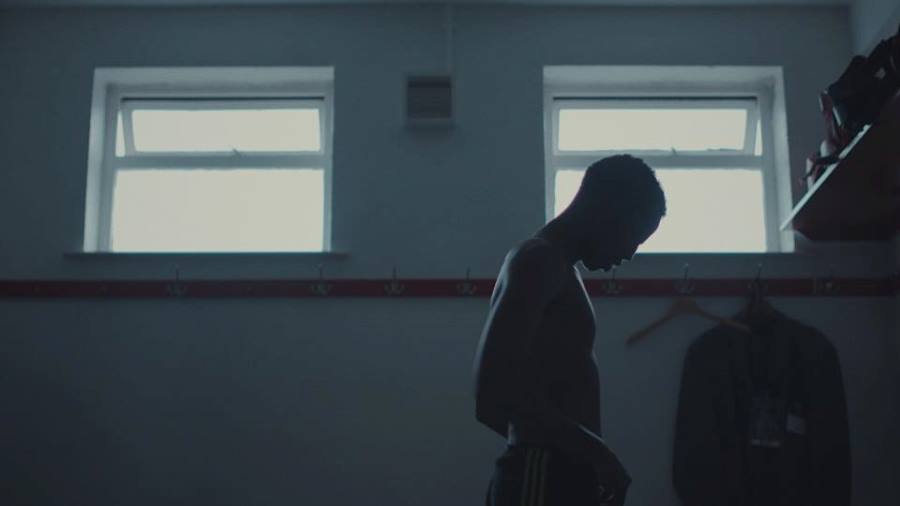 Closing thoughts
The film has been really well received, and I have had really positive feedback from it. But the most rewarding feeling for me was the experience of making it. I know that may sound pretentious, but it truly was.
Idris has just started university this year and I am in contact with him quite frequently. I can honestly say I came out of this process not only making a true friend in Idris, but having been starkly reminded to take everyone for an individual and to never judge. This, ultimately, is one the reasons I made this piece in the first place. As Idris says in the film, "You should never judge, because you don't know what they are running away from." and that is so true.
For other filmmakers out there wanting to find those special stories to tell, I'd say keep your eyes and ears peeled and be active in your craft. I got lucky meeting Idris purely through going out and making a different passion project. I've often found that when I finish one project, something is usually already developing off the back of it. It's very humbling when someone contacts you having watched something you've made sometimes it may just be kind words, but sometimes it can be an idea that will grow into a future project. You just never know – so get out there and shoot.
About the Author
Charlie Watts is a professional director and filmmaker based in Manchester. To see more of his work, visit his website.
Related articles