London production company Brother Film Co. tell us about their recent trip to Modena, Italy to film a Kettle Chips advert
Brother Film's Kettle Chips / Our Balsamic Vinegar of Modena Story.
The taxi pulled up at 4.30am to take us to our studio in Peckham. From there, we'd collect our kit and make the hour drive to Stansted and our 8.45am flight. We'd land in Bologna at 11.15am local time, drive for an hour in a hire car to the outskirts of Modena and straight into an afternoon's location recce. It's hard to tell anymore if the early mornings are becoming easier or harder as time goes on, but they do very often signal the start of a fun new project!
We've worked with Kettle Foods for a while now, and we really like the company. Its brands are great, the people are lovely and we're given a great amount of creative freedom, while still staying true to its brand values. It's not an exaggeration to say that it's one of our favourite clients. This is massively helped by the fact that Joint London – the ad agency who we work with on Kettle's projects – is also one of our favourite agencies.
So, when we were asked if we wanted to travel to Italy with one of our favourite clients and one of our favourite agencies, to tell the story of the Italian family who supplies all of the balsamic vinegar that goes into Kettle's Sea Salt & Balsamic Vinegar crisps, we responded with a pretty speedy yes please!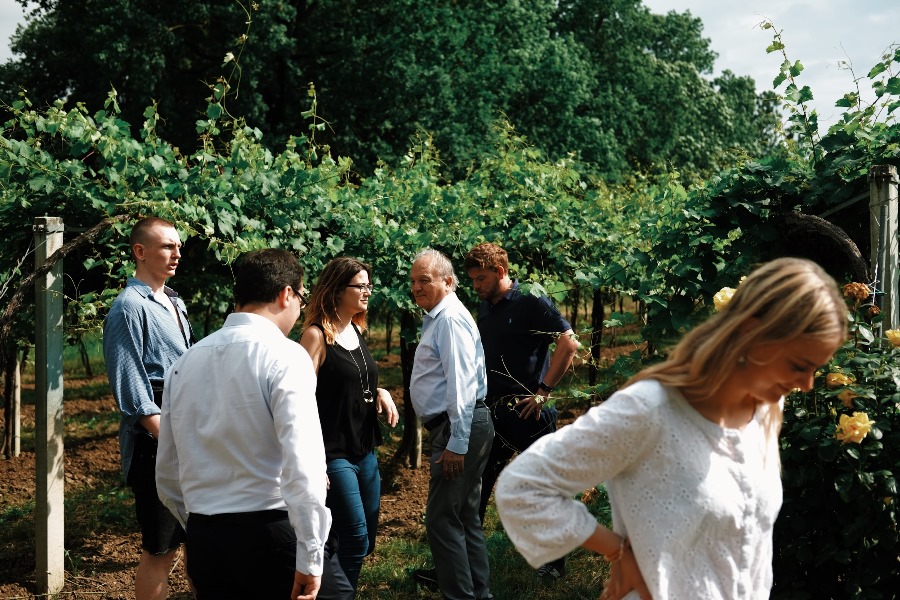 Recceing the Toschi family's vineyard. Not the worst afternoon we've ever spent!
Coming up with the concept
One of the reasons we love working with Joint is that we have a great ongoing relationship – its creative team is brilliant. They have new and interesting ideas, they write great scripts and like to push boundaries where they can, and they are very open to working collaboratively with us.
The Joint team conceived the initial concept and the story we would tell. We then worked together to build this into the basis of the finished film. Our role at this point tends to be giving our creative input on the script and storyboard, partly from a general point of view, and (unsurprisingly) mostly from a filmmaking point of view. We were shown a couple of reference films that Joint really liked in terms of style and we immediately got a Wes Anderson vibe: crash zooms, whip pans, centralised framing and a good hint of comedy. This led to us creating a shot list and storyboard that made use of these elements – a few script tweaks later and we had the concept locked down.
What we filmed with
Given the Wes Anderson-esque crash zooms we'd included in the shot list, the first thing we needed was a parfocal lens (one that remains in focus even after zooming in or out). We'd heard some great things about the Fujinon MK 18-55mm T2.9 – from both Philip Bloom and our filmmaker friend Stephan Knight – so we rented one out for the project. We teamed this with our in-house Sony FS7, which has been Brother's main workhorse for the past three years and proved a great fit for this project. Its built-in ND filter, 4K capability (we had to deliver some teaser clips in vertical format) and image quality made it a no-brainer.
'Real food. Real pleasure' is the tagline for this campaign and we wanted the filming style to reflect this natural, home-grown ethos. This led us towards a semi-handheld setup using our Ready Rig, just like you would an Easyrig. This took some of the camera weight off the operator, while still providing a handheld feel. The other notable addition was a Tiffen Black Pro-Mist 1/2 filter, to give a softer (less digital) look to the image.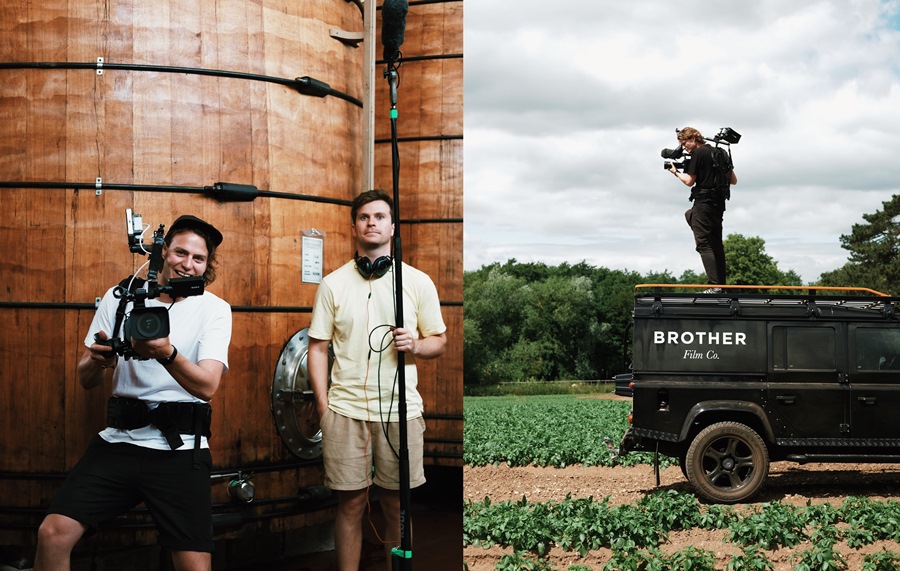 Our main setup for the shoot. The single-arm Ready Rig was a game-changer!
This was the rig we used for 95% of the shoot. The only other camera that featured was the X7 on our DJI Inspire 2 drone, which was used for establishing landscape shots and a top-down tracking shot of a car (more on the car later).
How we shot the film
The main shoot consisted of one recce day and two shoot days in and around Modena, although we were largely based at the Toschi family's vineyard and factory. You couldn't have cast a more generous or quintessential Italian family. In between leisurely lunches – feasting on endless plates of pasta – we had to find the willpower to actually film what we'd intended!
One thing we massively lucked out on was the car. The idea of the family driving off in an old Italian vehicle was in the script from the start, we just hadn't quite worked out how it was going to happen. Our original plan was to borrow a Fiat from one of the sales guys at the factory. Not bad at all, we thought. But, when we met Massimo – the father of the Toschi family – he told us he had a vintage 1955 Fiat 1100 in his garage, which he'd painstakingly restored. If you watch the final film, you'll see that this was one of those things that you couldn't have planned to go better!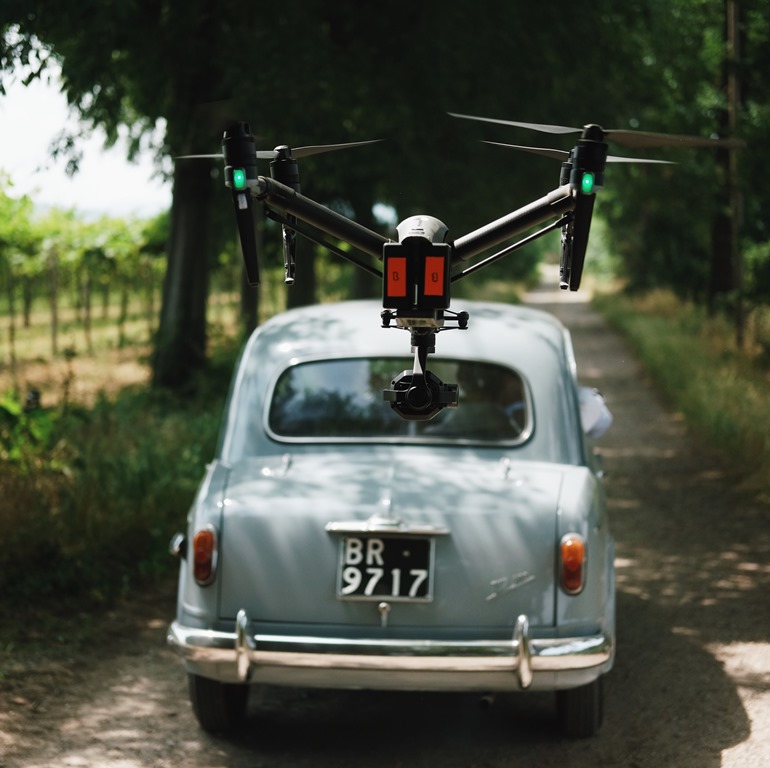 Our DJI Inspire 2, hovering behind Massimo's immaculate Fiat 1100...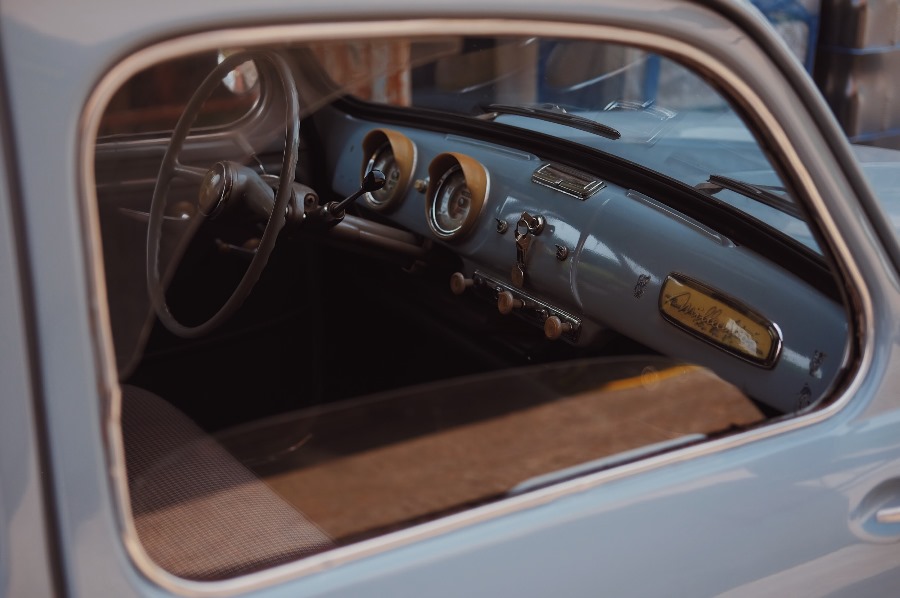 ...which had a rather lovely interior.
The Fiat 1100 wasn't our only stroke of luck. There's an aerial shot that looks over the city of Modena, at the point in the film where we introduce Italy. Anyone who's tried to fly a drone over a city (legally) will know it's not the easiest thing in the world to get permission for, especially in a foreign country. So, we had to be a little inventive to get the shot. Luckily, there's an old tower in the city centre and you can pay a few euros to walk right to the top. Even luckier, there's a little hatch in the safety grates at the top to give you a perfect, uninterrupted view of the city and the opening is just the right size for our Fujinon lens.
The trickiest shot of the entire project was the portrait of the whole family and Carlo (their dog) standing in the vineyard. Our original plan was to have one of the family members holding Carlo and to have him bark on cue. We knew this was ambitious, but we couldn't have guessed that he would hate being touched so much that no one in the family would dare pick him up. After trying a couple of options and rolling numerous takes, our only option was to have the dog sat at their feet. That's when the magic happened.
Completely unprompted and at the perfect time, Carlo goes for a big old scratch. We couldn't have written it better and it ended up being far funnier than a bark would have been. Behind the camera, everyone from Luke the DoP to the Joint creatives burst into laughter. We'd love to tell everyone that the shot was meticulously planned, but it was mostly luck and the sudden impulse of a small dog!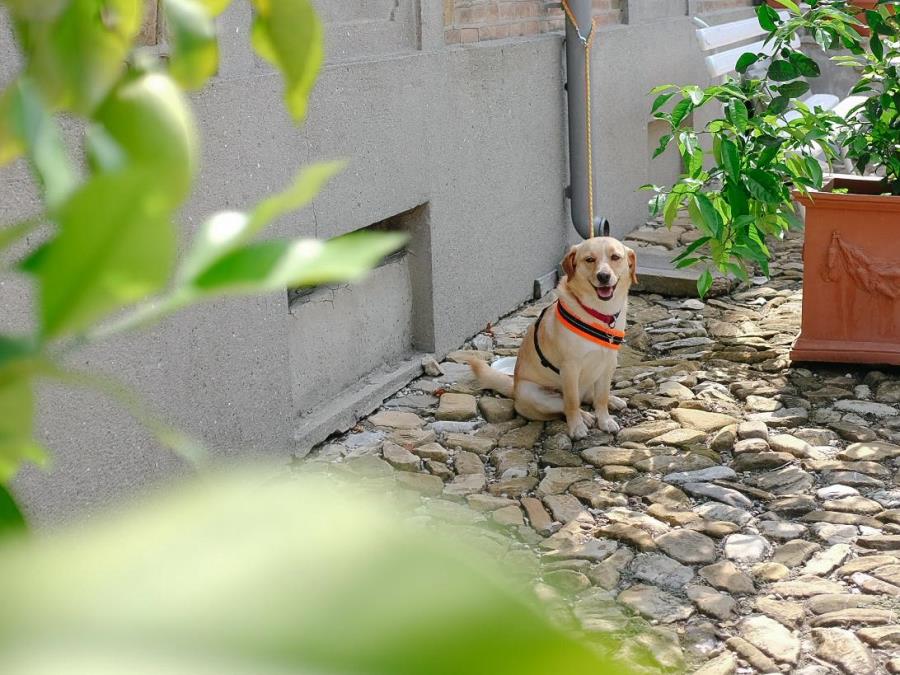 The surprisingly vicious Carlo, who became the star of the show!
Arguably less glamorous (but actually a fair bit warmer), a good portion of the film was shot just outside of Norwich. This is where Kettle Foods is based (in the UK), as well as most of the farms where its potatoes are grown. A key setup from this Norwich section was a pack shot of the Sea Salt & Balsamic Vinegar crisps, stood proudly among the potato crop. A farmer, clad in wellies, would then walk in front of the Kettle Chips.
We'd capture one foot in the frame and use it as a wipe transition into the Italy section of the video. You'd think that was simple, right? But, a windy Norfolk day made it incredibly difficult to keep the pack upright, and we discovered that getting the exact positioning and speed of the farmer's boot for an effective wipe was also tricky. It definitely taught us that even the simplest shots can cause unexpected issues!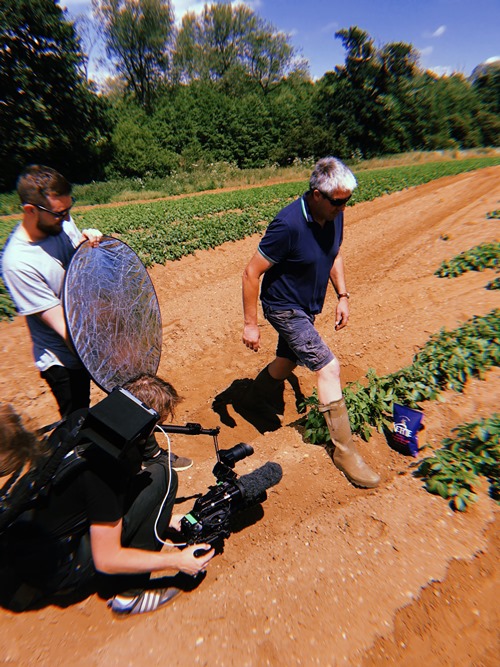 Trying to time the seemingly simple wipe transition was trickier than first thought…
The editing process
Once back in our Peckham studio, the assembly of the initial edit was fairly simple. Because we'd storyboarded every shot of the film (and stuck to it), we could place the footage into our Final Cut Pro X timeline with little trouble. The first problem to solve was streamlining the cut. We wanted to create a 60-second cut for release on both Facebook and Instagram, but our edit ran 15 seconds over. This forced us to trim the footage to its absolute tightest and also led to the horrible process of discarding shots that we really liked, but in our hearts knew weren't essential to the story.
Next came the music and sound design. We found an upbeat, traditional-sounding Italian song, which seemed to match the vibe of the film perfectly and Joint agreed too. Easy! For the intro in Norfolk, we repurposed an original track, composed by our youngest brother Hugo, from a previous Kettle Chips video. This created a subtle link between the two films.
Hugo used a Sennheiser ME 66 shotgun mic and Zoom H4n field recorder to capture any key sounds during the shoot that we'd need in the edit. He often requested an extra take in order to capture clean audio. These sounds were inserted into the film alongside other sound effects from our library to accentuate certain scenes and included: whooshes, dings, camera zoom noises and of course, a dog scratching to emphasis Carlo's star turn (mentioned earlier).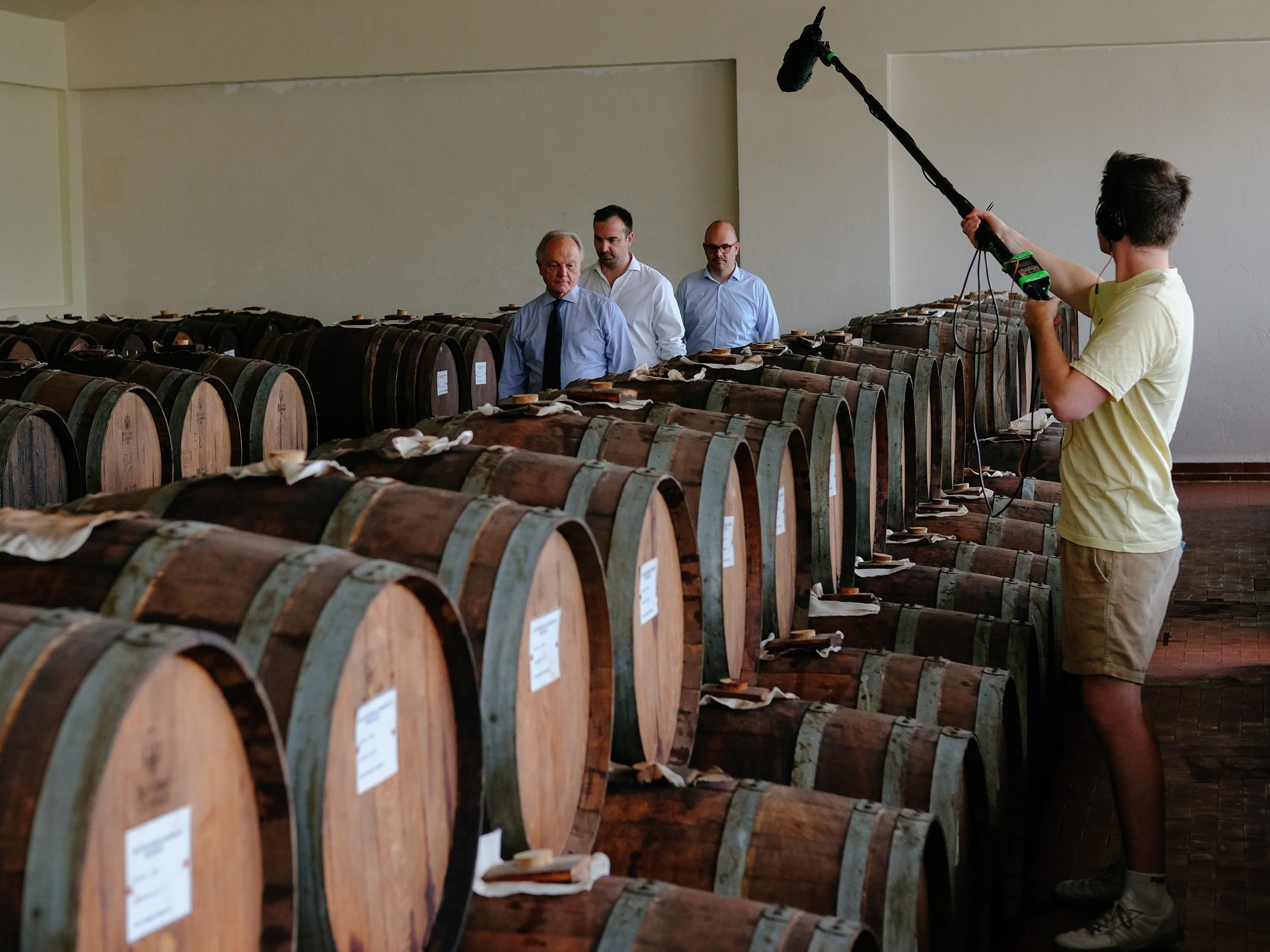 Hugo and his boom.
The final piece of the puzzle was recording the voiceover. Having placed a rough read of the VO (expertly voiced by Adam here at Brother) into the signed-off, 60-second cut, we realised that the script was too long. Working with Joint, we created a tighter and snappier version. After a total of three recording sessions in our sound studio – which may or may not have been the sofa area of our office – we had it nailed. Film done!
In conclusion...
This is without a doubt one of our favourite projects. We've tried to analyse the main reasons why, to prioritise similar projects in the future. We've concluded that collaborating with an agency and client that we get on well with had a lot to do with it, as did having a well-planned script, storyboard and shot list in place before the shoot date. Successfully creating the playful shot ideas that we'd included in the storyboard like the crash zooms and whip pans (some we'd never done before) made the actual shoot really enjoyable, as did having such a friendly and welcoming family as our subjects. Being in sunny Italy may have been a factor too – clearly those early starts really are worth it in the end.
About the Author
Brother Film Co. is a creatively-led production company founded by brothers Marcus, Luke and Hugo Ellingham, and since joined by Adam Holmes. Visit the Brother Film Co. website and Vimeo.
Related articles