Find out how Graham Kirk produces content for Warrington Wolves rugby club, with his Canon C100 Mark II and Sony FS5 Mark II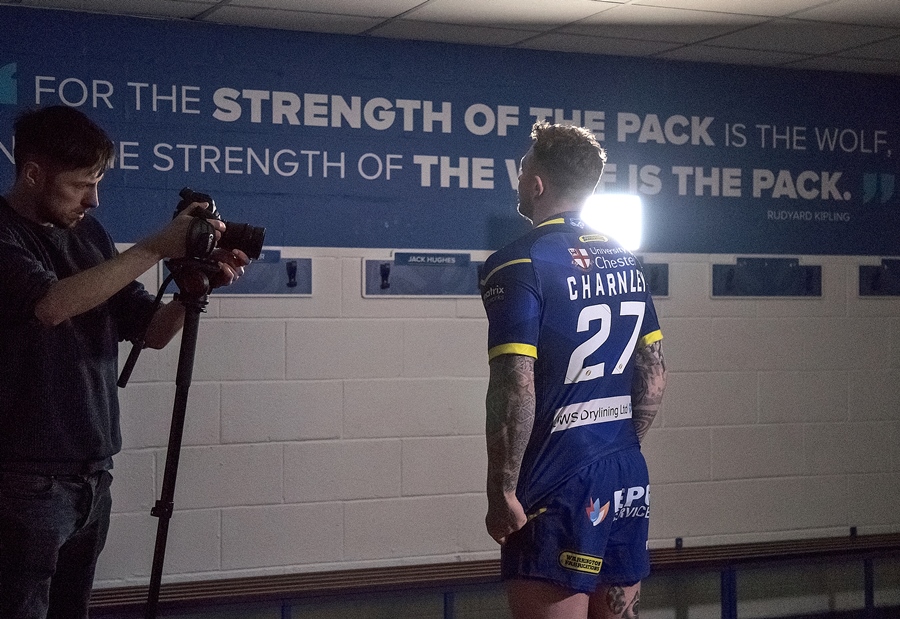 Maths was always my strongest subject at school, but maths was also mind-numbingly dull (I've since discovered it isn't…). So, when I went to college – to the dismay of my parents – I took film studies, photography and media studies on a bit of a whim. I wasn't thinking long term; it's just what interested me at the time.
My film studies teacher, Pete Jackson (no, not that one), had an infectious passion for film and it was he who initially sparked my interest. City of God (2002), Amores Perros (2000) and Yojimbo (1961) were among some of the films I watched on the course.
Watching foreign cinema was something I hadn't really done before, and these films blew my mind. We would analyse each film's themes, mise-en-scène, camerawork and dialogue, and discuss how we interpreted its meaning. Pete's exuberance throughout these conversations certainly inspired me.
Meanwhile, my media studies teacher, Mark, motivated me to take it to the next level and explained how this could be a genuine career path. Before he spoke to me, I suppose I had initially seen filmmaking as a bit of fun. Chatting to Mark helped me see the possibilities of doing it for a living.
After graduating from university, I was able to pick up some camera work at a local video production company. Fast forward nine years and I now regularly work with rugby league team Warrington Wolves and various video marketing agencies. I feel privileged to earn a living doing something I'm passionate about.
Capturing sport
With Warrington Wolves, the work is varied. I film training sessions, interviews, matchdays and also put together promotional edits for ticket sales, kit launches and more.
In regards to the matchday videos, I have quite a lot of creative freedom, which I appreciate. I'll be sent a brief and although there will be customary things to film, such as pre-match activities and entertainment, how I shoot and edit is down to me.
The purpose of the edit is to showcase the whole matchday experience from the fans' point of view. The films are relatively short – about two minutes – so there's little need to film full coverage of a band playing or the whole match. The need for short cutaways gives me a chance to fail, experiment and to find interesting or alternative shots and angles.
For the past three seasons I have produced a video for every home game, and it's a challenge to differentiate one matchday edit to the next. At times, I've decided to work with just a prime lens for an hour or so, to ensure I capture something a little different.
In terms of moving around the space, I like to spend a fair amount of time at the end Warrington are playing towards, in case they score a try. However, I'm never too anxious if I miss something. Following the on-field action as a one-man operation is an impossible task, and I always end up with more than enough content. If I miss a try but manage to capture, say, a group of fans celebrating, then that provides a powerful image and one that can also be used in future promotional edits to great effect.
I'll also shoot around the dugout, where the coaches are or up in the stands at times. I like to capture snippets of dialogue being shouted or the fans singing to add a bit of interest as soundbites in the edit, so it's not just a visual montage set to music.
I think it is important to capture the action close up. If the action is on the other side of the pitch, I'll perhaps focus on the fans or be tempted to move around the ground. However, it's also important to anticipate where the action is heading, as opposed to following it – I'd never get into position quick enough.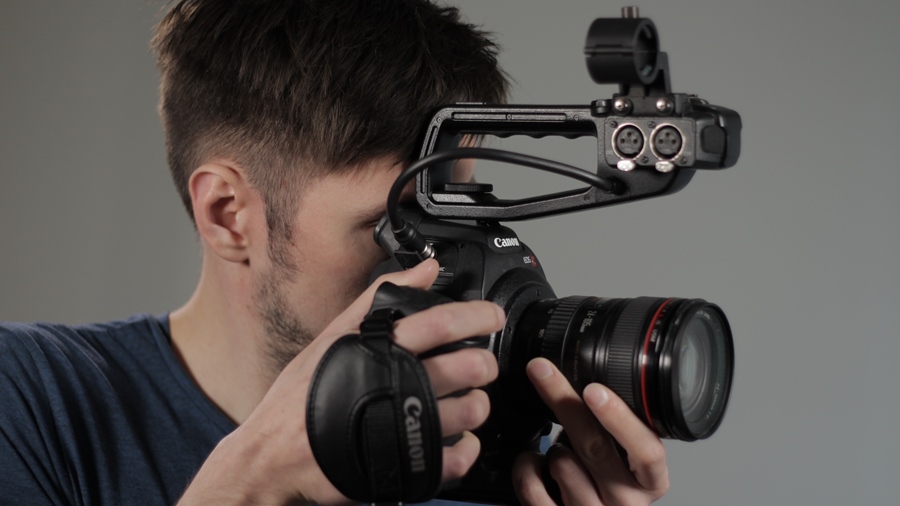 My gear setup
Up until recently, my main camera was the Canon EOS C100 Mark II. This is now considered to be old tech, but I still love it and will not be selling it any time soon. It may not have the latest features, and the lack of any slow motion is a downside for me (although there's an odd quirk where you can make the 50i appear as 50p), but the camera more than makes up for this.
The Canon C100 Mark II's ergonomics, ND filters, XLR inputs, long battery life and dual SD card recording make it an all-round workhorse. It's made my life a lot easier over the past few years and has since proven to be a trusty B camera on many event shoots.
After watching numerous reviews and reading about all the specs, I settled on buying a Sony FS5 Mark II. What I deemed important wasn't just the camera's specs, but how easy I would find using it. Features such as the rotating hand grip and variable ND filter really sold it to me.
The handgrip allows me to shoot high or low-angle footage much more comfortably, and steadier than ever before. It's quick to adjust and works great during live events, where I'm trying to capture the subject in a variety of ways. The variable ND is wonderful. The ability to seamlessly change my exposure on the fly – with a touch of the scroll wheel – is something I never knew I needed and means I can avoid the distracting jump in exposure, caused by changing the ISO.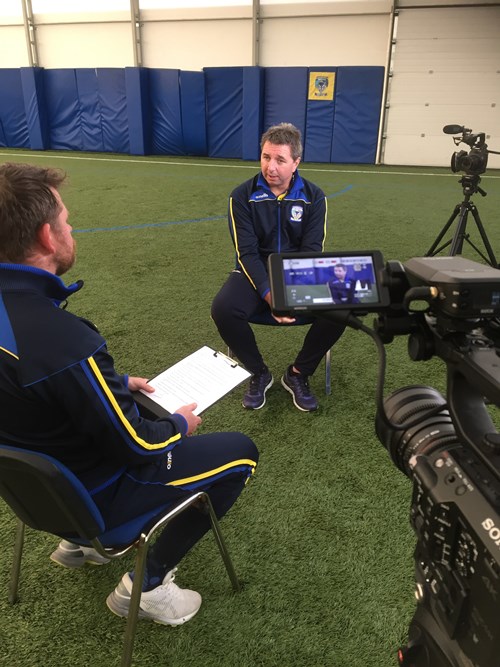 Of course, the FS5 Mark II also has broadcast standard internal recording and slow motion. Having up to 200fps in 1080p is a dream for capturing sport. It helps to add production value and emphasise key moments to the viewer, and I don't think I'll ever tire of it. The camera ticks all the boxes for me, and is also surprisingly small and lightweight.
In terms of picture profiles, I generally shoot in either S-Log2 or Cine4. A lot of the projects I work on need to be turned around fast, which is where Cine4 works well. It captures a good amount of dynamic range, while not needing too much attention when it comes to grading in comparison with the S-Log profiles.
As for the camera's downsides, I think it's been well documented that Sony's colour science isn't as appealing as Canon's. I'd say that's fair, but it doesn't take a lot of work in the edit to amend this, in my opinion. Secondly, and most disappointingly for me, there is no waveform on the Sony FS5 Mark II to help check exposure. This is something I relied upon all the time when using my C100. For me, it's the quickest and most convenient way, especially when documenting a live event in the run-and-gun style.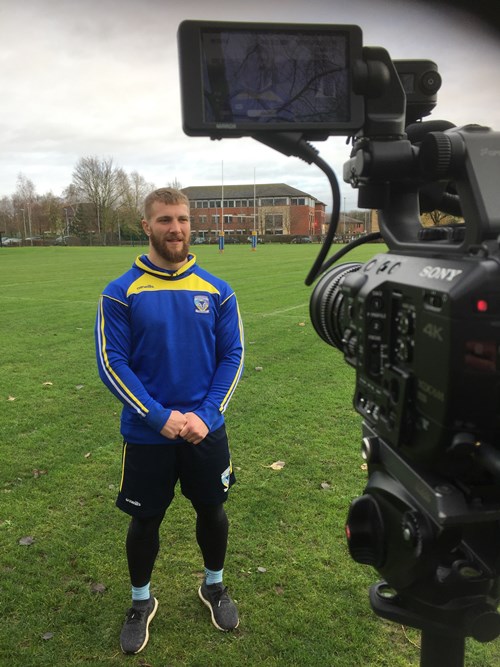 How important is kit choice?
Having the right kit is important to help realise your vision. However, having a great camera doesn't necessarily mean you will automatically make a great video. Research, planning, creativity and editing are all important aspects of the filmmaking process. But kit can make a big difference to your final product – it's important you work out what features you want from a camera. Do your research to build a collection of kit that works for you and your filmmaking style.
As a freelancer, I needed a camera that wasn't just suitable for sport, but something that was versatile for a range of different videos, be it corporate, commercial or a short film. I went for the Sony FS5 Mark II because it offered a wide range of different features that can be utilised, depending on the video I'm shooting.
Overall, it just depends on your personal preferences. You might prefer the small form factor of a mirrorless camera or the ergonomics of a larger cinema camera. The most important thing is that you do your research and work out what's best for your needs.



My advice for new filmmakers
When it comes to starting out as a freelancer, the most important thing is to get your name out there and ensure people know what you do. Have faith in yourself. Update your CV and start applying for jobs; this will help you to start building your network with other creatives.
Support others on shoots when you can – they will then be able to recommend you for jobs that they are unavailable for. It is beneficial to see other camera operators as peers and colleagues, rather than competition. It's worth giving a helping hand when you can!
Keep your showreel up to date with your latest work. Making a new showreel each year is a good idea, but don't be afraid to tweak this and add in new content throughout the year too. Let potential clients see your best work.
Lastly, spend some time thinking about what is important to you and why you want to work in the industry. Once you know what drives you, you can start making steps towards your goals. Decide on your price points and stick to them. Be proud of the work you produce, and continuously strive to improve your content.
About the Author
Graham Kirk is a freelance camera operator and filmmaker, with a passion for sport. He's based in central Manchester and works all over the UK. Having graduated from UCLAN in 2010, he has gone on to work for a number of high-end clients such as Sainsbury's, Argos, Warrington Wolves and Red Bull. Visit Graham's website and Twitter to see more of his work.
Related articles