A look behind the one-day shoot that saw an F1 car and pro driver take on Bath Rugby team in a world's-first showdown.
It's not every day that a filmmaker can say that they filmed an F1 car with a professional racing driver behind the wheel. Well, how about taking that up a notch and filming the F1 car taking on a rugby team in a world-first showdown? Now we're talking.
You may have seen this video doing the rounds on social media earlier in the year. On Facebook alone it has racked up over 3 million views, so it's been a hugely popular project for the three brothers behind Brother Film Co. who produced the piece.
We spoke with Marcus Ellingham from Brother Film Co to get some insight as to how they planned and shot the project.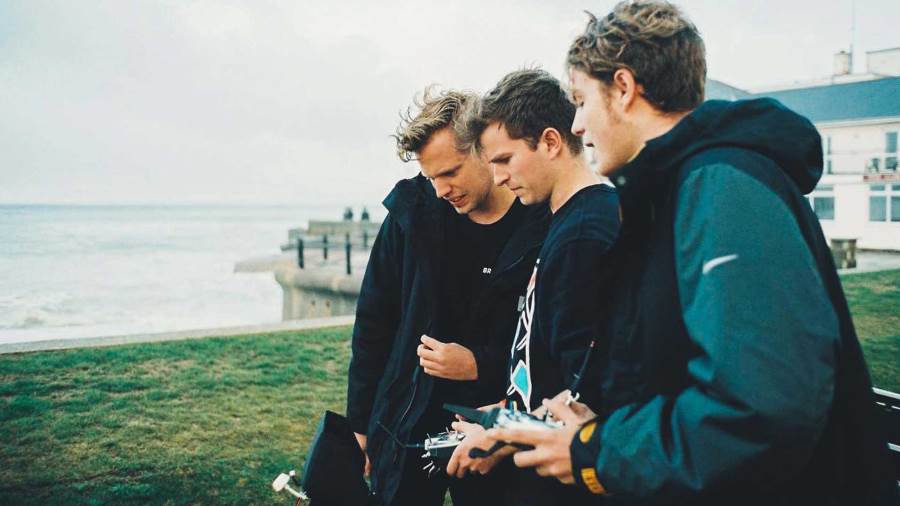 Brother Film Co. is a production company run by brothers Marcus, Luke and Hugo Ellingham
Wex Photographic: Can you tell us about the Brother Film Co. background?
Marcus Ellingham: As three brothers, we began making skate videos in the early 2000s with our parents' VHS camera. Fifteen years later we're based in Peckham and creating online and social content for a huge range of clients, including Nike, Red Bull, McLaren and Dr. Martens.
We like to keep as much as possible in-house, from pre-production and filming through to offline and online editing, sound design and bespoke music composition. Having said this, for larger productions we have a great group of freelance camera operators and producers we can count on.
WP: How did you plan for the shoot?
ME: Red Bull had been planning the concept with Bath Rugby and Red Bull Racing for several months before the actual shoot day, and had kept it as a complete surprise from the rugby pack – the idea was that the rugby players wouldn't have a clue that they would be scrumming against a Formula 1 car until it zoomed past them during their morning training session.

Red Bull Racing had to design and manufacture a one-off flat nose that would connect perfectly with a custom-built Rhino scrum machine, and a location within Bath's impressive Farleigh House training ground was chosen, meaning the car was on tarmac while the rugby pack opposite were on grass (a helipad turned out to be the perfect solution!).
We were contacted a couple of months before the January shoot date as the chosen video production partner. Having conducted a location recce and talked through the concept with Red Bull, it was clear that this scrum would be an eye-opening sight, and that a bird's-eye view looking down on the action would be particularly effective in showing the back-and-forth battle. Knowing this, we booked in a crew of nine:

• 1x director
• 3x gimbal operators
• 2x tripod/handheld camera operators
• 2x drone team (pilot and camera operator)
• 1x thermal imaging camera operator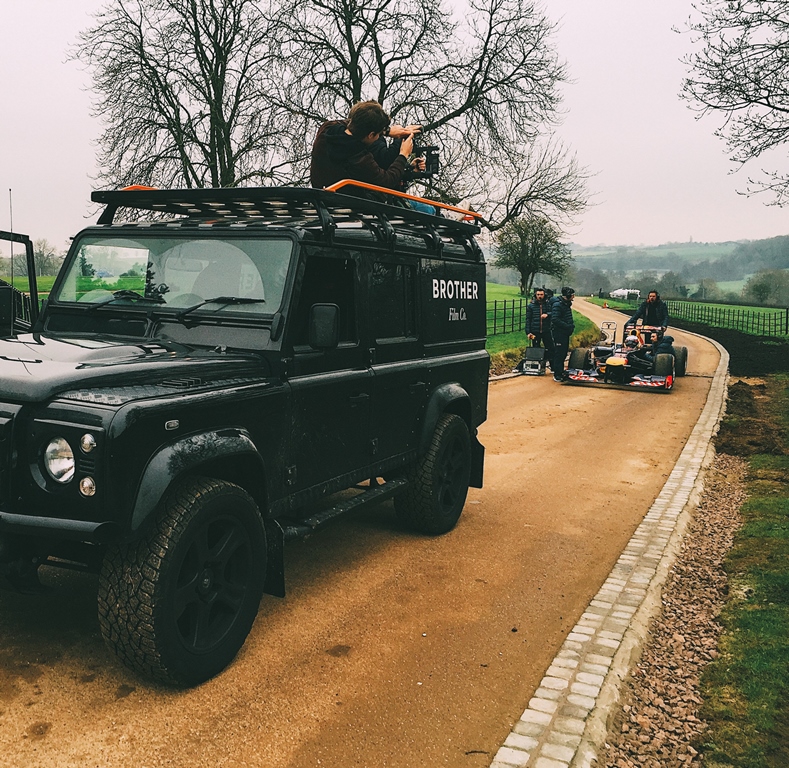 WP: How long was the shoot?
ME: The shoot was conducted in a single day. After an early start, the whole team captured Daniel Ricciardo skillfully driving around Farleigh House's narrow lanes as an intro sequence. It was an impressive sight to see a sideways Formula 1 car in our car's rear-view mirror during the tracking shots!
We then split the crew into two, filming the rugby squad train both on the 3G pitches and in the gym, lifting obscenely heavy dumbbells and powering past us with weight-laden sledges.
The afternoon was then dedicated to the scrum sequence, which was one of the best filming experiences we've had.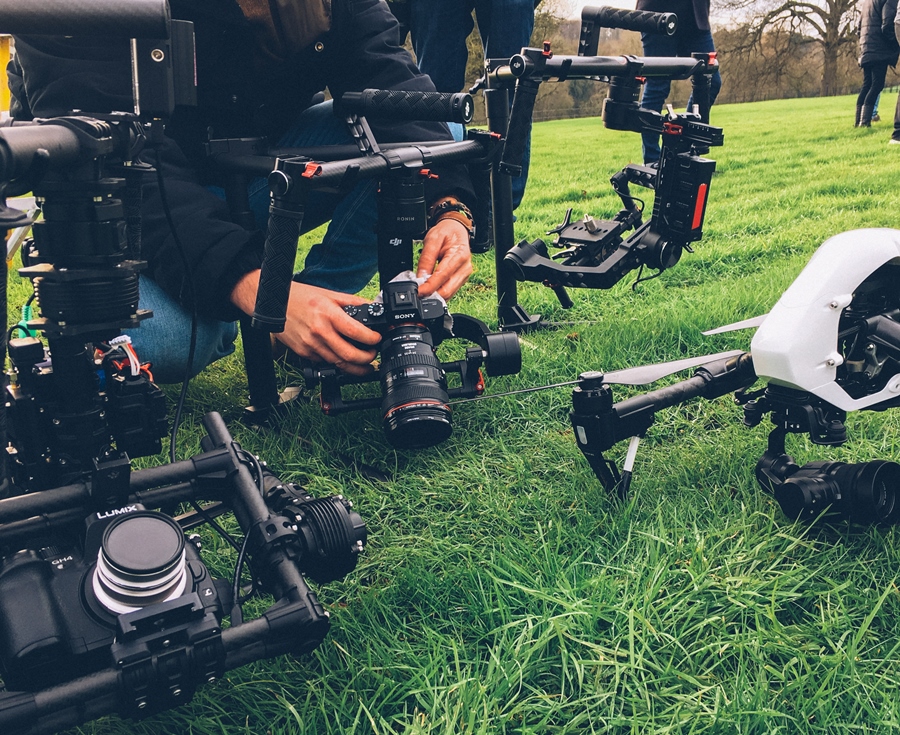 A glimpse at some of the different stabilisers and cameras used on the shoot
WP: What equipment did you use?
ME: With a tight schedule and the potential for last-minute changes, we knew our equipment had to be flexible and portable. We also wanted to give the film a feeling of constant movement and energy, so stabilised gimbals and drifting aerial drone shots were prioritised as key pieces of equipment. The final kit list broke down as follows:

• 2x Sony FS7
• 2x Sony A7SII
• 2x Panasonic GH4
• 6x GoPro
• DJI S900 hexacopter
• DJI Inspire 1 Pro with X5
• Freefly MōVI M5
• 2x DJI Ronin
• Flir thermal imaging camera
WP: We have to know this… what was it like working with a real F1 car and a professional racer Daniel Ricciardo?
ME: Working with a Formula 1 car was a unique experience in itself. Red Bull Racing had a team of around 20 people ensuring the car ran properly, and it was tested extensively on site the day before, hooked up to all manner of machines and computer systems.

The sound of the car was definitely the most memorable – the RB8 vehicle used was their 2012 Championship-winning car, and the sound of its V8 engine was like a fighter jet flying past!

Daniel was amazingly easy to work with – as expected, he nailed each driving sequence every single take and seemed genuinely interested in the footage we were capturing.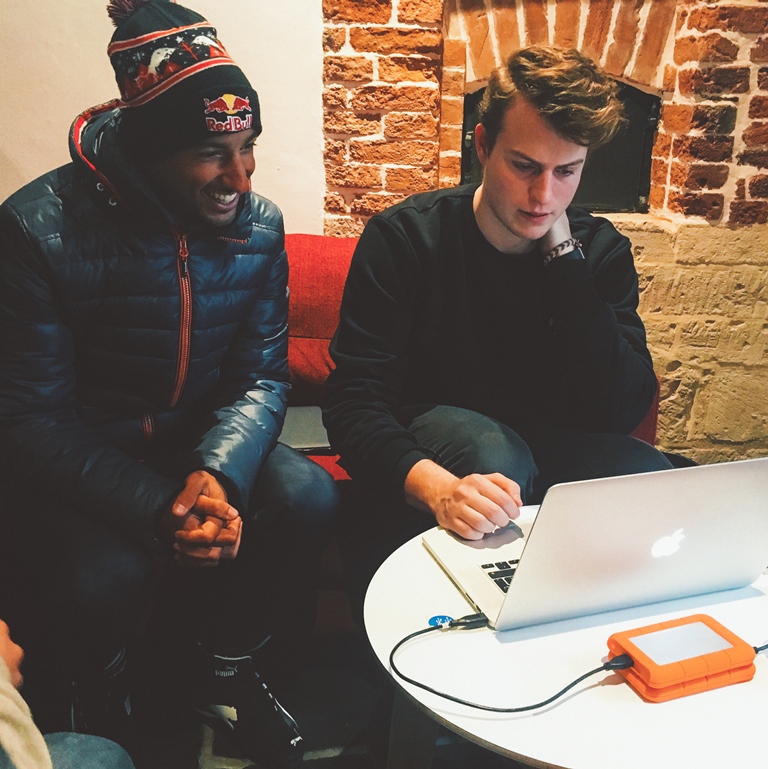 Daniel Ricciardo looking pretty pleased reviewing the shots.
WP: The video racked up a huge amount of views. How did you go about promoting it?
ME: The video was released to coincide with the start of the Six Nations, which began a couple of weeks after the shoot, so the edit was turned around in five or six days. It was initially pushed out on Red Bull's Facebook page and quickly gathered momentum – by the end of the first day it was in the millions of views and was getting picked up by news websites from as far away as Australia.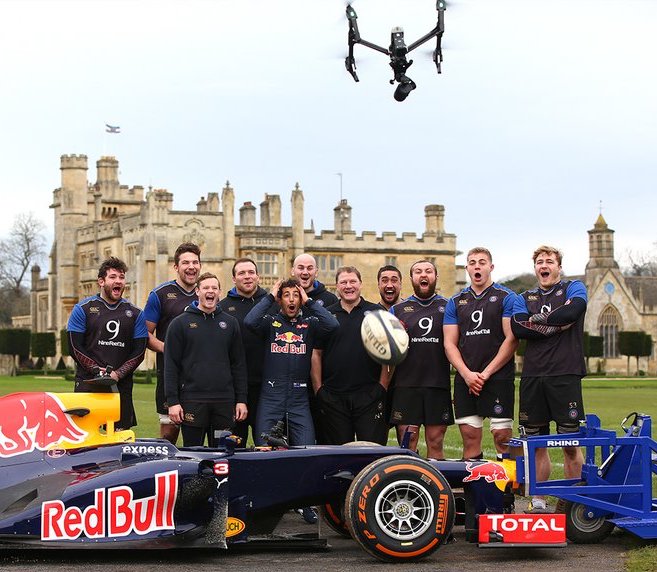 WP: In the final shot it looks like Daniel was just about to hit the drone with the ball. Did he?
ME: He did hit it. Some think it was deliberate, some think it wasn't. Only Daniel knows the answer!
WP: Finally, did you have any takeaways you can share from this project?
ME: The main thing we took away from the F1 Scrum shoot was the ability to adapt quickly to changing schedules, storyboards and plans. On a project with many moving parts, and especially when filming something never attempted before, there is only so much you can plan for – but with the right crew and equipment, it all came together!

You can see more of Brother Film Co's great work on their site www.brotherfilmco.com
About the Author
Kristian Hampton is Wex Photo Video's Technical Editor for Pro Video. A video specialist who has worked in corporate studios for companies such as Vodafone Group and PwC, as well as working as a freelance grip on various TV productions and features. He also runs Krade Media, providing enterprises with production services. Follow Kristian on twitter @KrissHampton
Related articles